15 Bold Predictions for NFL Week 15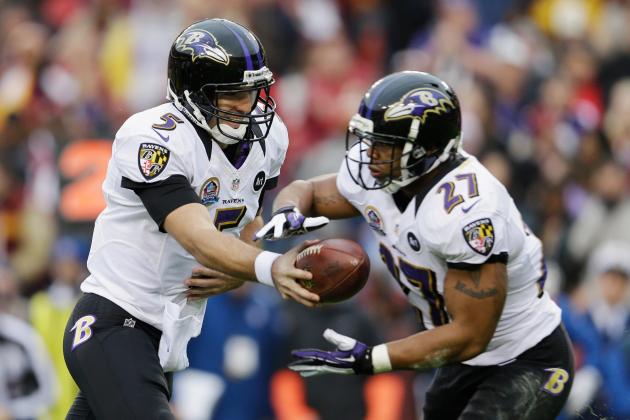 Rob Carr/Getty Images
Joe Flacco, Ray Rice and the Ravens look to wrap up the AFC North on Sunday.
There are three weeks to go and still eight playoff spots left to fill in the NFL's 93rd season.
For the second straight week, all we know is that the Atlanta Falcons, Denver Broncos and New England Patriots have won division titles and that the Houston Texans are playoff bound.
This Sunday the Texans can wrap up the AFC South, and the Baltimore Ravens, Green Bay Packers and San Francisco 49ers can secure their respective divisions as well.
But perhaps the surprise of surprises here is that the two-win Indianapolis Colts of 2011 can become the 10-win and playoff-bound Indianapolis Colts of 2012 if they can knock off the aforementioned Texans at Reliant Stadium.
We raised our record to 208-1 with a clean sweep of Week 15. We also nailed Thursday night's 34-13 win by the Cincinnati Bengals with the exact score as well as predicting that the Philadelphia Eagles would commit something like five turnovers.
Unfortunately, there's no division title for us to wrap up, so we just have to settle for being humble…or at least try.
Begin Slideshow

»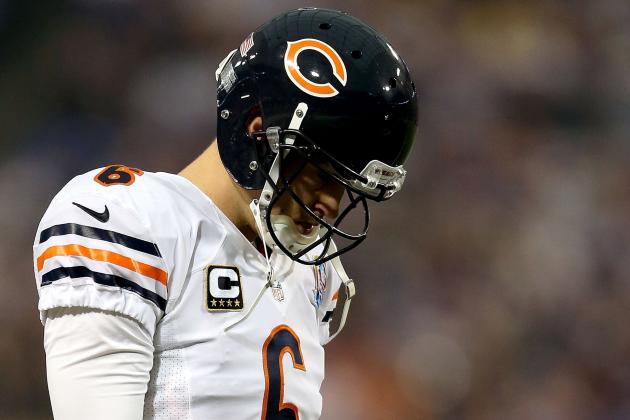 Matthew Stockman/Getty Images

Those Chicago Bears fans not familiar with quarterback Jay Cutler's recent history against the Green Bay Packers may want to turn away.
The recent history dates back to 2009 and Cutler's arrival in the Windy City. It's also the same time the Packers added defensive coordinator Dom Capers.
In seven overall meetings with Green Bay, including that much-discussed loss in the 2010 NFC Championship Game, Cutler is 1-6, throwing seven touchdown passes compared to 16 interceptions. In this year's first meeting, the Bears signal-caller completed 11 of 27 passes for 126 yards, one score and four interceptions while being sacked seven times in a 23-10 Thursday night loss at Lambeau Field.
That sounds about right.
With outside linebacker Clay Matthews (3.5 sacks in this season's first meeting) expected back, look for Cutler to complete just 11 of 27 passes for 126 yards with one score and four interceptions while being sacked seven times.
The 23-10 loss will give the Packers the NFC North title and will provide the slumping Bears with another week of head scratching.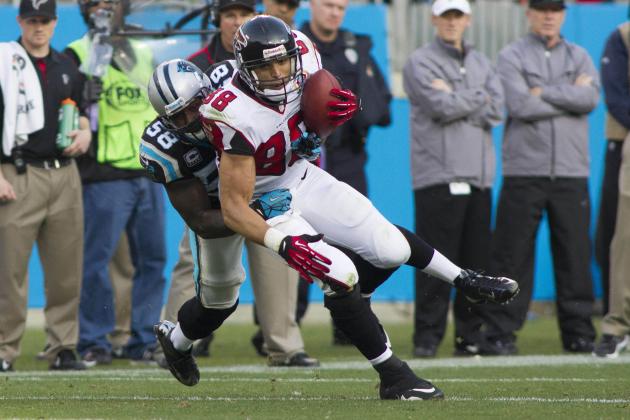 USA TODAY Sports

It's been a bit since the Atlanta Falcons have beaten the New York Giants. Big Blue has taken four straight in this series, and the Falcons' last win in this setting came in 2004.
Incredibly, it's been even longer since the Giants lost a game in Atlanta. New York has posted seven straight road wins in this series dating back to 1981, while their last loss at Atlanta came in 1978.
WOW.
But all good things must come to an end. And while Mike Smith's team comes off a 30-20 loss at Carolina while the defending Super Bowl champion Giants rolled the Saints last Sunday (52-27), we'll say the Falcons are tired of hearing what they aren't and plan to show what they are.
Mike Nolan's defensive unit limits rookie running back David Wilson to 55 yards rushing while the Atlanta defense sacks Eli Manning five times.
But the day belongs to Tony Gonzalez, who still leads the team with 81 receptions this season. The veteran tight end will catch three touchdown passes from teammate Matt Ryan as the Falcons sting Tom Coughlin's team, 27-16.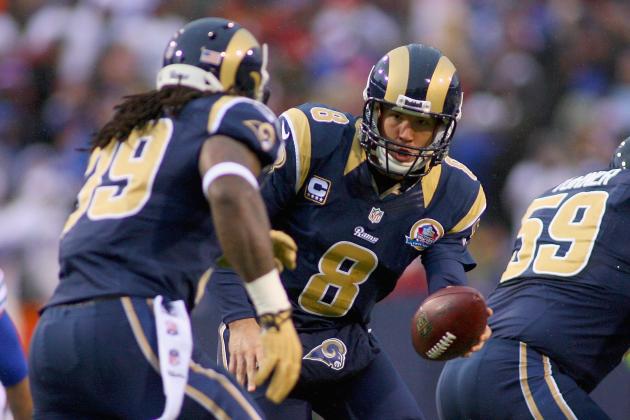 Rick Stewart/Getty Images

Per usual, the National Football League is full of surprises and disappointments on a yearly basis.
Who would have expected the Minnesota Vikings (3-13 a season ago) to have more than doubled their wins (7-6), and for running back Adrian Peterson to be leading the league with 1,600 yards rushing, less than a year removed from major knee surgery?
Then again, who would have dreamed that the St. Louis Rams (2-14 in 2011) would be sitting at 6-6-1 and haven't lost a game within the division (4-0-1) this season?
Jeff Fisher's club is currently riding a three-game winning streak while the Vikings are currently riding Peterson, who has rushed for 100-plus yards in seven straight games and is now within range of a 2,000-yard season.
And the Minnesota workhorse will take a big step toward that goal with a 137-yard performance against the St. Louis defense.
More importantly, teammate Christian Ponder will avoid the interception bug this week and throw for 210 yards and two scores in an important 21-20 road win.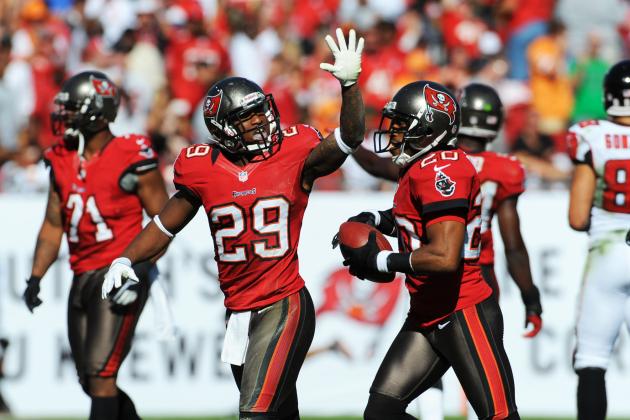 Al Messerschmidt/Getty Images

Once upon a time, the Tampa Bay Buccaneers were 0-26 and headed to the Superdome late in the 1977 season.
Three interception returns for touchdowns later, the Bucs were 33-14 winners over the New Orleans Saints, capping off the first regular-season victory in the franchise's history.
History pretty much suits the current state of the Bucs and Saints, who have each lost three games in a row and watched their postseason hopes virtually disappear.
While Tampa's pass defense had had its issues, it is Saints quarterback Drew Brees who's had a rough three weeks. The veteran signal-caller has thrown four touchdown passes and nine interceptions in his last three outings; quite a turnaround after throwing for 28 scores and just nine interceptions in his first 10 games.
That former trend continues today against the Buccaneers, who do a little reminiscing via three interception returns for scores, two by veteran safety Ronde Barber and the other by rookie linebacker Lavonte David, as Greg Schiano's team walks away with a 28-23 victory.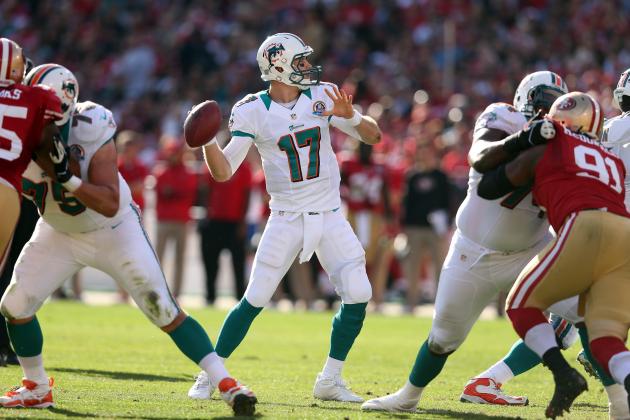 Ezra Shaw/Getty Images

It's not Uma…Oprah. But it will have to do.
Four years ago, the Miami Dolphins used a second-round pick on University of Michigan quarterback Chad Henne.
Four years later, the former Wolverine is at the helm of the Jacksonville Jaguars offense now that incumbent Blaine Gabbert is out for the season.
In April, the Dolphins took Ryan Tannehill with the eighth overall selection; the first time since 1983 (Dan Marino) that the franchise had used a first-round pick on a quarterback. The former Texas A&M product has had his good and Aggie-nizing moments, throwing eight touchdown passes and a dozen interceptions in 13 starts.
Meanwhile, Henne has thrown for eight scores in his last five appearances.
But it will be Tannehill's afternoon despite a game effort from the Jaguars. Aided by 131 yards rushing by teammate Reggie Bush, the Dolphins' rookie signal-caller will throw four touchdown passes in the Dolphins' 35-14 victory.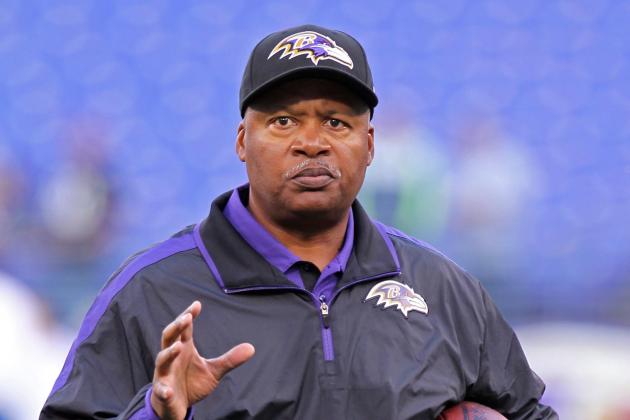 Mitch Stringer-USA TODAY Sports

Common sense says something has to give this week in Baltimore.
That's because the Denver Broncos, winners of a league-high eight straight games, have never beaten the Ravens on the road (0-5, including playoffs).
But the Broncos bring with them quarterback Peyton Manning, who in his days with the Indianapolis Colts had his share of success in this series. Including a pair of playoff victories in 2006 and 2009, the prolific signal-caller has defeated the Ravens eight straight times.
Baltimore has lost two straight games and not yet wrapped up a playoff berth. Earlier this week, offensive coordinator Cam Cameron was relieved of his duties, and quarterbacks coach Jim Caldwell was promoted to Cameron's spot.
That's Jim Caldwell, as in the former Colts head coach and someone who knows Manning quite well. He also knows a little something about how to keep Peyton off the field, although the circumstances were a little different as most will recall.
With a 14-0 record and a lead at halftime against the New York Jets in Week 16 of 2009, Manning became a spectator for most of the regular season. The Colts finished 14-2, and despite reaching the Super Bowl, fell to the New Orleans Saints at Miami, 31-17.
Caldwell will use more conventional means to limit Manning this week, as Ravens running back Ray Rice will carry 23 times for 110 yards plus catch seven passes for another 59 yards. And Baltimore will own a 17-13 lead with two minutes to play in the fourth quarter.
But the Ravens have seen this far too often, as Manning drives the length of the field with his 22-yard touchdown pass to Demaryius Thomas on the final play of regulation (and subsequent PAT), extending Denver's winning streak to nine games, 20-17…
Rob Carr/Getty Images

There's a lot of young talent in the National Football League, and a lot of it will be on display at Cleveland on Sunday.
Consider that the Washington Redskins, winners of four straight games, feature the explosive rookie combination of quarterback Robert Griffin III and Alfred Morris.
And remember that the Cleveland Browns, winners of three in a row, have 2012 first-rounder Trent Richardson, the team's leading rusher and pass-catcher, in the backfield with rookie quarterback Brandon Weeden.
If RG3 is unable to go, rookie Kirk Cousins will get the start for Mike Shanahan's team. But regardless of who the Redskins quarterback will be, it won't make a difference to Browns defensive coordinator Dick Jauron.
Here's saying that both Morris and Richardson have 100-yard afternoons. But it's the Browns with the ball at the end and a Phil Dawson field goal in the closing seconds that will give Pat Shurmur's team a 24-21 victory.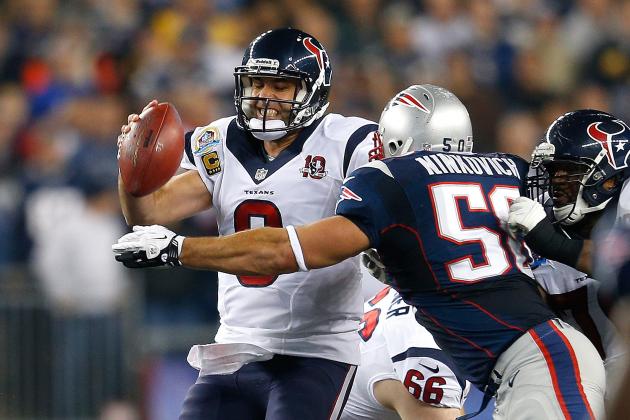 Jim Rogash/Getty Images

Here's what we've learned about the Houston Texans so far this season.
When Gary Kubiak's team gives up exactly 42 points in a game, they're 0-2. When they don't, they're 11-0.
Seriously, it will be far more important to see how the Texans rebound from a loss rather than debate the aftereffects of a 42-14 loss to the New England Patriots.
The last time this was an issue, the Texans responded with a 43-13 win over the Baltimore Ravens just seven days after a 42-24 setback to the Green Bay Packers.
The remarkable takes-a-licking-but-keeps-on-ticking season for rookie quarterback Andrew Luck continues. The 9-4 Indianapolis Colts can wrap up a playoff spot with a win over Houston, but they'll wind up delaying the celebration.
Luck has thrown 18 touchdown passes and run for five touchdowns, offset by his 18 interceptions and five lost fumbles. This week, he will giveth and taketh awayeth once again, throwing three touchdown passes and turning over the ball three times in a 45-23 loss at Reliant Stadium.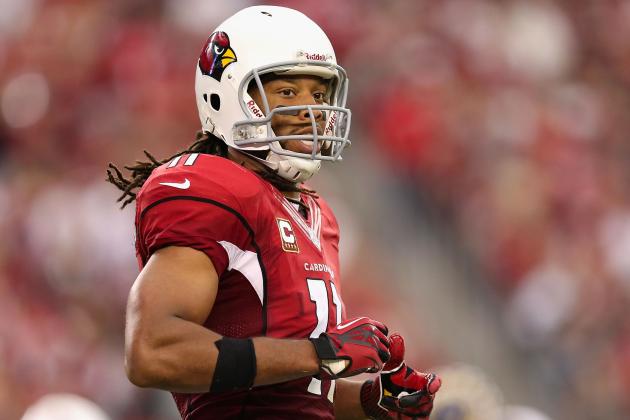 Christian Petersen/Getty Images

The Detroit Lions and Arizona Cardinals have both arrived at the same place in much different ways.
The Lions were a playoff team at 10-6 and the Cards a respectable 8-8 in 2011, but the clubs have combined for eight wins this season.
In Detroit, the talk is of wideout Calvin Johnson. In Arizona, the talk is the continued search for a quarterback.
While Johnson could be on the verge of setting a new record for receiving yards in a season, Fitzgerald is suffering through a frustrating season as Ken Whisenhunt has gone through three different starting quarterbacks this year.
But here's a twist. Johnson's streak of six straight games comes to an end against Patrick Peterson and the Arizona secondary, while Fitzgerald takes advantage of an iffy Detroit secondary, catching 11 passes for 165 yards and a pair of touchdowns.
More importantly, the Cardinals celebrate a 24-20 victory, the team's first since Week 4.
Kind of catchy, isn't it?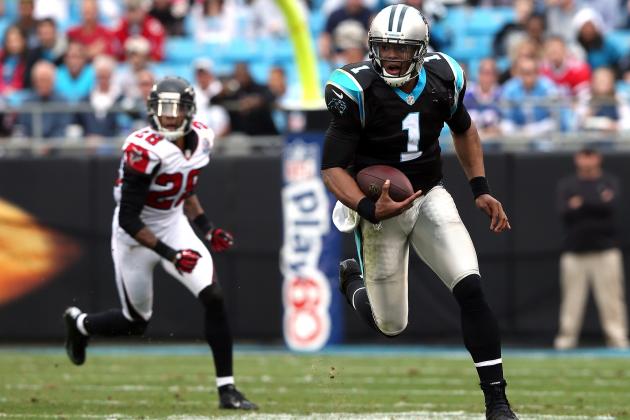 Streeter Lecka/Getty Images

Last year, the Carolina Panthers and then-rookie quarterback Cam Newton closed the season with four wins in their last six games after a 2-8 start.
A week ago, the Panthers snapped a five-game losing streak to the Atlanta Falcons with a 30-20 win. Newton ran for 116 yards and a touchdown and threw for 287 yards and a pair of scores in the victory.
Over the last four games, the former No. 1 overall pick has thrown for eight scores without an interception and rolled up 286 yards and three touchdowns as Carolina has won two of its last three games after a 2-8 start.
After beating the Steelers in Pittsburgh for the first time in 15 regular-season games, the San Diego Chargers must deal with the fact that they've never beaten the Panthers in San Diego. OK, so they're only 0-2, but work with me.
Newton continues his fine play, rushing for 89 yards and two touchdowns and throwing for two scores as the Panthers will remain perfect on the road in this series, 31-21.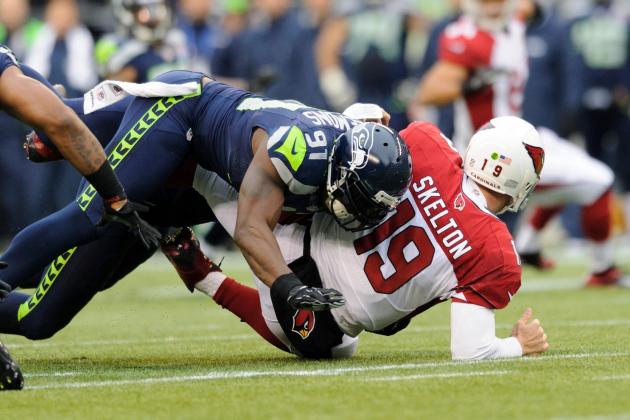 Steven Bisig-USA TODAY Sports

So what can we expect from the surging Seattle Seahawks on Sunday vs. the Buffalo Bills?
Two weeks ago at Chicago, a team that was 1-5 on the road put together three long touchdown drives and beat the Bears in overtime.
Last week, Pete Carroll's club entered their game with the Arizona Cardinals averaging just over 20 points per game in their first 12 outings of the season and proceeded to rout their divisional rivals in record-setting fashion, 58-0.
Now the 'Hawks hit the road and will end up in Toronto, Canada, the Bills' home for one regular-season game a year. Chan Gailey's up-and-down club has been mostly down at 5-8 and comes off a late home loss to the St. Louis Rams, 15-12.
One of the last teams you want to face when your offense is struggling is these Seahawks, whose goose-egging of the Cards was just the second shutout posted in the league in 2012.
En route to a third, Marshawn Lynch will run for 145 yards and a pair of scores against his old club, safety Earl Thomas will take back one of three interceptions thrown by Ryan Fitzpatrick, and Carroll's team wraps up a tidy 24-0 victory.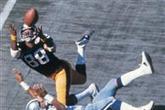 Photo credit: profootballhof.com
We all know the history between the Pittsburgh Steelers and Dallas Cowboys.
These proud franchises have not only made a record eight Super Bowl appearances apiece but have combined for 11 NFL titles, six by the Steelers.
They are also the only two teams to face off in the Super Bowl against each other three times, Pittsburgh winning X and XIII, and Dallas prevailing in Super Bowl XXX.
This Sunday at Cowboys Stadium, ironically where the Steelers made their last Super appearance in losing to the Green Bay Packers (XLV), both clubs are at 7-6 and fighting for a playoff spot.
So here's what you can expect to see in what should be a feisty game by both clubs, thanks to a rumored war of words before the game.
Ben Roethlisberger will throw a pair of interceptions to a wide-open Brandon Carr. The Steelers quarterback will also be stripped of the football when both Anthony Spencer and DeMarcus Ware tackle him, the latter returning the fumble 37 yards for a score.
But the Steelers will respond as Big Ben throws a quick pass to Antonio Brown that turns into a 75-yard score, Jonathan Dwyer runs up the middle for a 22-yard touchdown and speedy Mike Wallace hauls in a 64-yard touchdown pass on a post pattern that gives Pittsburgh a 21-17 lead with mere minutes to play.
Cowboys quarterback Tony Romo, despite being sacked seven times on the afternoon, drives his team downfield—but on the final play of the game, reliable tight end Jason Witten drops a sure touchdown pass in the end zone to preserve the Steelers' four-point win.
And as for that aforementioned war of words? Speculation is that it began when someone said Roethlisberger couldn't spell "cat" if you spotted him the C and the A.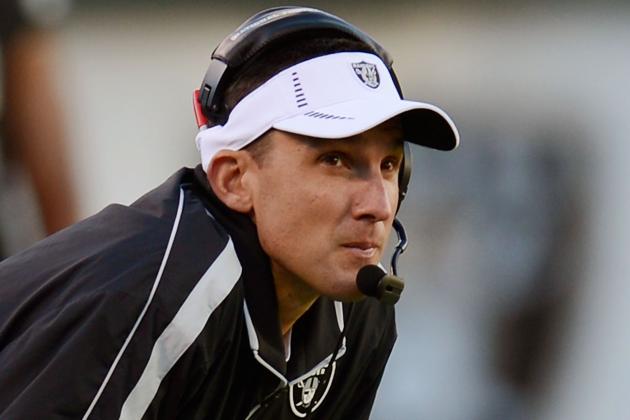 Thearon W. Henderson/Getty Images

It's pretty astounding to think that the Oakland Raiders have gone 10 straight years without a winning season.
Dating back to 2003, the Silver and Black are a mind-boggling 48-109 and have now lost at least 10 games in eight of those 10 seasons.
And the frustrations continue for first-time head coach Dennis Allen and the 3-10 Raiders in 2012, losers of six straight games and allowing an NFL-high 402 points this season.
Meanwhile, the Kansas City Chiefs have won just twice this year, but running back Jamaal Charles, lost in the season's second week in 2011, has rebounded nicely with 1,220 yards rushing, including 100 or more yards in each of his last three games.
And you can make that four in a row, as the former Pro Bowler rolls up 158 yards on the ground and two scores. The Kansas City defense makes life miserable for Raiders quarterback Carson Palmer in a 17-7 Chiefs victory.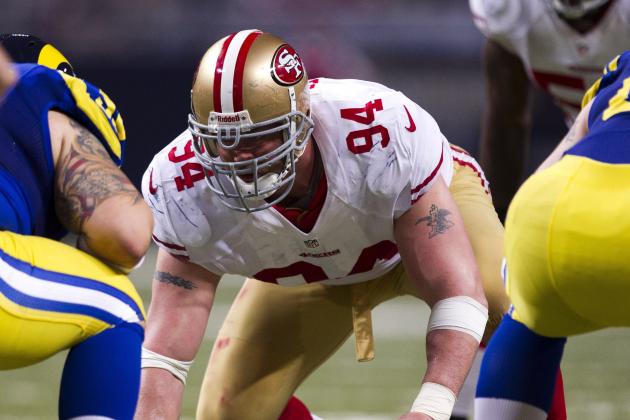 David Welker/Getty Images

No team in the National Football League has scored more points than the New England Patriots (472).
No team in the NFL has allowed fewer points than the San Francisco 49ers (184).
It's an intriguing clash of styles in Foxborough on Sunday night, as we could be seeing this matchup for the first of two times this season.
Last Monday night, Bill Belichick's team reminded us what can happen to any opponent not braced for the spotlight. The Pats made quick work of the Houston Texans, 42-14, and now set their sights on who many feel is the best team in the NFC.
A lot has been made about quarterback Colin Kaepernick replacing Alex Smith about a month ago. But on this night in New England, two other Smiths will not only be in the spotlight, but the Patriots backfield as well.
Aldon Smith will add a pair of sacks to his league-leading total of 19.5, and Justin Smith will stifle the New England running game.
But instead of six touchdowns, the resourceful Pats will settle for six Stephen Gostkowski field goals en route to an 18-14 win.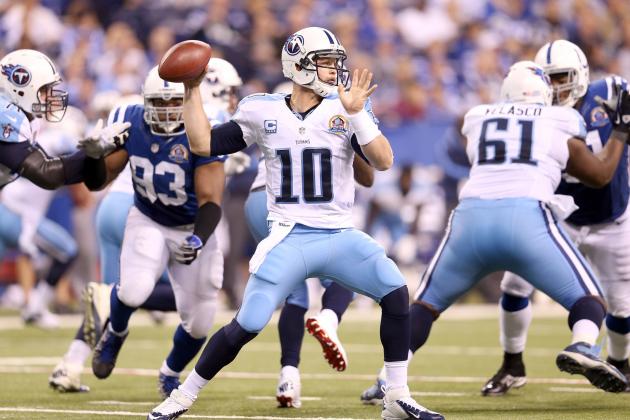 Andy Lyons/Getty Images

Is it indeed possible that the never-say-never New York Jets are actually still very alive in the AFC playoff chase?
Rex Ryan's team has won three of its last four games and (at 6-7) is very much in the hunt for a wild-card berth. We've seen the Jets crank up the ground game as of late, while the New York defense has done its share as well.
The last two weeks, it has resulted in ugly wins over the Arizona Cardinals (7-6) and Jacksonville Jaguars (17-10)—but since there's no BCS in the NFL, a win is a win.
So you can look for both running back Shonn Greene and much-maligned quarterback Mark Sanchez to have big nights against a Tennessee Titans team that has given up the second-most points in the league this season (386).
The former will run for 112 yards and be complemented by Sanchez's 309 yards and three scores in a 30-14 win for the Jets, who will get back to the .500 mark and make the final two weeks of the season intriguing indeed.