A Baker's Dozen Bold Predictions for NFL Week 12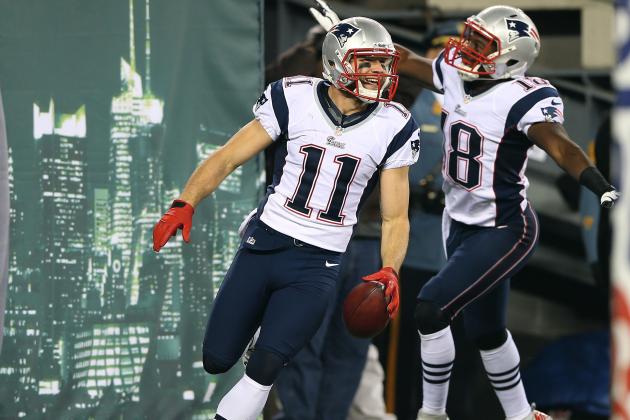 Elsa/Getty Images
Julian Edelman scored two of the Patriots' seven touchdowns on Thanksgiving night vs. the Jets
It was a day and night of firsts as Week 12 of the 2012 NFL season got off to a rousing start on Thursday.
The Houston Texans played on Thanksgiving for the first time in their brief history and picked up a 34-31 overtime win at Detroit, and the Washington Redskins defeated the Dallas Cowboys on Turkey Day for the first time in seven tries.
As for the New England Patriots and New York Jets, a scoreless first quarter was the exception and certainly not the rule on a wild day of football in which the all three road teams came out on top. The six clubs combined for an amazing 202 points.
Now, we didn't get a chance to make those picks because someone had to carve the turkey. But we're more than happy to serve up predictions for the remaining 13 courses on Sunday and Monday.
Safe to say we're hungry to keep our pristine record intact.
Begin Slideshow

»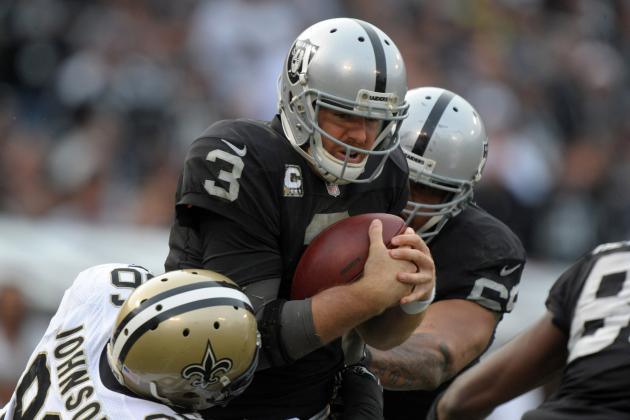 US PRESSWIRE

The Cincinnati Bengals made quarterback Carson Palmer the first overall pick in the 2003 NFL draft.
In 2011, the Bengals made Palmer a member of the Oakland Raiders.
That decision paid off for Marvin Lewis and company last season when rookie quarterback Andy Dalton was one of numerous reasons his team won nine games and went to the playoffs.
Palmer, a former Pro Bowler, has had his issues dating back to his final season in Cincinnati, when he threw 26 touchdown passes but saw five of his 20 interceptions returned for scores.
It hasn't been much better in Oakland. Palmer has committed 31 turnovers in 20 games with the Silver and Black. Four of his 27 picks have been taken back for touchdowns.
So in his return to the Queen City, look for the prolific passer to connect on scores with current teammates Denarius Moore and Brandon Myers, as well as former teammates Leon Hall and Domata Peko as the Bengals survive, 35-31.
Perfect. Now everyone's happy.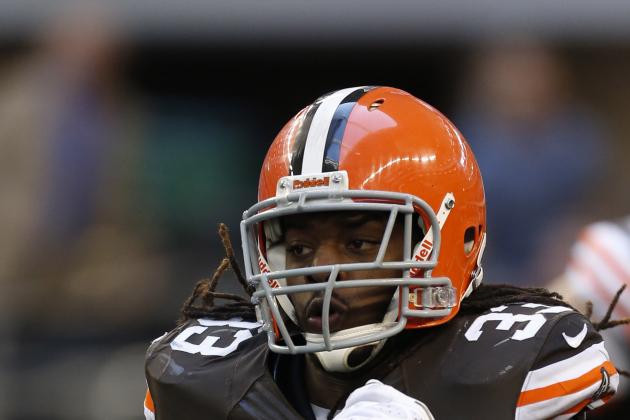 Wesley Hitt/Getty Images

Continuity is the key to success in the National Football League. No team knows that better than the Pittsburgh Steelers.
With Hall of Famer Chuck Noll, fiery Bill Cowher and current leader Mike Tomlin, the franchise has had only three head coaches since 1969.
But the Black and Gold is about to start its third quarterback in three games.
With Ben Roethlisberger still sidelined and backup Byron Leftwich now joining him, veteran Charlie Batch gets the nod for Tomlin's club. The one-time Detroit Lion owns a 5-2 record when called to duty for the Steelers.
Pittsburgh has certainly had its way with the Cleveland Browns. The Steelers are 10-1 in their last 11 trips to Cleveland.
These days, the 2-8 Browns find ways to lose, blowing a 13-0 halftime lead at Dallas last week in a 23-20 overtime loss.
This week, they'll find a way to win as a hard-hitting Cleveland defense paves the way for a 17-12 surprise, with rookie running back Trent Richardson scoring the game-winning touchdown with 54 seconds to play.
Mark Konezny-US PRESSWIRE

Admit it. The first name that popped into your head was Andretti.
On Sunday, it will be Buffalo Bills defensive end Mario Williams who hopes to do a few laps around Indianapolis Colts right tackle Winston Justice on his way to quarterback Andrew Luck.
To say it's been an up-and-down year for the former No. 1 overall pick and his team would be an understatement. When Chan Gailey's team has been on, it results in a win. But when the Bills have been bad, they have been pretty horrendous, having given up 238 points in their six losses.
For numerous reasons, Williams has not been an enormous factor despite leading the team with 5.5 sacks (the same total San Francisco 49ers outside linebacker Aldon Smith amassed on Monday night).
But that's about to change. Justice will be served early and often as Williams gets to Luck three times. Buffalo's running game will do the rest in a 26-21 win over the improved Colts.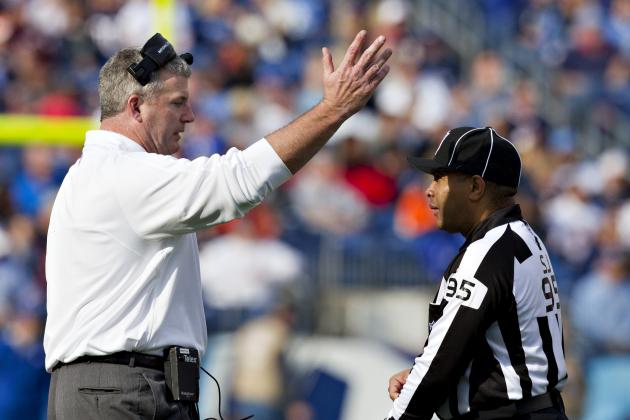 Wesley Hitt/Getty Images

For the Tennessee Titans and Jacksonville Jaguars, the No. 37 has recent significance.
For the former, it was the number of points the team scored the last time it took the field, a 37-3 win at Miami before Mike Munchak's club went on its mini-vacation.
As for the Jaguars, they scored 37 points last Sunday at Houston. Unfortunately for head coach Mike Mularkey, the Texans scored 43 in an overtime victory that saw Jacksonville squander a 34-20 fourth-quarter advantage.
Now the Titans return to Florida looking for another big afternoon in the Sunshine State. Munchak also knows that the Jaguars are 0-5 at home (outscored a combined 153-44 in those five losses) and gave up a mind-boggling 653 total yards in last week's loss.
Also keep in mind that Tennessee (311) and Jacksonville (289) have allowed a combined 600 points this season.
All of these mind-boggling numbers can mean only one thing.
Titans 9, Jaguars 6 in overtime.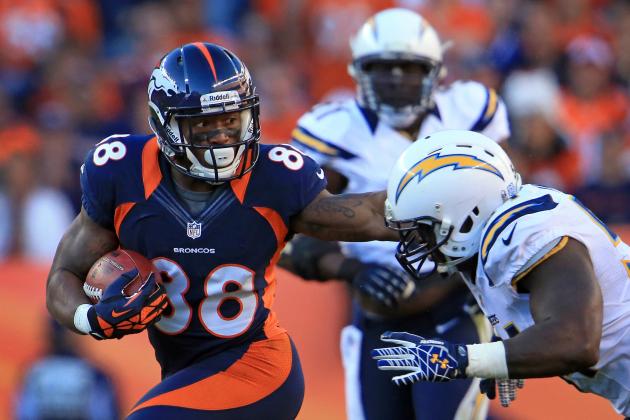 Doug Pensinger/Getty Images

It's been an incredible season for a player who never saw the field in 2011.
It's also been a forgettable year for a team that perhaps wished it hadn't played in 2012.
All jokes aside, nine losses and 31 turnovers later, the Kansas City Chiefs are tied with the Jacksonville Jaguars with an NFL-worst 1-9 record.
Now all Romeo Crennel's club—losers of six straight and winless at home this season—has to do is cool off Denver Broncos quarterback Peyton Manning. After missing all of 2011, the prolific signal-caller has thrown 24 touchdown passes (seven interceptions) and has his team riding a five-game winning streak.
It's worth noting that the last three meetings between the Broncos and Chiefs have produced a total of 53 points. This matchup will as well.
Manning will throw for four scores, setting a franchise record for touchdowns passes in a season, as Denver rolls out of Kansas City with a 40-13 victory.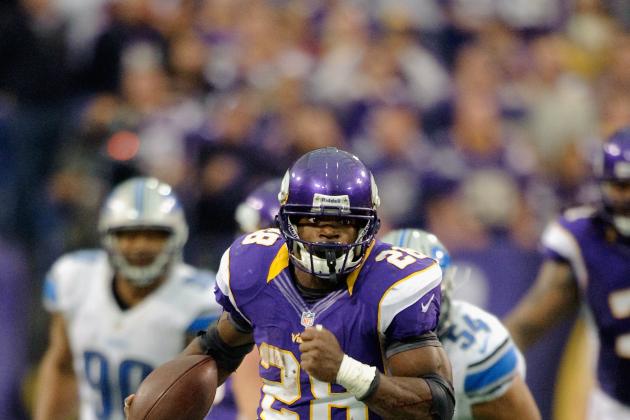 Hannah Foslien/Getty Images

All puns intended, the Minnesota Vikings have had a few weeks to ponder their surprising 6-4 start.
Leslie Frazier's club has doubled its victory total from 2011 but now has loftier goals as it finds itself just one game behind the Green Bay Packers and Chicago Bears in the NFC North.
Even better news for this edition of the Purple Gang is that they have four games remaining with the Packers and Bears, including Sunday at Soldier Field.
The Bears have dropped two straight after a 7-1 start and have not had quarterback Jay Cutler at their disposal the last six quarters. But it was their defense that had issues Monday night at San Francisco. Brian Urlacher and company were taken apart by second-year quarterback Colin Kaepernick and the Niners' ground game.
Enter Adrian Peterson, who has enjoyed more than his share of success against the Bears. The league's top rusher will rush for 123 yards and a pair of scores as Frazier's team will hold off a late rally by Chicago to win 24-21.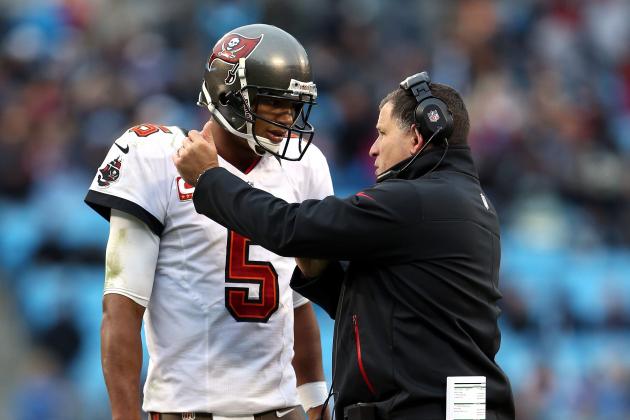 Streeter Lecka/Getty Images

They say timing is everything. And the time may be right for the Tampa Bay Buccaneers.
Head coach Greg Schiano is doing quite the job these days with a team that lost its final 10 games in 2011. In his debut campaign, the Bucs are 6-4 and in second place in the NFC South.
Led by quarterback Josh Freeman, rookie running back Doug Martin and a revived attack, Tampa has gone from a four-win team in '11 to four straight wins entering this showdown with the Atlanta Falcons.
Mike Smith's team owns the NFC's best record at 9-1 and is a different club than in recent years. The Falcons are relying on the passing of quarterback Matt Ryan and a talented receiving corps while making former workhorse runner Michael Turner something of an afterthought.
Martin has been one of the hotter runners in the league, having amassed 1,000 rushing yards in 10 games. As a team, the high-flying Falcons have only rushed for 892 yards.
Call us old school, but there's a lot to be said for running the ball and stopping the run. The Falcons are doing neither these days.
Martin will go for 131 and the Falcons for 73 as Schiano's club inches a game closer to Atlanta with a 31-21 win.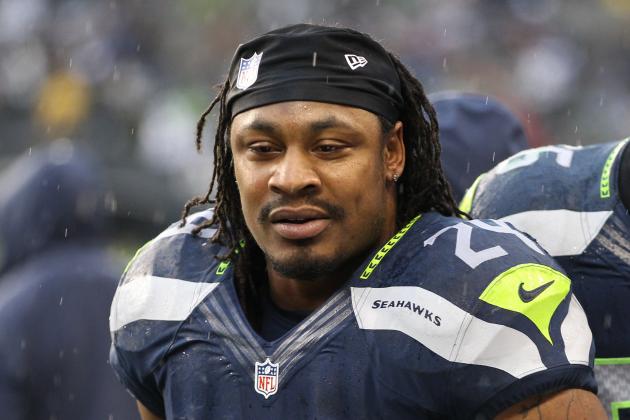 Otto Greule Jr/Getty Images

Will familiarity breed another victory?
The last time Pete Carroll coached a game, his Seahawks welcomed the New York Jets and quarterback Mark Sanchez (who played for Carroll at USC) and gave them a 28-7 going-away present.
Now the Seahawks make the long trip to South Florida, where Carroll will be reunited with another former Trojan in running back Reggie Bush, who has struggled after enjoying a career year with the Dolphins in 2011.
There have been no struggles for Seattle's Marshawn Lynch, the league's second-leading rusher entering Week 12. The one-time Buffalo Bill has rushed for 100-plus yards in four straight games and in six of 10 outings this season.
He will make it five straight against a Miami defense that hasn't been up to snuff in recent weeks. Lynch will roll up 124 yards and a touchdown on 28 carries (see his last two games), and Carroll's team will equal last year's win total (seven) with a 20-17 triumph.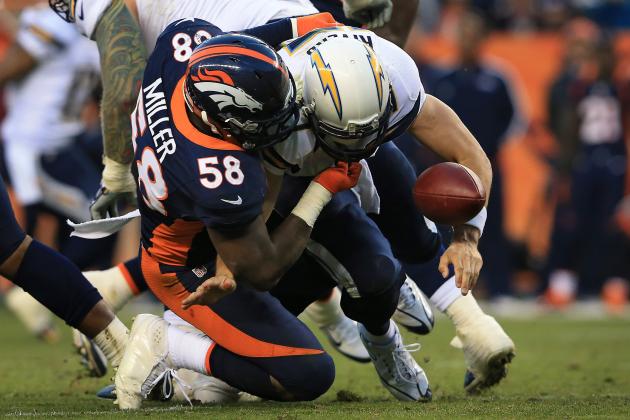 Doug Pensinger/Getty Images

Trap game?
You hear the expression all the time when a team with a winning record faces a club it's expected to beat when there's another big game on the horizon.
The Baltimore Ravens are coming off a 13-10 win over the Pittsburgh Steelers, and a week from now they face Mike Tomlin's team again. But in between there's this week's trip to beautiful San Diego and a date with the problem-plagued Chargers, 2-6 in their last eight games (both wins over the Chiefs) after opening the season 2-0.
One of the major issues for the Chargers has been the play of former Pro Bowl quarterback Philip Rivers, who has committed 18 of the team's 22 turnovers after being responsible for 25 of San Diego's 28 giveaways in 2011.
Last season, the Bolts welcomed the Ravens to town and handed them a 34-14 loss. History will somewhat repeat itself as Rivers plays turnover-free football against Terrell Suggs and company in a desperate 29-20 win.
Trapped indeed.
Thearon W. Henderson/Getty Images

Now how's this for a rematch?
In one of the most stirring playoff games in recent seasons, the San Francisco 49ers rallied to beat the New Orleans Saints, 36-32, in the divisional round last January, thanks to the legs and arm of quarterback Alex Smith.
As we type, we're not sure who the 49ers' starting quarterback will be. Smith is still recovering from the effects of a concussion suffered two weeks ago against the Rams.
Meanwhile, second-year quarterback Colin Kaepernick put on quite the show in his first NFL start last Monday night against the Chicago Bears, leading his team to a 32-7 win.
This week will be another story as Jim Harbaugh's club invades the Superdome looking to cool off the revived Saints, who are defensively challenged but winners of their last three games.
It's worth noting that in his 28 games as the Niners head coach (including playoffs), Harbaugh has seen his club give up at least 30 points just once. That would be in the playoff win over the Saints.
But turnabout is fair play in more ways than one. Be it Smith or Kaepernick, the quarterback to watch here is Drew Brees, who will throw three touchdown passes in a 32-21 victory.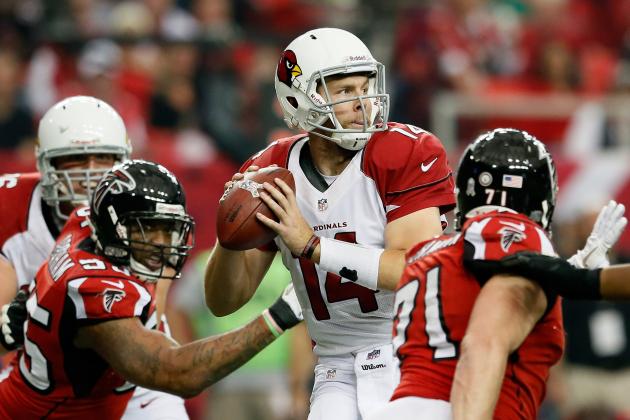 Kevin C. Cox/Getty Images

Ah, memories.
Remember that it wasn't all that long ago that all four teams in the NFC West were 3-2 or better.
But it's a long season when you can't protect the quarterback, and those issues have plagued the St. Louis Rams and Arizona Cardinals.
Quarterback Sam Bradford has been sacked 26 times in 10 games. But that's nothing (unless you ask Bradford) compared to the Cards, who have allowed a league-high 44 sacks.
When last the teams met in Week 5, 4-0 Arizona became 4-1 as the Rams sacked Kevin Kolb nine times. It was the start of six straight losses for Ken Whisenhunt's team, which has yet to recover from that loss.
Unfortunately for the Rams, it was also the last time they won a game, which means something could give on Sunday.
Cardinals rookie quarterback Ryan Lindley, who relieved an ineffective John Skelton last Sunday, tries his hand at ending Arizona's six-game skid. But it will be like Christmas in Jeff Fisher's house as he and his team will wind up with another tie, 16-16.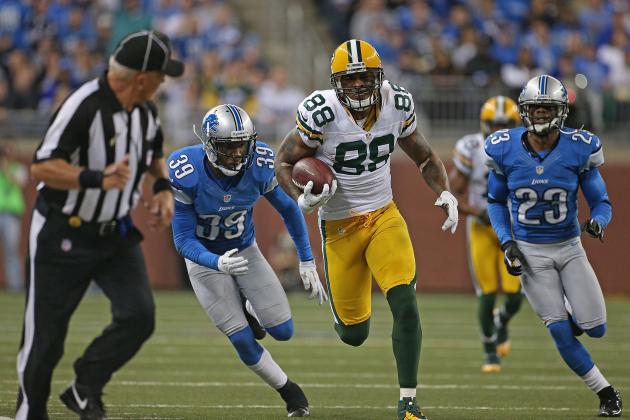 Leon Halip/Getty Images

Last season, the Green Bay Packers and New York Giants were comfortable putting points on the board…at each other's home.
In Week 13 at MetLife Stadium, Packers quarterback Aaron Rodgers led his team to a 38-35 win. Six weeks later at Lambeau Field, the Giants and Eli Manning more than returned the favor via a 37-20 victory in the NFC divisional playoffs.
These days, no quarterback is hotter than Rodgers, who has thrown 17 touchdown passes and only two interceptions during the Packers' five-game winning streak. Meanwhile, Manning has thrown for one touchdown and been picked off six times in his last four outings, the last two resulting in losses to the Steelers and Bengals.
The defending Super Bowl champions have had two weeks to find out what ails them, but they'll quickly find out that it's Rodgers, who will throw for one score and run for two others as New York's losing streak reaches three in a 34-23 loss in this clash between the last two Super Bowl champions.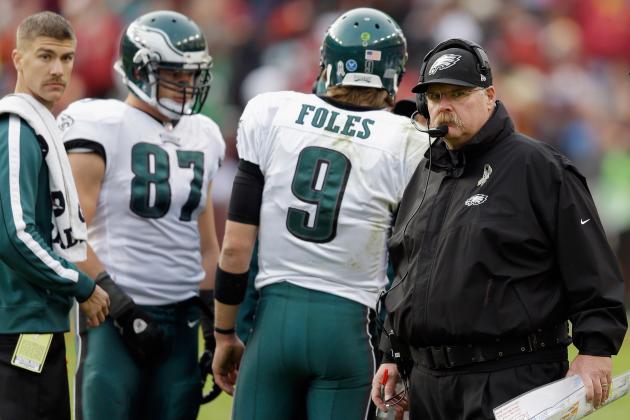 Rob Carr/Getty Images

It's safe to say that it has been a rough second season for Carolina Panthers quarterback Cam Newton. The 2011 NFL Offensive Rookie of the Year has committed 13 turnovers, and his team has won two games.
It's been a rough few weeks for Philadelphia Eagles rookie quarterback Nick Foles, pressed into duty two weeks ago when starter Michael Vick went down with a concussion vs. Dallas.
In the loss to the Cowboys, Foles threw for one score but was sacked twice and had two turnovers returned for scores. Last Sunday vs. the Washington Redskins, the third-round pick threw a pair of interceptions, fumbled three times (losing none) and was sacked four times.
So will the Panthers and Eagles be ready for some football on Monday night? Given the state of both defenses, look for the Birds to hold off these Cats, 30-28, as both Newton and Foles will throw for 300-plus yards, with the latter playing turnover-free football.