NFL Week 15 Biggest Individual Matchups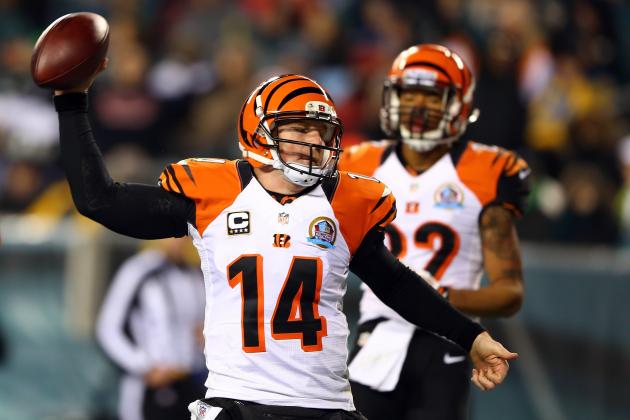 Elsa/Getty Images
Andy Dalton has his ups and downs in the Bengals 34-13 Thursday night win at Cincinnati.
The Cincinnati Bengals held up their end of the bargain on Thursday night in Philadelphia.
Marvin Lewis' team shook off a sluggish second-quarter and came away with a 34-13 win over the Eagles.
Now, we have to wait until the weekend to see how the rest of the AFC playoff picture all plays out in what should be a fascinating Week 15, with a card full of key divisional showdowns and a few intriguing inter-conference tilts.
So which key players should you focus on this week regarding the key individual matchups that could ultimately decide the remaining 15 games in Week 15?
We won't waste your time any longer.
Begin Slideshow

»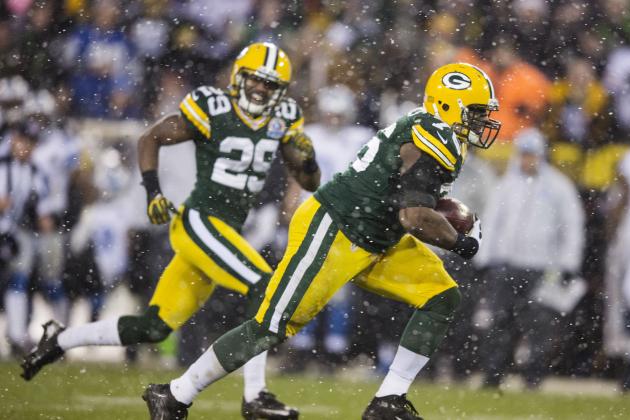 Tom Lynn/Getty Images

Someone has someone right where they want them.
The Green Bay Packers can wrap up the NFC North with a win over the Chicago Bears on Sunday at Soldier Field.
Mike McCarthy's Green Bay squad has reclaimed the top spot in the division. This, in part, has to do with the fact that the "Monsters of the Midway" have not been scaring anyone as of late after losing four of their last five games following a 7-1 start.
Now quarterback Jay Cutler has to once again deal with a defense that sacked him seven times and picked off four of his passes three months ago at Lambeau Field.
Packers defensive coordinator Dom Capers has had Cutler's number ever since both arrived in the NFC North in 2009. In seven overall meetings with the Pack, the Bears' quarterback has thrown seven touchdown passes compared to 16 interceptions, and he has been picked-off at least twice in five of those contests.
For numerous reasons, the Green Bay defense isn't putting up the takeaway numbers that it did last season. But rookie cornerback Casey Hayward has five of the team's 15 interceptions this season and will look to add to that total against the Bears.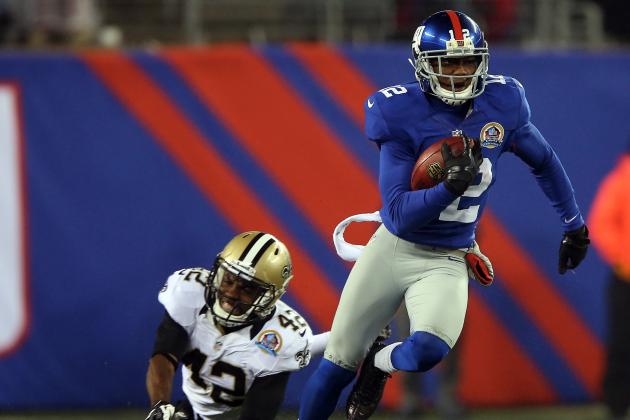 Elsa/Getty Images

It feels like we've been beating a dead horse.
Only four teams in the league have run for fewer yards than the Atlanta Falcons, and Mike Nolan's defense finds itself ranked in the bottom third of the league in terms of stopping the run.
Yes, Mike Smith's club has wrapped up the NFC South and owns the conference's best record at 11-2. But the aforementioned shortcomings could come back and haunt a club that hasn't won a playoff game since 2004. All told, this season's Falcons squad has allowed 100-plus yards rushing in 10 of its 13 games this season, and it has allowed 140 or more yards in five of those contests.
Enter New York Giants rookie running back David Wilson, who returned four kickoffs for 227 yards and a score in last week's win over the Saints. Still, lost in last week's special teams bonanza was the fact that New York's first-round pick from last April's draft ran 13 times for 100 yards and a pair of touchdowns in the win over New Orleans.
With the Atlanta defense reeling a bit, don't be surprised to see both Wilson and veteran Ahmad Bradshaw get plenty of touches. And if Falcons' safety William Moore, who is second on the team in tackles, doesn't add a little support, then those short runs could become big plays in a hurry.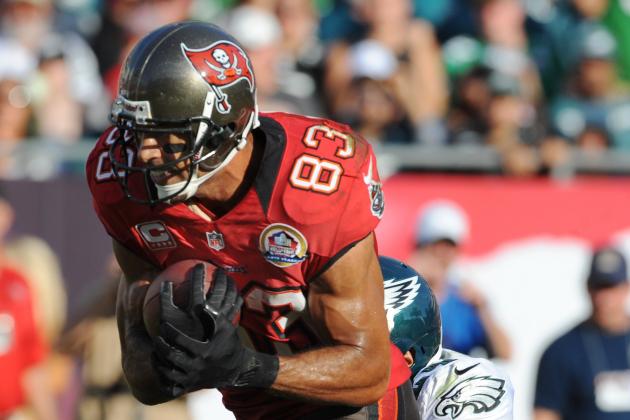 Al Messerschmidt/Getty Images

The Tampa Bay Buccaneers and New Orleans Saints head into this rematch with each team in the midst of a three-game losing streak. The teams have combined for 11 wins on the season, which is as many as the recently-crowned NFC South champion Atlanta Falcons.
When these teams squared off eight weeks ago in Tampa, Greg Schiano's club owned leads of 14-0 and 21-7 in the first half but couldn't put the Saints and quarterback Drew Brees away, as the Cajuns came away with a 35-28 win.
Still, it was the New Orleans secondary that could not put away Buccaneers wideout Vincent Jackson, who caught seven passes for 216 yards and a score in the losing effort.
Saints cornerback Patrick Robinson leads the team with three interceptions but this is a defense that has picked-off just 10 passes this season. Also, considering defensive coordinator Steve Spagnuolo's unit has allowed 27 scores through the air in 2012, it could be another interesting afternoon at the Superdome.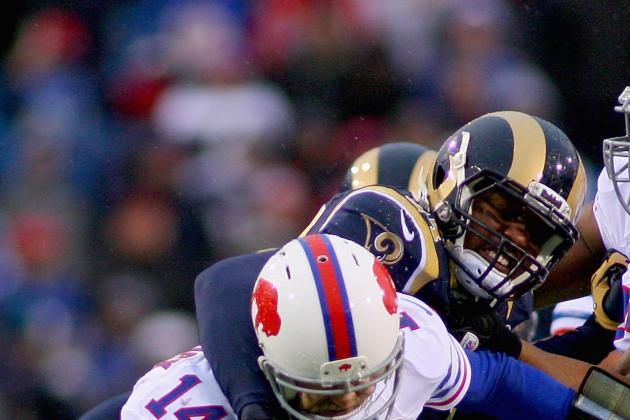 Rick Stewart/Getty Images

With all the talk of standout rookies in the National Football League this season, it's safe to say that a few prominent rookies may be left out of the current conversation.
And while Minnesota Vikings running back Adrian Peterson has rushed for a league-high 1,600 yards, he's obviously done it behind someone.
After orchestrating a trade with the Tampa Bay Buccaneers on draft day, the Vikings moved down one spot while also acquiring extra picks and were still able to grab offensive tackle Matt Kalil with the fourth overall selection. The former USC Trojan star has started in all 13 games this season.
This week, he'll have to deal with the likes of St. Louis Rams defensive end Robert Quinn—the team leader with 9.5 sacks on a club tied for second in the NFL with 39 sacks this season.
Given the issues that Vikings quarterback Christian Ponder has had with interceptions as of late, Kalil will have to do his best to make sure that his teammate is as comfortable as possible.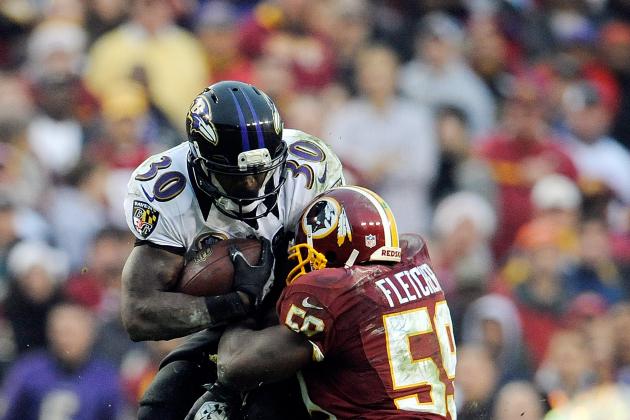 Patrick McDermott/Getty Images

We'll take some liberties here with a famous saying: "So it's in with the new and good luck against the old."
Assuming that much-improved Washington Redskins quarterback Robert Griffin III does play against the much-improved Cleveland Browns, you'll be seeing plenty of rookie talent on the field in Ohio, as Griffin as well as rookie running backs Alfred Morris (Redskins) and Trent Richardson (Browns) could all take the field.
But we'll focus on the latter, who not only leads the Browns with 869 yards rushing but has also caught a team-high 45 passes.
Pat Shurmur's team, winners of three straight games, is finally learning how to put points on the scoreboard. The Browns have scored 259 points in 13 games this season, compared to just 218 points in 16 games in 2011.
And that's where veteran linebacker London Fletcher comes in. Not only does the star defender lead the Redskins with 109 tackles, but he's also third on the club with eight passes defensed. Defensive coordinator Jim Haslett's unit has certainly had its ups and down this season, but the ageless Fletcher continues to perform.
The Washington defense must come up big if Mike Shanahan's team—riding a four-game winning streak—hopes to stay in the race for the NFC East title.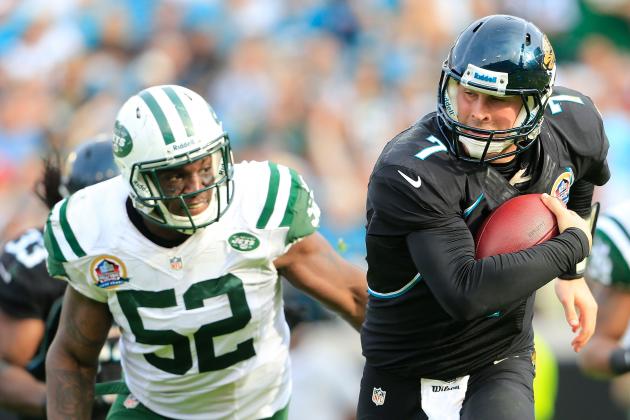 Sam Greenwood/Getty Images

Who says you can't go home?
Current Jaguars quarterback Chad Henne was the Miami Dolphins second-round pick in 2008, and he compiled a 13-18 record as a starter in four seasons with the 'Fins. A year ago, the Dolphins got off to a 0-7 start, and Henne was at the helm for the first four of those losses before going down with an injury.
This offseason, Henne signed with the Jaguars to back up second-year quarterback Blaine Gabbert. This time, it was the latter that was injured early in a Week 11 tilt with the Houston Texans, so enter Henne, who threw four touchdown passes in a losing overtime effort at Reliant Stadium. A week later, Henne threw for a pair of scores in a win over the Tennessee Titans.
Last Sunday, the new Jacksonville quarterback threw zero touchdown passes and a pair of interceptions in a 17-10 loss to the New York Jets. This week, he gets a crack at his former team and rookie quarterback Ryan Tannehill, who has thrown eight touchdown passes and a dozen interceptions during Miami's current 5-8 campaign.
We'll soon find out if being reunited really feels "so good."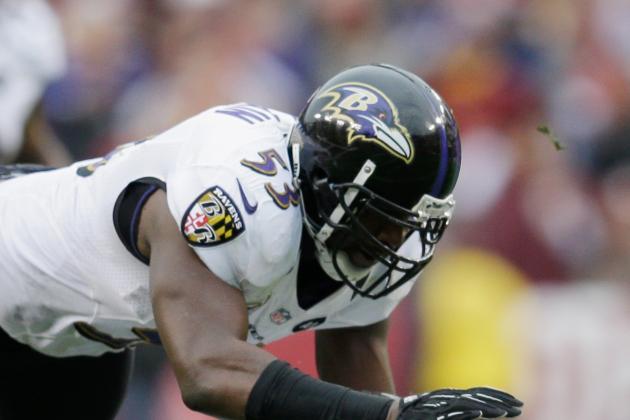 Rob Carr/Getty Images

So we meet again.
This clash between the AFC West champion Denver Broncos and AFC North frontrunner Baltimore Ravens has a familiar feel to it. That's because quarterback Peyton Manning—he of 30 touchdown passes and just 10 interceptions this season—is back to try his hand against a team that he has owned lately.
If you include a pair of playoff tilts, the former Colts quarterback has defeated the Ravens eight straight times. That's pretty impressive considering that, for the most part, Manning has had to deal with the likes of star defenders Ray Lewis Terrell Suggs, Haloti Ngata and Ed Reed.
Speaking of the NFL's active interception leader (61 and counting), the perennial Pro Bowler Ed Reed is tied for the Ravens' team lead with four picks this season and would love to add a few from Manning to that total.
It figures to be a great chess match in Baltimore on Sunday.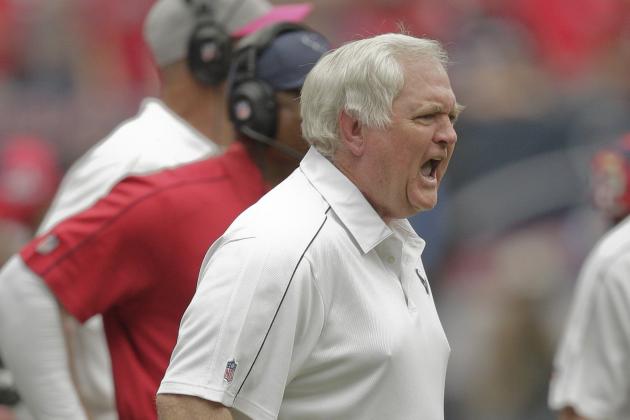 Bob Levey/Getty Images

The Indianapolis Colts are on the verge of the unthinkable.
Who would have ever thought that the rebuilding job—which was far more than just letting quarterback Peyton Manning and head coach Jim Caldwell go—would result in a 9-4 record after 13 games and a shot at winning the AFC South?
The latter is because the Colts have two games left with the Houston Texans in the final three weeks of the season. Of course, Houston is already headed to the playoffs but has not played its best football as of late, most notably on the defensive side of the ball.
Injuries at linebacker and in the secondary have been big factors in the Texans allowing 120 points in the last four games, 42 of those coming in a 28-point loss at New England on Monday night.
Now, Colts rookie quarterback Andrew Luck takes aim at defensive coordinator Wade Phillips' struggling Texans defense, and you can expect the young signal-caller to have his ups and downs. The first overall pick from last April's draft has thrown 18 touchdown passes and has run for another five scores. But he has also turned the ball over 23 times this season, including 18 interceptions, which is tied for the league lead with New Orleans Saints quarterback Drew Brees.
Let the chess match begin.
Jonathan Daniel/Getty Images

Has the torch been passed?
If it has, it's certainly been caught.
Detroit Lions wide receiver Calvin Johnson is once again putting up enormous numbers, totaling 96 receptions for a league-high 1,546 yards and five scores. Johnson has totaled at least 100 yards receiving in each of his last six games.
Arizona Cardinals superstar wideout Larry Fitzgerald finds himself in a much different place these days, as the franchise continues to look for a reliable quarterback. While he leads the team with 57 catches, Fitzgerald has totaled 652 yards and just four scores on the season, pretty pedestrian numbers for one of the best players in the league.
Of course, it's safe to say that the two teams' quarterbacking situations couldn't be more different. Detroit's Matthew Stafford has thrown for 4,006 yards this year, while the Cardinals' firm of Kevin Kolb, John Skelton and rookie Ryan Lindley have combined to throw for 2,808 yards through the air.
Then again, on this day, Johnson could be in for a much longer day than Fitzgerald, as the Cardinals' defense knows a little something about taking away the football in the air.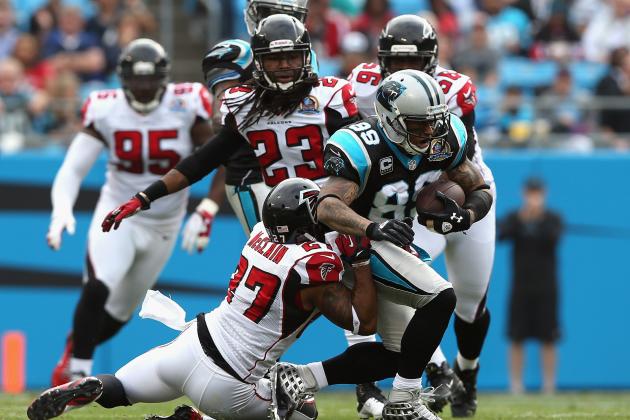 Streeter Lecka/Getty Images

Carolina Panthers quarterback Cam Newton has been playing much better as of late. And that's especially good news for teammate Steve Smith.
The prolific big-play threat has totaled 100-plus yards receiving in each of the last two games and currently sits with a team-high 60 receptions for 999 yards this season, He is on the obvious verge of his sixth career 1,000-yard receiving campaign.
It's been another rough year in San Diego, as the 5-8 Chargers have to run the table just to get back to the .500 mark this season. But that task got off to an unexpectedly great start last week after the Bolts won in the regular season at Pittsburgh for the first time in 15 tries.
Chargers veteran cornerback Quentin Jammer ranks fifth on the team with 58 tackles and, just as significantly, has returned two turnovers for touchdowns. This number is so significant because it happens to be the same amount of total scores that Smith has this season.
Stay tuned…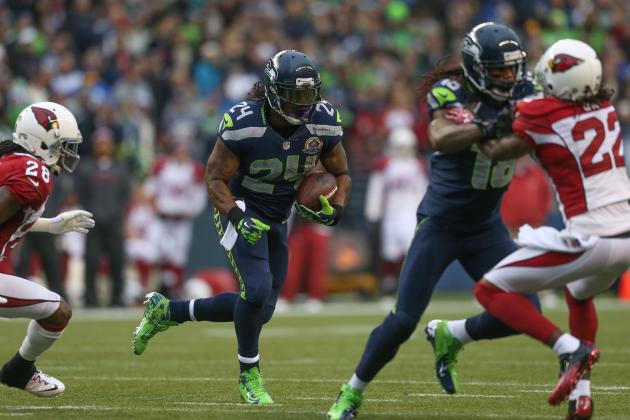 Otto Greule Jr/Getty Images

It's supposed to be old home week for one-time Buffalo Bills running back Marshawn Lynch.
The only problem is that he and the rest of the Seattle Seahawks aren't headed to Orchard Park, New York.
That's because the final road game of the season for Pete Carroll's team takes them to Toronto, Canada, a place that the Buffalo Bills have made home for one regular season game a year for the past five seasons.
Lynch is having a monster year and is as big a factor to the Seahawks' current success as rookie quarterback Russell Wilson and that formidable defense have been. The former first-round pick ranks second in the league with 1,266 yards rushing and has run for nine touchdowns on 261 mostly-bruising carries.
For numerous reasons, the Bills have used both C.J. Spiller and Fred Jackson in the backfield this season, but that will now change since Jackson is now gone for the season (h/t CBS Sports). Interestingly enough, the duo combined for 259 carries, 1,381 rushing yards and eight scores this season, with the majority of that coming from Spiller (144 attempts, 944 yards, five touchdowns).
We may see our share of big plays from both the former and current Buffalo Bills' ball carriers.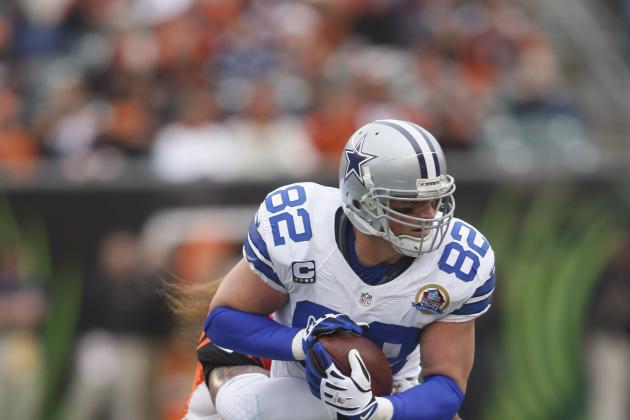 John Grieshop/Getty Images

Mike Wallace. Dez Bryant. Antonio Brown. Miles Austin.
There are a lot of talented wide receivers on both the Pittsburgh Steelers and Dallas Cowboys rosters. But it's interesting to note that both Heath Miller and Jason Witten, each team's respective tight end, are leading their team in receptions.
Miller has totaled 61 catches and is second on the Steelers with 679 receiving yards. He has also pulled in seven touchdown passes. Witten is having another huge year, totaling 92 catches (fifth-most in the NFL) for 800 yards but only one score.
What will make both of these guys fun to watch on Sunday are the defenses that they are facing. Tight ends have a tendency to be somewhat overlooked by defenses that incorporate the 3-4 alignment, meaning it could be a busy day for both of the standout performers.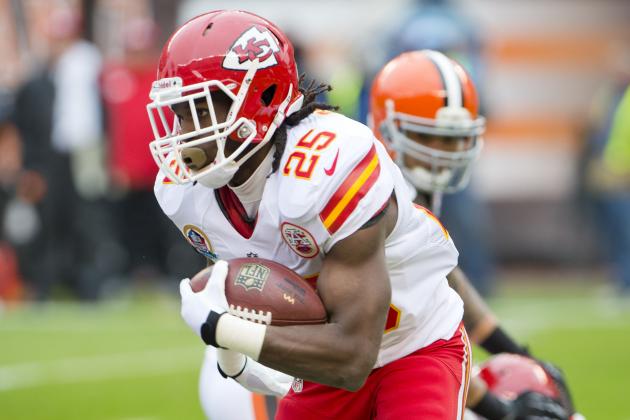 Jason Miller/Getty Images

The NFL Comeback Player of the Year award is not something any performer really cares to win.
While it's certainly an honor, it usually means that something went terribly wrong the previous year.
In this case, a lot has gone wrong for the Kansas City Chiefs this season, with a few exceptions—notably the play of running back Jamaal Charles, who ranks fifth in the league with 1,220 rushing yards.
Let's not forget that the former Pro Bowler suffered a season-ending knee injury in Week 2 of 2011 against the Detroit Lions. And while Minnesota Vikings running back Adrian Peterson is also having a monster season after injuring his knee last December, Charles' accomplishment shouldn't be overlooked either.
The same can't be said for the Oakland Raiders defense, which ranks 30th overall in yards allowed and is ranked 26th against the run. No team in the league has surrendered more points than the Silver and Black.
We've seen Charles make his way into an opposing secondary rather quickly—witness last week's 80-yard touchdown run against the Cleveland Browns on Kansas City's first play of the game.
Raiders strong safety Tyvon Branch has been busy as usual, ranking second on the team in tackles. He'll try and keep Charles from ringing up 100-plus yards rushing for the fourth straight game.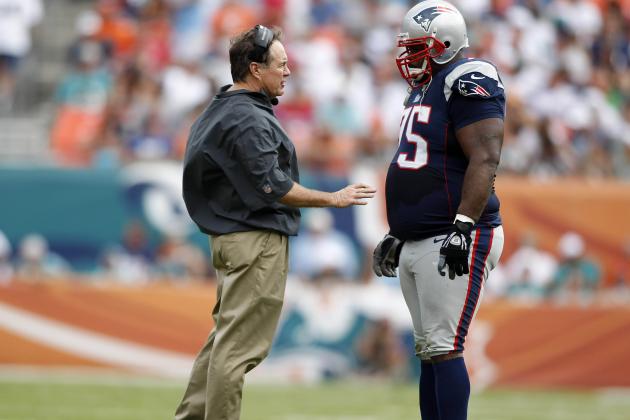 Robert Mayer-USA TODAY Sports

There's no secret what the San Francisco 49ers have planned for Sunday night at Foxborough.
Jim Harbaugh's club would love to see New England Patriots quarterback Tom Brady spend the vast majority of the evening on the sidelines.
Only the Washington Redskins average more rushing yards per game than the Niners, who now have an extra dimension in their running game with quarterback Colin Kaepernick starting and not serving as just an occasional contributor.
But that will be easier said than done. There's at least one big reason that linebackers Jerod Mayo and Brandon Spikes are the top two tacklers on the Pats, who rank eighth in the NFL in terms of rushing yards allowed per game.
Vince Wilfork is enjoying another tremendous season anchoring New England's defensive line, and the four-time (perhaps soon to be fifth) Pro Bowl defensive tackle will be a huge test for 49ers left guard Mike Iupati while San Francisco tries to play a little ball-control.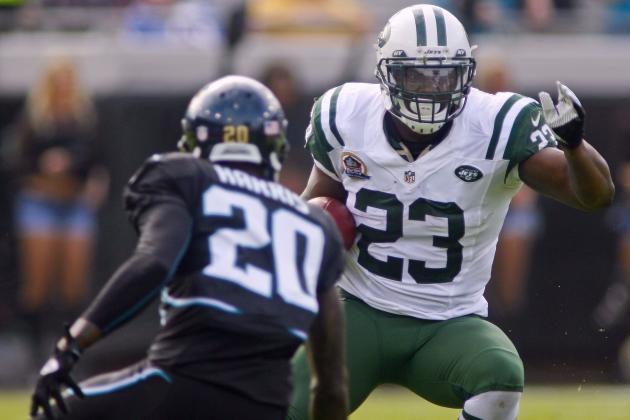 Phil Sears-USA TODAY Sports

Is it possible that the New York Jets will actually make the playoffs?
With a 6-7 record, the New York Jets are still very much alive in the AFC playoff chase. And thanks to three wins in their last four games, Rex Ryan's team has to be feeling a little better about themselves these days.
One of the reasons for the recent reversal of fortune for the Jets—which includes three wins in their last four games—has been the revival of the running game. New York has totaled 586 rushing yards in its last four games (146.5 yards per game) after totaling just 962 yards on the ground (106.9 yards per game) during the team's 3-6 start.
Running back Shonn Greene remains the main workhorse in the backfield, totaling 230 carries for 883 yards and six touchdowns on the season.
And you can expect Ryan to give the Tennessee Titans defense—tied for 23rd in the NFL against the run—a big dose of Greene, along with a sprinkling of reserve Bilal Powell.
Of course, Tennessee outside linebacker Akeem Ayers might have something to say on the matter. While Mike Munchak's club has allowed the second-most points in the league this season, the Titans' defender has been solid, ranking second on the team in tackles (85) and sacks (4.0).