NFL Week 14 Biggest Individual Matchups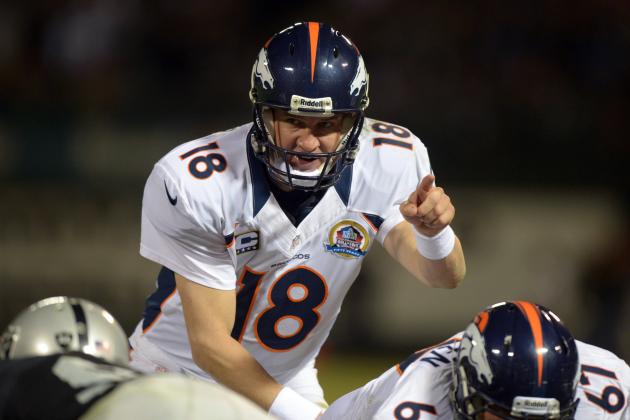 USA TODAY Sports
Peyton Manning and the Broncos made it 8 straight wins with a victory at Oakland
And down the stretch they come…
This fabled phrase is very appropriate considering that we saw the Denver Broncos in action on the road against the Oakland Raiders on Thursday night.
Here the final quarter of the 2012 NFL season got underway, as John Fox's team extended the league's longest active winning streak to eight games with a 26-13 win over the Raiders.
The victory enabled the AFC West champions to complete a sweep of their divisional riva—lsomething the Indianapolis Colts, Atlanta Falcons, Chicago Bears, Arizona Cardinals and Green Bay Packers are all hoping to accomplish this weekend as well.
With the Broncos, Falcons and New England Patriots already having secured their division titles and the Houston Texans wrapping up a playoff berth last week, the dance card for the 2012 postseason prom is filling up fast.
Now we'll really see who has their dancing shoes on and who may be ready to stub their toes.
And a one and a two and…
Begin Slideshow

»
Rob Carr/Getty Images

It's safe to say that this has been a different Baltimore Ravens defense this season, with the ageless linebacker Ray Lewis still on the sidelines, 2011 NFL Defensive Player of the Year Terrell Suggs missing most of the season (and injured again) and standout corner Lardarius Webb also not being around as well.
These days, hard-hitting safety Bernard Pollard is leading the team in tackles, and it's safe to say that the well-traveled defender will have to be at his best this weekend.
The Washington Redskins boast the league's best ground attack and have been incredibly consistent, rushing for 140 or more yards in 10 of the team's 12 games this season. And while Robert Griffin III has garnered a lot of attention and has been a large part of the running game, they have another rookie that has opened some eyes as well.
Sixth-round pick Alfred Morris is tied for third in the league with 1,106 yards on the ground and will be a handful for a Baltimore defense that has already given up more rushing yards in 12 games this season than they did in all of 2011.
For the Ravens, the short drive to Washington may feature some long drives for their opponents on Sunday.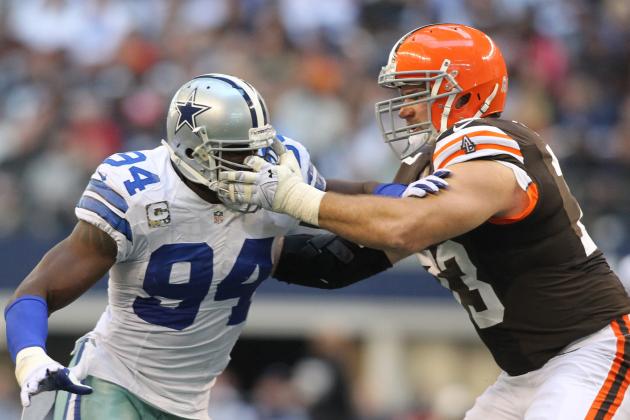 Tim Heitman-USA TODAY Sports

The Kansas City Chiefs (2-10) and Cleveland Browns (4-8) are a combined 6-18 in 2012.
But this is one of the few matchups in Week 14 in which both clubs facing each other will be coming off a victory. In fact, the Browns have won two straight games after opening the season with a 2-8 record.
Both clubs feature solid ground games in Kansas City's Jamaal Charles (1,055 rushing yards) and Cleveland Trent Richardson (827 rushing yards), the latter leading his team not only in rushing but in receiving as well.
Chiefs outside linebacker Tamba Hali, second on the team with 6.0 sacks this season, is known for his ability to get to the quarterback, but it could be a long and frustrating day for the former Pro Bowler, as the Browns look to make Richardson a very busy man.
And that means running behind perennial Pro Bowl left tackle Joe Thomas, who may be Pro Bowl-bound for the sixth time in as many seasons.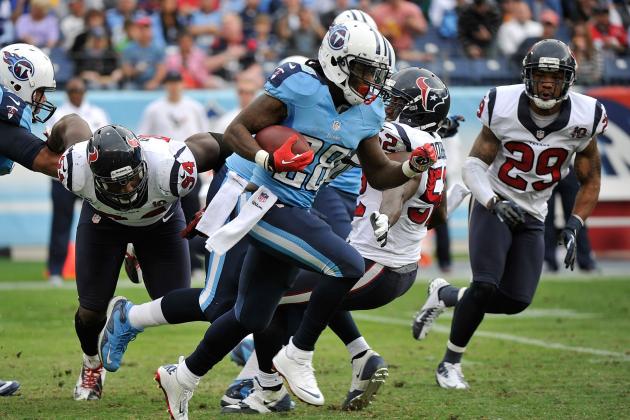 Frederick Breedon/Getty Images

When last we saw the Tennessee Titans and Indianapolis Colts square off six weeks ago in Nashville, we witnessed one of the most spectacular plays of the season.
In overtime, Colts' quarterback Andrew Luck led an 80-yard touchdown drive, capped off by rookie running back Vick Ballard's 16-yard touchdown catch that you can't see enough times.
Speaking of enough, that must have been what Titans running back Chris Johnson was saying three weeks into the season, when he had totaled 45 rushing yards on 33 carries.
But the former Pro Bowl runner is now seven yards away from a fifth consecutive 1,000-yard campaign. And although they have been better of late, the Colts do have their issues with stopping opponents on the ground, ranking 22nd in the league in rushing defense. Even in the recent victories over the Buffalo Bills and Detroit Lions, the Indianapolis defense has allowed 135 and 138 yards rushing, respectively.
It will be up to free agent find Jerrell Freeman, the Colts' leader with 107 tackles this season, to keep Johnson under wraps.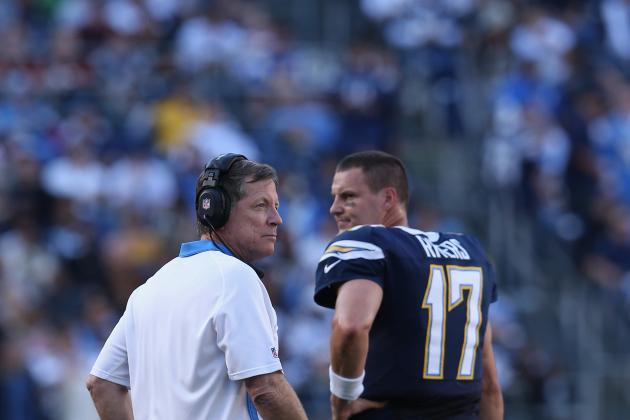 Jeff Gross/Getty Images

The turnover problems for San Diego Chargers quarterback Philip Rivers have garnered attention on a weekly basis.
That's because the numbers continue to get worse.
In last week's 20-13 loss to the Cincinnati Bengals, the Chargers failed to score an offensive touchdown and Rivers coughed up the football twice. That means that the former Pro Bowl signal-caller has totaled 45 touchdowns and has offset that with 45 turnovers in his last 28 games dating back to the start of 2011, with 20 of those miscues coming in a dozen games this season.
Yet the Pittsburgh Steelers have been far from opportunistic the last two seasons, totaling just 27 takeaways in their last 28 regular season games. Two of those came in last week's huge win at Baltimore, the second coming when James Harrison stripped Ravens quarterback Joe Flacco in the fourth quarter.
The veteran linebacker, like numerous Steelers defenders this season, has missed time due to injury but may be about ready to round into form. That could mean getting around the Chargers offensive line and spending some quality time with Rivers.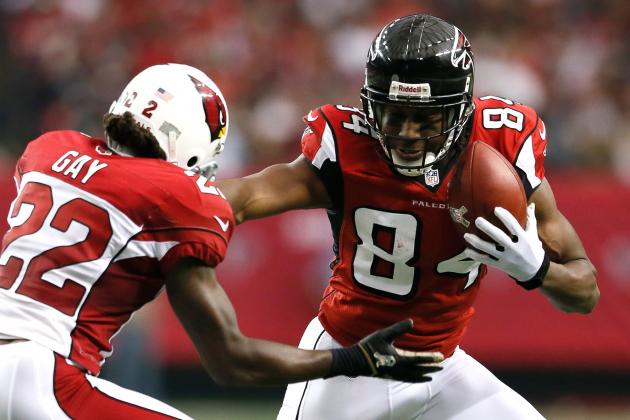 Kevin C. Cox/Getty Images

It may have been the turning point for the Carolina Panthers disappointing 2012 season.
With two losses in their first three games, Ron Rivera's team was in the process of making amends at the Georgia Dome in Week 4, as they owned a 28-27 lead with 59 seconds to play.
Even more encouraging was the fact that the Panthers had managed to pin the Atlanta Falcons at their own one-yard line.
But 59 turned out to be an ominous number. Falcons quarterback Matt Ryan dropped back to throw and connected with wide receiver Roddy White, getting his team out of a major hole. A few plays later, Matt Bryant was busy kicking a 40-yard field goal which proved to be the difference in Atlanta's 30-28 win.
White finished the afternoon with eight receptions, good for 169 yards and a pair of touchdowns.
Three more consecutive losses would follow, and the Panthers were finished as well.
Panther cornerback Captain Munnerlyn has picked off just two passes this season but both have been returned for touchdowns. If he can step in front of a Ryan pass or two, we may see a surprise in Carolina on Sunday.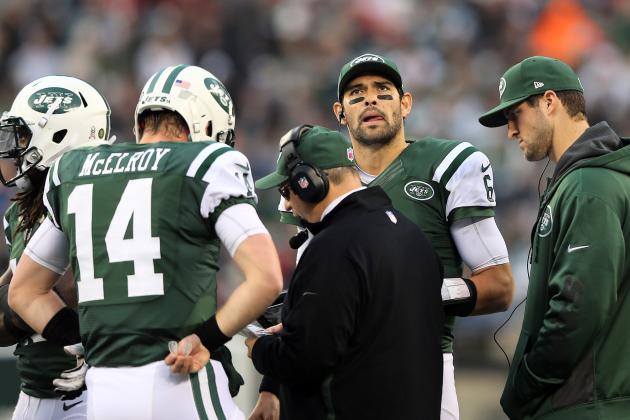 Elsa/Getty Images

It is safe to say that it has not been the most pleasant week for New York Jets quarterback Mark Sanchez. But it could be a whole lot worse—the Jets could be hosting the Jacksonville Jaguars on Sunday.
Last week, the four-year veteran served up three interceptions and gave way to third-string quarterback Greg McElroy, as Rex Ryan's team outlasted the struggling Cardinals, 7-6.
Issues with ball security are nothing new for Sanchez, who threw a career-high 26 touchdown passes last season to go along with 26 turnovers. In 2012, the former first-rounder has thrown for a dozen scores but has also served up 13 interceptions while losing five fumbles.
While Mike Mularkey's defense has picked off just 10 passes in 12 games, cornerback Derek Cox is tied for the Jaguars lead with three interceptions. Also, keep an eye on veteran Rashean Mathis, who has always had a nose for the ball (30 career interceptions) and is expected back this week.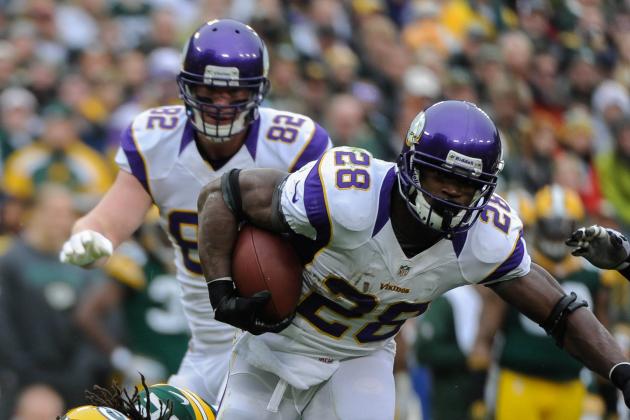 Benny Sieu-USA TODAY Sports

The Chicago Bears have lost three of their last four games, with their lone victory over that stretch being a 28-10 triumph over the Minnesota Vikings two weeks ago.
But in that 18-point loss, Vikings running back Adrian Peterson ran 18 times for 108 yards, and in this NFC North rematch, the NFL's leading rusher hopes to top those numbers at the Metrodome.
Peterson has been nothing short of brilliant this season, amassing a league-high 1,446 rushing yards in a dozen games—quite a feat for someone coming off major knee surgery less than a year ago. The veteran runner has totaled 100-plus yards rushing in six straight games, including 150 or more in four of those contests.
Last week, at Lambeau Field, Peterson had another big day in a losing effort, rushing for 210 yards and a score in a 23-14 loss.
This week, with veteran middle linebacker Brian Urlacher sidelined, Nick Roach moves inside for the Bears, just as was the case last week vs. Seattle. It's safe to say that he and the rest of his teammates could have a tough time slowing down the league's hottest runner.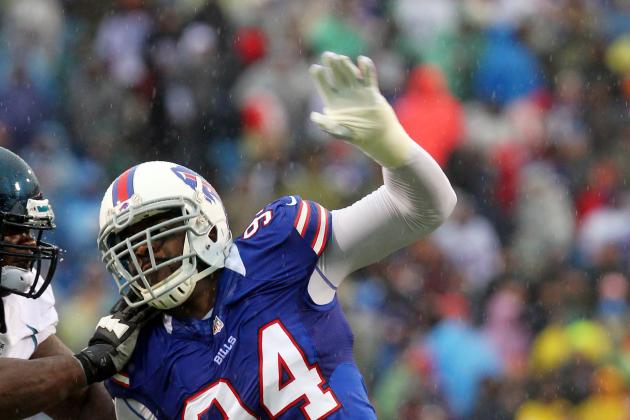 Timothy T. Ludwig-USA TODAY Sports

The bad news for the St. Louis Rams is that they're playing the Buffalo Bills this week.
The worse news for right tackle Barry Richardson is that Bills defensive end Mario Williams is playing this week.
All fun aside, the much-improved Rams are 5-6-1 and have more than doubled their win total from a season ago (2-14). But while Fisher and company are a solid 4-0-1 vs. their NFC West rivals—which includes last Sunday's stunning overtime victory over the 49ers—they are just 1-6 outside of the division, including three losses to the AFC East.
Sam Bradford and company are now looking to get back to the .500 mark against a Buffalo defense which has played better of late, especially when it comes to getting to the quarterback.
Dave Wannstedt's unit has totaled 10 sacks in the last three games and five of those belong to Williams, who had just 4.5 sacks in the first nine games of the season. For whatever the reason, the Bills defense has looked a whole lot better as of late.
It will indeed be interesting to see how well Richardson fares in this matchup, as Buffalo has its own hopes of finishing with a winning record.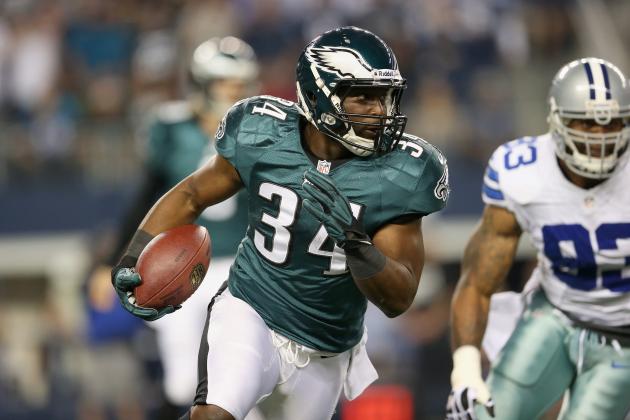 Ronald Martinez/Getty Images

There are two things you can't help but notice when you watch Philadelphia Eagles rookie running back Bryce Brown:
1) Wow, he is fast.
2) And wow, he just fumbled again.
The seventh-round find from Kansas State has been electrifying during the last two weeks. Brown rushed for 178 yards and a pair of touchdowns against the Carolina Panthers, and then added 169 yards and two more scores last Sunday night against the Dallas Cowboys.
However, the Eagles lost both of those games, and in the process, Brown lost three fumbles, including one that was returned for a score in the Sunday night setback at Dallas.
One season after allowing the most rushing yards in the league, the new-look Tampa Bay Buccaneers have given up a league-low 82.3 yards per game on the ground. One reason has been the solid play of rookie outside linebacker Lavonte David, the team's second-round pick in April. The former Cornhusker leads the team with 108 tackles and is hoping to add to that total against the Eagles.
David needs to slow down Brown if the Bucs are to snap out of their mini two-game funk.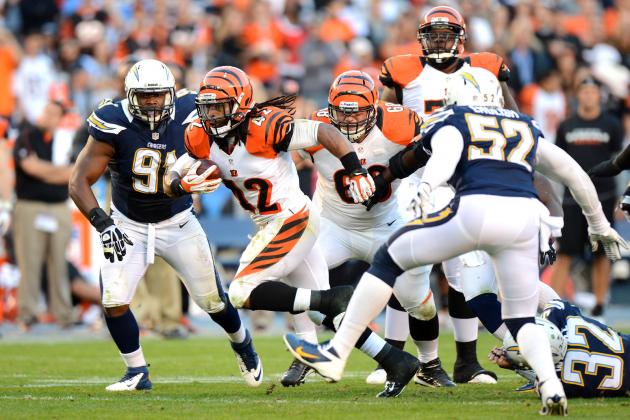 Jake Roth-USA TODAY Sports

Get ready for a king-sized matchup in the Queen City, as a pair of teams tied for second place in their respective divisions look to keep their postseason hopes alive.
The Cincinnati Bengals have won four straight games, and while the defense has been superb, Marvin Lewis and company have really cranked up the running game lately. Veteran running back BenJarvus Green-Ellis, who joined the team from New England this offseason, has rushed for 100 or more yards in each of the last three weeks.
Anyone who saw what Philadelphia Eagles rookie Bryce Brown did to the Dallas Cowboys defense on Sunday night knows that Marvin Lewis' team will test Rob Ryan's defense very early and quite often.
The Cowboys' defense has been devastated by injuries, especially at inside linebacker where heady Sean Lee and now Bruce Carter are gone. Yet veteran linebacker Ernie Sims has been with the team for only six games but has already totaled 26 tackles, and if all goes well, he'll add to that total in a significant way in this all-too-important clash with the Bengals.
The big question will be just how far downfield those stops occur?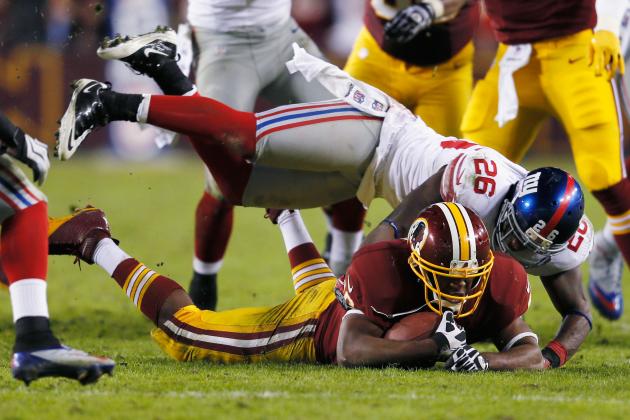 Rob Carr/Getty Images

Now here are some interesting numbers.
In the last three meetings between the New Orleans Saints and New York Giants—who have combined to win three of the last five Super Bowl titles—the Cajuns have had the upper fist, much less hand.
All told, the Saints have won three straight meetings dating back to 2006 by a combined score of 127-58.
In those games, quarterback Drew Brees has thrown nine touchdown passes without an interception, including 363 yards and four scores in a 49-24 rout of Big Blue just over a year ago at the Superdome.
Of course, we've also seen Brees play poorly in the last few weeks during a pair of costly losses to the 49ers and Falcons. In those two games, the prolific passer threw a combined seven interceptions, five of them coming a week ago at the Georgia Dome.
The Giants have been no slouch this season when it comes to takeaways. They have forced 30 turnovers—including 18 interceptions—and you can bet veteran safety Antrel Rolle will be looking to add to Brees' recent misery.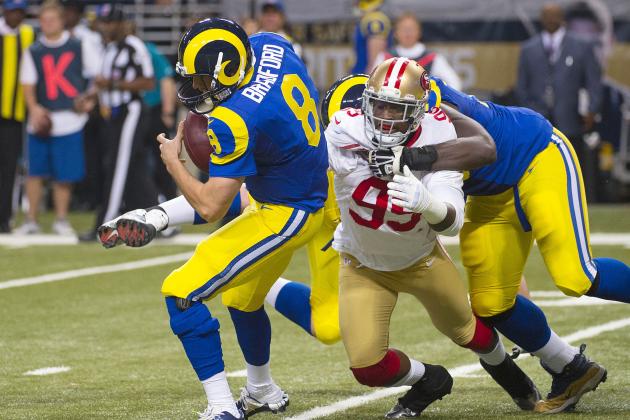 Scott Rovak-USA TODAY Sports

Oh, what could have been...
Last Sunday, the Miami Dolphins' perennial Pro Bowl left tackle Jake Long was injured in the team's 23-16 loss to the New England Patriots. This means that the team won't have its massive blocker to slow down one of the league's premier pass rushers on Sunday.
San Francisco 49ers second-year outside linebacker Aldon Smith has totaled a league-high 17.5 sacks and has been scorching hot of late, totaling at least one sack in six straight games. Not only that, but he has totaled 13.0 sacks over that span as well.
Smith's 31.5 sacks in 28 career regular-season games is also nothing to sneeze at.
This week, Dolphins rookie Jonathan Martin, a second-round pick in April, makes the switch to the left side after starting the first 12 games of the season at right tackle. But the 6'5", 312-pound blocker is far from a newcomer in regards to 49ers' head coach Jim Harbaugh, Martin's head coach at Stanford.
While most will have their eyes on San Francisco quarterback Colin Kaepernick on Sunday, there is no doubt that the Dolphins rookie signal-caller Ryan Tannehill will be focused on his teammate Martin while he hopes to not get much of a look at Smith.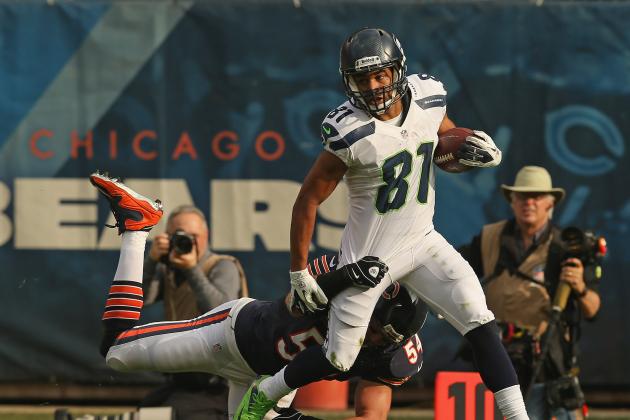 Jonathan Daniel/Getty Images

It's safe to say that the Arizona Cardinals defense has been busy as of late, most notably the secondary.
It may surprise some that only the Chicago Bears have picked off more passes (20) than Ken Whisenhunt's team has this season. And it's also worth noting that 10 of the team's 18 interceptions have come in the last four weeks. Unfortunately, they were during losses to the Atlanta Falcons and New York Jets, when Cardinals defenders picked off Matt Ryan and Mark Sanchez five and three times, respectively.
Now, the Cards not only hope to deal the Seattle Seahawks their first loss of the season at home, but they will also look to cool off rookie quarterback Russell Wilson, who has not only thrown nine touchdown passes and zero interceptions in his last four games but has yet to be picked off in five home games this season.
Arizona cornerback Patrick Peterson leads his team with five interceptions, and on Sunday, he will be shadowing Seahawks wideout Golden Tate, who is second on the Seahawks with 35 receptions and is tied with Sidney Rice for the team lead in touchdown grabs with seven.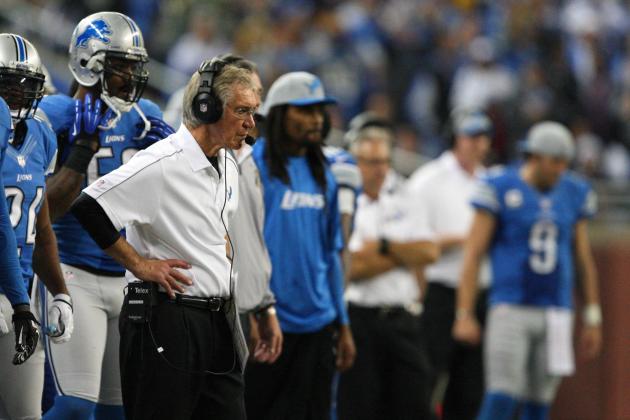 USA TODAY Sports

Anytime you have to deal with the young and talented arms of Matthew Stafford and Aaron Rodgers, it's a challenge no matter how long you've been coaching in the league.
And as Detroit Lions defensive coordinator Gunther Cunningham found out, even the backup plan with the Green Bay Packers can be a problem. Flashback to last season's finale at Lambeau Field, when second-string signal-caller Matt Flynn (now with the Seahawks) fired six touchdown passes in a 45-41 Packers' win.
Meanwhile, Green Bay defensive coordinator Dom Capers must come up with some solutions for Stafford, who entered the week with the most passing yards in the league (3,742). However, it should be noted that the under-manned Packers' defense did a great job against the Lions' quarterback three weeks ago.
Stafford was held to a completion percentage below 50 percent, was sacked five times and was forced into three turnovers, one being an interception that was returned for a score in Green Bay's 24-20 win.
Still, for perhaps different reasons, two of the better defensive minds in the league have taken their lumps at times this season, especially Cunningham, as no lead seems to be safe for the Lions these days.
Once the season is over, perhaps these two veteran coaches will sit down discuss what happened when they both ran into Indianapolis Colts rookie quarterback Andrew Luck one Sunday afternoon.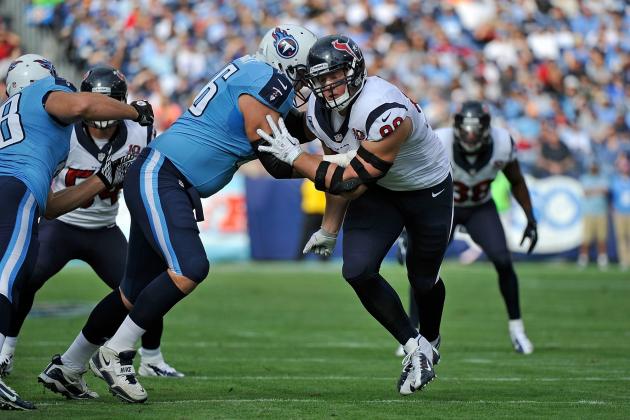 Frederick Breedon/Getty Images

How good of a season is second-year Houston Texans defensive end J.J. Watt having in 2012?
The former first-round pick is not only second in the league with 16.5 sacks and has a team-high 15 passes defensed, but also leads Gary Kubiak's team with 60 tackles.
True, defensive coordinator Wade Phillips' unit had been under fire in recent weeks after giving up plenty of yards and points in a pair of high-scoring affairs against the Jacksonville Jaguars and Detroit Lions. But all was right again with the Phillips' defense after last week's 24-10 victory over the Tennessee Titans, during which the Texans sacked quarterback Jake Locker six times and also totaled a half-dozen takeaways.
Of course, that latter number may be a little difficult to reach considering that the New England Patriots have turned over the ball just nine times in a dozen games this season.
In any case, it will be up to Patriots right guard Don Connolly to prevent or limit the damage done by the imposing Watt.