How Each Phoenix Suns Player Must Immediately Improve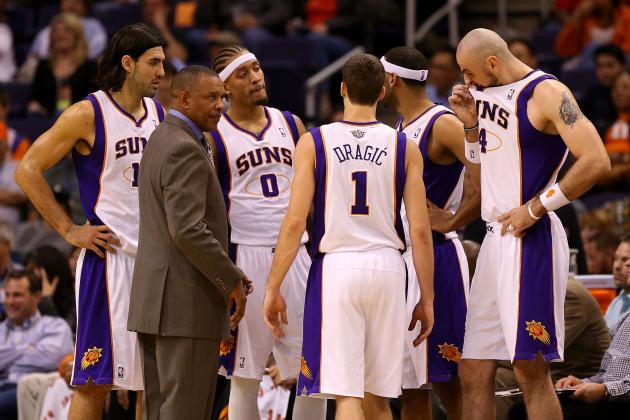 Christian Petersen/Getty Images
Coach Alvin Gentry speaks to the team during a timeout against the Chicago Bulls
Who thought the Phoenix Suns would be 4-6 with four of the six losses coming against playoff teams from last season?
Certainly not me.
In many ways, Phoenix has really surprised people so far by staying competitive in games against tough opponents.
In other ways, Phoenix has struggled to perform consistently against the opposition. Shooting has been a common struggle throughout the team, as the stats and this article will show.
Read on to see how each Phoenix Suns member must immediately improve.
Begin Slideshow

»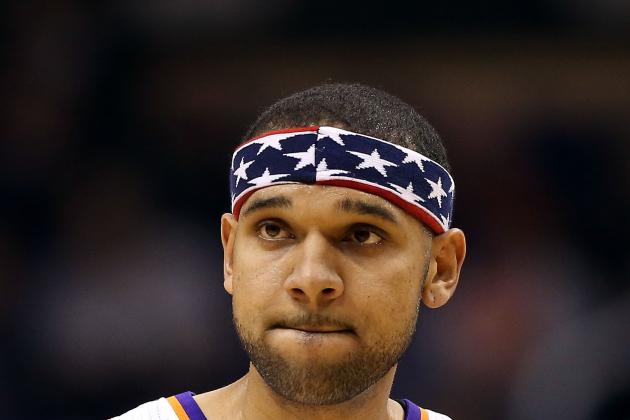 Christian Petersen/Getty Images
Jared Dudley looks on as the Phoenix Suns take on the Denver Nuggets
Jared Dudley had a career year in 2011-12 and won the starting shooting guard spot for this season over Shannon Brown.
Dudley looked to be line for a bigger role as the team's longest tenured player but has struggled mightily to be a factor for the Phoenix Suns.
Dudley's greatest asset is his shooting, and after shooting 38.3 percent from deep last year, he has regressed to 30.3 percent from deep this season.
When Dudley isn't hitting his shots, the defense can cheat off him because he's simply not quick enough to blow by defenders.
It handicaps his ability to impact the team offensively and is a big reason why Shannon Brown gets the crunch-time minutes.
The really puzzling aspect of Dudley's shooting woes is that he's not forcing shots, and his shooting motion look the same as last season.
The only way to improve his shooting stroke is to practice that shot and really get his technique down.
Don't expect a sudden change from Dudley anytime soon, but he's too good a shooter to keep struggling for much longer.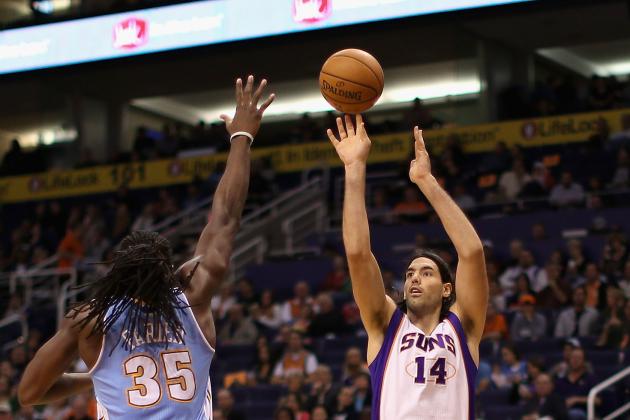 Christian Petersen/Getty Images
Luis Scola shoots over Kenneth Faried of the Denver Nuggets
Luis Scola was one of the big offseason additions for the Phoenix Suns and has rewarded the teams with very solid play.
Scola is averaging 15.6 PPG, 8.8 RPG, 2 APG, 84 percent from the charity stripe and 48.2 percent of his field goals and has proven his worth to the Suns.
The major area of Scola's game that could use improvement is his field goal percentage. Field goal percentage is a great indicator of the quality of shots a player takes.
Scola is shooting 48.2 percent from the field, which would be a career low if it held up.
Looking at his shooting zones, Scola has struggled at times from 16 feet and beyond as he is shooting 37.9 percent (22-of-58) from that range.
At first glance, this doesn't seem like a huge issue. But it certainly is when you consider 58 of his 139 shots this season are from that range. It also doesn't help that last season he shot 44.9 percent from the same range.
Scola doesn't seem to be forcing many shots so hopefully his averages return to last season's numbers, and that could equal a couple more points per game.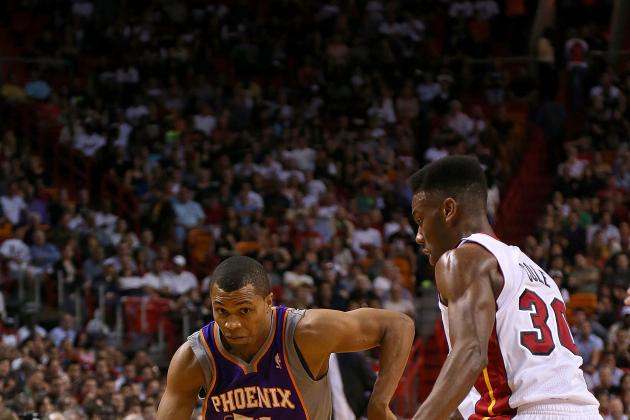 Mike Ehrmann/Getty Images
Sebastian Telfair drives against Norris Cole of the Miami Heat
Sebastian Telfair had to earn the backup point guard role after the Phoenix Suns selected Kendall Marshall with the 13th overall pick of this year's draft, and Telfair has responded nicely.
Telfair has remained a defensive pest for opposing point guards and has even earned fourth-quarter minutes in the backcourt aside Goran Dragic.
Overall, Telfair has played way above expectations, and I'm not sure what he could improve. If I'm nitpicking, it wouldn't hurt if he improved his field goal percentage.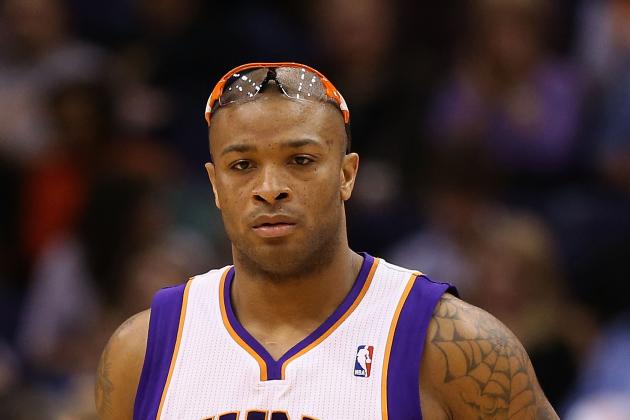 Christian Petersen/Getty Images
P.J. Tucker subs in to the game against the Chicago Bulls
P.J. Tucker wasn't supposed to crack the rotation this year with Michael Beasley, Jared Dudley, Shannon Brown and Wesley Johnson all playing a similar role.
Tucker defied those odds and is, by far, the biggest surprise of the season for the Phoenix Suns.
Defensive intensity and hustle are his calling cards and the major reasons why Tucker has been playing minutes down the stretch instead of the aforementioned players.
The one aspect lacking in his arsenal is the ability to reliably hit jump shots. This allows defenses to back off him and lend defensive help against the shooters of the Suns.
I'm not sure Tucker can fix his jumper quick enough to make a big difference this season, but at the very least it wouldn't hurt him to attempt to work on his shot more.
The Suns are lucky to have former NBA sharp-shooter Dan Majerle as an assistant coach, and he is the perfect candidate to help Tucker improve his stroke.
Christian Petersen/Getty Images
Shannon Brown attacks the rim against the Chicago Bulls
Shannon Brown has really emerged as a fourth-quarter hero this season for the Phoenix Suns and is averaging a career high in points per game, assists per game and three-point percentage.
He has taken a much larger part of the offense now that Steve Nash and Grant Hill are gone, and Brown has not disappointed so far.
One area Brown has struggled with is shooting anything other than shots at the rim and three-pointers. His mid-range jumper has really been non-existent, and he could benefit from another weapon in his arsenal.
Adding the mid-range jump shot should be the next step in Brown's development, and it would set him in line to have an even better season.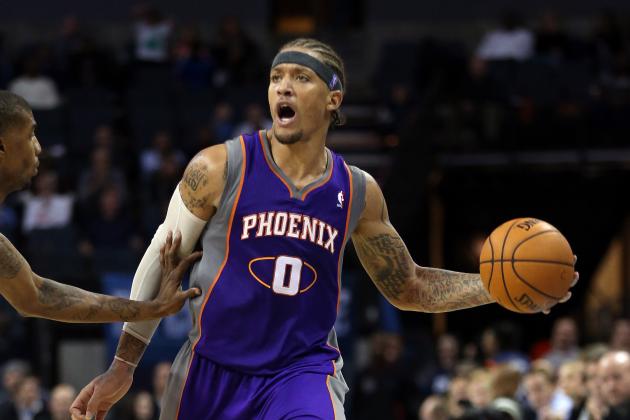 Streeter Lecka/Getty Images
Michael Beasley looks to pass against the Charlotte Bobcats
Michael Beasley was signed to a three-year contract with the Phoenix Suns and had high expectations coming in to the season.
Beasley has had a couple solid games but has been a largely inconsistent performer. One game he scores 20 points and the next game it'll be seven points.
It really doesn't make sense considering his talent and considerable role in the offense. It's tough to pinpoint just one area he needs to improve in when he's struggling in several aspects of the game.
Offensively, Beasley has to improve his shooting percentages. There's no way a starting small forward of his talent level should shoot 35.6 percent from the field, 67.9 percent from the free-throw line and 27.2 percent from three-point territory.
In my opinion, his shooting woes can be attributed to the lack of arc on his jumper. Earlier in Beasley's career, his shot had much better arc and the stats show his shooting numbers were better.
The past two seasons have seen that arc slowly fade away and his numbers have followed suit.
Defensively, he has had trouble staying in front of the opposition and needs to be a more focused defender.
Beasley has the length to be a better individual defender, but it seems like he doesn't have the foot quickness to match up with most opposing small forwards.
For his sake, Beasley needs to at least improve his consistency both defensively and offensively.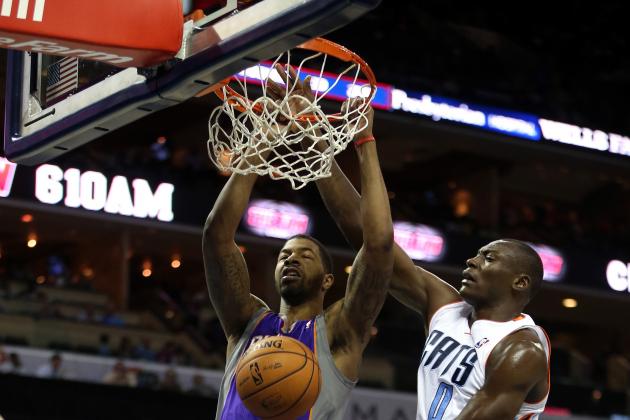 Streeter Lecka/Getty Images
Markieff Morris dunks against Bismack Biyombo of the Charlotte Bobcats
During his rookie year, Markieff Morris showed the potential to be an impact player for the Phoenix Suns but that success hasn't translated over in his sophomore season.
Morris has the stroke to hit three pointers consistently but has done the exact opposite. His three-point percentage this season has been reduced to around a third (12 percent) of what it was last year (34.7 percent).
This wouldn't be too much of a problem if Channing Frye was healthy and active, but without Frye, Morris is the premier three-point shooting big for the Suns.
The team drastically depends on spacing the floor, and Morris is not striking fear in those who guard him near the three-point line.
Finding a consistent stroke will help keep defenses honest and allow the guards more room to roam.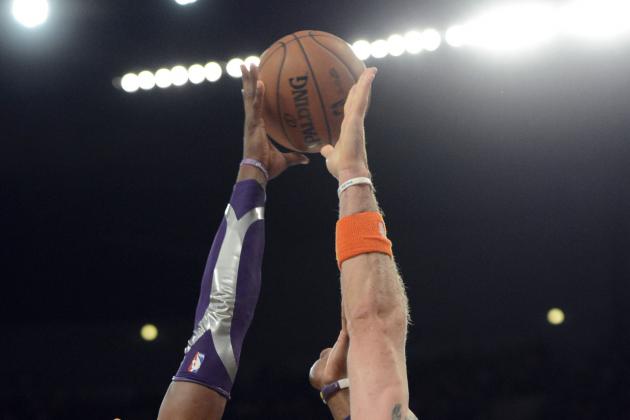 Richard Mackson-US PRESSWIRE
Marcin Gortat blocks Dwight Howard of the Los Angeles Lakers
Before the season, there were questions surrounding Marcin Gortat and how he would produce without Steve Nash spoon-feeding him the ball.
Well, all those questions have effectively been answered, as Gortat is averaging 11.7 PPG, 10.2 RPG, 3.2 BPG and 51.5 percent from the field.
His game has evolved where Gortat has become a defensive force and can even step out to hit a mid-range jumper from time to time.
The only part of Gortat's game that needs improvement is his offensive assertiveness. Far too often it seems like Gortat is not part of the offense, and he's too good to leave out of the offensive schemes.
His main involvement in the offense comes from pick-and-rolls, but I would like to see Gortat use his back-to-the-basket game more often.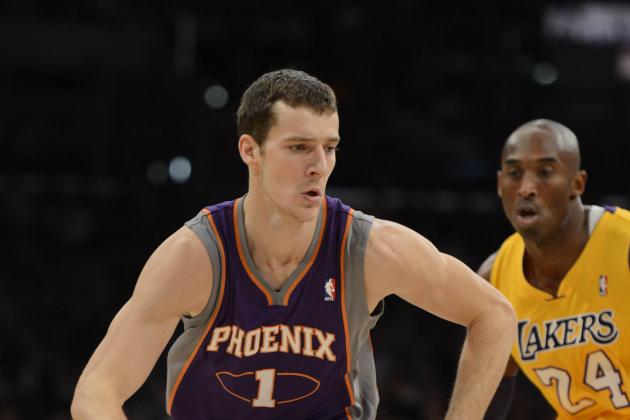 Richard Mackson-US PRESSWIRE
Goran Dragic drives against Kobe Bryant of the Los Angeles Lakers
Goran Dragic returned to the Phoenix Suns this offseason and took over the reins after his mentor, Steve Nash, was traded away.
All eyes will be on him throughout the year to see how he replaces Nash, and Dragic is more than ready for the scrutiny.
So far, Dragic has established himself as the best player on the Suns and a possible All-Star candidate. Goran has career bests among several statistical categories and doesn't look to be slowing down anytime soon.
Dragic is another tough guy to nitpick and find weaknesses, but he could work on being more assertive. I feel, at times, he tries too hard to involve others rather than take his own shot.
He has one of the best shooting strokes on the team and the Suns would benefit from Dragic shooting just a little bit more.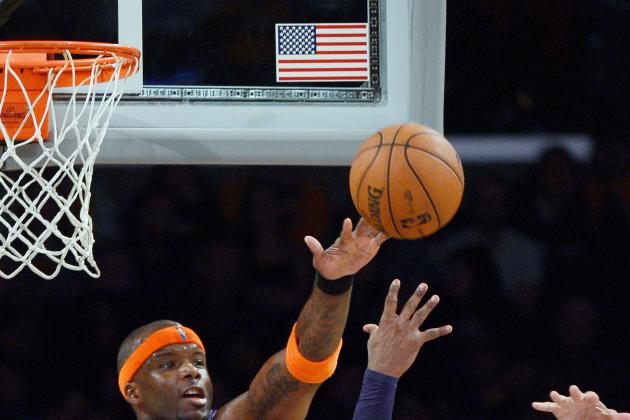 Kevork Djansezian/Getty Images
Jermaine O'Neal blocks Kobe Bryant of the Los Angeles Lakers
Jermaine O'Neal
Jermaine O'Neal missed more than half of Phoenix's games so far with a family matter and really hasn't had a chance to showcase his skill.
That was until yesterday when he had 12 points, 5 rebounds and 3 blocks against the Los Angeles Lakers.
Expect to see O'Neal get more minutes as he returns to the team.
Wesley Johnson
Wesley Johnson was brought in to play backup small forward behind Michael Beasley, and even after a solid preseason, Johnson lost the role to P.J. Tucker.
Johnson hasn't played much at all this season, but it will be interesting to see how long he sits in favor of Tucker.
Kendall Marshall, Luke Zeller and Diante Garrett
All three haven't played more than 15 minutes and it's just too small a sample size to analyze.