UFC 154 Results: Questions Facing the UFC Heading into December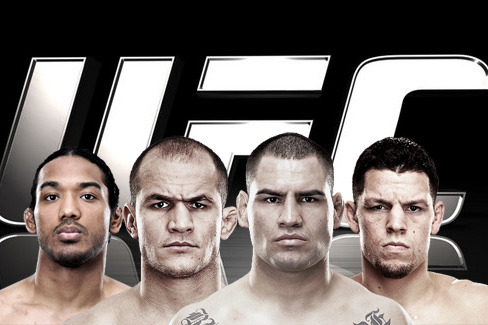 MONTREAL - UFC 154 is in the books and we learned that even after 19 months off Georges St-Pierre is still the best fighter in the welterweight division. As for Johny Hendricks, he made a statement that he is 100 percent ready for a shot at the UFC welterweight crown.
Here are the full results:
Georges St-Pierre defeats Carlos Condit via unanimous decision (49-46, 50-45, 50-45)
Johny Hendricks defeats Martin Kampmann via knockout at 0:46 of Round 1
Francis Carmont defeats Tom Lawlor via split decision (29-28, 28-29, 29-28)
Rafael dos Anjos defeats Mark Bocek via unanimous decision (30-27)
Pablo Garza defeats Mark Hominick via unanimous decision (29-27, 30-26, 29-28)
Patrick Cote defeats Alessio Sakara via disqualification (blows to the back of the head) at 1:26 of Round 1
Cyrille Diabate defeats Chad Griggs via rear naked choke submission at 2:24 of Round 1
John Makdessi defeats Sam Stout via split decsion (30-27, 29-28, 30-27)
Antonio Carvalho defeats Rodrigo Damm via split decision (29-28, 28-29, 29-28)
Matt Riddle defeats John Maguire via unanimous decision (30-27, 30-27, 29-28)
Ivan Menjivar defeats Azamat Gashimov via armbar submission at 2:44 of Round 1
Darren Elkins defeats Steven Siler via unanimous decision (30-27, 30-27, 30-27)
Now that the final card of November is through, UFC fans can begin to look forward to a busy month of December—a month that will feature four fight cards, three of which will be broadcast for free.
What follows are some big-picture questions facing the UFC heading into the final month of 2012.
Begin Slideshow

»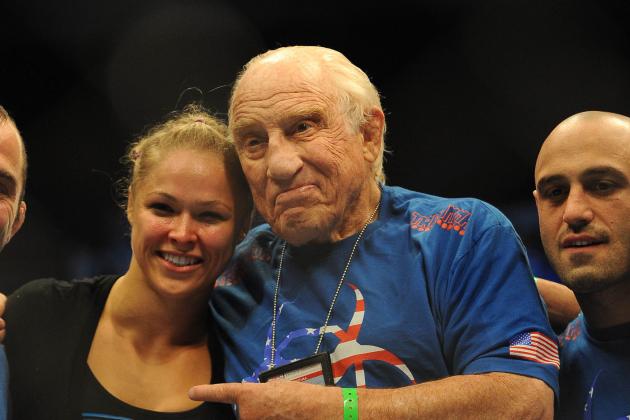 Jayne Kamin-Oncea-US PRESSWIRE

With the "did she sign or didn't she sign" questions seemingly cleared up by UFC president Dana White himself (she did), the next question is who will join Ronda Rousey on the UFC's roster of female fighters?
You can almost guarantee that Miesha Tate will, and if the whole cutting weight thing gets sorted out, you know there will be an offer on the table for Cris Cyborg to come on board. But after that?
The UFC is going to have its work cut out in developing the women's division.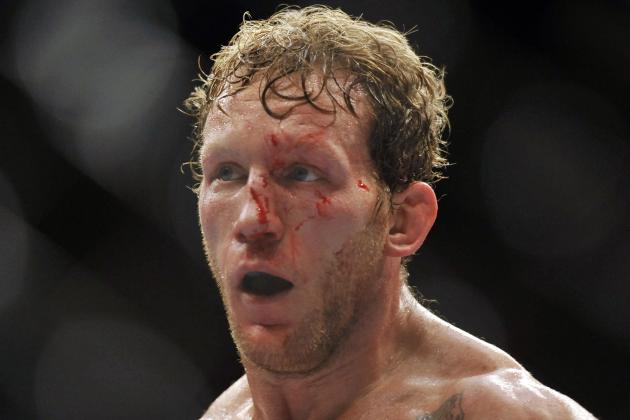 Joe Camporeale-US PRESSWIRE

Over this past few days we lost a December main event (Roy Nelson vs. Shane Carwin), a fight from UFC 155 (Gray Maynard vs. Joe Lauzon) and a bout from UFC on FX (Anthony Perosh vs. Joey Beltran) to injury. If the UFC's run of bad luck in that department continues, those three fights won't be the last that fall by the wayside in December.

The promotion's dance card is pretty full for December with four events scheduled to take place. If the UFC puts 11 fights on each of those cards, that's 88 opportunities for injury. If I was a betting man I would lay good money down that at least one of those fights falls by the wayside.

There are a number of fights on those cards that fans are truly itching to see, especially the title fights that will headline the cards that bookend the month's UFC action. Let's keep our fingers crossed that the damage is minimal heading into the final month of 2012.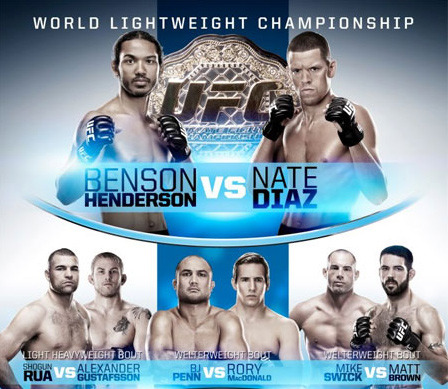 The knee-jerk reaction is going to be UFC 155, the December 29 event at the MGM Grand Garden Arena in Las Vegas. I'm not saying you should miss that card, but for my money, you should 100 percent make sure you are watching Fox on December 8 when UFC on Fox 5 takes place at the Key Arena in Seattle.

The Fox card features one of the most anticipated title fights of the year as Benson Henderson puts his lightweight title on the line against Nate Diaz. In the co-main event, Alexander Gustafsson looks to continue his rise through the light heavyweight ranks when he meets Mauricio "Shogun" Rua.
And speaking of rising through the ranks, or at the very least looking to defeat a legend, Rory MacDonald will be squaring off against BJ Penn. Oh, there's also a heavyweight throwdown between Brendan Schaub and Lavar Johnson if you're looking for a fight from the big boys. And don't forget that Mike Easton will be on the card, giving Diaz a run for his money in the mean mug department when he faces Bryan Caraway.

Best of all, the event is on free TV.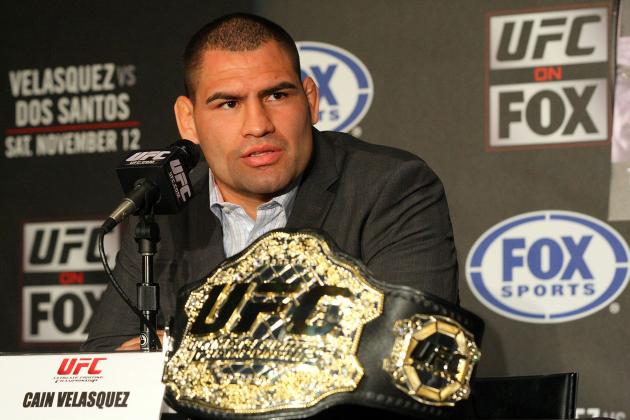 Victor Decolongon/Getty Images

There are two title fights scheduled for December and while the champions are the favorites in both of those fights, by no means are they overwhelming favorites.

The first title fight will take place on December 8 on the UFC on Fox 5 card between lightweight champion Benson Henderson versus Nate Diaz. The second title fight will take place on December 29 as the main event of UFC 155, and will see heavyweight kingpin Junior dos Santos defend his title against the man he took the belt, Cain Velasquez.

Most odds have the champion as -150 favorites over their opponents, who come in at +120. Expressed as a percentage, that makes Henderson and dos Santos 60 percent favorites to retain their titles.

In short, don't be all that surprised if there are two new champions crowned in the closing month of 2012.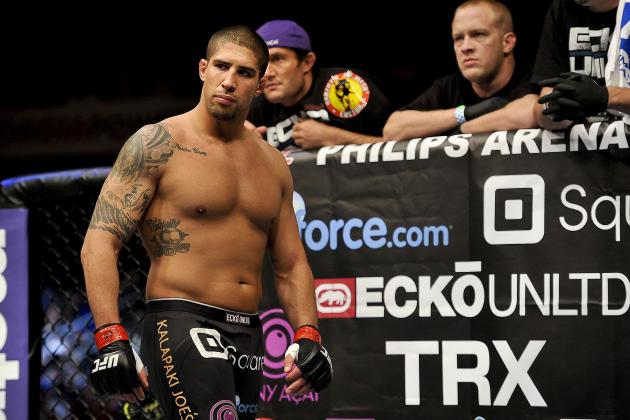 Paul Abell-US PRESSWIRE

Brendan Schaub has lost his last two fights by first-round knockout and while it's commendable that he would want to face Lavar Johnson, that's a risky fight for the former football player. If Schaub loses to Johnson, he may see his UFC career come to an end. But you know what? You have to love Schaub's attitude. It's a bold move, a risky move, but the payoff could be huge if Schaub is able to defeat Johnson.

Scott Jorgensen has been a fixture in the WEC and UFC since 2008, but time may be catching up to the 30-year old bantamweight. He's gone 2-3 in his last five, dropping bouts to Dominick Cruz, Renan Barao and Eddie Wineland. If he struggles against John Albert, he may very well find himself unemployed.

Speaking of Albert, he's not exactly safe either after dropping his last two UFC bouts.

Joey Beltran may get a pass on the hot seat as his last fight was a short notice light heavyweight scrap against James Te-Huna that captured "Fight of the Night" honors. However, the fact that he has gone 2-5 in his last seven UFC bouts means he is surely inching closer to hot-seat territory.

Strictly on the basis of his record (4-5 UFC) you would have to say Pat Barry is on the hot seat, but fans love his aggressive style and his entertaining personality. With that in mind he may get the "Dan Hardy" pass if he falls to Shane del Rosario on December 15, but you never know.

Another fighter that may be the beneficiary of his style is Leonard Garcia, who will bring a three-fight losing streak into his UFC 155 bout against Cody McKenzie. The other thing working against Garcia is that the two victories he has in his last six fights could have easily gone the other way. Exciting style or not, Garcia seems to be firmly in the hot seat.

McKenzie may also be facing a make-or-break situation, he's 1-3 in his last four fights. While no one expected him to beat Chad Mendes in his featherweight debut in July, they also didn't expect him to get knocked out in 31 seconds.

Looks like there will be plenty of UFC careers on the line over the last month of 2012.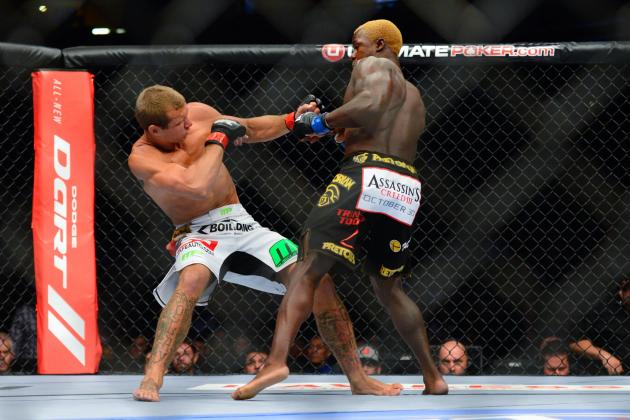 Ron Chenoy-US PRESSWIRE

Melvin Guillard versus Jamie Varner is a fight you can't miss. In Guillard you have a fighter with great potential that has always struggled to take that next step. He's currently on a 1-3 run in the UFC, but before that he had put together a five-fight winning streak with the promotion. His last fight was brief, a 1:16 knockout loss to Donald Cerrone, but it did capture "Fight of the Night" honors for Guillard.

Varner is a former WEC lightweight champion who didn't come over from the WEC when that promotion was absorbed by the UFC—and rightly so I might add, as he was 0-3-1 when that move occurred.

Since making his return to the UFC he has gone 1-1. In his return bout he handed Edson Barboza the first loss of his UFC career with an impressive first-round TKO. Varner then fell to Joe Lauzon this August, but he did capture "Fight of the Night" honors for his effort.

These two will meet on December 16 on the TUF 16 Finale card.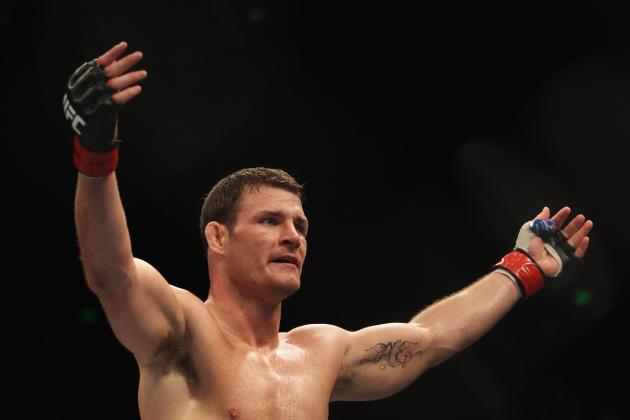 Mark Kolbe/Getty Images

The UFC has wasted little time in filling its 2013 dance card, and the four events in December will give fans their fill of fights before the promotion takes a three-week break heading into the new year. However, once that new year hits, fight fans are going to have some decisions to make as the UFC has already booked seven fight cards between January 19 and March 16.
If the early 2013 schedule is any indication, fans can expect a very busy 2013 for the UFC.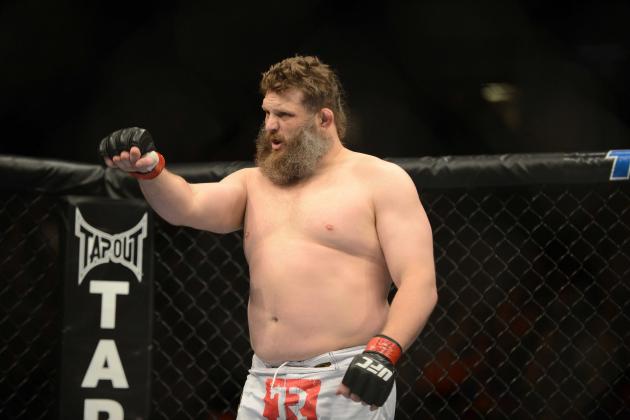 Ron Chenoy-US PRESSWIRE

Will December be the highlight month of 2012? In some ways it will be, but those ways are going to mostly revolve around the fact that most sports fans tend to have a bad case of "what have you done for me lately?"

The cards that bookend the month are must see, but the two The Ultimate Fighter-related events that fall in the middle of the month, while they should have their moments, don't pack the punch of the title fight headlined cards of UFC on Fox 5 and UFC 155.

The great thing is that three of the four cards are on free TV, and that always makes things a little more enjoyable.

With all that being said, some strong fighter performances and a little luck (no more injuries!) could lead to fans remembering December 2012 as a great month of (mostly free) fights.