25 Sexiest Female Athletes Who Can Kick Your Ass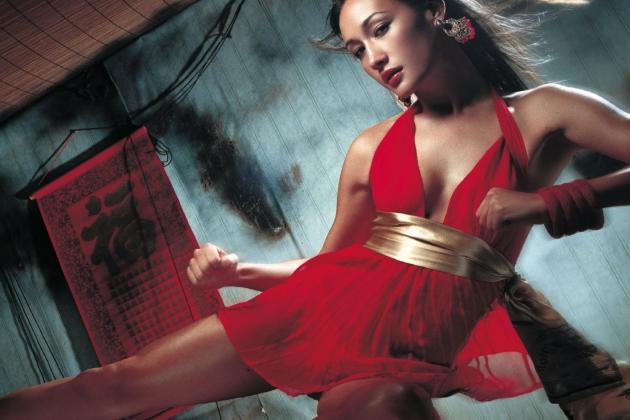 Image via xmomo.com
Fighting is not just for men. Ronda Rousey just became the first female fighter in UFC history to sign a contract to fight in the UFC.
Take that, haters.
But how will she fare in the UFC? Only time will tell. Until then, we get to play the pretend game. Pretend you were in the octagon facing up against one of these ladies. How would you fare? Let me help you—you'd lose. It would be ugly.
And don't forget about female boxers, they are just as tough as the ones from the MMA world.
Whether its boxers or MMA fighters, these 25 women can pummel almost everything in sight.
Begin Slideshow

»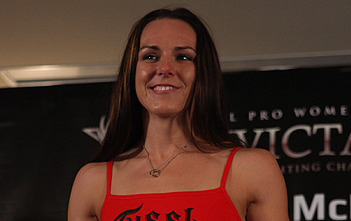 Image via sherdog.com
Not being able to last beyond the second round seems to be what all of Alexis Davis' opponents have in common.
Her knockouts usually end in the first round anyways.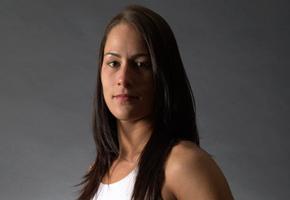 Image via mmajunkie.com
Jessica Eye is a lightweight with only one loss to her name and that one came back in June of 2011. Since then she has been on a tear, winning her last five matches all by decision.
Whether it's a decision, unanimous, split or a TKO, a win is a win.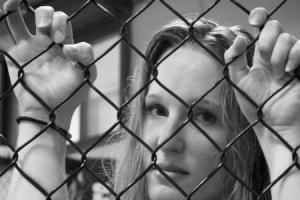 Image via mmagirls.net
Like most of the other women on this list, Elaina Maxwell comes with a classy old school nickname: "Beef."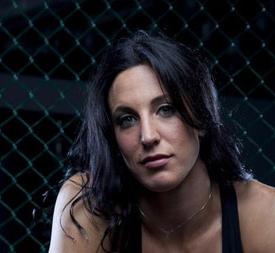 Image via gerweck.net
Julia Budd hails from our buddies to the North: Canada.
Who would have thought a Canadian MMA fighter could dominate other women like Julia did when she started out? She beat up on Gina Carano and Keri Scarr back in her early days.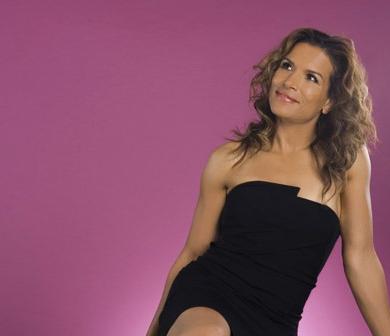 Image via elisashebaro.com
17 fights, 17 wins, 14 TKO's.
Have you ever been knocked out? Where the lights go out, and you collapse to the ground with reckless abandonment?
It stings. Trust me.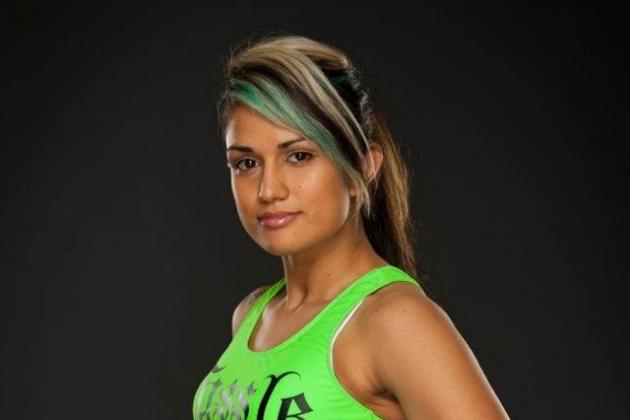 Image via persianmma.com
Not too many fighters are willing to take on three fights a year. Nicdali Rivera-Calanoc not only made sure she fought all the time but that she won too.
Every time she loses, she gets right back in there and wins.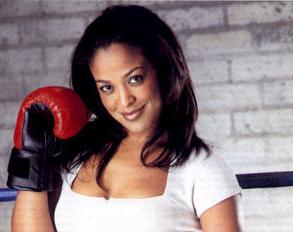 Image via vibe.com
Just because you are the offspring of one of the greatest athletes of all time doesn't mean you will amount to anything. It just means you are the daughter of Muhammad Ali.
Laila Ali doesn't agree with this. At all. She boxes for fun it seems, winning all 24 of her career matches. And they weren't even close.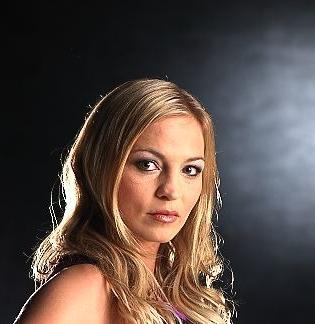 Image via tumblr.com
If you had to pinpoint a female boxer responsible for helping make the sport popular, it would be Regina Halmich, the German sensation.
Not only is she popular, she retired with a career record of 54-1-1. There aren't too many male boxers that can claim those numbers.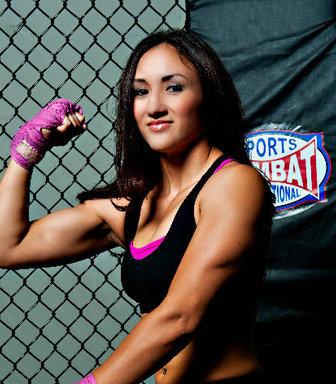 Image via tumblr.com
In case you didn't realize how difficult it was to become a MMA fighter, you should step into the octagon and give it a try.
Not only would you get embarrassed, chances are a knockout might occur within the first 60 seconds.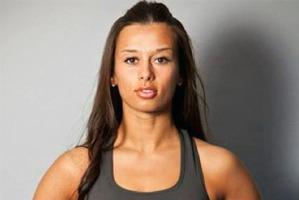 Image via mmajunkie.com
Munah Holland spoiled a perfect record for Marianna Kheyfets after she beat her back in March.
That doesn't mean Marianna can't start another winning streak. Where do you think they all begin?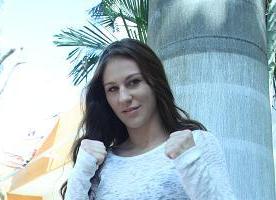 Image via notifight.com
And now, in the red corner out of Van Buren, Arkansas...Hollie Dunaway.
Fun fact about Van Buren, Arkansas: Matt Jones, Bob Burns, and Natalie White also call it home.
Image via mmaweekly.com
Mixed martial arts is not supposed to be about being sexy and looking good.
Angela Magana is one of the top talents in her weight class, and she is also one of the hottest around.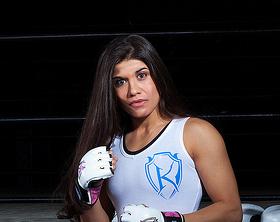 Image via whotalking.com
America has female MMA talent. Jessica Aguilar is example No. 1.
She is rocking a 14-4 record but is currently sitting on a five-match winning streak dating back to 2010.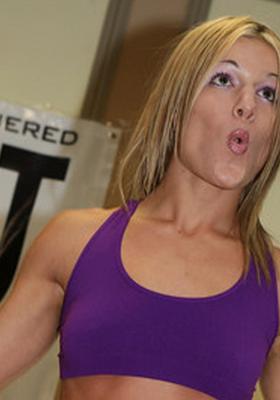 Image via myspace.com
In a few weeks time, Felice Herrig will be taking on the next beautiful woman on this list at the Bellator Fighting Championships 84 on December 14th.
Don't forget to watch it. You can see two beautifully underrated women fighting inside the octagon.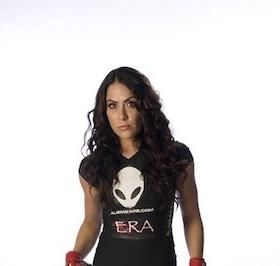 Image via ign.com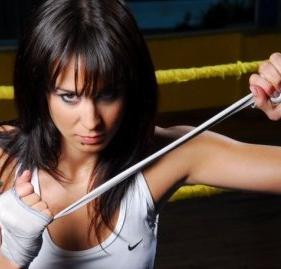 Image via taringa.net
Great female boxers usually become great by winning. Not only winning, but dominating.
Chris Namus has beaten down her opponents in the ring in 17 out of 21 fights, and she looked better every time too.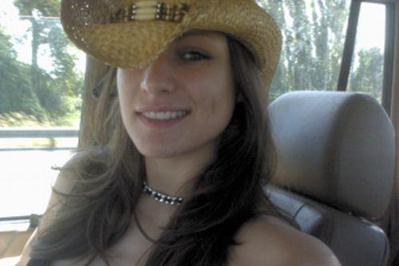 Image via myspace.com
How do you bounce back from starting your professional career 0-4? By stepping it up and going 7-3-1 in your next 11 fights.
Ginele Marquez's birthday and age is a secret, but she sure has a smooth arm bar maneuver that not even you could escape.
Image via cagedinsider.com
Don't let the last name fool you, Carina Damm is a beast. Actually, she is better known as "Beauty But the Beast."
Now at the age of 33, this Brazilian bombshell can prepare for her future in modeling.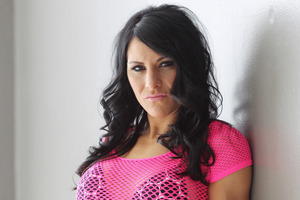 Image via mmajunkie.com
There are just some people in life that don't know the meaning of losing.
Cat Zingano has a perfect 7-0 record for her professional MMA career. She hasn't even given up a single point against her. That's just plain unfair.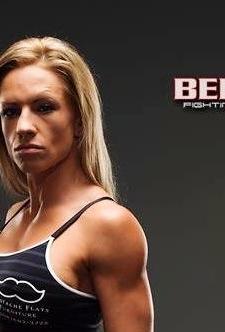 Image via twitter.com
Michelle Ould hasn't lost a fight since May of 2010. Do you think she will lose one to you?
I doubt you would even get a chance to swing at her before she takes you down and locks you up in an armbar. Go ahead, try her out.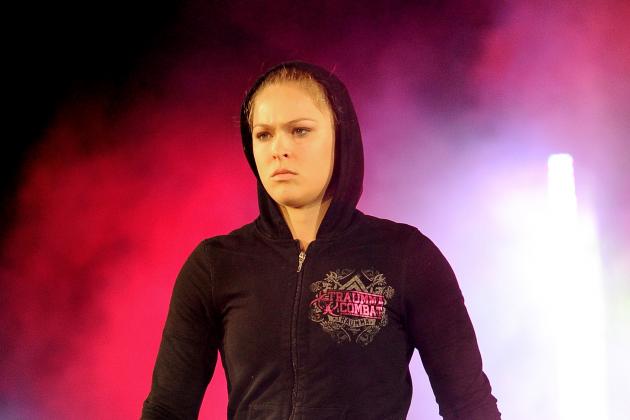 Jayne Kamin-Oncea-US PRESSWIRE

Welcome to the UFC!
But mostly, thank you ESPN Body Issue. Without you, we would look at Ronda Rousey as nothing more than a fierce MMA fighter. Now we know she is much much more.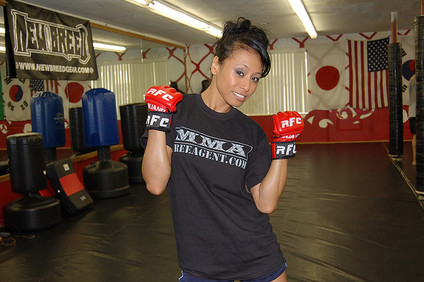 Image via flickr.com
The "Rare Ninja" is more than just a MMA fighter. She is a clothing designer, fitness model, instructor and fighter. She can beat you up, run around the stadium a few hundred times in celebration and then teach you about how badly she just beat you.
Then she can design you a shirt about it.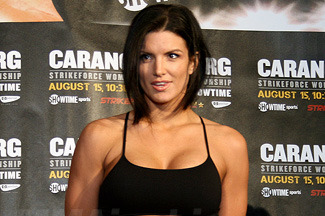 Image via mmajunkie.com
Can you believe that it has been over three years since the last time Gina Carano has stepped foot inside the octagon?
It has been four years since her last victory.
But I guarantee you the beautiful Gina could still kick the ever living crap out of you today. Fact.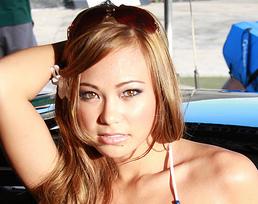 Image via flickriver.com
Michelle Waterson left MMA to have a baby.
Did that slow her down? Only for one year. She is now back and winning again, having just won her second fight of 2012 in October.
She is reminding everyone that she still has it.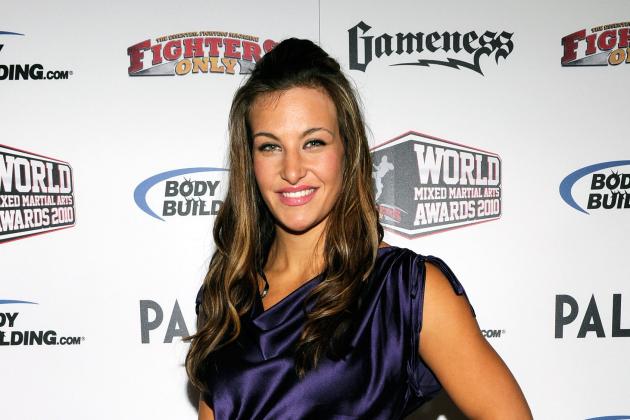 Ethan Miller/Getty Images

Miesha Tate could kick your ass. She would kick mine. That is not the point. This is about how bad a beat down she would give you while also looking like a runway model.
It would be as bad as the sequel to Glitter.