Manny Pacquiao's Jab and the 5 Best Punches in Boxing History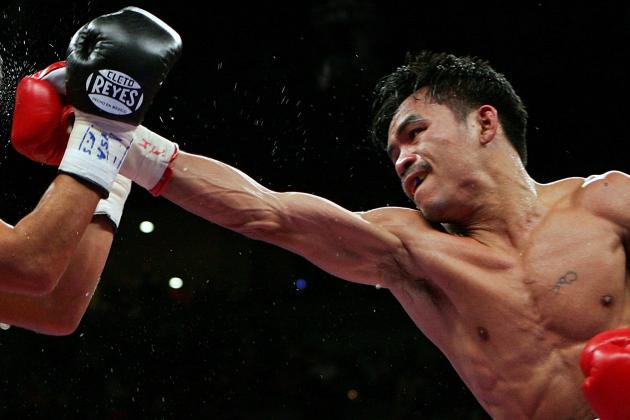 Ethan Miller/Getty Images

Boxing requires all kinds of athletic ability.
Having natural gifts like strength, speed and quickness definitely help any boxer, but they are not enough.
A strong man may look like he should punch hard when he is in the ring, but that's just one of the factors that goes into delivering a powerful shot to your opponent.
Factors like timing, balance, aggressiveness and anticipation all go into a boxer's punching ability.
Manny Pacquiao snaps off his jab with power and purpose and he does not have a bodybuilder's physique or weightlifting ability. However, his jab is thrown with such perfect timing that it can stun an opponent and send him reeling.
Here are five of the best punches in boxing history and the fighters who threw them.
Begin Slideshow

»
Joe Louis ranks with the greatest heavyweight fighters of all time.
Boxing experts often rate Louis at the top of the list, ranking him higher than Jack Dempsey, Rocky Marciano, Muhammad Ali and Joe Frazier.
Louis possessed all the skills a boxer needs to become champion. He was not the fastest or quickest fighter, but he knew how to avoid punches and block them.
However, it was his own punching power that was so vicious. He had a brutal left jab, a powerful hook and a devastating right cross.
His best punch was the short right hand. He fired that punch with so much power and torque that it regularly devastated opponents. It did not look particularly dangerous because there was no windup, but it hit opponents like a runaway freight train.
Former Louis sparring partner Seal Harris was quoted in boxing author Ben Cohen's "Final Bell" column as saying the punch was unlike he had ever felt in the ring. "As he comes toward you, he seems to get smaller the closer he comes and then, he explodes at you. When he hits you, you think you been shot, and if he hits you right, you think you are dead."
Bob Foster was a brilliant champion in the light-heavyweight division during the 1970s.
He was long and lean, and he did not look particularly powerful because he was so thin. However, Foster threw hard punches with his whipsaw-like delivery. He knocked opponents out with with his straight right hand, his right uppercut and his left hand.
In particular, his left hook was devastating. In the video above, Foster's left hook at the 4:45 mark demonstrated his ability to put his opponent down and knock him out cold.
Rocky Marciano was not the most skilled or balanced boxer in heavyweight history.
However, he was one of the hardest punchers of all time.
Marciano's power came from his thick, tree trunk-like legs that allowed him to fire punches with devastating knockout power.
He could knock out opponents with any of his punches, but his straight right hand was absolutely devastating.
Marciano had a brilliant career, finishing 49-0 and retiring as the undefeated heavyweight champion.
Sugar Ray Robinson is often given strong consideration as the greatest pound-for-pound boxer of the 20th century.
Robinson is most famous for his incredible athleticism in the ring. No boxer ever moved better in the ring than Robinson, and Muhammad Ali patterned his footwork after Robinson.
Robinson had overwhelming defensive skills and was excellent at making opponents miss. However, his ability to throw punches with speed, quickness and devastating power made him one of the sport's most greatest performers.
Robinson had tremendous torque and speed when delivering his punches. His left hook was particularly effective and he regularly starched opponents with it.
Smokin' Joe Frazier was one of the most devastating punchers in heavyweight history.
He was a powerful boxer who was willing to take two or three punches in order to deliver his signature left hook.
Frazier's left hook devastated or threatened all his opponents. Frazier's incredible rivalry with Muhammad Ali is defined by that left hook.
In their first fight in 1971, Frazier's ability to deliver his left hook allowed him to knock down Ali in the 15th round and take a unanimous decision.
Ali's ability to somehow stand up to that same devastating punch in their 1975 "Thrilla in Manila" allowed him to win that fight.
Even when he lost, opponents were always concerned with a left hook that could always turn out the lights.