3 Reasons Kassius Ohno Should Replace Cody Rhodes at Survivor Series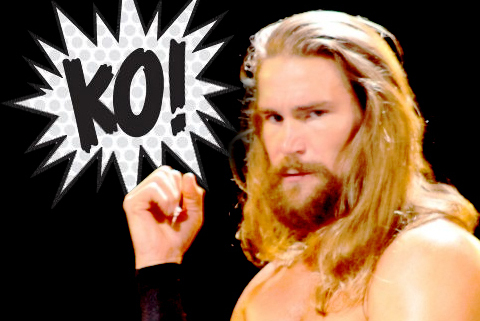 Image credit: Twitter.com/KassiusOhno
The Internet Wrestling Community (IWC) was in panic mode once word got out that Cody Rhodes was injured and may not appear in Indianapolis for Survivor Series. As we are so prone to do, we asked the typical questions. Will Rhodes be able to compete? If not, who will replace him?
Cody Rhodes is an IWC favorite, a year or two away from being one of the permanent contenders for the WWE and World Heavyweight Championships. Which other up-and-coming youngster can fill his shoes?
The IWC collectively sighed when Tensai was named as the replacement.
There will be dozens of articles all over the place giving yet another look at Tensai and how he will fare as a member of Team Ziggler.
No offense to Tensai, but to be frank, I'm not interested in writing an article about him. I think WWE made the wrong decision. Rather than replacing Rhodes with someone who has already gone from pinning Cena to jobbing on Superstars, they should have chosen someone completely fresh.
They should have selected NXT Wrestling's Kassius Ohno.
It's not too late to change your minds, WWE. Allow me to make my case for you.
Begin Slideshow

»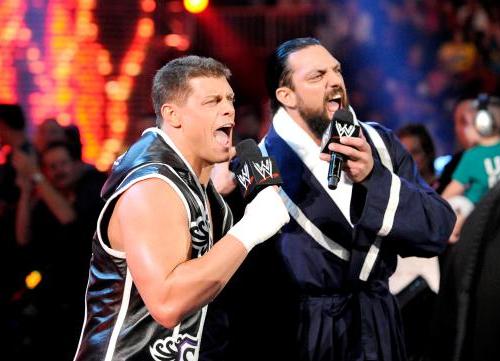 Credit: WWE.com
The first reason why Ohno should be Rhodes' replacement is because he's a natural fit for Team Rhodes Scholars. On NXT Wrestling, he regularly talks down to his opponents, constantly implying his own higher degree of intelligence.
He is a heel who has disdain for most people in general, a trait shared by both Damien Sandow and Cody Rhodes. Ohno could be Cody's protege until Cody has fully recovered and serve as a ringside companion when Sandow and Rhodes compete in the tag division.
He even has the beard to go along with Sandow's look. In regard to in-ring presence, he is stronger than Rhodes and more brutal than Sandow, adding an intimidating third side to a team that has taken WWE by storm.
Not to mention that Ohno can already give a solid, eloquent promo, just like Cody and Damien.
Eventually, a feud would ensue. Whether that would mean Ohno working a program with Rhodes or Sandow (or even a three-way feud), it would make Ohno a player in the WWE.
Rather than spending several months squashing guys like Tyson Kidd and Yoshi Tatsu, Ohno could instantly begin competing for the Intercontinental or U.S. titles before moving on to main event status.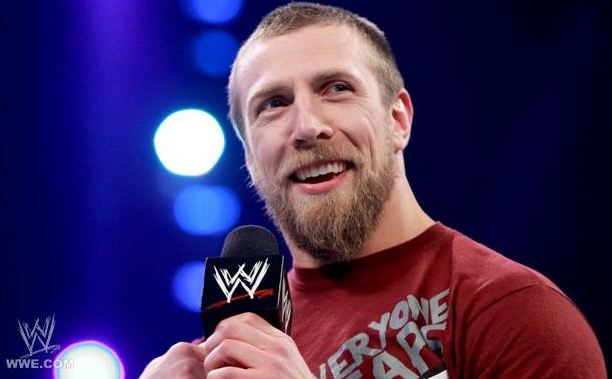 Credit: WWE.com
One thing that excites the IWC more than rumors of an injury is rumor of an "Internet darling" finally making it to the WWE and getting a legitimate push.
Within the foreseeable WWE future, WWE's smarks are especially hungry for a few select darlings. They belong to an unofficial group of men who have the potential to rule the WWE over the next decade.
CM Punk comes from this elite group. So does Daniel Bryan. They have already established themselves as big-time contributors to the WWE product.
That same group that made a name for themselves in Indy promotions and Ring of Honor includes current U.S. champion Antonio Cesaro. He's been incredibly impressive so far, and his potential is limitless.
So who's next? Dean Ambrose/Jon Moxley has potential, but I personally haven't heard much of what's going on in his career as of late. I definitely haven't heard anything about a WWE debut.
Seth Rollins seems to be on the brink of a WWE breakthrough, but he's currently defending the NXT Championship. Before he appears on Raw or SmackDown, he needs to develop a gimmick that won't make everyone think immediately of CM Punk.
That leaves us with Kassius Ohno. If he teams up with Team Rhodes Scholars, his first feud would involve Team Hell No and Daniel Bryan. The IWC would go absolutely nuts for it.
Debuting as part of a feud in which he has the potential to steal the show would be a huge way for Ohno to debut in the WWE. He would give the WWE another powerful heel that the roster desperately needs.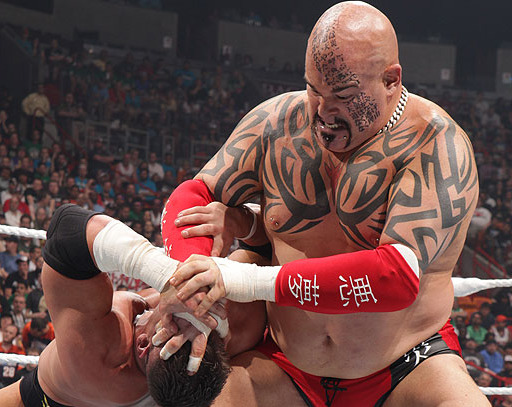 Credit: WWE.com
Okay, so I may not want to write an entire article about Tensai, but I have to at least mention him.
To be honest, I had high hopes for Tensai when he returned to WWE from Japan. I was never completely sold on any of the versions of Albert that we were exposed to circa 1999.
But I have a lot of respect for someone who puts in the effort to improve himself. Matt Bloom reinvented himself, something that greats like Chris Jericho and The Rock have done time and time again.
When he returned as Lord Tensai, he received a monster push, even getting a pinfall victory over John Cena. But since then, it's been all downhill.
So what does Tensai do for a match that is supposed to be one-third of the main event for one of WWE's "Big Four" pay-per-views? Absolutely nothing. Of the 10 wrestlers involved in the match, he easily has the least significant role in the company.
At least Kassius Ohno would build some intrigue. It would be interesting, and there would be no expectations of him from 80 or 90 percent of the WWE universe.
Tensai will receive yawns from the audience and won't contribute significantly to the outcome of the match. I wouldn't be surprised if he is eliminated almost instantly by Orton or The Miz.
The debut of Kassius Ohno would have everyone buzzing. An appearance by Tensai will result in people asking five years from now, "Who was the fifth member of Team Ziggler?"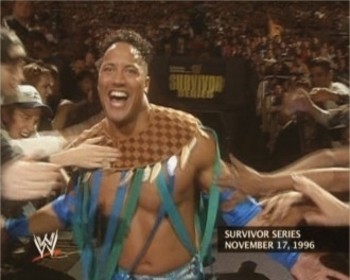 Credit: WWE.com
Allow me to offer one more argument: The Rock.
Okay, two more arguments: The Rock and The Undertaker.
How are they relevant to this discussion? Both men made their official WWF debuts at the Survivor Series. Both men made a big impact in their debut matches.
The Undertaker eliminated two Hall of Famers in his debut, Koko B. Ware and Dusty Rhodes, before being eliminated by count out. He legitimately put fear in the hearts of the WWF audience that day.
Six years after the Dead Man's debut, Rocky Maivia debuted as part of a Survivor Series elimination match. He was the sole survivor.
The Undertaker and The Rock are two of the biggest legends in the history of the industry. They both officially debuted as part of a Survivor Series elimination match.
Why not take a chance on a guy like Kassius Ohno? The gambles paid off for Taker and Rocky. If the third time is the charm, how huge could it be for Ohno?
You can follow Dustin on Twitter, check out his blog or listen to his podcast.