Colts vs. Patriots: Final Report Card, Player Grades for New England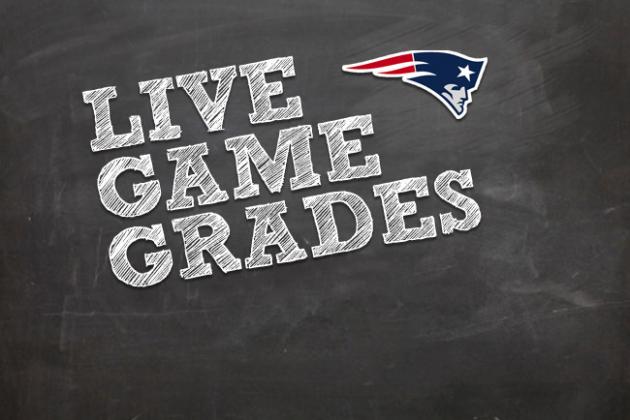 New England Patriots 59, Indianapolis Colts 24
Whether it was passing, rushing, returning an interception or a punt return, the Patriots found four different paths to the end zone en route to the highest-scoring output by any team in a single game yet in the 2012 season.
The 59-point performance was sparked by a tremendous performance by quarterback Tom Brady, interception returns from Aqib Talib and Alfonzo Dennard and an all-around fantastic game including a punt return touchdown from Julian Edelman.

There are a lot of positive grades to go around for the Patriots' 35-point victory over a potential AFC playoff team, but who graded out the best and who didn't do as well as their teammates? Check out the following slides to find out.
Begin Slideshow

»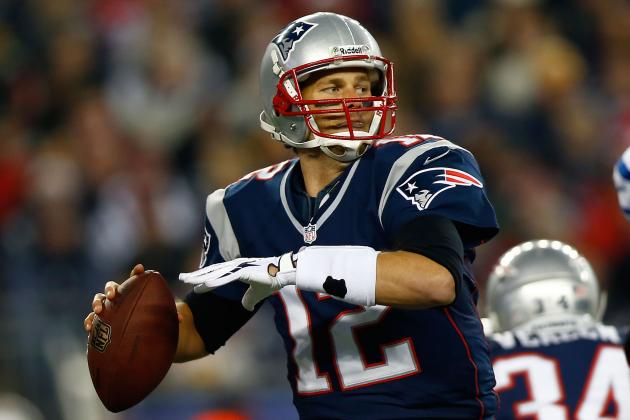 Jared Wickerham/Getty Images

Tom Brady: A

Tom Terrific was certainly that on Sunday, as he played a complete game like the quarterback who has earned the right to be considered one of the NFL's all-time great signal-callers. Brady completed 24-of-35 passes for 331 yards and three touchdowns on Sunday, in what was quite possibly his best performance of the season yet.

Brady did everything well in this game. He was consistently accurate and on the mark with his pressure, he ran play-action to perfection often and did a terrific job holding up and sliding around the pocket under pressure. Those skills were reflected in his fantastic numbers, and also leading the Patriots to points on six out of nine offensive drives.

Ryan Mallett: N/A

Ryan Mallett unsurprisingly came into the game for the team's final offensive drive with the team holding a 35-point lead, but as the Patriots were simply running out the clock, he did not throw a single pass.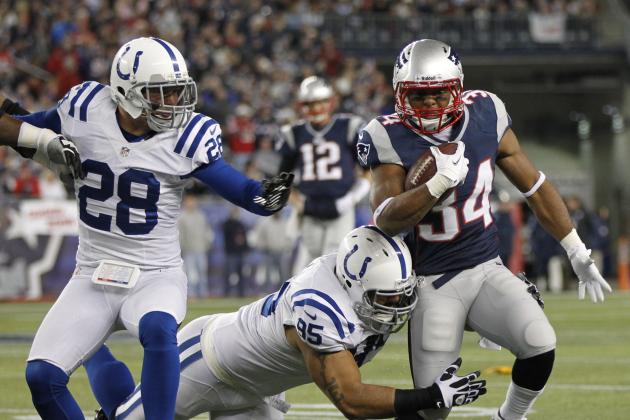 Greg M. Cooper-US PRESSWIRE

Stevan Ridley: C

The Patriots' offense had a big performance against the Colts, but one area of the team that struggled in this contest was the power-running game, and Stevan Ridley's statistics showed that.

Ridley had very few holes to run through in this game, and he was unable to make any big plays of his own. With the exception of an 11-yard run early in the third quarter, Ridley did not have any other runs of more than four yards. He finished his day with just 28 yards on 13 carries, and also scored on a three-yard run in the fourth quarter.

Shane Vereen: B-

Like Ridley, Shane Vereen did not have any consistent success running the ball Sunday, but he did have a few more breakthroughs. Vereen gained 40 yards on 11 carries, with a long gain of 13 yards, and also gained 11 yards on one screen pass.

With more speed and quickness than Ridley, Vereen was able to make more plays in this game, but it was still not a day to remember. Vereen did score the team's final touchdown on a four-yard rush.

Danny Woodhead: N/A

Danny Woodhead has been a staple on the field for the Patriots this season, but surprisingly, he was barely used on Sunday. Woodhead is usually a key contributor as a pass receiver and a blocker in third-down situations, but he did not have a single touch and played few snaps against the Colts.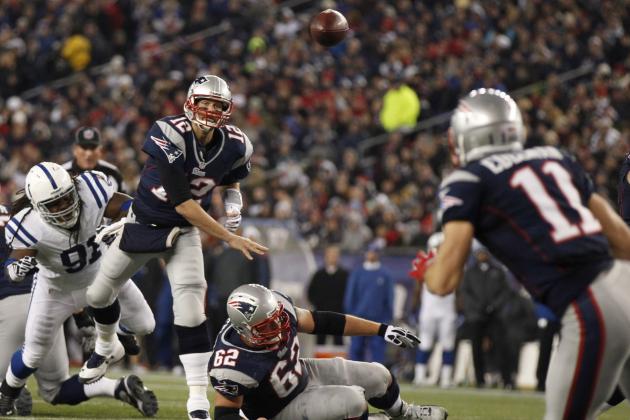 David Butler II-US PRESSWIRE
Julian Edelman
Wes Welker: B+

Wes Welker had another very solid game. He did a great job of getting open with his great route-running ability, and nearly all of his seven receptions came on easy throws for his quarterback.

Welker finished the day with 80 yards on those seven catches. He made no big plays in terms of yardage, but did have two receptions to convert on third downs. Overall, Welker was as reliable as ever, and played a big role in the Patriots' offensive output on this day.

Julian Edelman: A (on offense)

Julian Edelman had been somewhat of a disappointment through the first nine games of the season with subpar production, but on Sunday, Edelman re-emerged as a crucial part of the Patriots' offense.

He made multiple big plays to spark offensive drives. An 18-yard gain off of a screen pass on the Patriots' opening offensive drive helped lead them to a touchdown, and he took two other screen passes for gains of 16 and 17 yards. Edelman also took an end-around up the right sideline 47 yards in the fourth quarter to the three-yard line, setting up a Stevan Ridley rush touchdown.

Edelman also caught a touchdown of his own with another great play. He did a great job of getting open with tight coverage on him for a two-yard touchdown catch at the front of the end zone.

Using his quickness, elusiveness and route-running ability, Edelman made some great plays on offense in this game, and this grade does not even include his tremendous punt returning, for which he has another grade coming later.

Brandon Lloyd: B

Brandon Lloyd didn't make any big-impact plays against the Colts, but he continued to be a reliable weapon. He caught four passes for 45 yards, and continued to show his ability to get open and make great catches with his hands, including a terrific leaping 12-yard grab in the third quarter.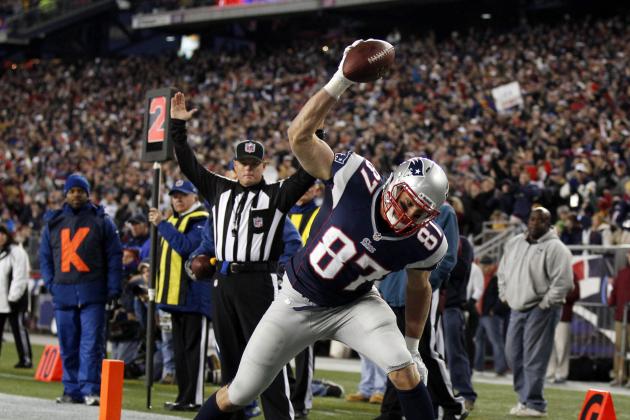 David Butler II-US PRESSWIRE

Rob Gronkowski: A+

Rob Gronkowski continued to display Sunday what makes him the NFL's best tight end. Took advantage of defensive mismatches against linebackers all day, Gronk caught seven passes for 137 yards and two touchdowns.

He caught all seven of his targets in this game, as he beat defenders with his size and speed, and gained extra yardage by running hard and through contact. By getting open against coverage on the goal line, Gronkowski was able to give Brady a reliable target on two touchdown passes.

Not only is Gronkowski the most explosive receiver on the team, but he's also one of the most explosive receiving threats in the entire league, and his connection with Brady was the biggest reason for the Patriots' offensive success in this game.

Unfortunately, while Gronkowski played as well as anyone on the team on Sunday and deserved an A+, the news going forward for him may not be so positive. NFL Network's Ian Rapoport reported Sunday that Gronkowski is believed to have a broken forearm.

Michael Hoomanawanui: B

Lining up often as a lead-blocking fullback, blocking specialist Michael Hoomanawanui had another strong performance. He did a good job of opening up holes in the ground game, and played a big role in springing Edelman to his 47-yard rushing gain on the end-around.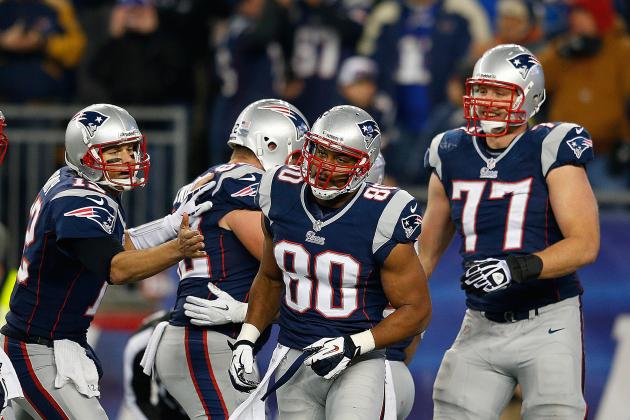 Jim Rogash/Getty Images

Nate Solder: B+

Nate Solder's second quarter got off to a terrible start, when two holding penalties on the same series helped stall what had been a promising drive at the end of the first quarter. Overall, however, Solder did a very good job in pass-protection, which was a big reason why the Patriots allowed no sacks in this game.

The Patriots did not have one of their stronger days in run-blocking, and that applies to Solder, but he did make some solid lead blocks in the second half.

Sebastian Vollmer: B

Sebastian Vollmer did have some trouble going up against the Colts' top pass-rusher, Robert Mathis, but had a strong showing overall. While he did give a couple of near-sacks on pressure from Mathis, his usually solid pass protection helped the Patriots give up no actual sacks on the day.

Vollmer struggled in the power-running game, as the Patriots were unable to get much going running to the right side, but he did a great job at getting out in space and helping with lead-blocking on runs to the outside and screen passes.

Ryan Wendell: B

Tom Brady's one near-mistake of the day came in large part due to Wendell getting overpowered on a pass rush over the middle, which forced pressure straight at Brady and prompted him to throw into coverage over the middle that nearly resulted in a Josh Gordy interception.

Even though it was not a strong day for the power-running game, Wendell still gets a solid grade; aside from that one play, his interior pass protection was terrific and helped give Brady time to throw in the pocket. Wendell had his work cut out for him in this game with both starting guards out on the lineup, and he helped out quite well.

Donald Thomas: A-

The Patriots' two starting guards were out of the lineup in this game, but the fill-in guards played a huge role in providing great pass protection for Tom Brady. This was especially true of Donald Thomas, who has been very good all season in fill-in work at guard, and continued to be in Logan Mankins' place on Sunday.

The Patriots had some success in the second half running up the left middle, while Thomas did a good job of keeping inside pressure away from Brady. He may have been the team's most solid offensive lineman on Sunday, and he wasn't even supposed to be in the lineup.

Nick McDonald: C

Nick McDonald had a solid day in pass protection, but he struggled mightily against Cory Redding on run defense. McDonald failed to get any significant push in the power-running game as a blocker, and as a result, the Patriots really struggled with running to the right side of the line.

The Patriots could do worse than McDonald at right guard, but Connolly's presence was clearly missed at the position with McDonald in his place again Sunday. Many of the big stops by the Colts' run defense came from Redding and others who lined up against McDonald.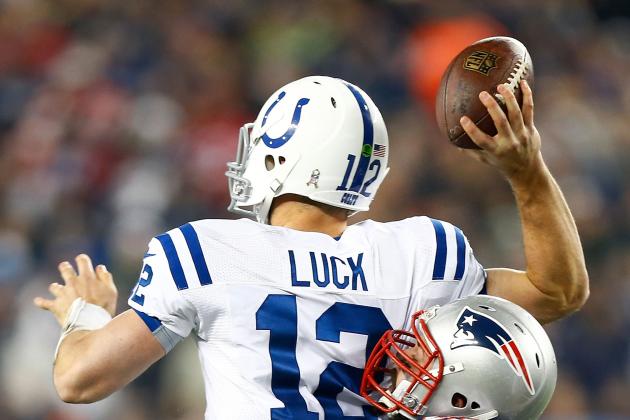 Jared Wickerham/Getty Images
Rob Ninkovich
Vince Wilfork: A

Pro Football Focus hasn't been a big fan of Vince Wilfork's play this season, but if he read that article, it seems he only got motivation from it. Wilfork was at his best with a tremendous all-around game on Sunday, and was the biggest reason why the defensive front seven had so much more success getting into the Colts' backfield.

Wilfork did a tremendous job of shooting the gap and making plays. He brought more pressure than usual from the interior line, and his pressure was partially responsible for many of the Patriots' big plays in this game, including Aqib Talib's interception, which was returned for a touchdown.

Wilfork made two big stops of his own, and he also batted two passes at the line, including one on a third down after which the next play was Julian Edelman's punt return touchdown.

Whether PFF will grade Wilfork's performance as positive remains to be seen at this point, but he certainly made a very big, positive impact on this game.

Chandler Jones: Incomplete

Chandler Jones' game got off to a tough start with a missed tackle on the game's first drive, and on the game's second drive, Jones suffered an ankle injury. He did not return to the game.

Rob Ninkovich: A

No player on the Patriots' defense has been more clutch with making big plays this season than defensive end Rob Ninkovich, and that continued to be the case Sunday. With Chandler Jones out of the lineup, the Patriots needed Ninkovich to step up as their premier pass-rusher, and that was exactly what he did.

Ninkovich's big play came late in the third quarter, when he beat Anthony Castonzo on a pass rush for a strip sack, knocking the ball loose and then recovering that same fumble on his own. On the very next play, the Patriots scored a touchdown.

Ninkovich's sack was one of three tackles behind the line of scrimmage, and eight total tackles, that he had on the day. He was the leader of the increased pressure the Patriots put together in this game, and continues to be among the defense's most valuable players.

Jermaine Cunningham: B

Jermaine Cunningham moved into the lineup with Chandler Jones out, and he had a very solid performance. Cunningham did a good job of bringing pressure off the edge, being credited with two quarterback hits in the game. He also made one great play where he backed up off a double-team block then took down Andrew Luck after a three-yard run up the middle.

Cunningham did not quite have the impact Ninkovich did, but he proved that he is a capable three-down lineman with his showing in this contest.

Kyle Love: C-

As has been the case in most games this season, defensive tackle Kyle Love was the least impactful of the four starting defensive linemen for the Patriots. Love was not a difference-maker, notching just one tackle on the day, while he failed to generate much pressure as a pass-rusher.

Love was especially pushed around in the first quarter, a quarter in which the Colts got nearly half of their total rushing yards on the day.

Brandon Deaderick: B

Brandon Deaderick was called upon for increased snaps today once Jermaine Cunningham moved into the base lineup, and he had a solid showing.

Deaderick had two tackles in limited action, but the highlight of his game came when he came over the top of Vick Ballard as he was getting brought down, which forced a fumble. Ballard recovered his own fumble, but it was still a great opportunity that Deaderick helped create.

Trevor Scott: B

Another player whose defensive snaps increased with Jones' injury was Trevor Scott, who became the team's third defensive end with Jones sidelined.

Scott's only tackle of the game came on special teams, but that does not mean he didn't impact the game when he came in. Scott gave the Colts' offensive tackles trouble with his quickness off the edge, and became another source of pressure that helped make plays happen for the Patriots' defensive front seven.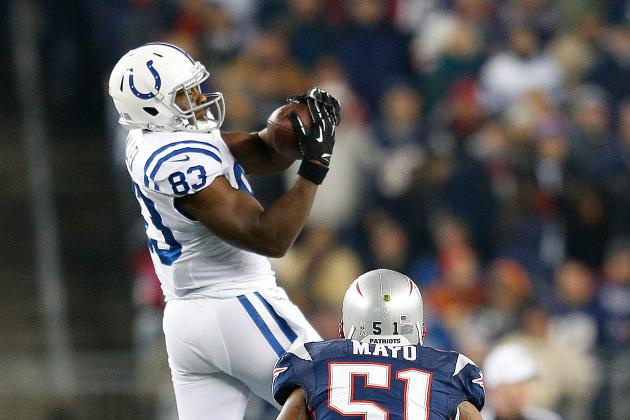 Jim Rogash/Getty Images
Jerod Mayo
Brandon Spikes: A-

Middle linebacker Brandon Spikes had a fantastic game bringing pressure as a blitzer. As CBS' Phil Simms pointed out during the game broadcast, Spikes did a tremendous job of reading Andrew Luck's snap counts, allowing him to generate speed coming up to the line by jumping the snap, and he often overwhelmed the Colts' interior offensive line.

Spikes did not get any sacks in this game, but he impacted many plays by bringing pressure into the backfield or forcing blockers to pick him up at the line. He had a very strong game against the run, finishing with nine tackles.

Jerod Mayo: B-

Outside linebacker Jerod Mayo led the Patriots with 10 tackles on Sunday, but he had a very up-and-down showing over the course of the game.

Mayo was in on more stops than any other player on the Patriots' defense, and had an impressive pass breakup over the middle on a short pass attempt. On the other end of the equation, however, Mayo was out of position with poor angles on a number of both run and pass plays, and he also picked up two penalties, for illegal contact and roughing the passer.

Mayo made plenty of plays for the Patriots' defense on Sunday, but was more mistake-prone than usual.

Dont'a Hightower: B

Dont'a Hightower only made two tackles in this game, but he had what was probably his best all-around game since returning from a hamstring injury in Week 7.

Hightower was especially effective in pass defense. He made a terrific play in pass coverage, on which he dropped back, turned and swatted down a pass intended for Reggie Wayne, while he was also effective when used as a pass-rusher.

One would like to see Hightower making a higher frequency of tackles as a starting linebacker, but it was still a very solid performance for him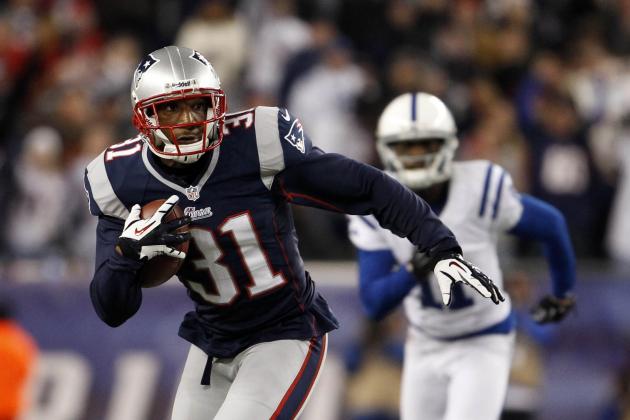 David Butler II-US PRESSWIRE
Aqib Talib
Aqib Talib: B

Aqib Talib's debut as a New England Patriots cornerback was certainly memorable. It became that way when Talib intercepted a pass in the middle of the field, then all the way to the right sideline and back over to the left sideline on an impressive 59-yard touchdown return.

But while Talib's touchdown was very special and a huge play for the Patriots in establishing their first lead of the game, his coverage throughout the game was suspect.

Talib was beaten twice for touchdowns by T.Y. Hilton.

On the first play, Talib had him covered fairly well, but Andrew Luck made a perfect pass to the back of the end zone and Hilton had a half-step on Talib, enough to make a sliding catch for a 14-yard score. On the second play, however, Talib was simply burned, and even illegal contact for which he was flagged was not enough to stop Hilton from scoring a 43-yard touchdown.

Talib also had some troubles with LaVon Brazill, another wide receiver who beat Talib on numerous occasions downfield. Talib had one of the game's biggest plays, and seven tackles as well, but the Patriots will be expecting better overall coverage out of him.

Kyle Arrington: C

Kyle Arrington started the game at cornerback across from Aqib Talib, but that quickly changed after the first drive, on which Arrington was burned by Donnie Avery on a deep post and was forced to commit a 40-yard pass interference penalty to avoid giving up a touchdown.

Arrington moved inside to play nickel cornerback after that, with Alfonzo Dennard replacing him in the starting lineup.

His struggles continued when he was called for holding in the first quarter, but he did make some much better plays in the rest of the game. Arrington had seven tackles and deflected two passes, including one late in the game that ended up in the hands of Tavon Wilson off a tip in the air for the team's third interception.

Arrington salvaged his grade from being very low by making some very positive plays, but it was still made clear in this game that he should not be starting at cornerback.

Alfonzo Dennard: A-

Once rookie Alfonzo Dennard came into the game as the right cornerback across from Aqib Talib, the pass defense was much more solid. Dennard had a very strong performance, highlighted by an 87-yard interception return early in the third quarter that all but sealed victory.

Dennard was beaten on a number of occasions, but on two of those occasions he managed to recover by laying out for the football and getting a hand on the ball to break up the pass. While Dennard did give up a few downfield completions, there were no big plays against him and he had a solid day tackling.

His big play was a huge moment in the game, and he proved that even though he still makes his share of rookie mistakes, he is the best option to start as the Patriots' No. 2 cornerback.

Devin McCourty: A

Devin McCourty played his fourth consecutive game at safety after moving over from cornerback, and he continued to excel, having quite possibly his best game yet. Working often on the same side of the field as Talib, he was able to provide Talib something that he never had much of when he was playing the left cornerback position: help defense.

McCourty was frequently making plays on the football on the back end, and on multiple occasions came into break up passes on plays where Talib had been beat. McCourty also showed his ability to hit in this game, forcing a drop with one of his hits, and bringing pressure to force a drop on another.

All in all, McCourty finished the game with seven tackles, and made it clear that he, not Talib, is still going to be the leader and star of the Patriots' secondary.

Steve Gregory: C

Starting next to McCourty, Steve Gregory did not do much to impact this game. He was credited with one pass breakup, but all three of Gregory's tackles were downfield and he did not make any big plays in pass coverage.

Gregory hasn't been a liability in coverage, but he hasn't been an asset or a difference-maker to this point either, and that didn't change on Sunday.

Tavon Wilson: N/A

Rookie safety Tavon Wilson did not play much in this game, as his playing time has decreased significantly since McCourty moved to safety and Gregory returned from injury. Wilson was the beneficiary of a play late in the game, when he was able to make a play on a deflected pass on a ball tipped by Kyle Arrington up into the air, and came up with an interception.

Overall, however, the sample size was too small to grade Wilson, and his interception came in what was effectively garbage time with the Patriots already holding a 35-point lead.

Marquice Cole: C+

Marquice Cole played in the slot in this game as the dime cornerback. Effective coverage on one play forced an incompletion on a pass intended for Reggie Wayne, but he also gave up a number of completions by giving up too much cushion.

Overall, Cole didn't make much of an impression with his showing in this game.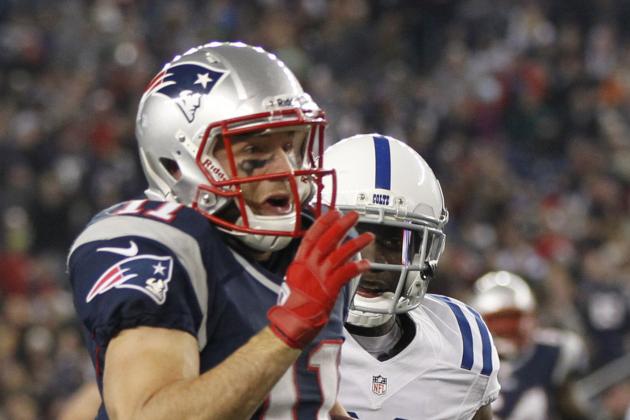 Greg M. Cooper-US PRESSWIRE
Julian Edelman
Stephen Gostkowski: C+

Stephen Gostkowski missed his first field goal since Week 4 when he hooked his first field goal attempt of the game from 36 yards out wide right. He managed to rebound by making a 31-yard field goal later in that same quarter, but the miss from a distance which he is usually automatic hurts his grade.

On kickoffs, Gostkowski was strong as usual. Three of his eight kickoffs went for touchbacks, and only two of them were returned past the 20-yard line.

Zoltan Mesko: A

Zoltan Mesko only punted twice on Sunday, but both of his punts were terrific. Mesko's first kick traveled 61 yards through the air, while his second punt was a 53-yarder downed at the four-yard line.

Mesko could be knocked for outkicking his coverage on the 61-yard punt, which resulted in a 19-yard return, but a punter really cannot be faulted for getting a 61-yard punt with good hangtime.

Julian Edelman: A+ (on special teams)

Julian Edelman was not only a huge asset to the Patriots' offense in this game, but he was also an absolute star on special teams against the Colts.

Edelman only returned two punts, but he sure made the most of them. On his first return, he found a lane down the right sideline and eluded multiple defenders en route to a 68-yard touchdown. On his second return, Edelman hit a big hole straight up the middle on a line-drive punt and gained 49 yards, for an incredible punt return average of 58.5 yards per return.

Edelman's punt returns weren't his only contributions on special teams, either. Edelman made a textbook strip to force a fumble on a T.Y. Hilton kickoff return. That fumble was recovered by the Colts, but was yet another example of how Edelman made a big play in this game.

Danny Aiken: A-

Danny Aiken had a solid day as a long snapper, and he also nearly made a huge play covering one of the punts he snapped for.

During the only punt that the Colts returned on the day, Aiken came over the top of T.Y. Hilton to pop the ball out of his grasp, but Hilton was able to recover the bobble in midair and continue on his return. Nonetheless, it was a terrific effort by Aiken that could have been another huge play for the Patriots on special teams.

Matt Slater: B+

Matt Slater made an impact on a number of plays on special teams Sunday. Slater had a key block that helped set up Edelman's punt return touchdown, while he was also in on two kickoff return tackles, including the tackle where Edelman forced a fumble.

Slater continued to show in this game why he is one of the most valuable members of the Patriots' kickoff and punt teams.

Niko Koutouvides: B+

Niko Koutouvides was another player who played only on special teams in this game, but came up big in that capacity as well. Playing on the kickoff team, Koutouvides made two big tackles inside the 20-yard line, showing why the Patriots have continued to keep him on the roster even though he very rarely gets in the game among a thin group of linebackers.

Nate Ebner: B+

One more special teamer who earned special recognition for his showing on Sunday was backup safety Nate Ebner. Ebner, who was drafted primarily for the purpose of how good he is on kickoff and punt coverage, led the Patriots on Sunday with three special teams tackles.
Greg M. Cooper-US PRESSWIRE

Coaching Staff: A

The Patriots' coaching staff has drawn plenty of criticism this season, but they should be applauded for the Patriots' 35-point victory over the Colts.

Offensively, the Patriots had a very efficient game plan. They ran play-action consistently with success, and had one of their best offensive games of the season even without a consistent power running game. They even exposed the Colts for a 47-yard gain on an end-around to Julian Edelman in the fourth quarter.

Defensively, the Patriots' coaching staff also did a terrific job. With Chandler Jones out of the game early with an ankle injury, their pass rush could have crumbled, but instead, they had their best game all season. The coaches decided to go with a blitz-heavy defense, stacking the box in the defensive front seven, and as a result, the Patriots brought pressure into the backfield often on both passing and rushing plays.

The Patriots may have given up a lot of yardage defensively, but that was because of their aggressive, pressure-based defensive plan on Sunday which helped force turnovers and get Andrew Luck out of his comfort zone after the first quarter.

Dan Hope is the New England Patriots game day correspondent and an NFL draft Featured Columnist for Bleacher Report. For more coverage of the Patriots, follow him on Twitter @Dan_Hope.