UFC 154: Why Georges St-Pierre Is the Greatest Welterweight Ever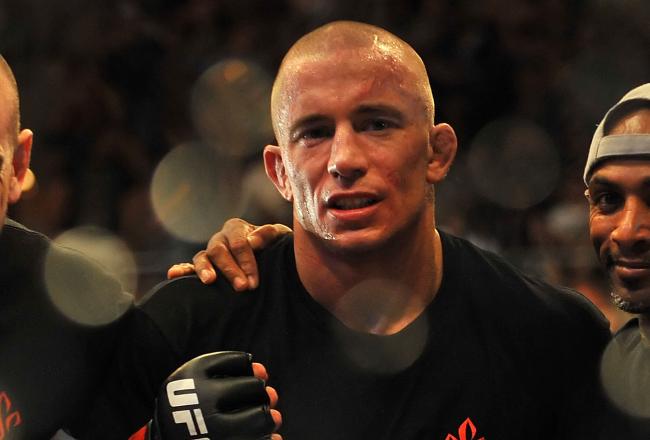 Jon Kopaloff/Getty Images
No other welterweight in MMA history has achieved what Georges St-Pierre has in his career. The only two men that come close in the division, BJ Penn and Matt Hughes, GSP beat both—twice.
That should be the end of the argument as to why he's the greatest welterweight ever. However, the Canadian isn't without his critics.
Critics who say that the fact that he hasn't finished a fight since 2009 greatly diminishes his achievements. The fact that he's had opponents take him the distance so often makes him less of a fighter than the risk-takers with chequered records but brutal finishes to their name.
But if that's the extent of the criticism aimed at GSP, then it's hardly any criticism at all.
Matt Hughes never came close to defending the belt the number of times GSP managed, or going on an undefeated run as long as he has before he was inducted into the Hall of Fame.
On Saturday night, at UFC 154, St. Pierre returns to the Octagon to take on Carlos Condit in his home city of Montreal.
The whole of MMA has seemed like an emptier place without him, with the welterweight division at a virtual standstill as fighters wait anxiously to take their shot at the man most expect to win.
What's more, the fighter many consider the greatest of all time, Anderson Silva, a whole division heavier than him, is also gunning for his head.
That's the impact he has on the sport.
St. Pierre has been a professional fighter for a decade. In that time he's crossed eras and rode the UFC through to mainstream success.
And today, a veteran, he's still the man to beat.
It's true, after his shock defeat to Matt Serra in 2007, something changed in the man they used to call "Rush".
He suddenly became a much more cautious, more calculating and intelligent fighter. He started going the distance more often and the spectacular finishes have become fewer and farther between.
But that doesn't mean he's looked any less unassailable. Each of the nine fights after Serra, save his match against Jon Fitch, he's dominated easily. And each match has seen him develop his game to a higher and higher level.
A man with a karate background who never grappled in his younger days, is today one of the most capable wrestlers in MMA. He's also developed his striking game, learning from Freddie Roach and showing how devastating a jab can be against Josh Koscheck and Jake Shields.
And he remains a truly athletic specimen, which is perhaps what ultimately sets him apart.
This article is
What is the duplicate article?
Why is this article offensive?
Where is this article plagiarized from?
Why is this article poorly edited?