Anaheim Ducks: 5 Things Bruce Boudreau Needs to Change When Play Resumes
Marianne Helm/Getty Images

Bruce Boudreau might be in for his second straight half-season with the Anaheim Ducks. During the second half of last year, the newly-hired Boudreau was able to get the Ducks within striking distance of a playoff spot after an abysmal first half under previous head coach Randy Carlyle.
Boudreau is set to get another shot behind the bench. It's uncertain whether that shot will begin this year or next based on the resolution (or lack thereof) of the current NHL lockout.
Whenever the puck does drop, it's clear that Boudreau will have some interesting decisions to make, and will undoubtedly be required to re-work the strategy behind his largely unchanged roster from last season.
While Boudreau has only secondary influence when it comes to roster moves, the on-ice strategy and lineup of the team will be entirely within his jurisdiction. With Anaheim's 2011-2012 season unquestionably a disappointment, Boudreau will need to make several changes to both the Ducks offensive and defensive gameplan moving forward.
Begin Slideshow

»
Harry How/Getty Images

If Teemu Selanne and Saku Koivu continue to shoulder the load on the second line, it'll be very surprising to say the least. Then again, there aren't many good options that Boudreau could send in as replacements
The Ducks are thin in this regard and have no obvious suitors for any of the second line forward positions. With Jason Blake gone, and the Koivu-Selanne duo likely moving to the third line, the Ducks have very little to work with.
Odds are that Boudreau will promote Andrew Cogliano at center and give either Kyle Palmieri or Emerson Etem time on the right wing.
Who might potentially fill the left wing spot is anybody's guess.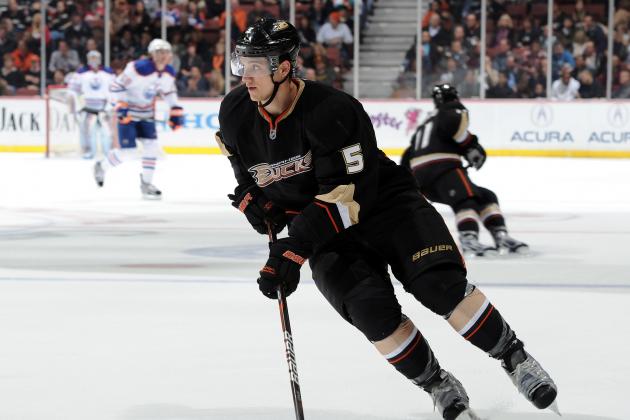 Harry How/Getty Images

Luca Sbisa is part of the reason that Chris Pronger is on the Philadelphia Flyers roster (well, injured reserve) right now. He's got an incredible amount of potential, and last year quietly had his best season in terms of offensive production and ice time.
Along with Fowler and possibly Hampus Lindholm, Sbisa is the future of Anaheim's blue line. Expect Boudreau to give him an even more significant role this time around, if for nothing else, his immediate physical impact.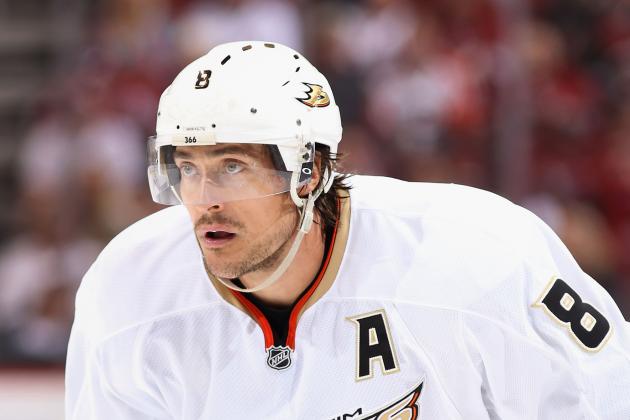 Christian Petersen/Getty Images

Please don't read this the wrong way, Ducks fans.
I'm not advocating that you put a cap on Selanne's potential offensive production. He's still one of the best in the game, even at 42 years old, and I'm not advocating reduced ice time or anything like that.
However, Boudreau and the Ducks need to prepare for life after Selanne, and at this point they are still in a sense dependent on his offensive production.
Right now Selanne's contribution should be considered a luxury, not a centerpiece of their plan for success moving forward. Getting either Palmieri or Etem into this role, possibly by having them play on a line with Selanne, is crucial to Anaheim's future offensive expansion.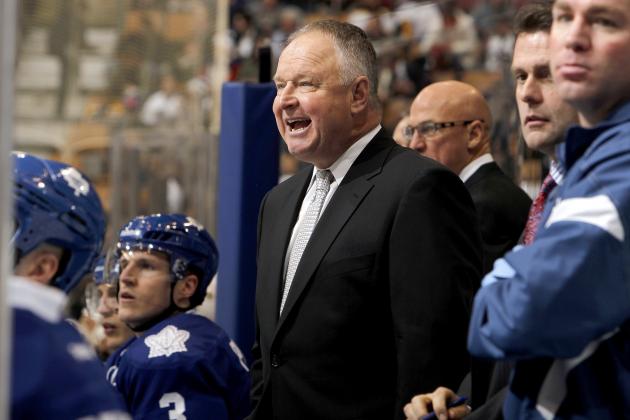 Abelimages/Getty Images

If Randy Carlyle knew one thing, it was defense. Maybe he knew a little too much defense.
At a time when both Pronger and Scott Neidermayer towered over opposing top lines in Anaheim, Carlyle's defensive-oriented gameplan flourished. However with a defensively weak post-cup team, Carlyle wasn't able to utilize the offensive talent of his young core.
Thus, in comes the Alexander Ovechkin and Niklas Backstrom mastermind as a replacement.
We know that Boudreau knows offense, perhaps to the same degree that Carlyle knows defense. However Boudreau would serve Ducks fans well if he were to consider the methodologies Carlyle put in place for a defensive core that has gotten far more talented and more physical over the past two seasons.
If he can combine that with his speed game, Anaheim could be a big surprise in the Western Conference next season.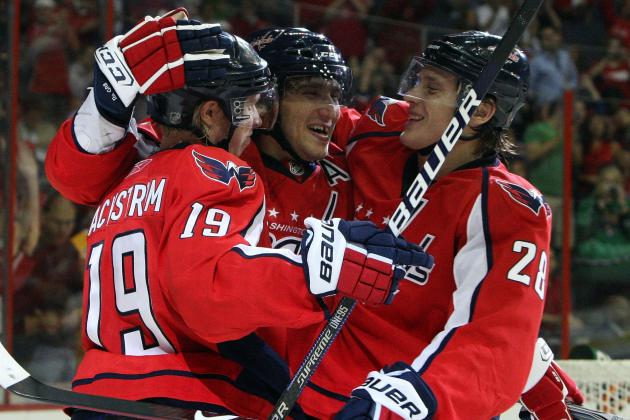 Jim McIsaac/Getty Images

Talent is talent, and a coach can only do so much for his players, though there's no question that Boudreau was able to harness and unleash the scoring ability of his top forwards during his run in Washington D.C.
With the same kind of offensive talent and core in Anaheim, he should be looking to repeat the process.
Ryan Getzlaf, Corey Perry and Bobby Ryan are more prone to the cycling game than they are the fast break, which presents a stark contrast to the Capitals, speed game. However, were Boudreau to successfully meld his strategy with the strengths of his top players, the Ducks would vastly improve in terms of offensive effectiveness.
Carlyle was not able to do this, and that's why he's coaching the Toronto Maple Leafs now. If Boudreau can pick up the pieces, Ducks fans will be in for a wild ride over the next several years.