Week 11 Report Card Grades for Every Starting NFL QB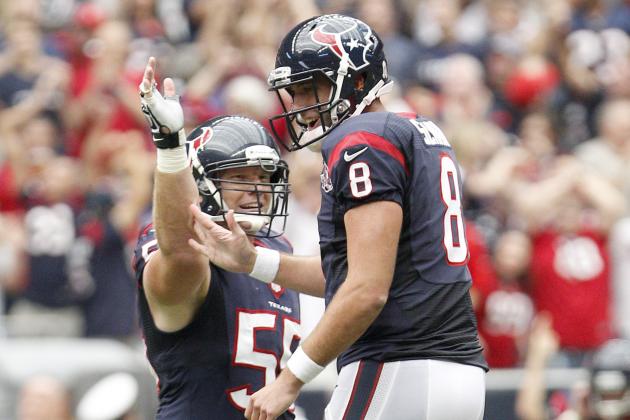 Thomas B. Shea/Getty Images

This was another great week for several high-profile NFL quarterbacks. However, there's no way to talk about quarterback grades without mentioning Matt Schaub first. He received the top grade this week and was the most impressive performer.
Others, like Tom Brady and Robert Griffin III, also had excellent games. As usual, there were some quarterbacks who really struggled. Check out the rest of the article to see how each quarterback graded out this week.
Begin Slideshow

»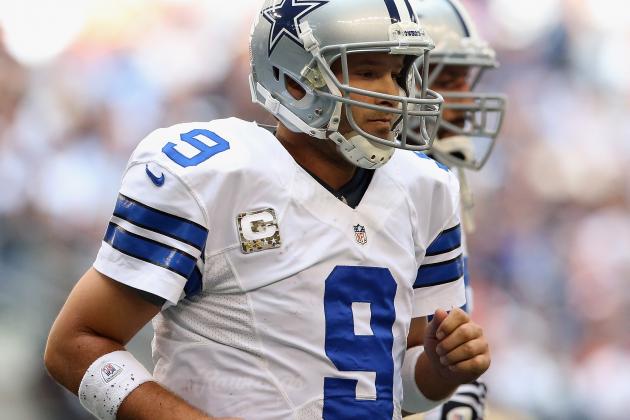 Ronald Martinez/Getty Images

Stats: 35-of-50, 313 yards, one touchdown and zero interceptions
Tony Romo's performance against the Cleveland Browns is a positive because he was able lead the Dallas Cowboys on a successful comeback. His poise late in the game helped Dallas avoid an upset loss to the Browns.
Another key to the game was that Romo was able to avoid throwing any interceptions. His ability to make sound decisions is why the Cowboys even had a chance to make a late comeback.
However, this all did come against the Cleveland's defense, which ranks 22nd in the NFL, allowing nearly 250 passing yards per game. The reason this game was so close is because Romo and the Cowboys struggled to convert on third down, going 4-of-14 on the day.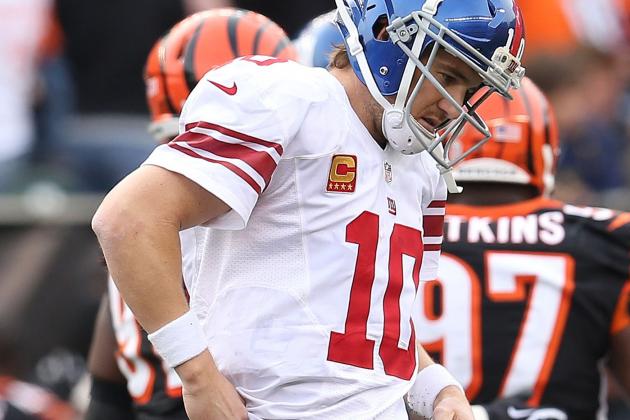 Andy Lyons/Getty Images

Season Stats: 223-of-364, 2,641 yards, 12 touchdowns and 11 interceptions
Eli Manning should be thankful that he had a bye week because his past two performances have been disastrous. Manning's season has not lived up to his talent level. He's having a very disappointing year. The biggest issue is his inability to limit his interceptions.
He only has one more touchdown pass than interception. His struggles the past two weeks are the main reason why the New York Giants are on a two-game losing streak. The hope is that Manning can use this bye week to right the ship.
He'll need to improve because New York faces the Green Bay Packers and their ball-hawking defense next week. If Manning is off the mark against the Packers, he'll add to his interception total.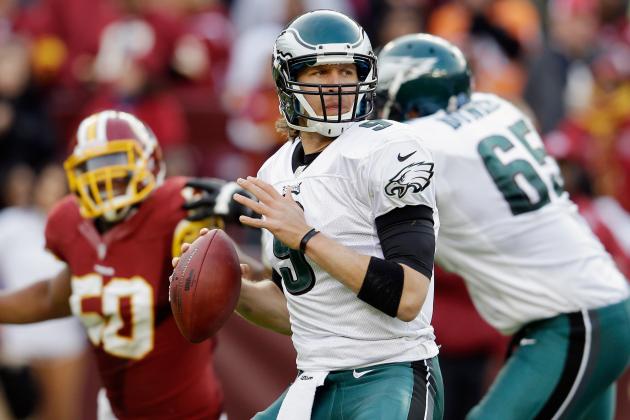 Rob Carr/Getty Images

Stats: 21-of-46, 204 yards, zero touchdowns and two interceptions
Nick Foles struggled in his first NFL start. However, the Philadelphia Eagles coaching staff deserves some of the blame. There's no reason a rookie quarterback making his first start should be throwing 46 times.
It's obvious that Foles isn't ready to be a starter. He struggled with his accuracy. Still, the game plan didn't do him any favors. A good example of this came on Foles' second interception.
On this play, the Eagles were in a third-and-long situation. Instead of trying something safe, they called a play with deeper routes. This isn't the best way to ensure a young quarterback gets off to a good start.
Rob Carr/Getty Images

Stats: 14-of-15, 200 yards, four touchdowns and zero interceptions
The Washington Redskins got an efficient and impressive game from Robert Griffin III. His ability to complete a high percentage of his passes helped the offense move up and down the field. As usual, he also made several big plays running.
Griffin is such a dangerous playmaker that it's tough for any defense to keep him in check. The Philadelphia Eagles especially struggled because their offense put them in tough situations with turnovers.
An important thing to take away from this game is that Griffin has already developed a knack for taking advantage of turnovers. Turning takeaways into points is a major key to winning games.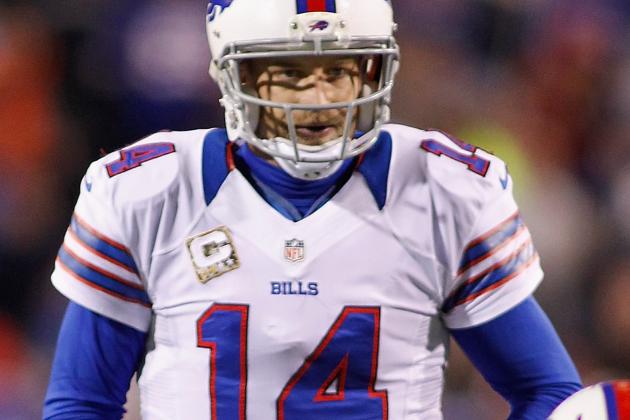 Rick Stewart/Getty Images

Stats: 17-of-27, 168 yards, zero touchdowns and zero interceptions
Ryan Fitzpatrick didn't put up his typical numbers against the Miami Dolphins, but he was able to avoid throwing an interception. This was important as just one mistake could've cost the Buffalo Bills a win. The issue is that Fitzpatrick doesn't always have the luxury of playing safe football.
Buffalo's defense has been one of the worst in the league. This puts pressure on Fitzpatrick to keep pace with the opposing offense.
One concern about his performance was the Bills' inability to convert on third down. Some of this could be blamed on questionable play-calling, but ultimately most of the struggles fall on the shoulders of the quarterback.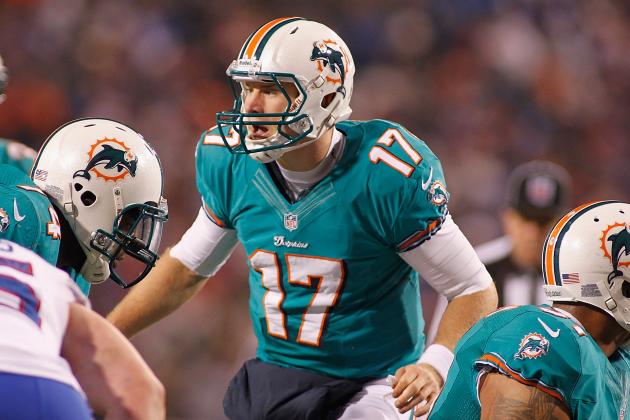 Rick Stewart/Getty Images

Stats: 14-of-28, 141 yards, one touchdown and two interceptions
In a close game against the Buffalo Bills, Ryan Tannehill's two interceptions played a major role in the outcome. The Miami Dolphins were unable to overcome the turnovers and lost their third game in a row. Tannehill's performance shows that he still has a long way to go before he finds consistency.
Tannehill is an extremely talented quarterback, but he must improve his decision-making and ability to read defenses. These skills will improve with experience, something Tannehill lacks. He only had two years of starting experience in college, which explains why he's so raw.
This loss puts a damper on Miami's playoff hopes, but the truth is that this isn't a team with the talent to make the playoffs. The Dolphins need another year or two before they become true contenders.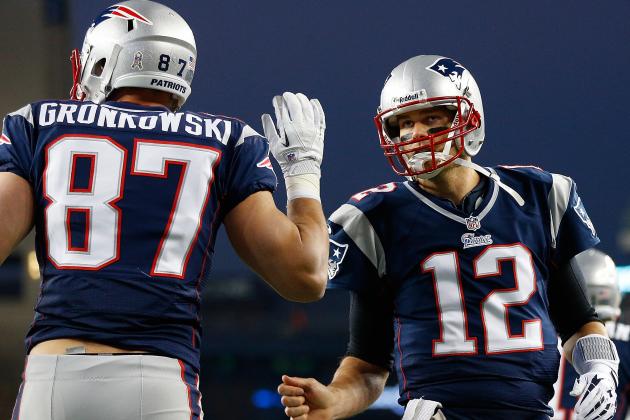 Jim Rogash/Getty Images

Stats: 24-of-35, 331 yards, three touchdowns and zero interceptions
Tom Brady and Bill Belichick made a strong statement to Andrew Luck and the Indianapolis Colts. It appears that they wanted to put this team in its place, as Brady was still in the game looking to score points in the closing minutes.
This wasn't only a statement for the Colts, it was for the entire NFL to see that the New England Patriots offense remains very explosive.
The lesson Luck can learn from Brady is not to panic. Brady and the Patriots weathered the early push by the Colts to go on and score 59 points.
Where Brady didn't let the early struggles get into his head, Luck appeared to want to do too much. That resulted in three interceptions, two of which were returned for touchdowns, and a lost fumble.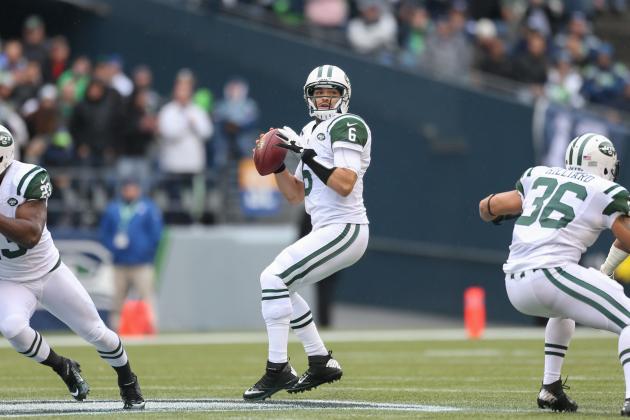 Otto Greule Jr/Getty Images

Stats: 15-of-20, 178 yards, one touchdown and zero interceptions
Mark Sanchez and the New York Jets took advantage of three turnovers by the St. Louis Rams to pull off a road victory. Sanchez's ability to move the offense but also avoid turnovers was a key to the game. He allowed the Rams to beat themselves.
His stats weren't overly impressive, but Sanchez's 75 percent completion percentage is by far his best number of the season. For the most part, Sanchez has struggled to complete a high percentage of his attempts. On the season, he's only completing 52 percent. That is why this performance was impressive.
However, Sanchez will need to string together a few more performances like this if he hopes to head into next season as the Jets' starter.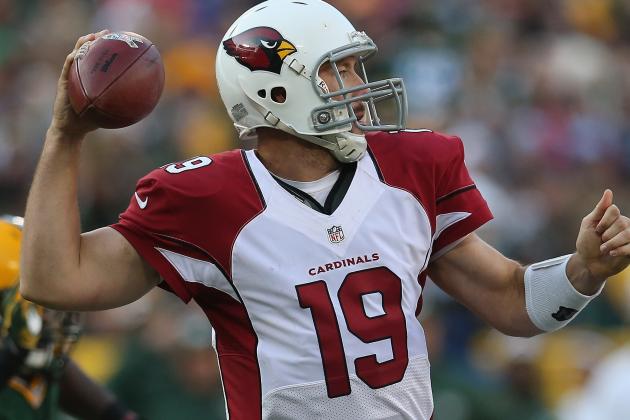 Jonathan Daniel/Getty Images

Skelton's Stats: 2-of-7, six yards, zero touchdowns and zero interceptions
Ken Whisenhunt decided to bench John Skelton early in the game against the Atlanta Falcons. Skelton was inaccurate and missed several open targets. His poor play wasted several turnovers created by the Arizona Cardinals defense.
That Skelton was benched for late-round rookie Ryan Lindley says just how little confidence Whisenhunt has in him.
Lindley's Stats: 9-of-20, 64 yards, zero touchdowns and zero interceptions
Taking over in the middle of the game against one of the better teams in the league is a difficult task for a rookie. Ryan Lindley didn't perform all that well, especially struggling under the pressure generated by Atlanta's defense.
Arizona's quarterback situation gets worse each week. Lindley has some upside, but he isn't ready to start.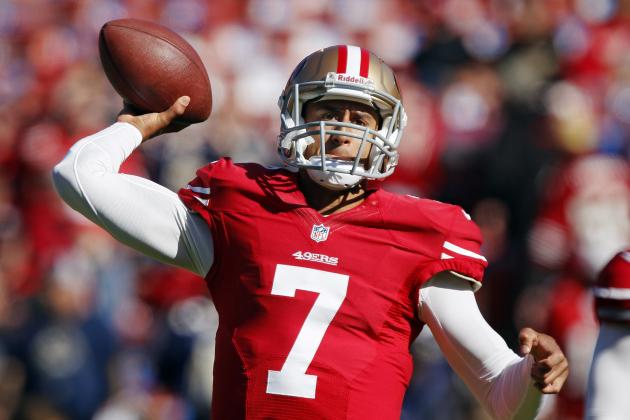 Brian Bahr/Getty Images

Stats: 16/23, 243 yards, two touchdowns and zero interceptions
Colin Kaepernick surprised a lot of people with is ability to dismantle the Chicago Bears defense. He accurately delivered the ball to all levels of the field. That accuracy made it tough for Chicago to get stops in key situations.
It also helped that the Bears offense wasn't able to sustain drives. Kaepernick was on fire, and the Bears just kept giving him the ball.
There's no doubt this performance was excellent, but it's important to note he played the entire game with a lead. Of course, he was responsible for that lead.
Overall, this was a very impressive performance.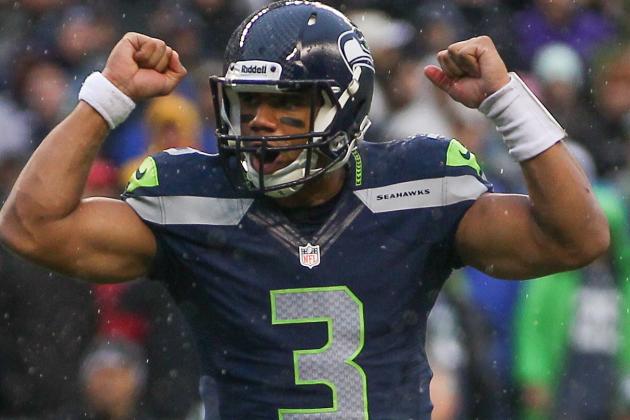 Otto Greule Jr/Getty Images

Season Stats: 157-of-253, 1,827 yards, 15 touchdowns and eight interceptions
The Seattle Seahawks took a risk when they selected Russell Wilson in the third round. They felt that he had a chance to succeed despite concerns about his size. That gamble has really paid off, as it looks like Seattle has found its quarterback of the future.
Wilson brings a ton of talent, leadership and poise to the table. His ability to win the job out of training camp and earn the respect of his teammates is why Seattle is in the playoff hunt.
The numbers being put up by Wilson aren't overly impressive, but they don't tell the entire story. Wilson does the little things and finds ways to make plays in pressure situations. He's a very impressive rookie with a very bright future.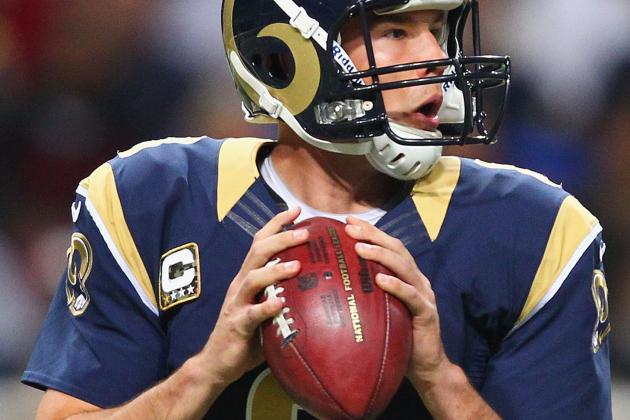 Dilip Vishwanat/Getty Images

Stats: 23-of-44, 170 yards, two touchdowns and one interception
The lack of explosive plays by the St. Louis Rams makes it tough for them to generate a decent amounts of points. It allows the opposing defense to take risks and try to confuse Sam Bradford. Those risks include different blitz packages.
Bradford had a real tough time finding his rhythm against the New York Jets' aggressive defense. Most of his attempts were underneath passes that didn't travel very far. At some point, Bradford is going to have to start taking more chances down the field.
Of course, a lot of his struggles can be blamed on a lack of talent at wide receiver. The Rams have failed to bring in a top-notch wide receiver in each of the past few offseasons. For Bradford's sake, that needs to change soon.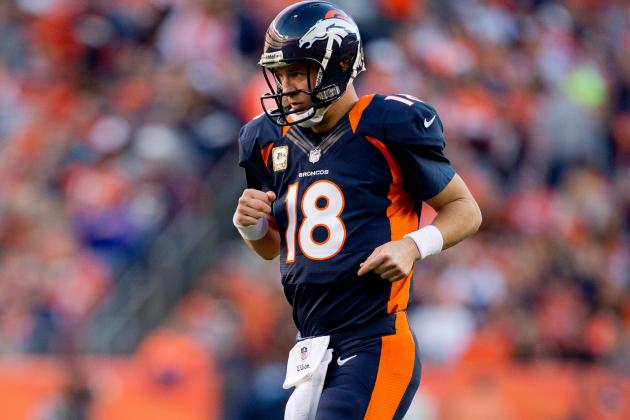 Justin Edmonds/Getty Images

Stats: 25-of-42, 270 yards, three touchdowns and one interception
Peyton Manning started the game against the San Diego Chargers on a hot streak and led the Broncos to an early 15-point lead. That made it tough for the Chargers to finish off their comeback.
Manning's ability to get the ball to all his targets is one of the main reasons he's so successful. Opposing defenses have a tough time identifying the go-to target and rolling coverage.
This game was a big win for the Broncos. It provided them with breathing room in the AFC West race. Manning obviously realized the importance of this game and seemed determined to get off to a strong start.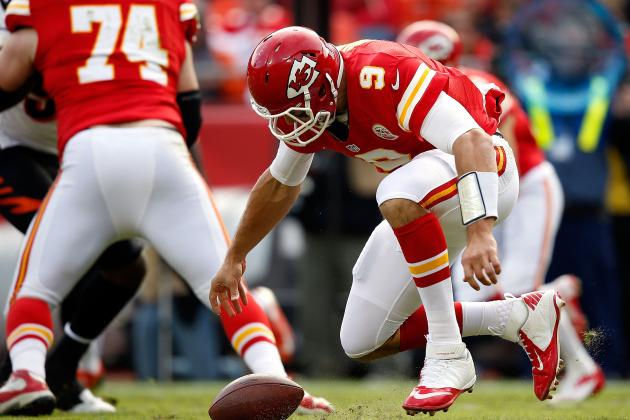 Jamie Squire/Getty Images

Cassel's Stats: 8-of-17, 93 yards, zero touchdowns and zero interceptions
At this point, Matt Cassel is just playing out the days as the quarterback for the Kansas City Chiefs. He continues to play uninspiring football. There's no chance that he returns to this team next season.
That he was benched for Brady Quinn in the game against the Cincinnati Bengals only drives home that fact. If there was any thought of Cassel remaining the long-term starter, the Chiefs would've let him work through the game.
Quinn's Stats: 9-of-14, 95 yards, zero touchdowns and zero interceptions
Brady Quinn is in a similar situation as Matt Cassel. He also doesn't have a future with the Chiefs. His only hope is that Kansas City will consider him for a backup role. The issue with Quinn is that he doesn't have much upside.
As he showed in the game against Cincinnati, he lacks the talent to lead a winning NFL offense.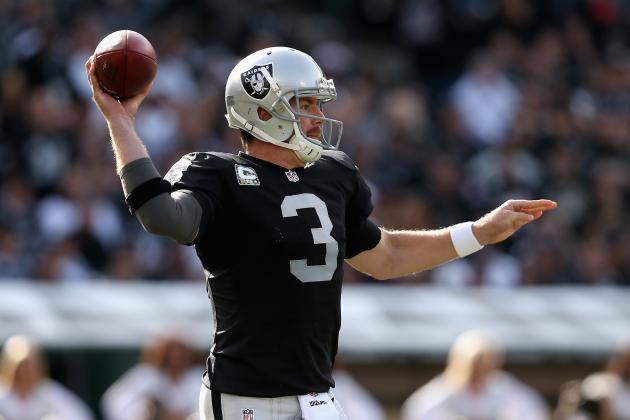 Ezra Shaw/Getty Images

Stats: 22-of-44, 312 yards, two touchdowns and two interceptions
There's more than a few teams that wish they had Carson Palmer as their quarterback. He has been able to put up impressive numbers despite playing on a team with limited talent. In a different situation, we'd be talking about Palmer as a Pro Bowl candidate.
Against the New Orleans Saints, Palmer was under a lot of pressure to keep pace with the Saints' offense. This resulted in some poor decisions and ultimately turnovers. However, one of Palmer's interceptions was actually Brandon Myers' fault. He tipped the ball into the hands of a Saints defender.
That interception came in the red zone when the Oakland Raiders actually had a chance to keep the game close.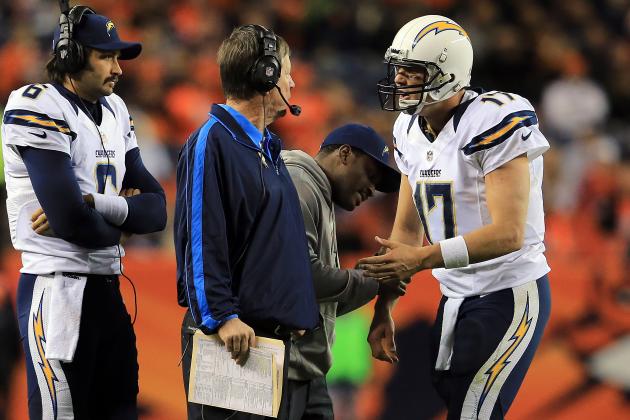 Doug Pensinger/Getty Images

Stats: 24-of-40, 258 yards, two touchdowns and two interceptions
Philip Rivers' disappointing season continued Sunday against the Denver Broncos. His ball placement was off and he again struggled with turnovers. A good example of his inaccuracy was a pass thrown to a streaking Robert Meachem.
This pass went to the outside, but the middle of the field was wide open. Meachem beat the defender and a properly placed pass would've resulted in a touchdown. These are the type of issues Rivers has been struggling with for the past two seasons.
The San Diego Chargers heavily depend on Rivers to put points on the board. His struggles are one of the main reasons the Chargers are in the middle of another disappointing season.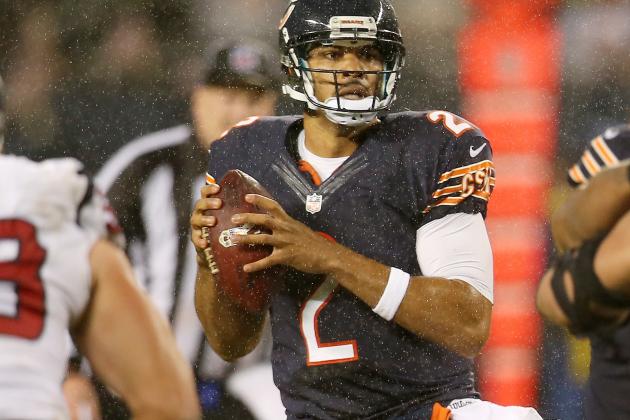 Jonathan Daniel/Getty Images

Stats: 14/22, 107 yards, one touchdown and two interceptions
Jason Campbell's struggles against the San Francisco 49ers should only enhance the fact that Jay Cutler is a top-notch quarterback. The Chicago Bears offensive line is so terrible that most quarterbacks can't operate. Campbell just doesn't have the talent level to succeed in that type of situations.
His inability to extend drives really hurt the Bears defense. This group had very little time to rest and game plan against Colin Kaepernick.
Cutler may have his faults, but this game shows that Chicago needs him under center in order to compete.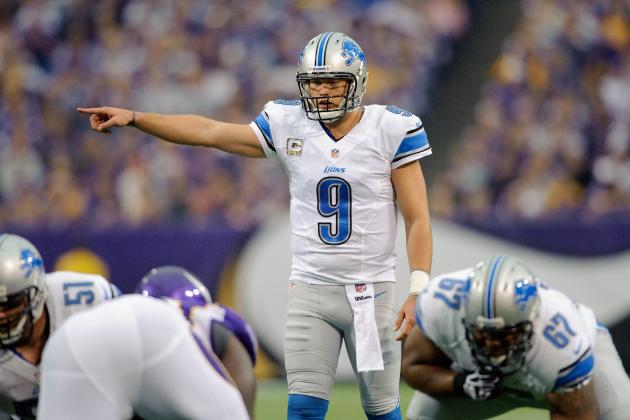 Hannah Foslien/Getty Images

Stats: 17-of-39, 266 yards, one touchdown and two interceptions
The Detroit Lions had a handful of opportunities to pull off a win against the Green Bay Packers. However, Matthew Stafford and the offense continue to struggle putting the ball in the end zone. They had four red- zone opportunities and only converted two into touchdowns.
The Packers are so talented that settling for field goals against them typically doesn't cut it.
Stafford continues to have a less than impressive season. His two interceptions and 43 percent completion percentage is unacceptable for a player with his talent. This loss could have killed the Lions' playoff hopes.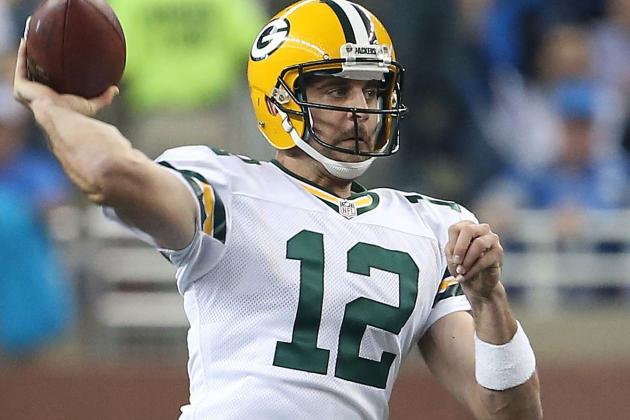 Leon Halip/Getty Images

Stats: 19-of-27, 236 yards, two touchdowns and one interception
Aaron Rodgers played a solid, but not spectacular game against the Detroit Lions. However, he was able to lead his team on two scoring drives late in the game. Those drives put the Lions behind for the first time and put a ton of pressure on Matthew Stafford.
It's obvious that the Packers have a lot of confidence. This is because they know that Rodgers can get it done in pressure situations. As a team, the Packers feel they can win any game at any time.
This is something that you didn't see on Detroit's sideline. Stafford didn't handle the late-game pressure well and allowed Rodgers to get the best of him.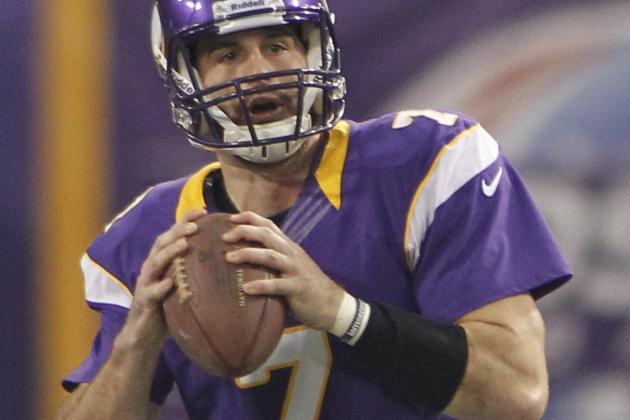 Andy King/Getty Images

Season Stats: 206-of-316, 2,027 yards, 12 touchdowns and eight interceptions
Christian Ponder's numbers look pretty good. He's completing 65 percent of this passes. He moves in the pocket to extend plays and feeds the ball to playmakers like Percy Harvin.
However, Ponder is struggling to produce explosive plays down the field. This has allowed opposing defenses to squeeze the line of scrimmage, which hurts the rushing attack and underneath passing game.
Last week in a win over the Detroit Lions, Ponder did connect on a 54-yard pass to rookie Jarius Wright. It's just one play, but with a young quarterback it's important to take note of all adjustments made.
Ponder has a bright future, but he needs to improve his ability to stretch the field if he wants to reach his full potential.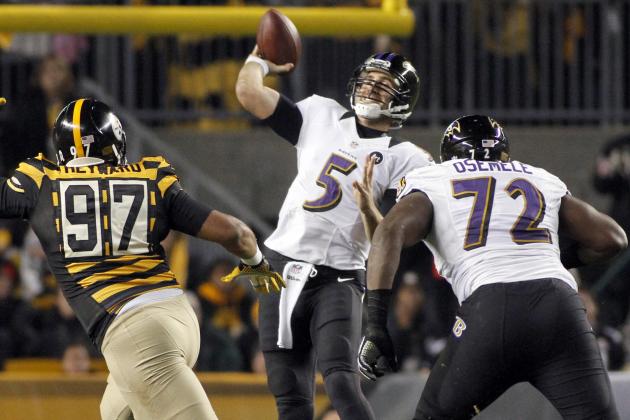 Justin K. Aller/Getty Images

Stats: 20-of-32, 164 yards, zero touchdowns and zero interceptions
Joe Flacco performed well enough for the Baltimore Ravens to pull off the win against the Pittsburgh Steelers on Sunday night. However, this win was more about the Ravens' defense than Flacco. The truth is, he didn't have that good of a game.
He struggled with his accuracy the entire night. There were more than a handful of throws that were way off target.
This was an important win for the Ravens, but Flacco will need to improve if Baltimore hopes to make a strong playoff run.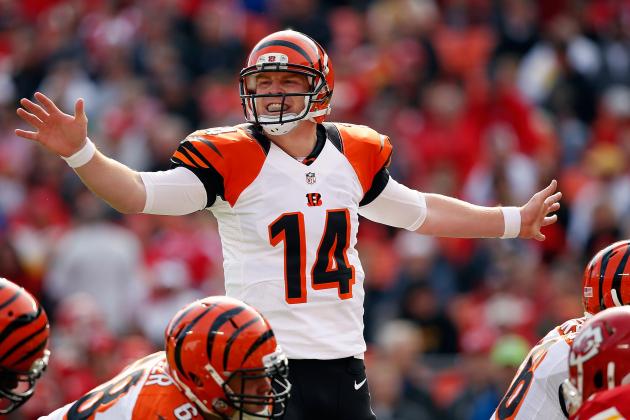 Jamie Squire/Getty Images

Stats: 18-of-29, 230 yards, two touchdowns and zero interceptions
Andy Dalton is on a hot streak. He and the Cincinnati Bengals have rattled off two straight impressive victories, including Sunday's win over the Kansas City Chiefs, which came after a big win against the New York Giants.
Dalton played a smart game against the Chiefs, allowing the talent around him, especially A.J. Green, to make plays. These two are quickly becoming one of the more impressive QB-WR duos in the league.
This is a game the Bengals were expected to win, but it's always tough playing in Arrowhead Stadium. Going on the road and avoiding a letdown is a good way to earn a strong grade.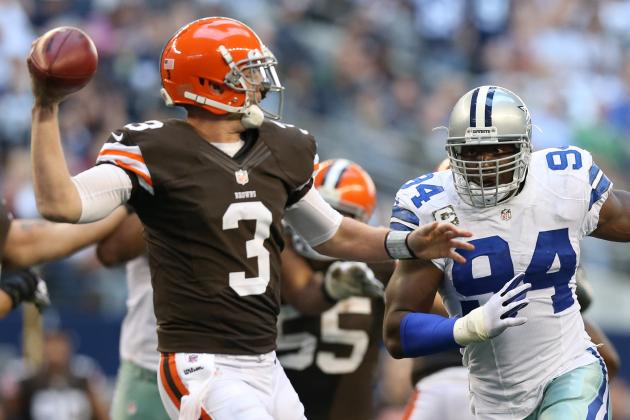 Matthew Emmons-US PRESSWIRE

Stats: 20-of-35, 210 yards, two touchdowns and zero interceptions
Brandon Weeden and the Cleveland Browns must be disappointed that they weren't able to pull off the upset win against the Dallas Cowboys on Sunday. On the whole, Weeden played well but failed to move the offense in overtime, which is what cost Cleveland the game.
Weeden continued to struggle with his accuracy. He missed several wide-open targets in key situations. It's those misses that separate rookie quarterbacks from veterans. It's also what separates elite quarterbacks from average ones.
Cleveland continues to hold out hope that Weeden will develop into a top-end starter. However, he'll need to improve his accuracy to do so.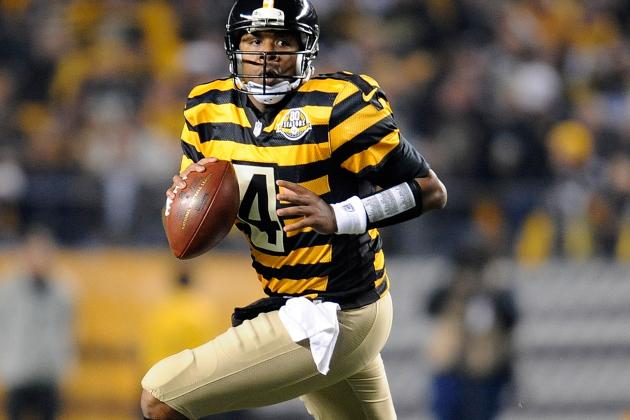 Joe Sargent/Getty Images

Stats: 18-of-39, 201 yards, zero touchdowns, one interception and one rushing touchdown
Despite a strong opening drive, Byron Leftwich showed everyone just why he's a backup. His long throwing motion and lack of mobility make him a stationary and inviting target for onrushing defenders.
While this wasn't a great performance by Leftwich, he also didn't get a lot of help from his supporting cast. Mike Wallace's fumble in the first half killed the Pittsburgh Steelers early momentum.
Leftwich is capable of holding things down for a few games, but the rest of the team needs to help him. Otherwise, the Steelers could be on the outside looking in come playoff time.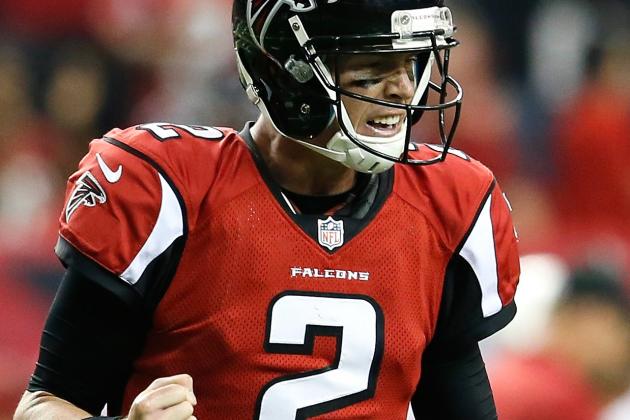 Kevin C. Cox/Getty Images

Stats: 28-of-46, 301 yards, zero touchdowns and five interceptions
Matt Ryan will want to quickly forget about his performance against the Arizona Cardinals. However, that his team was able to pull off the win should alleviate the frustration from throwing five interceptions. The sign of a good quarterback is his ability to overcome adversity.
Ryan didn't let the interceptions impact the way he plays, which is why the Falcons were able to mount a successful comeback. He knew that if Atlanta was going to win, he'd need to make plays and not play scared.
It's tough to give Ryan a solid grade for this performance, but getting the win plays a role in each grade. That a few of the interceptions came off tipped balls helped his grade.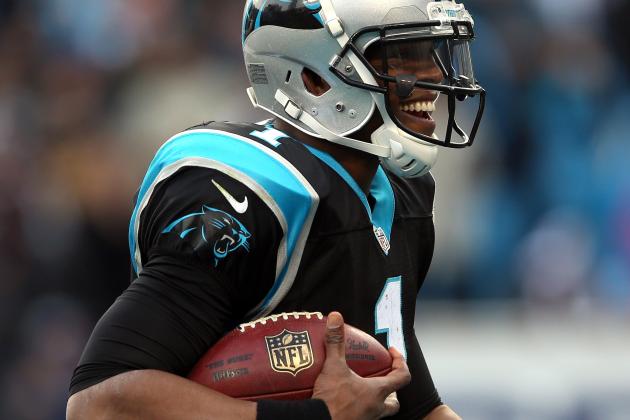 Streeter Lecka/Getty Images

Stats: 16-of-29, 252 yards, one touchdown and zero interceptions
Cam Newton played a solid game against the Tampa Bay Buccaneers. However, he wasn't able to finish on a strong note, which played a role in Tampa Bay's ability to pull off a come-from-behind win. Newton and the offense were unable to match the Buccaneers' offensive output late in the game.
It's important to note that the Buccaneers have the worst pass defense in the NFL. They're allowing more than 320 yards per game. So Newton's numbers aren't that impressive. He should've been able to take better advantage of a poor Buccaneers secondary.
However, his grade remains solid because the Panthers were in this game. He also avoiding throwing an interception.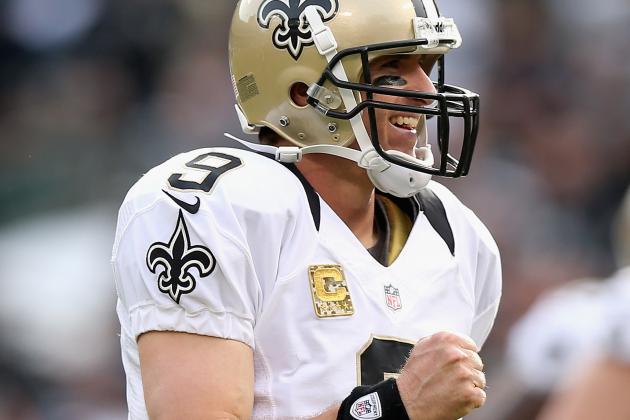 Ezra Shaw/Getty Images

Stats: 20-of-27, 219 yards, three touchdowns and zero interceptions
By a numbers standpoint, Drew Brees didn't have the typical production we are used to seeing. However, a lot of that was because the New Orleans Saints opened up a quick lead over the Oakland Raiders. There was little need for Brees to pass the ball late in the game.
This game proved that Brees is a finisher, as every time the Raiders tried to pull closer, he put more points on the board.
Because of Brees' consistent and excellent production, the Saints have an outside chance of earning a playoff berth. They need a lot of things to go right, but having Brees under center is a good start.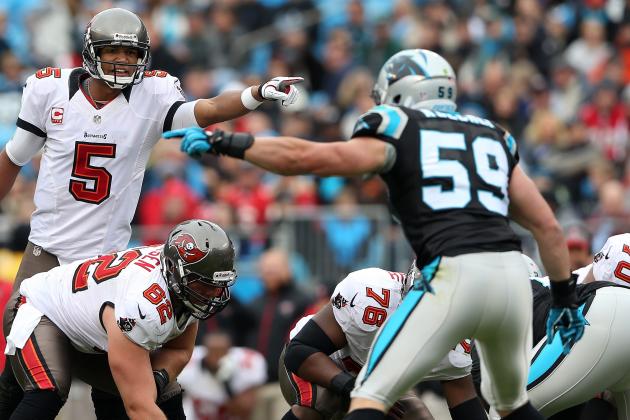 Streeter Lecka/Getty Images

Stats: 25-of-46, 248 yards, three touchdowns and two interceptions
Josh Freeman's confidence and feel for the offense continues to grow each week. His late-game performance against the Carolina Panthers should only help matters. Freeman led an impressive drive at the end of the game that forced overtime.
His bullet of a throw to Vincent Jackson was impressive. However, that he then went on to convert a must-have two-point conversion is even more impressive.
The Buccaneers have now won four straight games thanks in large part to the development of Freeman. This is a team squarely in the thick of the playoff hunt.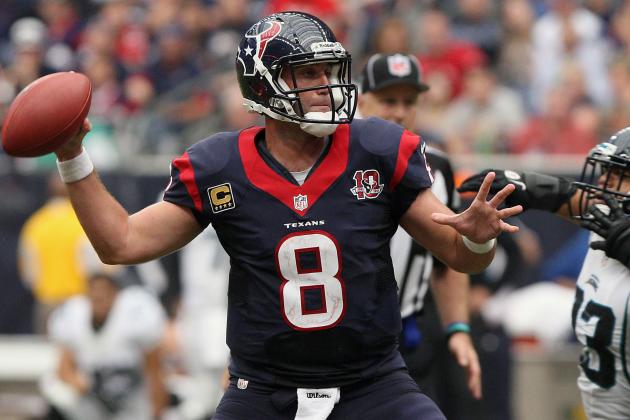 Troy Taormina-US PRESSWIRE

Stats: 43-of-55, 527 yards, five touchdowns and two interceptions
A quarterback who completes better than 75 percent of his passes is having a strong game. However, it's even more impressive when the quarterback hits that mark when throwing the ball 55 times. Matt Schaub's performance Sunday against the Jacksonville Jaguars was one of the better games by a quarterback this season.
Fortunately for the Houston Texans, Schaub was able to put up those numbers. Otherwise, they would've suffered a stunning upset loss.
That Schaub has this type of potential is why the Texans are such a strong team. Houston is the most balanced team in the NFL.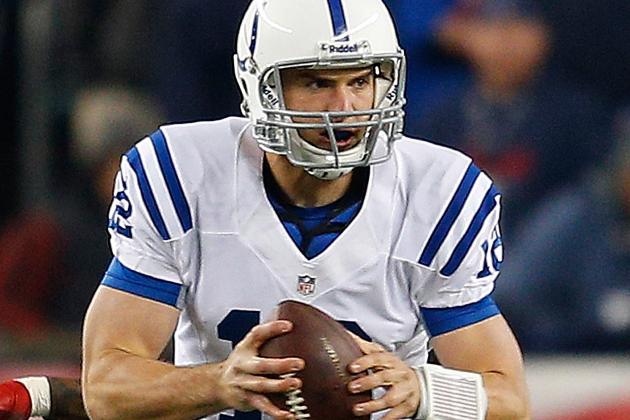 Jim Rogash/Getty Images

Stats: 27-of-50, 334 yards, two touchdowns and three interceptions
Andrew Luck had a rough day Sunday against Tom Brady and the New England Patriots. It appears that he was trying to do too much, which resulted in several costly turnovers. Having two of your interceptions returned for a touchdown is not a great way to help your team earn a win.
Luck will have plenty of opportunities to wash the terrible taste of this game out of his mouth. However, it shows that no matter how impressive he has looked he is still a rookie.
Because he's a smart player, Luck will learn from his mistakes in this game.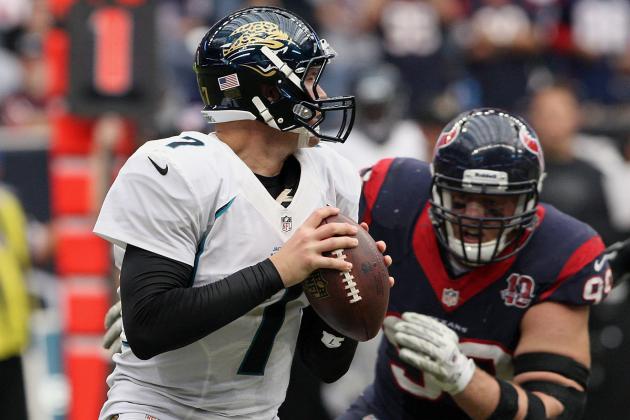 Troy Taormina-US PRESSWIRE

Henne's Stats: 16-of-33, 354 yards, four touchdowns and zero interceptions
Chad Henne was nearly able to pull off an major upset against the Houston Texans. He was forced into action when Blaine Gabbert had to leave the game with an injury. A lot of Henne's success came because he was able make use of wide receiver Justin Blackmon.
Until this past week, Blackmon was having a disappointing rookie season. That he was able to bust out against a tough Houston defense only increases the importance of this performance.
It's uncertain who'll start at quarterback next week for the Jacksonville Jaguars, but it'll be tough for Mike Mularkey to sit Henne after this type of performance.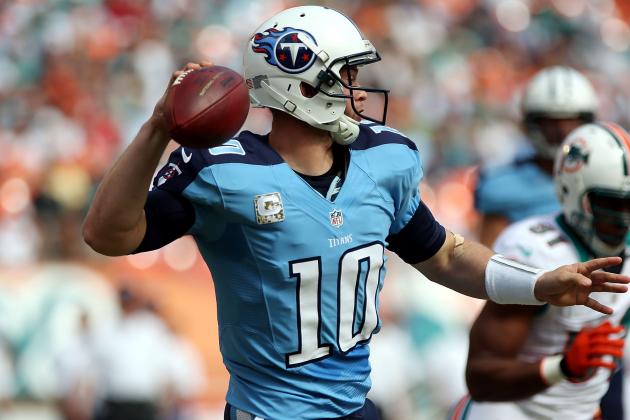 Marc Serota/Getty Images

Season Stats: 76-of-127, 903 yards, six touchdowns and two interceptions
Jake Locker has shown that the Tennessee Titans offense is much more explosive when he's in the lineup. His strong arm and running ability force defenses to adjust their game plans. This typically means that less attention is paid to stopping the run and traditional passing attack.
Locker is still having his share of struggles, but he's showing a lot of potential. The biggest issue facing Locker continues to be his accuracy. At times, he struggles to put the ball in the proper location.
His ability to quickly identify an open target also needs work. These are all things that Locker will improve upon over time. The key for this season is that Locker continues to develop.