5 Possible Explanations for Rex Ryan's Refusal to Play Tim Tebow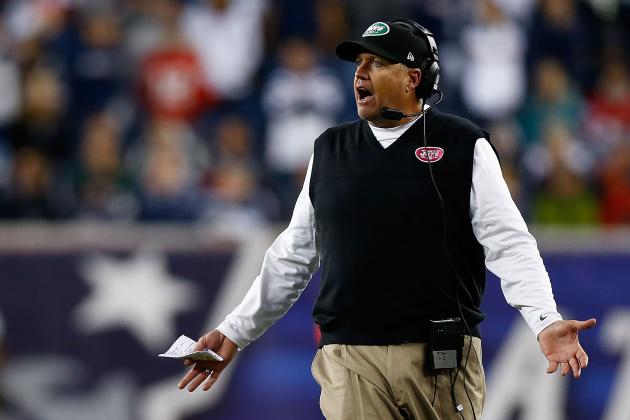 Jared Wickerham/Getty Images

Why won't Rex Ryan just start Tim Tebow?
A ubiquitous question being posed today—on Twitter, in message boards, on ESPN, on Bleacher Report—you name it.
The New York Jets are 3-6, Mark Sanchez is, by the numbers, the least accurate quarterback in the league and the team has scored less than 10 points in consecutive games.
Ryan has given no indication that he plans to give Tebow a shot at starting a game for the dysmal Gang Green, and now it's time to figure out the potential reasoning behind it.
Begin Slideshow

»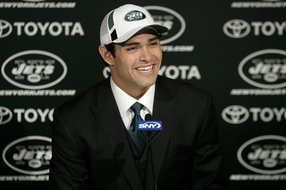 Photo Courtesy: NFLGridironGab.com
There's an old NFL adage—a head coach is "married" to the guys he drafted.
When a new regime comes in, you'll hear experts say, "They want their players on the roster, not holdovers."
This is precisely what may be what's holding back Ryan from benching Mark Sanchez and starting Tim Tebow.
Sanchez was Ryan's first draft pick as the New York Jets' head man in 2009 when the organization traded up in the opening round to grab the bright-eyed quarterback from USC.
For whatever reason—immense bravado, maybe—coaches seem to have a hard time giving up on guys, especially first-round signal-callers, who they were so giddy about drafting.
Certainly, Ryan hasn't overlooked all of Sanchez's deficiencies and poor play this season, but he has become married to the quarterback over the years.
When he took them to consecutive AFC title games, Ryan was the hottest coach in the NFL. Now, with Sanchez among the league's most inefficient and inaccurate signal-callers, Ryan may be on one of the hottest seats.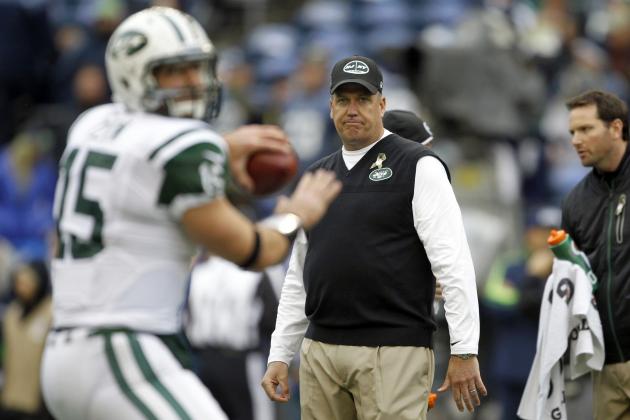 Joe Nicholson-US PRESSWIRE

No, we don't know that as a fact, but it's certainly a possibility, isn't it?
Although owner Woody Johnson stated this summer that he was "surprised" with the amount of media attention Tebow brought with him from the Denver Broncos, he did say the following regarding the media circus that's followed Gang Green this year:
"We're in a media business. We want to give our fans an insight," Johnson said. "The fact that they're interested I think it portends well for us. I would rather have them interested rather than apathetic and not paying attention to us."
Now, I'm certainly not one to call Mr. Johnson a liar. But based on the way the Jets' coaching staff has essentially neglected to use Tebow, maybe the idea to acquire him came directly from Johnson and was made with the intention of adding publicity to the team instead of someone who would be an integral part of the offense.
It certainly wouldn't have been the first time an owner or general manager overruled the head coach and made the executive personnel decision.
Here's a hypothetical: Johnson was drawn to the notoriety Tebow would bring to the team and the tickets and seat licenses he'd sell. Ryan OK'd it, but with the stipulation that he'd never have to start him at quarterback.
The owner won, then the Jets traded for Tebow to stay afloat in the Big Apple media market after the New York Giants won their second Super Bowl in four years.
Is that such an outrageous scenario to think it couldn't have happened?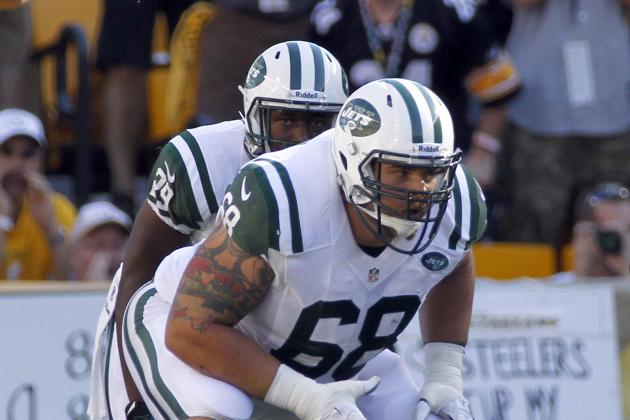 Justin K. Aller/Getty Images

By now, you've heard about and read about Jets players—some anonymous, some not—who referred to Tebow as "terrible."
The lead-in to Manish Mehta's New York Daily News column on this topic reads as follows:
"Despite Mark Sanchez's league-low 52% completion rate and league-high four red-zone interceptions, the players believe he should remain the starter over Tebow."
So Ryan could just be listening to his players.
Or maybe he simply echoes their sentiments.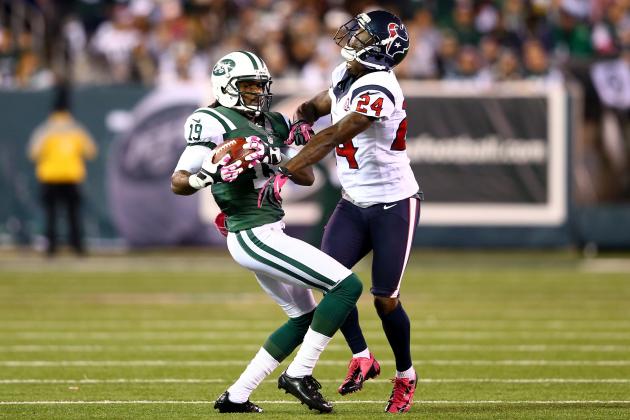 Al Bello/Getty Images

To throw Sanchez the proverbial bone here, the talent around him is rather pedestrian. I mean, really bad.
He knows that, we know that and Ryan undeniably knows that.
The Jets head coach saw what Sanchez was capable of when throwing to guys like a healthy Braylon Edwards, Plaxico Burress and Santonio Holmes with a stout defense to back him up.
Now, guys like Chaz Schilens, Clyde Gates and Jeremy Kerley are the focal points of an anemic offense, and the defense is a shell of its former self.
If Sanchez can't be successful with ineptitude surrounding him at important skill positions, how could Tebow?
Which leads me to my last reason...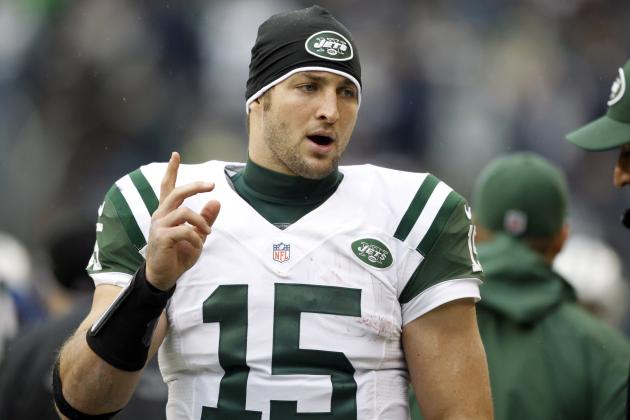 Joe Nicholson-US PRESSWIRE

Maybe Tim Tebow just isn't good enough to start.
You think Mark Sanchez's 52-percent completion percentage is bad?
Tebow completed 46.5 percent of his throws last year. His career percentage isn't even 48 percent.
His elongated windup and wild inaccuracy can cripple an offense that's already struggling. We're all looking to find 1,000 reasons why Ryan won't start Tebow—maybe Ryan just doesn't think the former Denver Broncos signal-caller is good enough.