The Cincinnati Bengals are 4-5 and hoping to take advantage of an injury-wracked AFC North field and take control of the division. They'll be one step closer to doing so if they defeat the 1-8 Kansas City Chiefs on Sunday, but to pull off the win they need to both continue to look like the team they were last week in their win over the New York Giants as well as not underestimate their struggling opponents.
Traditionally Arrowhead Stadium is a tough venue for visiting teams, but that's seemingly not the case this year, with the Chiefs nabbing their lone win on the road. But it's not about location, really—it's more about the Chiefs being a mistake-ridden team that held their first lead of the season just this past Monday night against the Pittsburgh Steelers.
So how should the Bengals approach the Chiefs? Here's a game plan that can lead them to a win.
Stop Jamaal Charles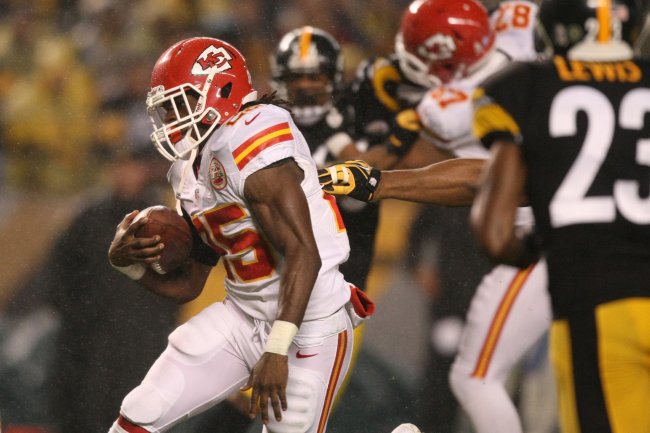 Jason Bridge-US PRESSWIRE
Of the Chiefs' 290 total yards in Week 10 against the Pittsburgh Steelers, 100 of them belonged to running back Jamaal Charles, who also notched a touchdown as well. With 734 rushing yards on the year, Charles is currently the league's ninth-best back, propelling the Chiefs to the fourth-ranked run game in the NFL.
With the quarterback position underperforming this year, much of the Chiefs' offensive production has fallen to their run game. If the Bengals can keep Charles under wraps on Sunday, they'll almost certainly win. On paper, that's a simple blueprint for a victory, but it's of course a more difficult task in practice.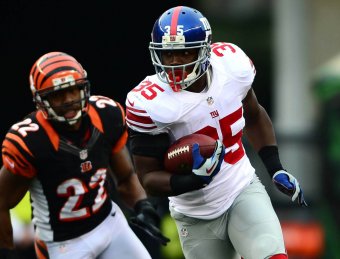 Andrew Weber-US PRESSWIRE
It's not that Charles breaks tackles—he simply uses his speed and shiftiness to make tacklers miss. He's absolutely decimated teams with poor run defenses, like the New Orleans Saints (the only team the Chiefs have beaten), with 233 rushing yards against them in Week 3, and the Baltimore Ravens in Week 5, with 140.
In terms of rushing yards allowed per game, the Bengals are currently in the bottom third of the league, giving up 119.6 on average. They're not in as bad shape as the Ravens and Saints of the world, but there is no guarantee that stopping Charles will come easily considering their track record.
Despite drubbing the Giants, 31-13, last week, Cincinnati's defense still gave up 129 rushing yards—65 yards to Andre Brown, who ended the day with a 9.3 yards-per-carry average and 57 to Ahmad Bradshaw, who averaged 5.7 yards-per-carry. They fared better in the previous week, giving up only 68 total rushing yards to the Denver Broncos, but the game before that they gave up 167 yards to the Steelers.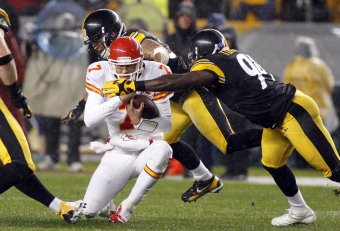 Justin K. Aller/Getty Images
The Bengals' vaunted front seven—especially their defensive line—has been better-known this season as a pass-rushing unit than elite run-stoppers and among their linebackers, only rookie Vontaze Burfict grades out positively against the run. If the defensive line cannot keep Charles at bay, it will be relatively easy for him to break out large gains considering how poorly their linebackers have been tackling. They'll need to tighten up their run defense, stacking the box and having safety help in order to contain him.
Usually, a defense tipping their hat about stopping the run leaves them vulnerable to the pass, but that's simply not the case with the Chiefs. Kansas City has passed the ball on average 33.9 times per game this year (ranking them 19th in the league—and they would have likely passed even less if they weren't so busy playing from behind every week) but rank 26th in passing yards. Their quarterback, Matt Cassel, has thrown 12 interceptions to just six touchdowns and beyond Dwayne Bowe, has no one to reliably target.
If the Bengals can shut down Charles and the run game, then the Chiefs will be forced to pass the ball—and that won't likely get them very far. Charles is thus Cincinnati's highest defensive priority on Sunday; if they stop him, they'll win.
Spread the Ball Around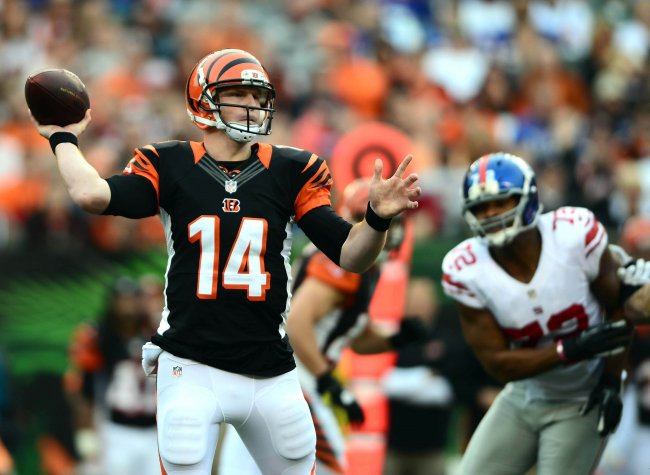 Andrew Weber-US PRESSWIRE
Just as it's no secret that the Chiefs need Charles to get their offense moving, the Bengals need quarterback Andy Dalton to control their offensive production. Where Dalton goes, so goes the Bengals, and a bad game from him often results in a loss for his team.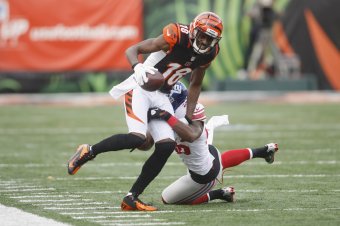 John Grieshop/Getty Images
Dalton's struggles over the Bengals' four-game losing streak have already been parsed and dissected on this very blog—his trouble throwing under pressure, his interception-every-game predilection, the lack of a true No. 2 receiver to take some of the focus off of A.J. Green—but those seemed to melt away last week against the Giants. Dalton threw four touchdowns and no picks and was named AFC Offensive Player of the Week as a result.
If that's the Dalton we can get used to seeing over these final weeks of the season, the Bengals are in far less trouble when it comes to the playoffs and almost guaranteed a win over the Chiefs this Sunday.
Though Green will always be Dalton's go-to target—and for good reason, considering he has the sixth-most receiving yards in the league at the moment and leads the league in receiving touchdowns, with nine—Dalton needs to spread the ball around and keep Kansas City's coverage guessing.
Dalton targeted eight receivers last week against the Giants, and connected with seven of them, but even more significantly is that his four touchdowns were thrown to four different players—Green, rookie Mohamed Sanu, tight end Jermaine Gresham and slot receiver Andrew Hawkins. The same approach should be taken this week against Kansas City.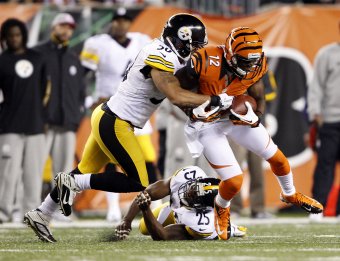 Frank Victores-US PRESSWIRE
Teams far prefer to run against the Chiefs—opposing offenses pass against their defense less than any other in the league—but that's not the Bengals' biggest strength. Though we saw last week that they are getting running back Cedric Peerman more involved in their run game, a trend that will hopefully continue, the Bengals' bread-and-butter is in the pass.
The other thing of note about Kansas City's pass defense is that for the relatively minimal passing their opponents have been doing, it's resulted in touchdowns fairly often—two times per game, on average, ranking them 29th in the league when it comes to passing touchdowns allowed. Dalton, therefore, should have a relatively easy go of things when it comes to quickly and efficiently moving his offense down the field and into the Chiefs' end zone.
If Dalton can do it by throwing to a variety of targets, they could put up more than just the two passing touchdowns the Chiefs have been allowing. It's fairly easy to predict that the Bengals will be attacking opposing defenses primarily via the pass; by switching up the targets, that predictability doesn't make them easy to figure out and stop.