No one thought the Memphis Grizzlies and New York Knicks would be here.
Even in the onset of the NBA's regular-season—when anything can happen—this was an unfathomable reality.
Yet here they are, the Grizzlies and Knicks, with the two best records in the league.
Not the Los Angeles Lakers. Not the Miami Heat. Not the Oklahoma City Thunder.
The Grizzlies and Knicks.
But how? How have these two teams managed to take the Association by storm?
Sure, both Memphis and New York have what you would consider formidable dockets, but not to the extent where teams like the Heat and Thunder are being left in the dust.
The Knicks have a Carmelo Anthony, but not a LeBron James. The Grizzlies have a Rudy Gay, but not a Kevin Durant.
So what gives? What has made these two teams borderline unbeatable? What has fueled their rise to not just prominence, but league-wide domination?
To put it simply, chemistry.
To expand on that, lots of chemistry.
Neither team is what you would call illustrious. Superstars grace their rosters no doubt, but not in the same way they do in Tinseltown, South Beach or Oklahoma City.
No, it takes but a mere look at their rosters to understand that their winning is predicated on depth, cohesion and a superior will.
Memphis Grizzlies
Let's start with the boys in Memphis.
Since the Grizzlies embarked on an improbable 2010-11 postseason run, we've been waiting for them to become a powerhouse. While they showed glimpses of dominance last year, tanking against the Los Angeles Clippers in the playoffs did not indicate we were in the presence of a team ready to contend.
Now, however, we are.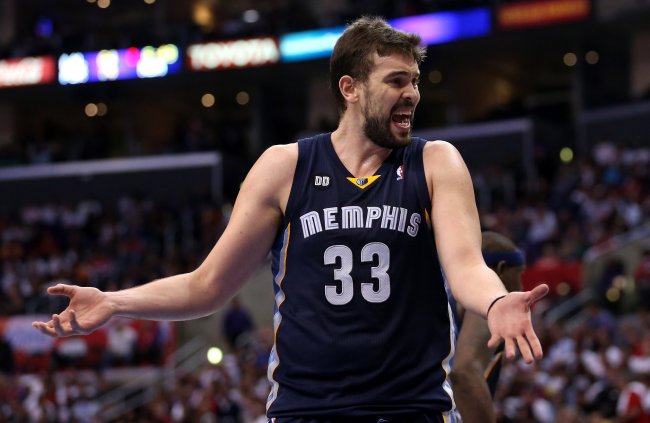 Stephen Dunn/Getty Images
Gay leads the team in scoring, but four of Memphis' starters are averaging 13.9 or more points per game. The team, as a collective, also scores nearly 102 points a night—fifth best in the league.
In fact, it's more than worth noting that the Grizzlies lead one of the most well balanced attacks in the league. They're in the top 10 of points scored, points allowed, rebounds and assists per game.
For those wondering, they're the only team in the league that can lay claim to such a feat.
Impressive? Of course.
Especially considering this team had just one All-Star last season in Marc Gasol, who probably wouldn't have even gotten the nod had the newest rule gone into effect earlier.
You see, Memphis' attack isn't about star power. It's about depth, balance and trust.
The Grizzlies' starting lineup is taking care of business, but so are role guys like Jerry Bayless, Quincy Pondexter and Wayne Ellington. From top to bottom, this team believes in one another and trusts that each player will do what is expected of him.
The result?
Complete faith and unselfishness.
It's no coincidence that the Grizzlies boast the most well balanced attack in the league–even more than the fundamentally sound San Antonio Spurs. Such an attack goes beyond superstars and one-man shows. It's more about unity.
There's no team more in sync than the Grizzlies, and there's only one that has a better record.
New York Knicks
Which brings us to New York, where Anthony and company have been perfect. Literally.
The Knicks don't boast as balanced an attack as the Grizzlies, that much is for sure. They're second in points scored and points allowed per night, but 26th in rebounds and 25th in assists a contest.
Like Memphis, however, New York is exceptionally deep. Exceptionally old as well, but deep all the same.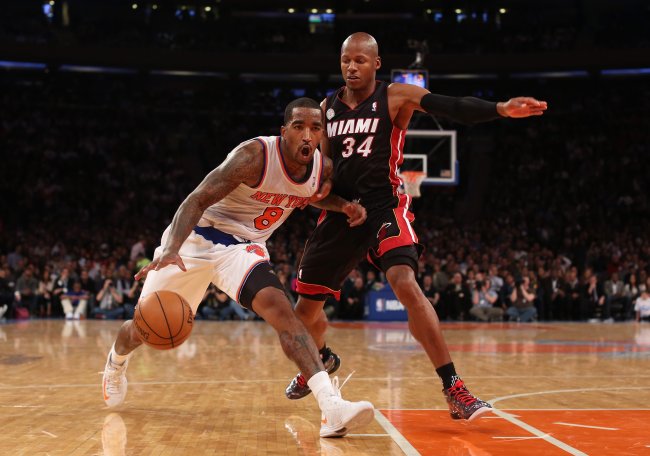 Nick Laham/Getty Images
J.R. Smith is the team's second leading scorer and he comes off the bench. His 18 points per game lead all bench scorers in the league as well, save for Jamal Crawford.
Toss in the versatile two-way stylings of Rasheed Wallace and prolific specialty athletes like Steve Novak, Pablo Prigioni and Marcus Camby and you have one of the—if not the deepest—bench attack in the league.
But is that enough?
Plenty of teams have deep benches, after all. And regardless of how deep the Knicks are, they don't possess the balance the Grizzlies do.
That's all true. However, New York's level of cohesion cannot be exceeded at this point, even by Memphis.
No one forgets, but few give credit to the fact that the Knicks are down Amar'e Stoudemire—who when healthy is their second-best scorer—and their second best defender in Iman Shumpert.
That's correct, without two of their most vital cogs, the Knicks got off to a perfect start.
So clearly, it's not about star power. In all of Tyson Chandler's glory, he's no star. Anthony is the lone active one on this roster.
Which means they've relied on chemistry to carry them this far. They've relied on faith in one another to hit open shots, make smart decisions with the ball and maintain composure defensively.
Ultimately, that has led New York to post the highest win differential in the league—just in front of Memphis—at 13.7, despite five of their first six bouts coming against postseason bound opponents.
It also left the Knicks without a blemish on their record through the first six games.
Are they for real?
There's no denying that the Grizzlies and Knicks success can be attributed to more than good fortune. Again, New York is battling injuries and Memphis isn't about to go All-Star for All-Star with Lakers.
However, less than 10 games into the season, it's still difficult to tell if one or both of them are for real.
Can they continue to play at such a pace? Can they continue to overcome obstacles on a daily basis to maintain one of the best records in the NBA?
For the Grizzlies, the answer is yes.
Memphis' team now is the one its going to have moving forward. For the first time in years, this roster is at full-strength, so there's no use attributing their success to anything other than depth or chemistry.
Make no mistake, the Grizzlies may not finish the season atop the West, but they're going to win 50-55 games without blinking.
And come playoff time, they're built to contend with anybody.
Provided they remain healthy, we're not just looking at a first-half facade, we're bearing witness to a championship threat on the rise.
Unfortunately for the Knicks, it's not so simple.
For now, we can count them out down the stretch due to age-related issues, but the real obstacle comes in the form of Stoudemire.
New York has been on a tear as well.
Shumpert will be integrated seamlessly. He's a younger, more athletic version of Ronnie Brewer, so he'll fit right in.
Stoudemire, however, is a different story.
Whether he comes off the bench or returns to the starting lineup, the Knicks need to find a way for him and Anthony to complement each other. No one's saying they can't—again we haven't seen enough of the two together—but we also can't deny that integrating such a significant piece into what is right now an infallible puzzle can be detrimental.
That said, should Stoudemire be able to accept the team-first concept that even Anthony has come to embrace, New York will win 50 games, like Memphis, easily.
Because the Knicks are also built to contend. Now.
Even against the Heat.
Who has the edge?
Right now, these are the two best teams in the NBA. Hands down, chin up, the absolute best.
What we have yet to find out is which is on the path to quicker success.
We won't have to wait long, though.
The Grizzlies stuck it to the Thunder in Oklahoma City.
The Grizzlies and Knicks are set to wage war in Memphis on Friday night in what will be an epic battle of not just depth and cohesion, but will.
To add even more fuel to the continuously burning fire, though, both teams are also coming off huge wins.
The Grizzlies are fresh off beating the Thunder on their own floor, while the Knicks completed an improbable comeback against the Spurs to snag a victory in San Antonio for the first time in nearly a decade.
Both teams are also wrought with motivation. New York longs to prove its worth by remaining undefeated, while Memphis will hope to be the first to knock the Knicks off of their pedestal.
This matchup will, without a doubt, come down to the wire.
Highlights from Knicks' win over Spurs.
We're talking about Chandler defending Gasol. We're going to see Anthony go up against Zach Randolph. Gay will attempt to get past Brewer. Tony Allen will be asked to limit Jason Kidd's three-point prowess. Raymond Felton and Mike Conley will engage in a game of who's the better floor general. And we'll bear witness to two of the deepest benches hoping to provide their team with the ultimate edge.
No, this game isn't going to have a playoff atmosphere—these conference foes cannot meet in the preliminary rounds.
Which means it will have a finals-esque atmosphere instead.
What does it all mean?
Though the Knicks will attempt to put their best foot forward after an emotional win in San Antonio, this team is just spent.
New York is chalk full of savvy veterans, but these are veterans who have both a hard-fought game and a late-night travel session under their belts.
Look for Memphis to push the pace early as their balanced attack attempts to suffocate the Knicks' precision.
Which team is the bigger NBA powerhouse right now?
Both teams will total near 100 points, but it will be the Grizzlies that prevail in their push to hold their home court. It won't be a blowout, but the Knicks will come out flatfooted, without the energy needed to recover.
That said, this game means everything, yet almost nothing at the same time.
Regardless of who wins or who loses, these are two of the best teams in the NBA. Right now, in fact, they are the two best. That won't change overnight.
What matters is how these two teams respond—win or lose—moving forward.
Both present the toughest matchup the other has yet to face. What will be important is how the Knicks move on after their first loss or another emotional win, and how the Grizzlies take to dethroning New York or becoming its latest victim.
Yes, the outcome of this game means plenty to both teams—and it should–but the Knicks and Grizzlies have already proven to us they're not going anywhere.
They've already proven that their contenders.
And they've also already proven that depth, determination, chemistry and an ever present will trumps everything else.