Sound Advice for NBA Rookies After 2 Weeks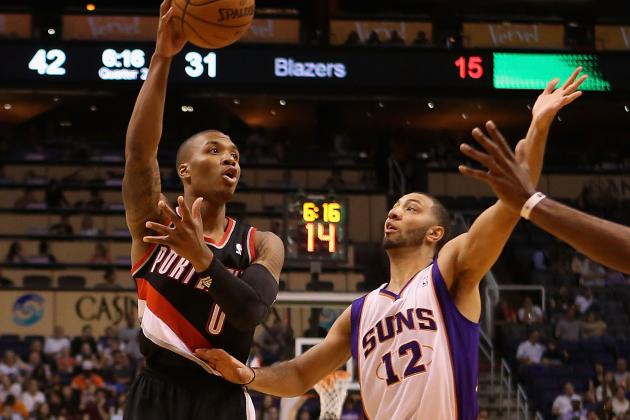 Christian Petersen/Getty Images
Lillard has been great, but has several aspects to refine.
Just a couple weeks into the season, it's important that rookies learn some of the rudimentary skills that enable them to succeed in the NBA. Granted, these lessons apply to all NBA players, but the five aspects honed in on in this slideshow will help all rookies adjust to the NBA game.
The problems identified here are not specific to any given rookie, but are rather problems faced by all of them. Even rookies such as Damian Lillard, who has played exceptionally well, have areas they can work on.
For instance, Lillard can cut down on his turnovers, something that usually plagues rookie point guards. Bradley Beal can work on taking better shots. All of the rookies have something to work on, but these are tips they can all take to become good NBA players sooner rather than later.
Begin Slideshow

»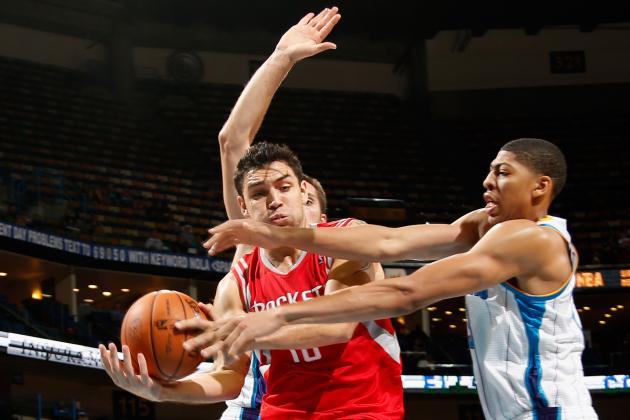 Chris Graythen/Getty Images
Reaching in can lead to pine time.
One thing that causes rookies, in particular big men, to pick up fouls is gambling on defense. Playing passing lanes and trying to block shots can be rewarding, but it can be overdone. NBA rookies need to first work on handling their defensive assignments on a one-on-one basis before worrying about making game-changing defensive plays.
Anthony Davis, in particular, must be careful as a shot blocker, because whistles come early and often on young big men gambling defensively. Guards like Bradley Beal, Damian Lillard, Dion Waiters, Michael Kidd-Gilchrist and Terrence Ross have to be avoid jumping out to play too many passing lanes, and also avoid reaching in after steals. These things take time to hone at the NBA level.
This isn't to suggest they should never gamble, as picking up steals and blocking shots is essential to being a good defender, but many rookies get too caught up in trying to make big plays and just pick up silly fouls.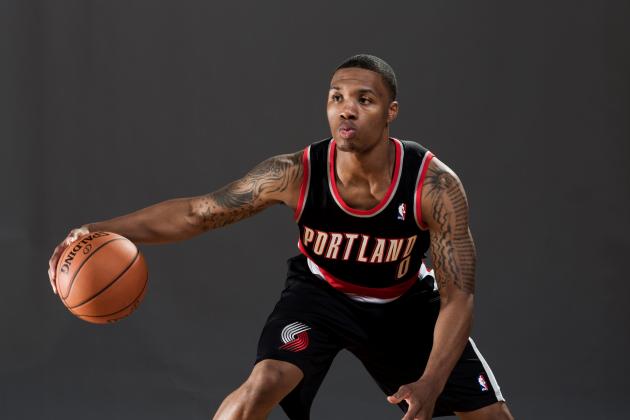 Nick Laham/Getty Images
Staying under control is essential.
As mentioned, Damian Lillard has had a turnover problem. Turnovers can be cut down on by staying under control and not trying to force the action. It's a difficult adjustment for rookies to get used to playing against elite competition. The often find that many of the things they tried at the NCAA level just don't work in the pros.
Lillard is the only point with the keys handed off to him, but the statement applies to even those receiving fringe work like Kendall Marshall and Marquis Teague. For these point guards to thrive at the NBA level, avoiding turnovers is a must. It's either that or become the next Sebastian Telfair.
The importance of staying within the framework of the offense and not free-styling too much must be emphasized early on so that the players get a handle on how to function within an NBA offense at the start of their careers.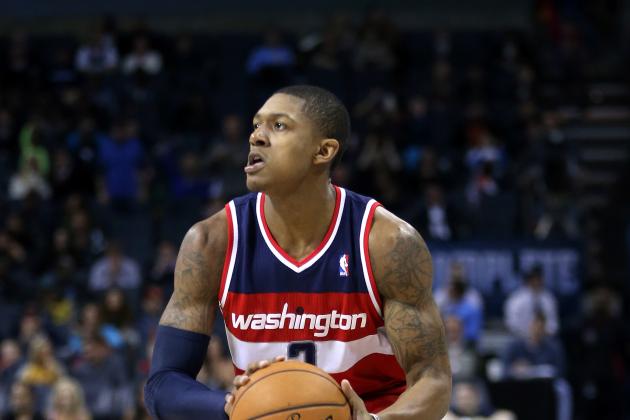 Streeter Lecka/Getty Images
Beal has been aggressive, but must take the right shots.
This ends up being a problem for a lot of rookies. Last year, MarShon Brooks had a great season, but it would have been even better if he had curbed his appetite for shots. For a player to fit seamlessly within an offense, it is necessary that he doesn't jack up shots that are going to leave his teammates frustrated and wishing he passed the ball more.
Michael Kidd-Gilchrist must avoid trying to do too much on a horrible Bobcats team. Harrison Barnes will have a lot of opportunities in Golden State's high powered attack, but must be careful not to take too many bad shots, because the Warriors will attempt a lot of field goals.
Ball hogging is never good on any level of play, and NBA players need to become team-oriented early in their careers. Good habits are formed from the rookie year onwards. When doubled, pass the ball. When open, shoot it. It's a simple equation, yet it's one that many rookies are prone to ignoring.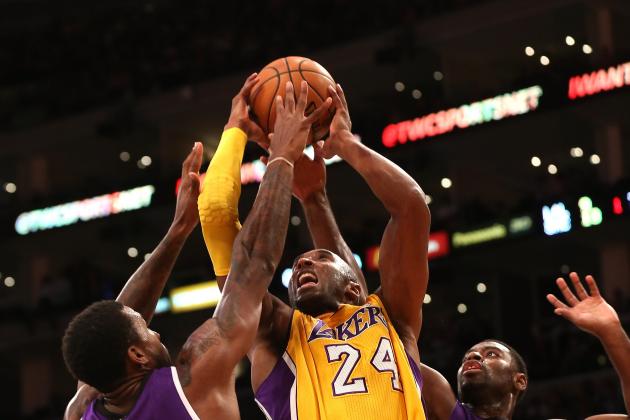 Stephen Dunn/Getty Images
Thomas Robinson helps Tyreke Evans with Mamba.
If a rookie finds himself saddled on the bench, sometimes the quickest way to change that is to just out-hustle the teammates ahead of him in the rotation. Hustle can go a long ways towards picking up long rebounds, picking off lazy passes, chasing down loose balls and sacrificing one's body to take charges.
The rookies that key in on these things and hustle are the ones that ultimately earn themselves the most playing time. Thomas Robinson has played with a lot of energy, and ultimately, it might be that high energy play that earns him the playing time—not the dunks and show-stopping highlights.
19-year-old Andre Drummond is a few years away from hitting stride, but can earn PT in the meantime by just playing his rear off.
John Henson of Milwaukee has already impressed in the preseason, but to earn regular season minutes, he's going to have to keep hustling, as that is what has been his best attribute so far.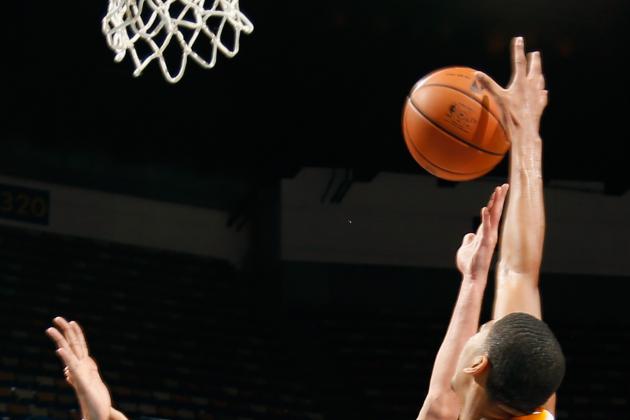 Chris Graythen/Getty Images
Davis can continue to show his elite shot blocking skills.
In working on weaknesses, it's important for the rookies to remember what got them to the NBA to begin with: The point guards that penetrate well need to keep penetrating well, wing players that shoot well need to take open shots and big men need to bang and grab rebounds.
These things aren't rocket science, but sometimes in trying so hard to fit in with their teammates and to do the right things, rookies forget what they already do well and stop doing it. Frustration can get in the way of doing the things they do well, and sometimes flat-out cold feet can inhibit the development of a player.
Bradley Beal needs to keep taking it to the hole. Damian Lillard needs to keep working pick-and-rolls and taking what the defense gives him. Anthony Davis must continue to rebound the ball and play excellent defense. Dion Waiters has to develop an effective guard-guard pick and roll with Kyrie Irving. Austin Rivers (when he returns) can't be afraid to use his isolation skills when the New Orleans Hornets need some late game scoring.
Doing all these things they already do well will help them in aspects they are struggling with, as the increase in confidence will help their all-around games.