Will Geno Smith or Matt Barkley Be a More Successful NFL QB?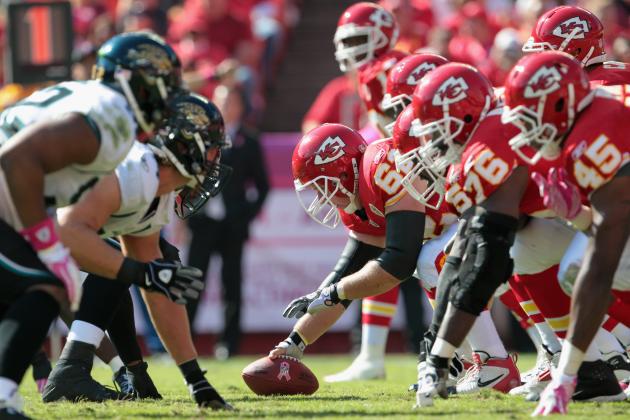 Jamie Squire/Getty Images
The Jacksonville Jaguars and Kansas City Chiefs seem destined to battle for the No. 1 overall pick in the 2013 NFL Draft.
Two questions are beginning to surface about the 2013 NFL Draft: 1) Are the Jacksonville Jaguars or Kansas City Chiefs going to get the No. 1 overall pick? 2) Will either select a quarterback?
In USC Trojans record-setter Matt Barkley and West Virginia Mountaineers spread extraordinaire Geno Smith, either QB-strapped NFL team has two attractive options to fill the void. Neither Barkley nor Smith was able to maintain the strong start by his team this season. But both are far from the main culprits.
So, which of these extremely successful college signal-callers will translate best to the next level? Are either truly worth the top pick in the draft?
Take a look at how these top prospects stack up head-to-head.
Begin Slideshow

»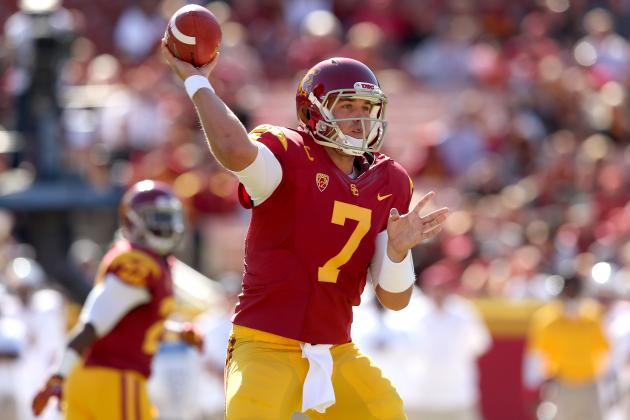 Stephen Dunn/Getty Images

This area has to favor Matt Barkley, since he's been a four-year starter in a pro-style system while Geno Smith has been a three-year starter in a spread system.
SI's Peter King included this important quote from Cleveland Browns head coach Pat Shurmur in his Week 6 edition of Monday Morning Quarterback:
In college football, Geno Smith throws eight touchdowns in a game, and he might drop back and see every receiver open. Here, you might drop back and everyone's covered. So the young quarterback has to learn to take what's there.
This is something I'll continue to reference, as it's central to the Barkley-Smith debate.
Browns QB Brandon Weeden came from a pass-heavy, hurry-up spread system at Oklahoma State, similar to the one Smith runs at West Virginia. While Weeden has had middling results with inexperienced skill players around him, he has shown signs of being a franchise quarterback.
That's essentially what teams are looking for, and Smith may be worth a flier ahead of Barkley in the draft simply because his upside is greater in terms of physical tools.
But Barkley has demonstrated an ability to run the show at the line of scrimmage for USC while Smith is more likely to look to the sidelines for a play call. Barkley would be in a much better position to immediately save a struggling NFL franchise.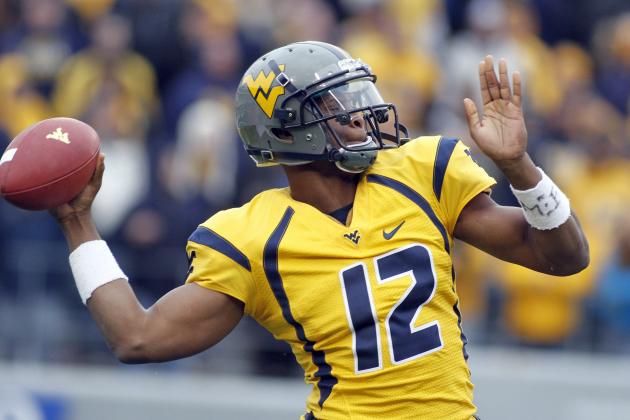 Justin K. Aller/Getty Images

Geno Smith: 6'3", 214 pounds.
Matt Barkley: 6'2", 230 pounds.
With superior height, athleticism and arm strength, Smith gets the nod here in terms of measurable qualities.
The Mountaineers' signal-caller gets the ball out with exceptional velocity and can put better touch on the deep ball than his USC counterpart, who has never been reputed to have a cannon right arm.
Barkley does possess a bit more bulk to take hits at the NFL level, but Smith's elusiveness should help him avoid taking a lot of punishment, and he doesn't look to run until he fully goes through all his reads.
It almost goes without saying that Smith is much more apt to scramble, and his mobility will be an attractive asset to teams looking to draft him. He can get out of tight situations when the play breaks down by using his feet, something Barkley hasn't done on a consistent basis.
There's nothing wrong with being a pure pocket passer—that's where the game is won. In terms of making something out of nothing on a broken play, though, Smith is the clear winner here.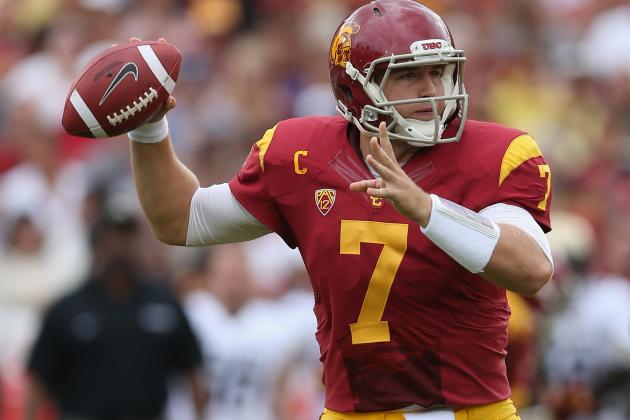 Jeff Gross/Getty Images

It's hard to argue with Matt Barkley's pedigree, but an enlightening article by Ivan Maisel of ESPN highlighted Geno Smith's intense work ethic. Smith seems to be supremely confident in his abilities to study film, that's for sure:
I'm not one of those guys who strike you as an imposing player. I honestly don't think I'm that great of a player...But I understand the game and I'm far ahead of my peers when it comes to that.
That was back when the Mountaineers were ranked eighth in the country and about to ascend to the top five. Despite a decline in numbers since then due to horrific defense and a preponderance of obvious passing situations, Smith has maintained a relatively high level of play.
For Smith to say that he is far ahead of his peers in terms of his understanding of football may be true, but Barkley is definitely no slouch when it comes to being a student of the game.
He too has been held back by a lackluster defense that has USC often playing from behind, yet has still found a way to put a ton of points on the board.
As much as USC's scheme would tend to give Barkley an advantage in this category, it's difficult to give either player the definitive edge.
Justin K. Aller/Getty Images

This attribute can be improved through hard work on mechanics, fundamentals and adjusting to the speed of the NFL.
But some quarterbacks have an uncanny knack for accuracy, and Geno Smith seems to have that. But while Smith has completed 71.4 percent of his passes, Matt Barkley boasts a higher yards per attempt (8.52 to 7.60).
That doesn't dispel the notion that Smith is a better deep passer than Barkley—because he is. Yet Barkley seems to have the edge in the short and intermediate passing game, and it goes back to that Pat Shurmur quote.
Smith has had huge windows to throw into, thanks to the Mountaineers' spread scheme, and would likely have a harder time adjusting to the tight spaces to throw into in the NFL than Barkley would.
Sometimes, all of Smith's receivers are open, so who knows if he's really making all the right reads?
It's a little dubious how that will translate to the professional level, but Smith's potential to make big plays vertically makes it too difficult to give either QB an edge in this area.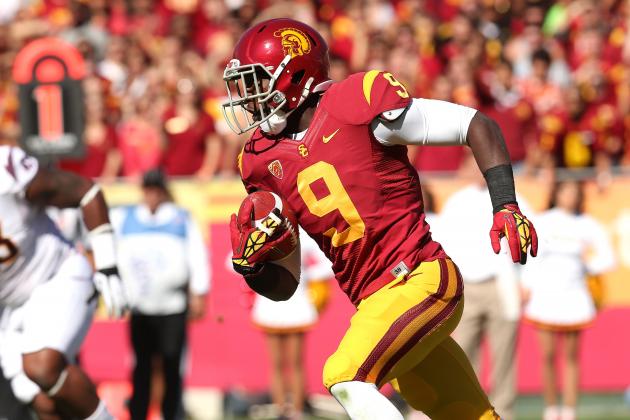 Stephen Dunn/Getty Images
USC Trojans Heisman hopeful, WR Marqise Lee.
There's no question that Matt Barkley and Geno Smith benefit from being surrounded by phenomenal skill players.
The Trojans have Marqise Lee (pictured above), who has emerged as a superstar as a sophomore and supplanted the highly touted Robert Woods, who had 111 catches a year ago, as USC's No. 1 target. Life is also easier for Barkley with huge tight end Xavier Grimble and a stellar running game spearheaded by Penn State transfer Silas Redd.
Smith is similarly blessed with a duo of dynamic wideouts: Stedman Bailey, who just notched 14 catches for 225 yards and a TD in last week's game, is a big-play vertical threat. Tavon Austin serves as the reliable, shifty underneath receiver who can scamper after the catch and is a nightmare to tackle in the open field.
That is precisely why it's wise to be wary of both these quarterbacks' outstanding seasons. Teams that draft either QB to be their savior may want to temper expectations, or surround them with a ton of talent.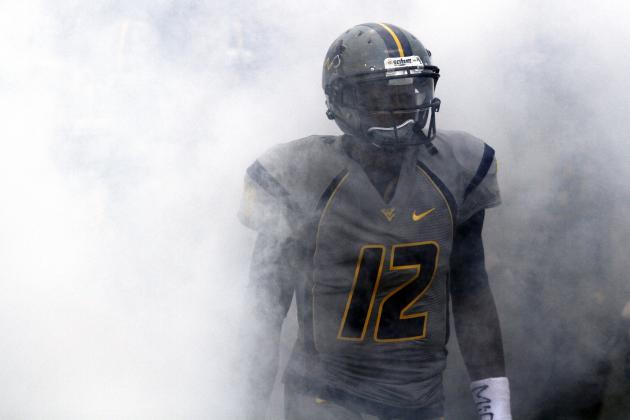 Justin K. Aller/Getty Images

The forecast is a big foggy for Geno Smith and Matt Barkley, but the West Virginia Mountaineer has to be given the nod in the debate over which QB will be more successful at the next level.
In the short term, Barkley may prevail. However, Smith's upside is much greater due to his superior arm strength and the plays he can make with his feet. It may take him while to adjust to pro-style schematics, but Smith could become seriously dangerous when plays break down.
That said, Smith is more of a risk. But it seems that Barkley has been surrounded by so much talent in an NFL-style system at USC that he would need a similarly awesome supporting cast to succeed.
In other words, I think Barkley is over-hyped. B/R's own draft expert Matt Miller doesn't even have him going in the first round of his latest mock.
In fact, Arkansas QB Tyler Wilson may be more worthy of a discussion as a rival prospect to Smith.
While Smith is not exactly someone who's bankable as an instant answer to a team's quarterback problem, he should be a better pro than Barkley when all is said and done.