Miami Heat vs. Denver Nuggets: Postgame Grades and Analysis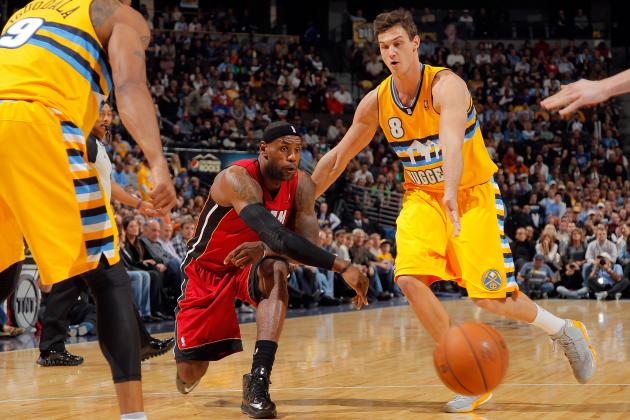 Doug Pensinger/Getty Images

Who needs Dwyane Wade?
The Miami Heat do.
Even though LeBron James and and company pulled out the 98-93 victory against the Denver Nuggets Thursday night, it's clear The Chosen One missed his partner-in-crime.
That said, in a game that meant the world to two teams looking to assert their dominance as an NBA powerhouse, the Heat prevailed, getting back on track one game after losing to the Los Angeles Clippers.
This marked the first time that Miami had won in Denver since January 2002, and South Beach's finest did so in style.
For the Nuggets, however, this was anything but an encouraging performance. Considered by many to be championship material, they allowed the Heat to come into their home and build what proved to be an insurmountable lead. This is definitely one they would like to forget.
Before Miami or Denver can move on, though, they must take a long hard look at this game and see who stepped up, what went right, and what still needs to be done moving forward.
Begin Slideshow

»
Mario Chalmers, PG, MIA: Incomplete
Chalmers left with strained triceps before even logging 10 minutes. When he was on the floor, though—however briefly—he wasn't great.
It's not just that he didn't score in his seven minutes of action, it's that he played spotty defense, wasn't moving properly off the ball on offense, and just looked disassociated from the game in general. He was able to dish out three assists, though.
To answer your question, yes, that much can go wrong in seven minutes. With the Heat unsure of how much time Dwyane Wade could miss, they are really going to need all hands on deck moving forward, so Chalmers' injury is something to monitor.
Ty Lawson, PG, DEN: D
The Nuggets really could have used Lawson in this one.
Lawson was held scoreless in 34 minutes of action, going 0-of-7 from the field. He looked absolutely out of sorts on both ends of the floor, to the point where his eight assists don't provide even a shred of comfort.
For the Nuggets to really hit their stride and emerge as a consistent powerhouse, Lawson really has to avoid nights like this.
You know, the ones that end with the Nuggets posting a minus-11 with him on the floor.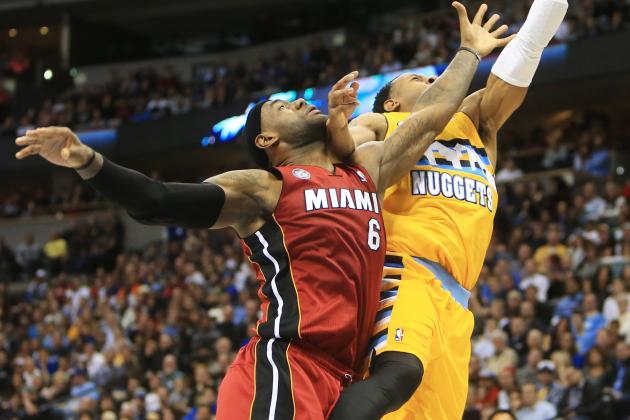 Chris Humphreys-US PRESSWIRE

Mike Miller, SG, MIA: B+
Let's be honest—any night Miller logs more than two minutes and doesn't keel over is a gift from God.
Though the battered wing far from replaced Wade, he scored 12 points and shot a respectable 44.4 percent from the floor in nearly 24 minutes of floor time.
Yes, Miller proved to be as useless on defense as ever, but he pushed through ever-present pain to provide plenty of value on the offensive end for more than half the game.
And when it comes to him, that's all that matters.
Andre Iguodala, SG, DEN: C+
There's no denying Iguodala played with a lot of grit against Miami. He was aggressive on defense and manned the passing lanes more than adequately.
That said, Iguodala was a near non-factor on offense, scoring just 10 points and coughing the ball up three times.
While an off night on the shooting guard's part is never a good thing, this no-show was particularly painful considering how poorly Ty Lawson played as well.
Denver simply can't afford to not get production from its starting backcourt and expect to win against teams like the Heat.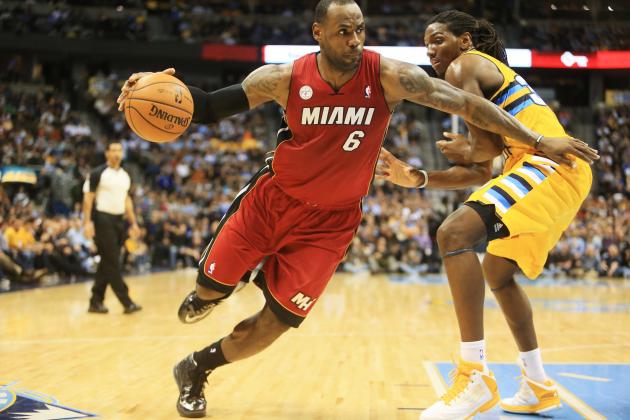 Chris Humphreys-US PRESSWIRE

Shane Battier, SF, MIA: A
Um, wow. Battier connected on six three-pointers on his way to scoring 18 points.
The exceptionally calculated forward also pitched in one steal and two blocks while helping hold Denver to just 30 percent shooting from beyond the arc.
Usually, the box score cannot even begin to describe the impact Battier has on the outcome of a game. Here, however, it was a different story.
Danilo Gallinari, SF, DEN: B-
Denver's small forward was finally able to end his string of disappointing performances. Kind of.
Though Gallinari was able to put up 13 points on 41.7 percent shooting, he was non-existent on the glass and got into foul trouble on the defense end. He also killed Denver's momentum with an awful three-point shot down the stretch.
That said, he proved to be one of the only Nuggets willing to attack the basket early on; he was one of their only sources of offense at one point as well.
Even still, with so much potential on either end of the floor, you just cannot help but be crestfallen when Gallo has such an up-and-down performance in a big game like this.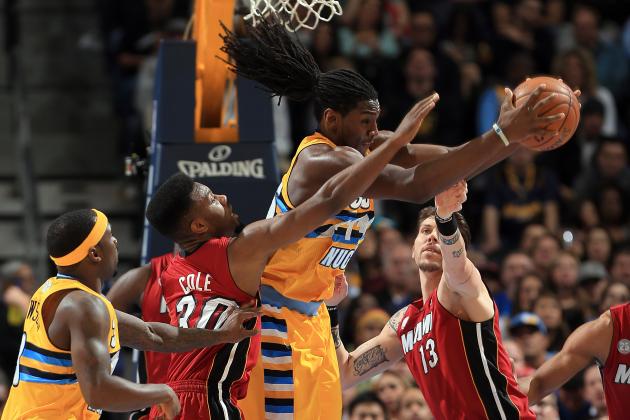 Doug Pensinger/Getty Images

LeBron James, PF, MIA: A
Don't be fooled by the stat lines, it's not easy being LeBron.
Without D-Wade in the lineup he was forced to play 42 minutes, and when he was on the bench, he was watching the rest of his team squander the big lead he had helped build.
In the midst of adversity and a thinner rotation, however, James was magnificent. He dropped 27 points, seven rebounds, 12 assists, one steal and three blocks on 47.8 percent shooting, single-handedly willing Miami to victory over a scrappy Nuggets team.
There's a reason this man is the reigning MVP folks; take him out of this game and the Heat leave Denver both out of breath and out of luck.
Kenneth Faried, PF, DEN: A-
There's no such thing as too much of Faried. Sure, he shot a lukewarm 31.3 percent from the field, but he still managed to score 16 points.
Oh, and did I mention he hauled in a career-high 20 rebounds as well? I mean, he nearly out-rebounded Miami on his own. True story.
Unfortunately for Denver, though, Faried's endless supply of energy couldn't compensate for the shortcomings of the majority.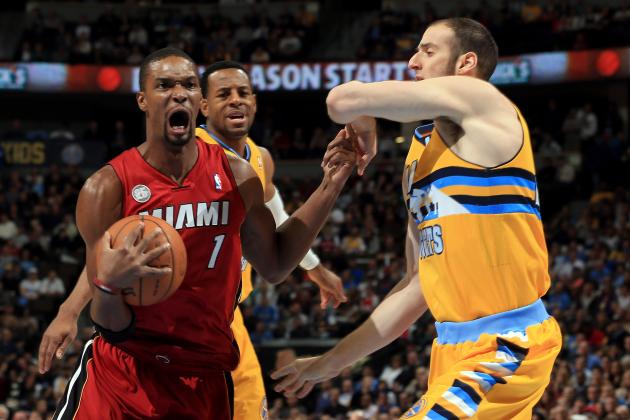 Doug Pensinger/Getty Images

Chris Bosh, C, MIA: B-
No, the power forward-turned-center didn't have a terrible game, but the Heat needed more from him in Wade's absence.
Bosh scored 14 points on 50 percent shooting from the field in 36 minutes. He also grabbed an underwhelming three rebounds and was visibly overmatched on the defensive end.
Nothing like providing LeBron James with a little two-way support, right?
Sure, Miami escaped with a victory here, but LeBron is going to need his temporary second-in-command to pick up his production if the Heat are to reestablish dominance without Wade.
Kosta Koufos, C, DEN: C-
I understand JaVale McGee has great rapport with Andre Miller, but it might be time to bench Koufos in his favor, or give Timofey Mozgov more burn.
The big man scored just four points and grabbed just three rebounds in 14 minutes of action.
Simply put, Koufos remains a non-factor, and while it's understandable George Karl wants have an edge off the bench, you can't help but wonder if Denver could have pulled this out had they had their best players in from the get-go.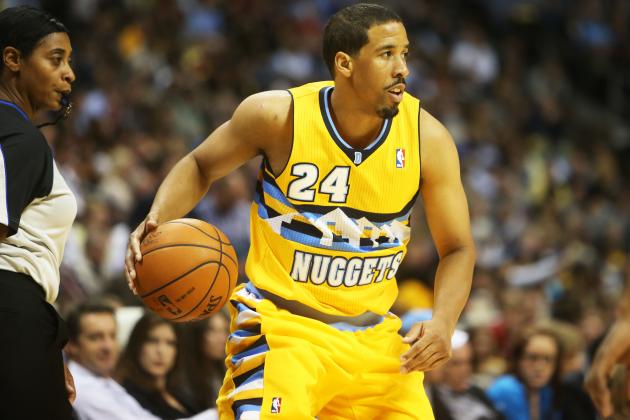 Chris Humphreys-US PRESSWIRE

Ray Allen, SG, MIA: B-
Someone call a doctor, because Allen must be sick.
The sharp-shooting guard converted on just 25 percent of his field-goal attempts en route to nine points in this one, even missing a few corner shots that could have helped put the game out of reach.
That aside, Allen contributed in other ways. Not only did he grab three rebounds and play some respectable defense, but he dished out three assists as well.
When you're shot isn't falling, the next best thing to do is create for others.nAnd that's exactly what Allen did.
Andre Miller, PG, DEN: A
Miller didn't play like he was a 36-year-old backup.
The veteran point guard dropped 19 points on a ridiculous 7-of-9 shooting from the field. He also chipped in five rebounds, seven assists and one steal as well in about 26 minutes of play.
Most importantly, though, when it became clear Ty Lawson wasn't going to help lead the Nuggets back into the game, Miller took over, willing Denver back within striking distance during the fourth quarter.
Not bad for someone with over a decade of NBA miles on his legs, is it?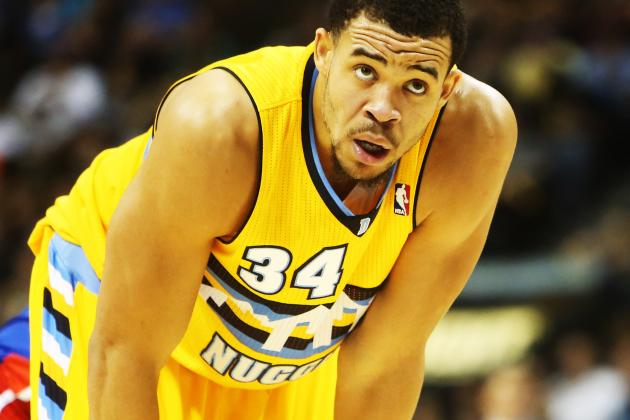 Chris Humphreys-US PRESSWIRE

Miami Bench: C+
I can find appreciation for Ray Allen's awful shooting performance and respect the valuable minutes that Udonis Haslem provided in relief as well, but the Heat's second unit was terrible for the most part.
Though Norris Cole hit a big three-pointer in the waning minutes, he missed nine of his 12 shots and turned the ball over three times.
And don't get me started on Joel Anthony or Rashard Lewis either. The two combined for 17 minutes of action, yet neither looked like they deserved even one.
Again, the Heat were able to walk away with a victory here, but it was in spite of—not because of—their second unit.
Denver Bench: A-
The Nuggets didn't lose because of their bench, that much is for sure. Not only did Andre Miller chip in 19 points, but JaVale McGee dropped 18 on 9-of-12 shooting while also grabbing six rebounds and blocking four shots.
Even Jordan Hamilton joined the party, knocking down numerous three-pointers on his way to scoring 11 points of his own.
Unfortunately, though, even with 50 points from its bench, the Nuggets proved unable to climb past the mountain that was the Heat's early lead.