St-Pierre vs. Condit: 4 Bold Predictions for St-Pierre-Condit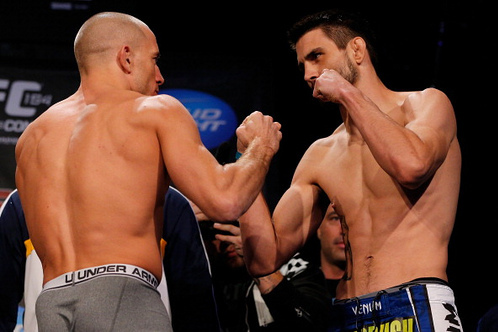 Photo by Josh Hedges/Zuffa LLC/Zuffa LLC via Getty Images
November 17 is upon us, which means the return of Georges St-Pierre is imminent. The longtime welterweight champion is set to return to action in an attempt to reclaim his throne from current regent Carlos Condit.
Between Condit's recent hot streak, St-Pierre's return and Anderson Silva's rumored presence at the Bell Centre, the contest is not lacking much in the way of intriguing storylines.
Will Condit pull off the upset? Will St-Pierre return to his pre-injury form? What will become of the swirling St-Pierre vs. Silva rumors after the match concludes?
All major questions we have heading into St-Pierre-Condit.
But here we will concern ourselves less with questions and more with answers—answers in the form of predictions.
Just a little pre-fight banter to hold you over until the night's opening bell.
Begin Slideshow

»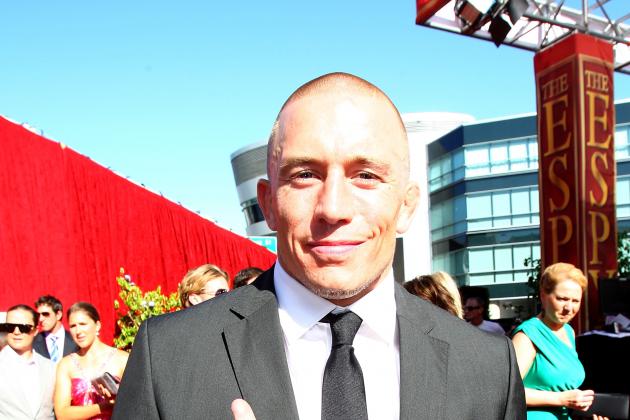 Alexandra Wyman/Getty Images

While Carlos Condit is talented enough to threaten any opponent, his chances of victory at UFC 154 are very much connected to St-Pierre's health.
The champion will be returning to action after nearly a 19-month layoff, which a significant contingent of fans suggest will leave him a different fighter than he was before suffering the injury that sidelined him for so long.
Between the damage to his knee and the ring rust that comes with a lengthy period of inactivity, St-Pierre has more challenges to face Saturday night than just his opponent.
And while layoff and injury may have some minuscule effect on St-Pierre, no fighter in the sport is as well prepared, physically or mentally, as he is, and that will go a long way in minimizing the time in the Octagon that he feels like a fish out of water.
In fact, don't expect St-Pierre to look gun-shy for very long at all. And don't expect him to look any less explosive than you remember him. Though ACL injuries are the bane of many an athlete, St-Pierre's work ethic and commitment to taking care of his body will mitigate the debilitation caused by the healing wound.
What does all this mean?
It means St-Pierre will return to action just the way we remember him—explosive and dominant.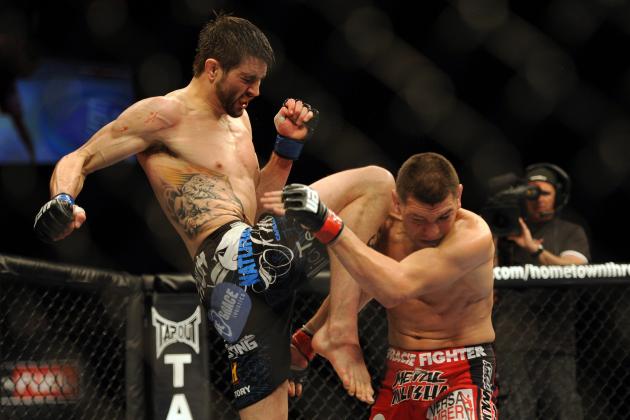 Kelvin Kuo-US PRESSWIRE

Though St-Pierre figures to rely on the takedown to get the better of Condit at UFC 154, he won't force the issue if his opponent comes out committed to keeping things standing at any expense. Instead, St-Pierre will turn to his well-developed striking and look to exploit the sacrificed melee defenses of Condit.
Since Condit will no doubt be focused on stopping St-Pierre's wrestling advances, there's every reason for the official champ to test the striking waters in Round 1, and that is something I see him doing.
For Condit's part, he'll happily oblige. Even so, that eagerness might not turn into a round won for the interim champion. On the contrary, it's very likely St-Pierre takes 10 points on the scorecards for the surprise tactic of exchanging.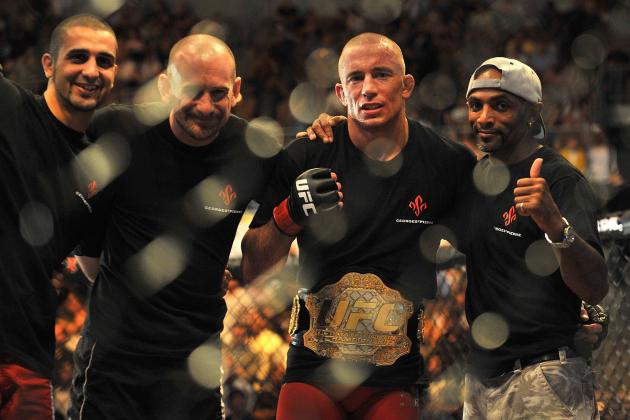 Jon Kopaloff/Getty Images

St-Pierre hasn't stopped an opponent since 2009.
Condit has not been stopped since 2006.
I called them bold predictions for a reason.
While Condit is not an easy guy to finish and St-Pierre has struggled to win inside the final bell of his matches, I'm forecasting a mid-to late-round stoppage victory for the Canadian.
Condit will have no answer for St-Pierre's takedown offense (after Round 1, of course), which means he'll repeatedly find himself on his back, unable to get up.
Ironically, I see GSP stopping Condit for the same reason many expect him to struggle in the fight—the layoff. Rather than mitigating his abilities, I foresee St-Pierre returning as a more aggressive, hungry fighter that goes for the kill when he has his opponent in a bad position.
Sure, you can call it a hunch, because that's largely what it is.
But from Round 3 onward, look for St-Pierre to surprise by either turning out Condit's lights or sinking in a submission (we'll go with a rear-naked choke).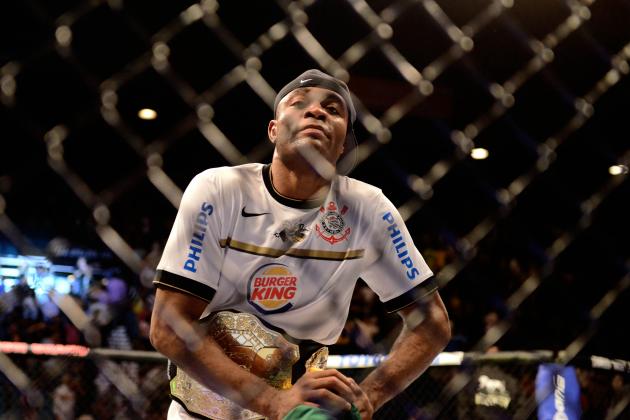 Mark J. Rebilas-US PRESSWIRE

Since this goes right along with St-Pierre's MO, it isn't all that bold of a prediction, nor one that means a whole lot. After all, fights aren't booked during post-fight interviews.
But St-Pierre, ever the gentleman, is more likely to acknowledge the winner of Martin Kampmann vs. Johny Hendricks as his next challenger rather than call for a Silva match.
Even so, I wouldn't expect the rumors to dissipate any time soon. The post-fight conference will draw things out and the media will continue to run with the theme long after that.
But Saturday night, in the Octagon, expect GSP to name either Kampmann or Hendricks his next targeted foe.