Tim Tebow was, at one point, the most beloved man in Denver when he led the Broncos to a postseason win last year before being shipped to New York. But one man has single-handedly made Denver fans not care about Tebow—Peyton Manning.
Under the direction of John Elway, the Broncos organization elected to send the polarizing quarterback to the New York Jets, where he has suffered as a gimmick and brought a ridiculous amount of attention to the franchise—just as it wanted.
For Denver, many fans were left scratching their heads as their favorite team sent away a quarterback who led the team to a miraculous playoff victory. Little did they know, Elway had his sights on the man who is arguably the greatest quarterback in NFL history.
Manning has been exceptional for the Broncos so far despite the plethora of concerns about his health, centered around his neck, which resulted in him parting ways with the Indianapolis Colts.
With 2,705 yards, 21 touchdowns and six interceptions to go along with his amazing 108 quarterback rating, Manning has solidified himself as one of the NFL's best yet again.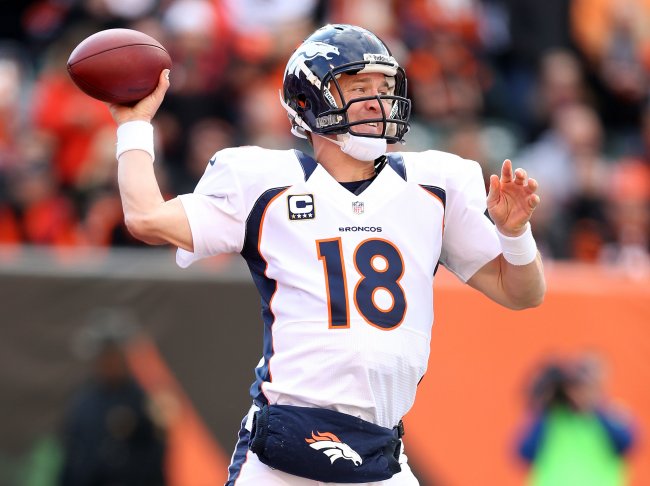 Andy Lyons/Getty Images
Not only does Manning have the Broncos on the fast track to the postseason, he's inserted himself into the MVP race once again.
Behind Manning, the Broncos have now won four in a row and sit alone atop the mediocre AFC West. With matchups remaining against mediocre competition such as the Kansas City Chiefs, San Diego Chargers, Oakland Raiders and Cleveland Browns, it wouldn't at all be surprising if the Broncos didn't lose a game the rest of the way.
Can Peyton Manning lead the Broncos to a Super Bowl in 2012?
Had the Broncos not won the Manning sweepstakes and stuck with Tebow, things would be much different in Denver right now.
In his limited opportunities in New York so far in 2012, Tebow has shown no sign of progression as far as his passing mechanics go. While Manning has made everyone on the team better, the 2012 Broncos with Tebow under center would have likely been an extremely average team.
While Tebow is heralded as a quarterback who simply finds a way to win games, he's often criticized for his form and accuracy throwing the ball. Conversely, Manning wins more games than Tebow, and as we all know, he's one of the most accurate to ever play the game.
The decision to move on from Tebow for Manning was an easy one for Elway. As he told USA Today, he felt a responsibility to make the move and despite the love for Tebow among the fanbase, it was the best move for the team:
It was a tough situation...There are Tebow fans and there are Broncos fans. My responsibility is to the Broncos fans, and my responsibility is to (owner) Pat Bowlen and what he wants to do, and that's win championships. I base all my decisions on that..with Peyton being here, we couldn't have two different offenses...we couldn't have a backup quarterback with a totally different offense. We wanted to get back to where everyone was learning the same offense.
At the end of the day, Elway won on the biggest gamble of his career. Comparing the horrific, two-quarterback offense in New York to the elite offense in Denver led by Manning isn't even fair.
Manning is already 36 years old, but he clearly has several years of elite football left in him if he can manage to stay healthy.
The Broncos are Super Bowl contenders this year, and they will be every year that Manning remains under center.
For that reason alone, Manning has allowed the Tebow fans among the Broncos' fanbase to forget about Tebow entirely.