Montreal - The last time we saw Johny Hendricks in the Octagon his hand was being raised following his split decision victory over Josh Koscheck at UFC on FOX 3. However, the victory that really grabbed the attention of the fight world was his previous bout, a one-punch, 12-second knockout of Jon Fitch at UFC 141.
On Saturday, Hendricks, riding high from those wins, will step into the cage with his former training partner Martin Kampmann. The bout could very well determine who will become the next fighter to compete for the UFC welterweight title.
While the fighters themselves believe that a win at UFC 154 warrants a title shot, UFC president Dana White seems to be unconvinced of that fact. The lack of confidence is something that Hendricks said he is fine with.
"I can't control that, the only thing I can control is a good win and what I do after that," Hendricks said. "That's all that matters."
Hendricks also holds the same mindset when it comes to talk of the possible Georges St-Pierre vs. Anderson Silva fight as the reason the winner of the Hendricks/Kampmann contest may not get a shot at the title.
"You know, it does suck," Hendricks said, "But guess what, I can't control that. If I win, sit back and say, 'hey, let 'em fight and I'll be the first one to congratulate you back at 170.' "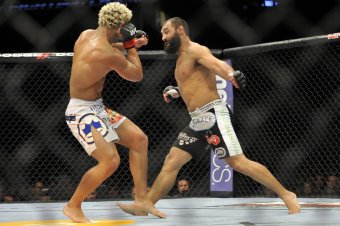 Joe Camporeale-US PRESSWIRE
As far as who he would rather face in title shot, Hendricks said he couldn't care less as long as his opponent is carrying UFC gold when he steps into the Octagon,
"Who has the belt? I just want that belt," he said. "I don't care who it is, where they had it, what time, I just want a shot at that belt."
If Hendricks does end up facing St-Pierre next, don't expect him to be in awe of the man many consider the best welterweight in mixed martial arts history.
"I don't see him as an idol. He's an opponent. He's a person. He's a fighter just like me," Hendricks said. "He's a good fighter, he's done amazing things, but is he an idol? No. He's just another human in my book and that's what I see myself as too."
As far as the job Hendricks enjoys so much, at one point he was training for that gig at Extreme Couture in Las Vegas with the man he will face on Saturday night. If Kampmann thinks the time they spent together will give him any insight or advantage, Hendricks says he is mistaken.
"My camps sucked back then compared to my camps now and the fighter I was back then, if I had to fight that guy from three years ago, I would throttle him," he said. "I would've throttled him after the first year being in Texas. That's just how much, leaps and bounds, I've improved."
Will Hendricks KO Kampmann?
Coming from a wrestling background, one of the things Hendricks has improved by leaps and bounds is his striking. If you think Hendricks is a fighter that's always looking for the early, spectacular knockout, you'd be wrong.
"I don't want to finish the fight in the first round," Hendricks said. "Second or third, I'll be looking for it, but first round I like to have fun. I train so hard that if it ends in the first round, it seems like I'm cheating myself. So, I like the three-round grinds."
With that being said, Hendricks acknowledged that he might need to change that thinking heading into Saturday night.
"The reason I didn't go as hard with Josh is because, let's be honest, he hit with that right hand it could be lights out. Kampmann I don't have to worry about that as much, I have to worry about more technical striking and the punch that you don't see," Hendricks said.
Besides the technical striking of Kampmann, Hendricks has to worry about Kampmann's durability, or perhaps not.
"People are durable until they get hit," Hendricks said. "For example, Jon Fitch was durable against GSP, he ate a lot of heavy shots, right? All it took me is one.
"So if he is that durable we'll really see. Everybody's like 'oh he's so durable, oh he's gonna do this, oh he's gonna do that.' Dude, I don't care, let me hit him one time. I can't wait to put my left hand right on his chin and let's see where it goes from there."
On Saturday night Hendricks will get that chance.
**All quotes obtained first hand by BRMMA