10 Steelers Under Most Pressure to Perform After Ben Roethlisberger's Injury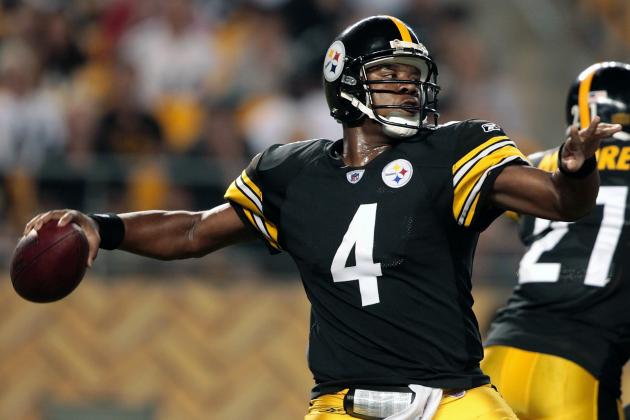 Jared Wickerham/Getty Images

There is no player under more pressure to perform for the Pittsburgh Steelers than Byron Leftwich.
Leftwich has the tough task of leading the Steelers while Ben Roethlisberger is out for the foreseeable future with a potentially life-threatening rib injury.
According to Ed Bouchette of the Pittsburgh Post-Gazette:
#Steelers Ben Roethlisberger has a rare rib injury that could kill him by pressing against his aorta. Too big risk. Has to wait until heals

— Ed Bouchette (@EdBouchette) November 14, 2012
Leftwich isn't the only Steelers player who needs to step up to the plate and deliver while Big Ben is out either.
Here are the 10 players who absolutely must not fail to perform while the Steelers attempt to make the playoffs without their quarterback, leader and MVP.
Begin Slideshow

»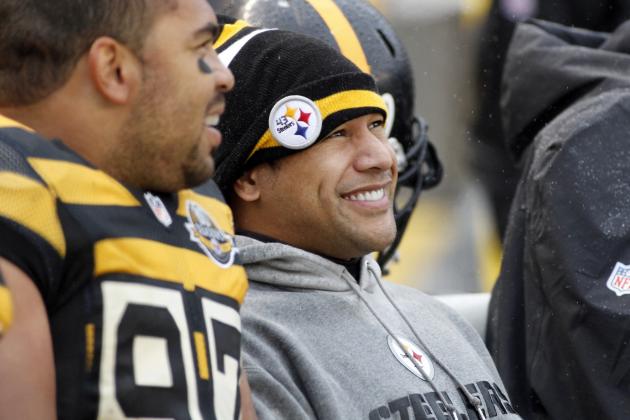 Justin K. Aller/Getty Images

Troy Polamalu hasn't played a snap since Week 5, but the Steelers need their star safety back on the field now more than ever.
The Steelers have proven that you don't need to create turnovers to stifle opponents' passing attacks. This team ranks No. 1 in the NFL in yards allowed but has only generated nine takeaways (tied with the St. Louis Rams for the second-worst mark in the NFL).
Polamalu has been missed, and his ability to make game-changing plays both against the run and pass will be needed for this team to continue winning in the month of December and beyond.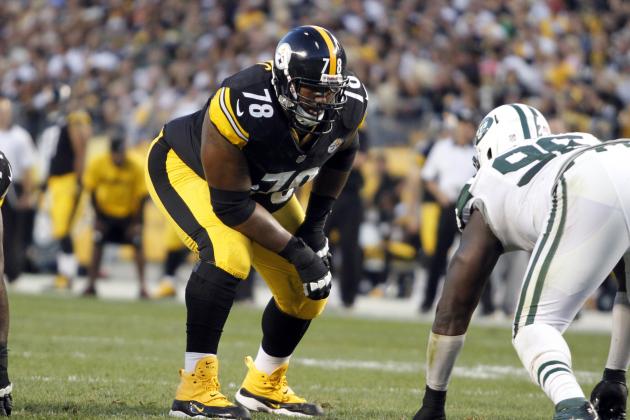 Justin K. Aller/Getty Images

Byron Leftwich is not as agile as Ben Roethlisberger—a fact that puts more pressure than ever on Max Starks to perform.
Starks has been anything but stellar this season for the Steelers. In terms of sacks, he's only given up three, and he's only allowed five quarterback hits, but his 23 allowed pressures ranks in the bottom 10 in the NFL (h/t Pro Football Focus).
Starks doesn't need to just improve his pass-protecting skills either. The Steelers will need to run the ball more now than ever before, and his run-blocking this season has been suspect at best.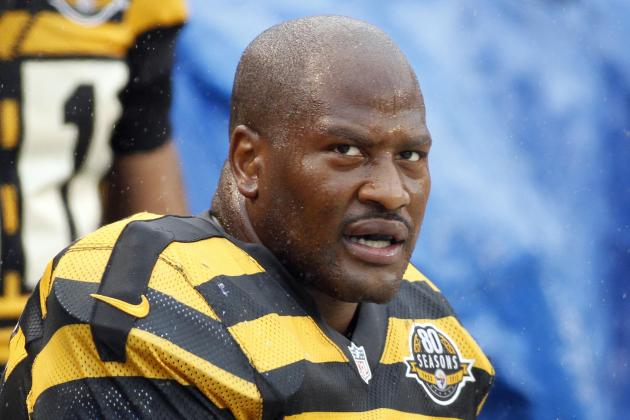 Justin K. Aller/Getty Images

James Harrison hasn't generated a single sack for over a month, and he only has one for the season. Furthermore, he's failed to produce a single turnover, and his lack of production is a big reason why the Steelers haven't been generating many as a team.
Simply put, Harrison needs to either step up or step aside and let Jason Worilds or Adrian Robinson give it a go full time.
Rich Schultz/Getty Images

Heath Miller has been Mr. Steady for the Steelers this year, catching no fewer than three passes in every single game and hauling in six touchdowns.
That said, his production has fallen of late, as he's only caught two touchdowns in his last six games.
Byron Leftwich will need a security blanket and Miller needs to step up his game to be that guy. Four receptions for 47 yards per game (his average the past three games) isn't going to get the job done.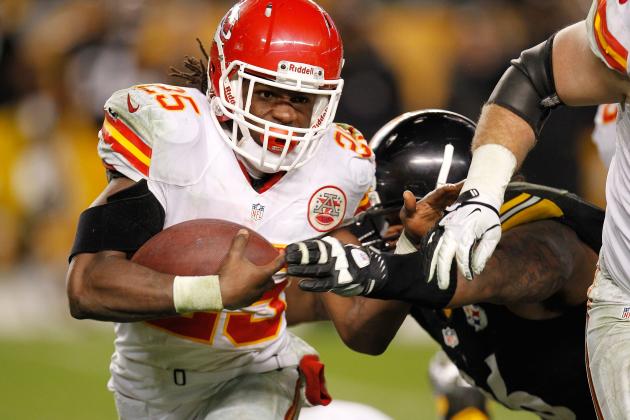 Gregory Shamus/Getty Images

The Kansas City Chiefs almost beat the Steelers last Monday night. A big reason for this was that they found success running right at Ziggy Hood.
Pro Football Focus ranks Hood No. 33 out of 34 total 3-4 defensive ends who have played significant snaps and, judging by what I saw on MNF, it doesn't surprise me in the least.
Hood doesn't generate much pressure, and he's easily pushed around in the running game. If the Steelers' defense is going to continue playing tough the rest of the way in 2012, he needs to perform better than we've seen of late.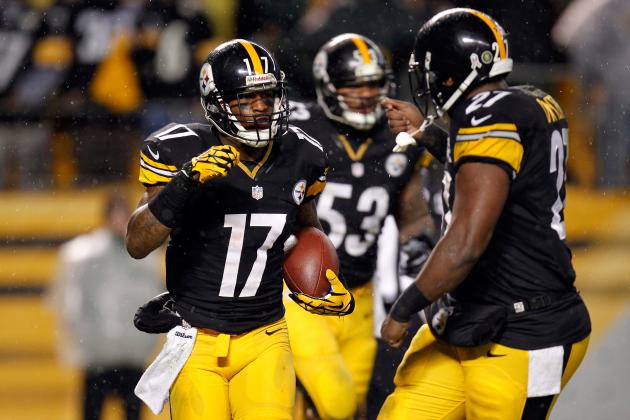 Gregory Shamus/Getty Images

Mike Wallace needs to intensify his focus and become the elite receiver he thought he was before the season began.
Even with Ben Roethlisberger behind center, Wallace has underwhelmed this season, hauling in an average of just 4.6 receptions for 59.9 yards per game. He has caught six touchdowns, which is impressive, but he needs to get open and make those big plays more often in order for the Steelers' offense to thrive without Big Ben.
Furthermore, since Antonio Brown is out with a sprained ankle, the onus falls on Wallace all the more to step up and make a big impact in the passing game.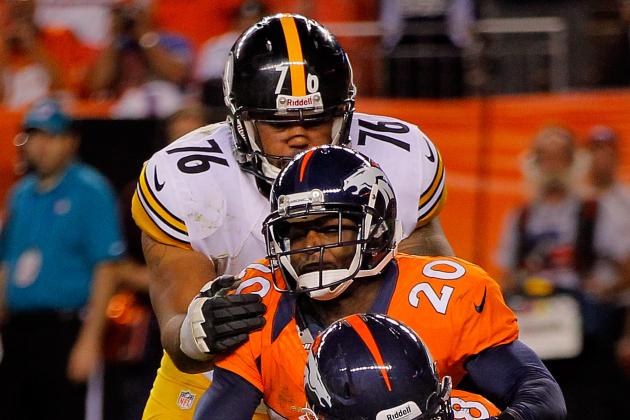 Doug Pensinger/Getty Images

Rookie right tackle Mike Adams must step up and play like a second-round draft pick is supposed to play.
To his credit, Adams has done a nice job in the running game, opening up holes on the right side on a regular basis.
That said, he has struggled to protect his quarterback, giving up five sacks in just 379 snaps played. As a comparison, Max Starks has given up three sacks in 631 snaps (h/t Pro Football Focus).
Adams needs to perform at his highest possible level going forward to protect Byron Leftwich from getting roughed up. If Leftwich is forced to leave the game, the Steelers will be forced to rely on 37-year-old Charlie Batch.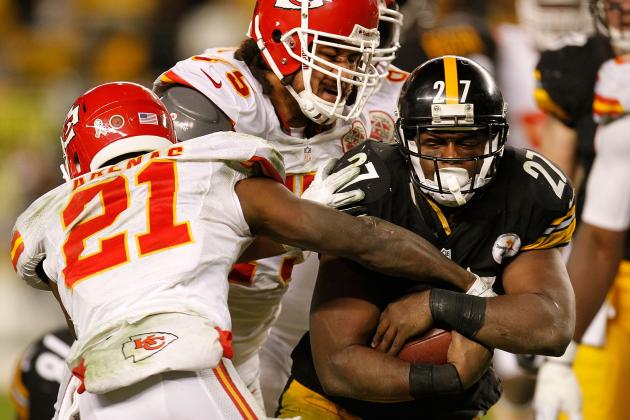 Gregory Shamus/Getty Images

Jonathan Dwyer has emerged as the Steelers' best option at running back behind Rashard Mendenhall.
He's big, he's quick and he hits the hole in a hurry.
Dwyer missed a game with a quad injury, and Isaac Redman put up big numbers in his absence in Week 9 against the New York Giants. Then, in Week 10, Redman fizzled out a bit and Dwyer ended up earning twice as many carries.
Now that Mendenhall is back, Dwyer will need to continue playing at a high level as his backup for the Steelers to be able to establish the dominating run game that it is going to take to keep drives going without Ben Roethlisberger behind center.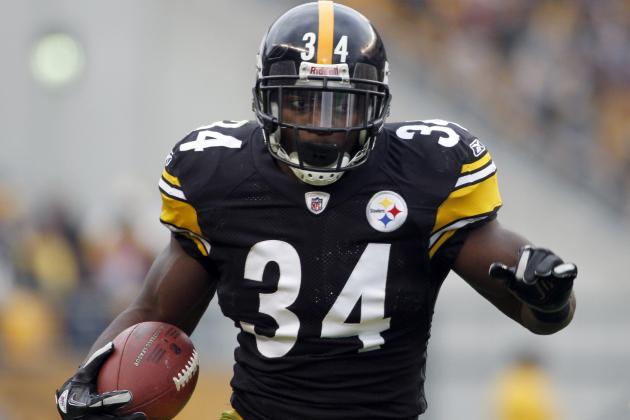 Justin K. Aller/Getty Images

The Steelers are expecting Rashard Mendenhall to start this week against the Baltimore Ravens and his return couldn't come at a better time.
Now that Roethlisberger's out, the Steelers will need to lean on their No. 1 running back more than ever.
In order to limit the number of mistakes by backup Byron Leftwich, Todd Haley will need to establish a punishing rushing attack. If successful, Mendenhall's ability to gash defenses will force teams to commit one or two safeties to the run, which will open things up for Leftwich and his receivers.
Mendenhall must return to form quickly after his four-game layoff for the Steelers to keep winning games.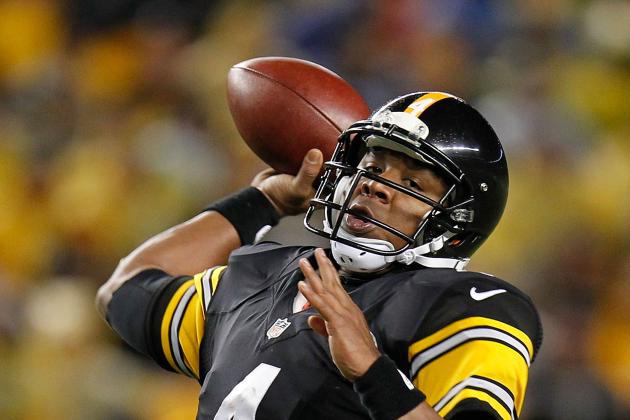 Gregory Shamus/Getty Images

Byron Leftwich can either keep the Steelers' playoff hopes alive by playing well, or he can crush those hopes by playing poorly.
No pressure, right?
Leftwich should be fine—provided the offensive line protects him well and his running backs perform like they are capable of.
If he's the guy that has to drive the offense, though, the Steelers will struggle to win games.
Chances are, we're going to see a few games that require Leftwich to make big plays when the Steelers can't run the ball and I question whether or not he has the ability to do so.
We'll see soon enough if he's up to the task.
Follow me on Twitter @JesseReed78 and check out my weekly NFL picks at Pickfactor.com