What's Been Learned on the Heat's Long Road Trip?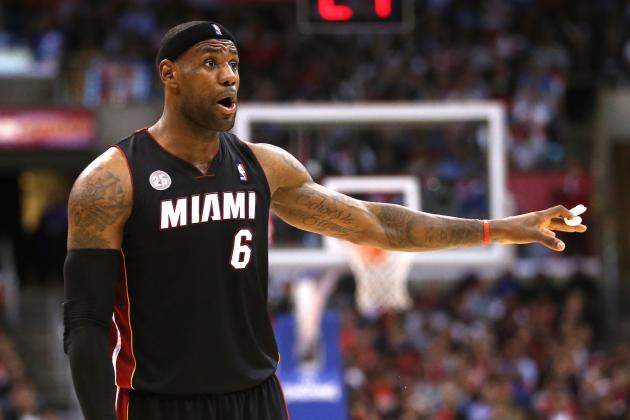 Stephen Dunn/Getty Images
LeBron James hasn't been the only one surprised by things that have happened to the Heat on the court.
Weary but happy, the Heat left Denver late Thursday with something the franchise hadn't secured in this city in a decade:
A win.
Or, as Erik Spoelstra put it, "A good character win."
Miami's 98-93 victory, one that came without Dwyane Wade for the entirety and without Mario Chalmers for all but seven minutes, put a different spin on a road trip that has covered all four time zones, and will finish Saturday in a sixth city: Phoenix.
After some difficulties on defense in recent contests, the Heat left feeling reasonably good about the way it competed, considering how few teams have had luck in this building, and this altitude, after playing in the Pacific Time Zone the night before.
That gave Miami a 3-2 mark on the trip as a whole, and a 7-3 record on the season, with the Suns unlikely to provide the most formidable opposition before the Heat returns home.
As LeBron James said before last Friday's trip-opener in Atlanta, "We understand that it's a long trip but we've got to take each game at its own."
Each game so far has offered a different lesson about the Heat, and the direction the team could be headed.
(The reporter collected all quotes while covering the team on the road trip.)
Begin Slideshow

»
Kevin C. Cox/Getty Images
The Hawks needed extra help to hold Bosh down.
Chris Bosh couldn't lead the Raptors to glory as the franchise centerpiece.
Sometimes, he has been forgotten as the Heat's third option.
But he always appears comfortable when he's the second star, a situation made possible frequently over the past two seasons with the frequent absences of Dwyane Wade.
Last Friday in Atlanta, Wade was back at the hotel with a virus, so Bosh did what he typically does in those situations: he looked for his shot more frequently, found ways to get fouled, and led the Heat with 24 points.
It wasn't necessarily because he got more plays called for him (he gets a couple per game rather than 20 or so he once got in Toronto), but he's become more adept at moving without the ball, to find his spots, and the ball tends to find him when Wade is missing.
"When Dwyane's out, I know I need to have even more of an aggressive mindset," Bosh said.
Now, through 10 games, Bosh is off to one of the most efficient starts of his career, shooting 53 percent from the floor and 89.4 percent from the line. He will need to keep that up because, as was reinforced later in the trip, it's not clear whether Wade's body can be relied upon.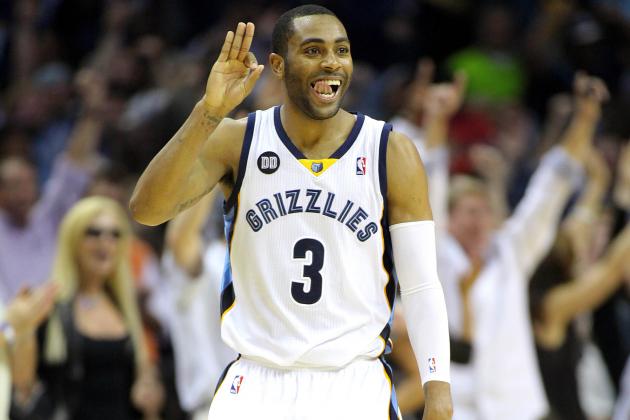 Spruce Derden-US PRESSWIRE
The Grizzlies enjoyed themselves at the Heat's expense.
Wayne Ellington was the symptom.
The Grizzlies' swingman, who never scored more than 18 in three nondescript seasons with the Timberwolves, drained 7-of-11 shots from deep as Memphis sprinted away from Miami.
That got the attention. But the real issue was the ease with which point guard Mike Conley got in the lane and created opportunities for others, a theme that has run through many of the Heat's recent games. The same problems would repeat themselves with James Harden in Houston, and the trio of Chris Paul, Eric Bledsoe and Jamal Crawford in Los Angeles.
"Attack, penetration, usually leads to a wide-open three," Erik Spoelstra said. "That's something we need to fix."
Or, as Shane Battier put it: "We're just a step slow on the pick-and-roll point of attack, and we're allowing the offensive player to get his shoulders ahead of the hedge. And it's allowing them to turn the corner. Which, if you turn the corner in this league, players are too good, they put too much pressure on the rest of your defense. We really have to shore up our defense at the point of attack."
They need to be able to play the pick-and-roll with two players, not three. That means more of an effort not only from the guards, but from the bigs.
"Once guys get in the paint, it's kind of 'all bets are off,'" Chris Bosh said.
And strange things occur: like Wayne Ellington sinking seven threes.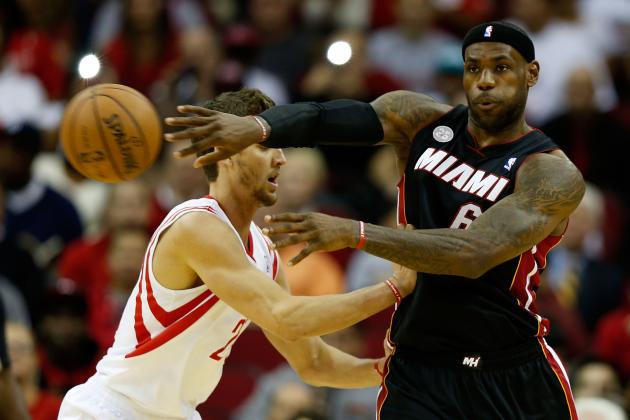 Scott Halleran/Getty Images
The Rockets wish James had passed more in the second half.
It's still in him.
Even as LeBron James' scoring average dipped this season, with him content to act as more of a facilitator and rebounder in many situations, you always knew an eruption was coming.
And, after a slow first half (six points) in Houston, James sensed his squad needed more of his offensive aggression. The only surprise was where he chose to operate. After making more of an effort to get inside early in the season, to build off his playoff performance, he started killing the Rockets with soft, deep jumpers.
He scored 16 in the third quarter, and 16 more in the fourth...a barrage that included five 3-pointers and three long 2-pointers. Then he returned to his freight-train roots in blowing by Carlos Delfino for the winning basket.
His teammates still won't call him a shooter (rather, a shotmaker), even if the numbers say James is off to the most accurate start from long range of his career. Even so, settling isn't often his best strategy, not when he's so dynamic as a driver.
So Heat fans should take some relief in his post-game comments, when he promised that he's "not going to start casting" shots from deep on a regular basis.
"I'm shooting at a high clip right now, but I'm not going to live out there," James said. "It's just one of those nights where I felt good."
The reality is that he's actually shooting fewer 3-pointers this season than is his career norm. He's just making more. On this night, he made them when they most mattered, to rally a team that was teetering without it. Certainly, no one on the Heat wanted him to take any of them back.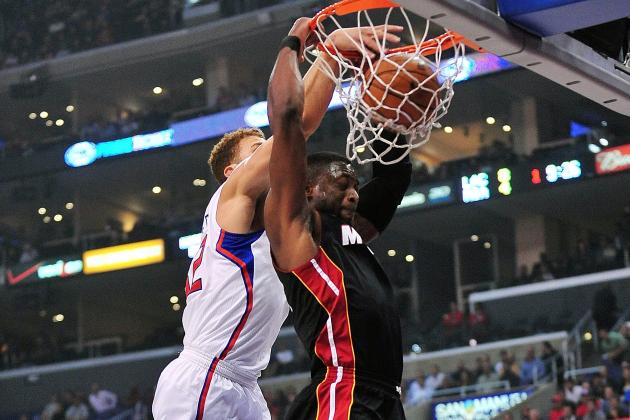 Gary A. Vasquez-US PRESSWIRE
There were times Wade got up, before he shut it down.
The play that most will remember, from Dwyane Wade's struggle against the Clippers, was actually the one that said the least about his health.
In the second quarter, Wade sped downcourt and elevated for a dunk, his right hand raising well above the rim. Still, Eric Bledsoe managed to meet him, and swat the ball away.
It was spectacular on Bledsoe's part, for sure, but it certainly didn't suggest that Wade was limited by his sore left foot, one for which he'd had a X-ray prior to the game. There were other moments, perhaps after the point where Wade felt he re-aggravated the injury, that Wade simply didn't look like himself, on either end.
"I tried to do what I could," Wade said.
All he could do was produce a 2-of-10, five turnover, six point stat line...and those offensive numbers were more impressive than anything he did defensively.
After the game, LeBron James spoke honestly about his sidekick's situation: "He's going to have to get healthy, because I know it's affecting his play on the floor. And I know he wants to play at the highest level. His health right now, as his knee gets better, he's banging up other things."
It has always seemed to be something for Wade the past few years and while, after Miami's win in Denver on Thursday, the Heat is now 16-3 without him the past two seasons, the Heat will need to continue to refine its game in his absence. But, when he returns again, another absence might not be far around the bend.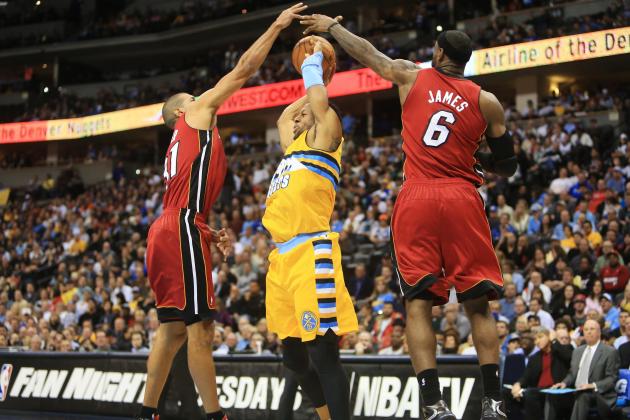 Chris Humphreys-US PRESSWIRE
Last time, Denver scored 116. This time, 93.
Chris Bosh was just being honest, prior to Thursday's tip, when he supported Dwyane Wade sitting out.
"To be quite honest, we're not going to remember this game in a few months," Bosh said.
Some, however, would extrapolate that attitude to the way the Heat has played just about every game this season. These guys know that what matters will come in May and June, so it's hard to stimulate them for any particular game of the season.
So Thursday, they showed a different side. They arrived at their hotel at 4 a.m. Denver time. They knew the statistics, when it comes to winning in the altitude, on the second day of a back-to-back, coming from the Pacific time zone. (It's been next to impossible). They didn't have Wade. Then, after the first quarter, they didn't have Mario Chalmers, who left with a minor triceps injury.
They build a 19-point lead, thanks to LeBron James (27 points, 12 assists), Mike Miller (four threes) and Shane Battier (six threes) and then allowed the Nuggets to trim it to one.
They could have been done.
And still, on the strength of a jumper by Norris Cole (who had been 2-of-11) and some defense down the stretch, they won.
"We didn't want to come in with any excuses," Erik Spoelstra said. "The thing about this ballclub, the one thing you can't knock them about is rising to challenges."
And now, they'll get a chance to set the Suns in Phoenix.