North Carolina vs Virginia: Live Scores, Analysis, and Results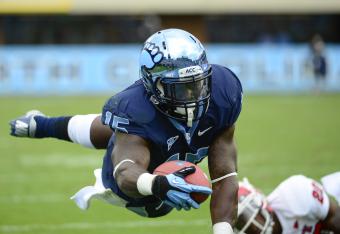 North Carolina 37, Virgina 13
Final
Another Thursday night football game, another ACC matchup between two decent teams. UNC has posted a decent 6-4 record while the Cavaliers must win out in order to even be bowl eligible.
The game went as expected, and UNC destroyed their old rivals. Bryn Renner looked nearly perfect and threw all over UVA and the Cavs couldn't move the ball to save their lives.
Quinshad Jones hauled in a whopping 16 catches, tying an ACC record, and the Cavaliers' two QB system worked terribly, as we all predicted.
UVA is now officially out of bowl consideration and UNC improves to 7-4 on the year.
That will do it folks. I hope you're not a Virginia fan and if you are, I'm really sorry. UNC dominated this game from start to finish and it showed on the scoreboard tonight.
UNC 37, Virginia 13
With a stunning 16 receptions, Quinshad Jones just tied an ACC record for most catches in a single game. Despite half of these receptions coming via screen passes, the guy had a fantastic game.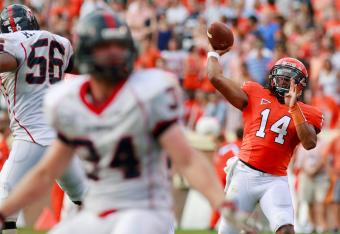 To be quite honest, until this Virginia offense finds an identity, they won't be effective week in and week out. That starts by picking a starting QB and sticking with it.
This UVA loss officially eliminates them from any possible bowl consideration.
As @cavs_corner put it, "There goes the bowl bowl" w/ the #Hokies. #Uva unraveled after failed 4th-goal.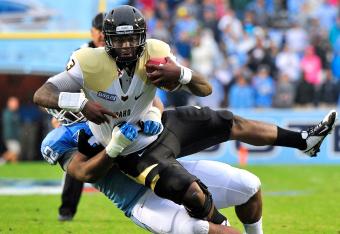 The UNC defensive line was impressive tonight and their secondary was solid. Loved what I saw from Sylvester Williams who just completely harassed whoever was in UVA's backfield.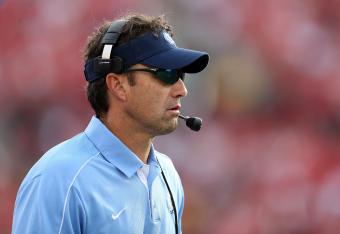 If your a UNC fan, you have to be intrigued with the offense Fedora has set up there. Renner looks extremely comfortable back their and they seem to use their weapons diversely and effectively.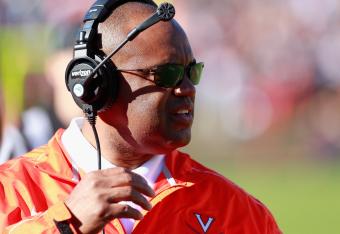 Jesse Palmer is right, the fact that this Virginia team is still scrapping and putting up a solid fight is a reflection of their hard nosed coach, Mike London. Virginia better give this guy time to develop this program because he's a solid coach.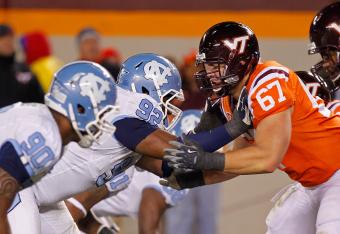 All joking aside, it's rough to watch seniors like Perry Jones go out like this in their final home game of their careers. But I guess, everything isn't a storybook.
Meanwhile, Sylvester Williams doesn't even pay rent to live in Virginia's backfield.
So the Tar Heels recover the fumble on the kickoff and go three and out. They attempted a 35 yard field goal and missed it but of course, a Virginia defender was offsides.
And yes, UNC converted their second chance field goal.
It must suck to root for Virginia right now.
Just thought I'd let you guys know that Bryn Renner is now 29 for 35 with 315 yards passing, three TDs, and zero interceptions.
I'm not watching my roommates play Xbox, right?
Oh, and the Cavs just fumbled on the kickoff, so yeah, they're still getting killed.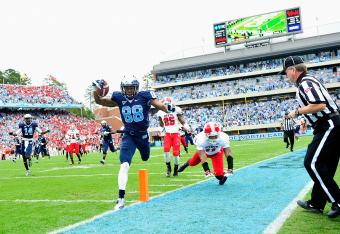 I tell you what, Bryn Renner looks perfect today. He's driving the ball down the field likes it's nothing and the Tar Heel offense just scored again.
Highsmith just hauled in his second touchdown today, this time on a twenty yard pass and the Tar Heels have opened the floodgates.
UNC 34, Virginia 13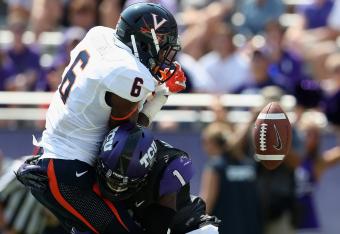 Darius Jennings just missed a chance to put his team back in the game. Sims launched the ball across the field to a wide open Jennings who inexplicably dropped the pass.
It hit him right in the hands!
If that's not bad enough, UVA's punter just shanked that punt.
Yep, this game's just about over.
So after failing to convert on a fourth and goal from the one, this Virginia team gives up a 96 yard touchdown drive.
How do you come back from that?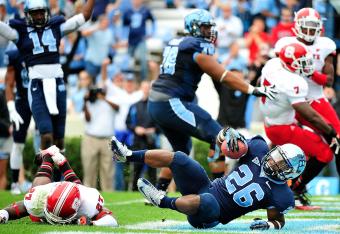 After waltzing down the field, UNC faced a fourth and two and converted it with a quick WR screen pass.
The very next play, Renner found Bernard wide open for a 23 yard touchdown pass.
That has to be demoralizing for this Virginia team.
UNC 27, Virginia 13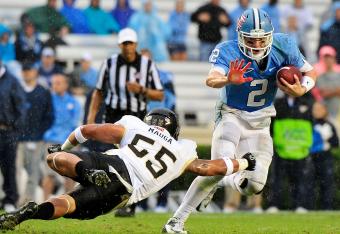 After stuffing the Cavs on fourth and goal from their one, UNC has been effectively moving the ball down the field as they cross over into Virginia's territory.
A touchdown here would be devastating to the Cavaliers.
End of the third quarter with the Tar Heels leading 20-13.

— Carolina Football (@TarHeelFootball) November 16, 2012
So after converting a fourth and one earlier in the drive, the Cavs found themselves going for it on fourth and goal from the one yard line and were stuffed.
Kevin Parks couldn't duplicate his last fourth down run and that could destroy the Cavalier's morale. Huge stop for the Tar Heels.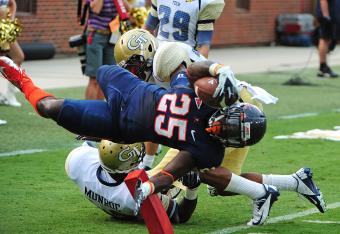 Another trip to the redzone, results in another few mishaps by the Virginia offense that forces them to go for it on fourth and one and they get it with plenty of room to spare.
Kevin Parks punched through for about six yards. Huge play for the Cavs.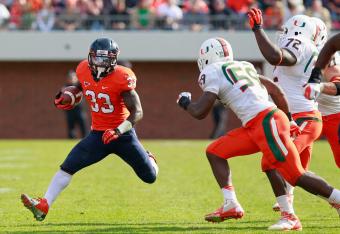 The Cavaliers have gashed UNC up the middle on the ground. Now that they are approaching the redzone, they can't neglect this hole in the Tar Heel defense.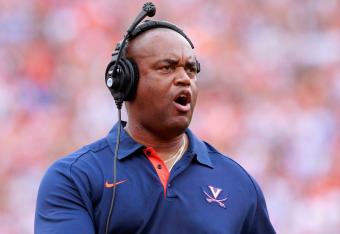 Mike London still can't make up his mind as Rocco starts the second series of the third quarter. Why do coaches find this to be a good idea? It's hardly ever beneficial unless one is used for running purposes only.
However, whichever QB takes the field, they should target Darius Jennings as much as possible. The dude's killing it when they look his way.
Former UNC player and Bleacher Report's very own, Michael Felder, tuning into his favorite team.
Headed to the house to watch this UNC-UVA game end. Go Heels. Go America.

— Michael Felder (@InTheBleachers) November 16, 2012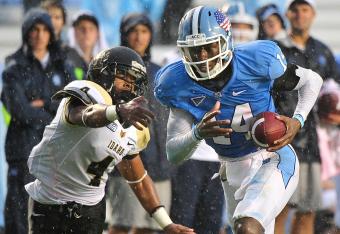 Quinshad Davis is dominating this Virginia secondary with 11 catches for 139 yards already! Meanwhile, Giovanni Bernard has been completely bottled up so far.
Are there still people tailgating in Charlottesville or is there attendance really that bad? People still go to school there right?
Well the Cavaliers were going to need a break to get back in this football game and they got it. After failing to convert on a third down, the Cavs recovered a muffed punt and turned it into three points.
That's actually a big stand by the UNC defense.
The 28 yard field goal was right down the middle and UVA has cut the lead to seven.
UNC 20, Virginia 13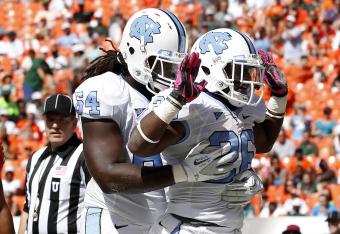 What UNC is Doing Wrong:
Despite leading 20-10 at half, the Tar Heels have not played flawlessly by any means. The Tar Heels have been stunted on offense since their first two scores and they must get Bernard going. Their prized running back only has 18 yards from scrimmage and could take a lot of the pressure off Renner if he can pick it up in the 2nd half.
Also calling stupid trick plays on extra points. That's wrong too.
This article is
What is the duplicate article?
Why is this article offensive?
Where is this article plagiarized from?
Why is this article poorly edited?