5 Vikings Players with Insanely Bright Futures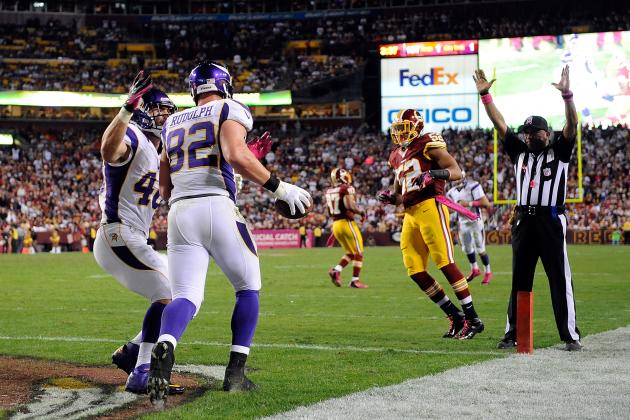 Patrick McDermott/Getty Images

The folks over at Vikings headquarters in Eden Prairie, Minnesota don't like to use the term "rebuilding" when talking about their football team.
Whether they use it or not, coming off of a 3-13 record in 2011, Minnesota is indeed rebuilding, and it's certainly gotten off on the right foot. Currently with 11 new starters from last year's team, the Vikings are giving a ton of reps to players 25 and under, and they send out the third-youngest group of starters in the NFL.
Obviously, there is value in having experience in the NFL. It takes a couple of trips around the block for young players to figure out how to maximize their talents at the highest level.
What will ultimately be the best part of the Vikings' surprising 6-4 start to the season is that all of these young players will get to be involved in meaningful games down the stretch. They'll be far better served with this young corps of players playing with their feet to the fire than simply playing out the string during another abysmal season.
With the Vikings enjoying their bye week off, we take a look at five of the youngsters on the Vikings roster who have very bright futures playing on Sundays.
Begin Slideshow

»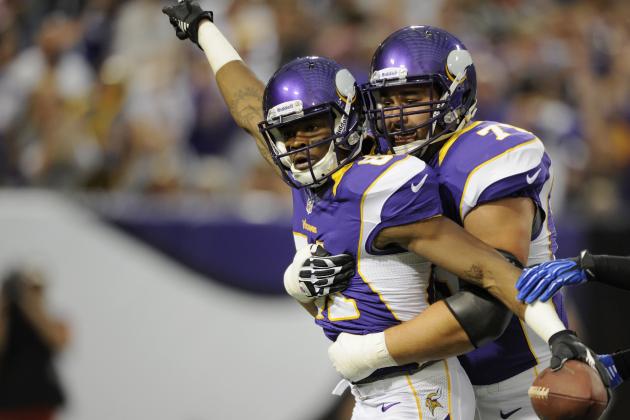 Hannah Foslien/Getty Images

Vikings rookie left tackle Matt Kalil won't make the Pro Bowl this season. This might be the last year you'll be able to say that for a while.
Standing just a shade under 6'7" and weighing in at 306 pounds, Kalil has a massive frame that will only get bigger and stronger as he heads into his mid-20's.
Kalil is a fantastic athlete who several draft prognosticators said graded out better at tight end than on the offensive line. Kalil moves like an athlete, he has great feet and hands and carries himself with an edge that all elite athletes have.
Kalil has top-end speed and agility and longer arms than most linemen. He's equally adept at both run and pass blocking, and he has a nasty streak to his game that only helps in the NFL trenches.
The NFL game certainly hasn't overwhelmed Kalil at all; he's stepped in as a starter from day one and more than held his own. Sure, he's made a few mistakes, but he's graded out about as high as you could expect a rookie to in every game.
What makes Kalil's future so bright is that athleticism. What all of the greatest NFL offensive linemen have shared in common is that they are all great athletes trapped in offensive linemen's bodies. Unlike a lot of the new breed of lineman in both the college and pro game, Kalil has no weight issues at all, in fact his only issue is with keeping weight on.
Kalil is getting better as the year goes on, having played his best game of the year last Sunday against the Lions. It would certainly be understandable if his play tapered off a bit down the stretch—he's never played this much football before—but Kalil shows a work ethic in practice and the weight room that will serve him well as the season hits the fourth quarter.
Once it became clear that the Vikings weren't going to get a shot at either Andrew Luck or RGIII in last year's draft, there was much speculation about who would be the best pick for the Vikings among Kalil, Justin Blackmon and Morris Claiborne. While those other two may go on to have great careers, the Vikings clearly made the best choice for them at the time.
If you're going to build a football team from scratch, left tackle is one of the first spots you want to fill, and the Vikings are set for years to come with Kalil.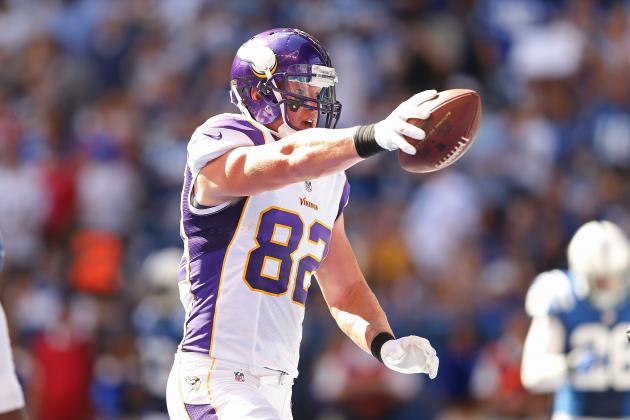 Andy Lyons/Getty Images

If quarterback Christian Ponder is to become the franchise quarterback the Vikings hope he will, much of his success will ultimately be tied to that of second-year tight end Kyle Rudolph.
The Vikings drafted Rudolph with the 43rd pick of the 2011 draft, not as a pick for need, but as a "he's too good to pass up" pick. Rudolph was the rare freshman starter at Notre Dame and had a brilliant three-year career there before skipping his senior season to head to the NFL.
The Vikings were more than happy to take the 6'6", 258-pounder who has the ideal size and athletic ability for today's prototypical tight end. Tony Gonzalez, who became the first tight end to catch 100 career touchdowns last week, changed the position forever, proving that tight ends could be far more than just an after-thought in an NFL offense.
At just 23 years old, Rudolph has now played in 26 NFL games and still has a ton of growth to come as a player as he figures out the nuances of NFL defenses.
Though he disappeared for a three-game stretch before Sunday, Rudolph reasserted himself against the Lions, catching seven balls for 64 yards, including a 20-yard touchdown.
Though the Vikings would like to see Rudolph become more consistent and catch more balls, Rudolph's six touchdowns prove what a great asset he can be in the red zone.
Rudolph is a very good athlete and has huge hands. He's had his share of drops in his two years, but has also made some highlight-reel grabs.
Rudolph still has to figure out how to get himself open a little better, how to find the seams and dead spots in defenses. He's shown a great ability to go up and get the ball, so look for his touchdown totals to only go up as he matures.
Rudolph wasn't a great blocker when he got to the Vikings and he still has a lot to learn in that area, but he's already much better than he was as a rookie.
Look for Rudolph to have a big final six games for the Vikings and for him to be among the top tight ends in the league by the end of next season.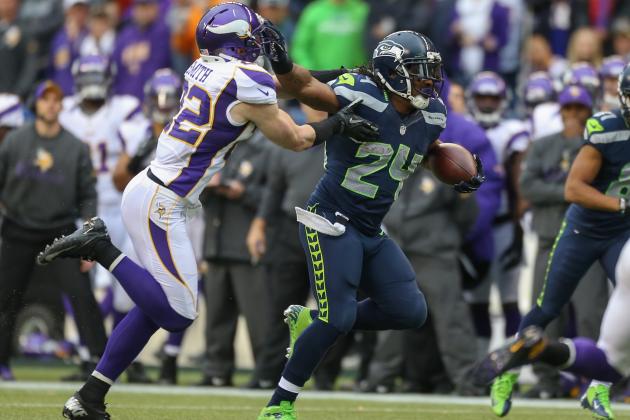 Otto Greule Jr/Getty Images

Unlike his Notre Dame teammate Kyle Rudolph, who fell into the Vikings' lap in the 2011 draft, Minnesota targeted Harrison Smith in the 2012 draft and thought enough of him that it traded up to take him near the end of the first round.
It hasn't regretted it for a second.
The Vikings were desperate for everything Smith brings to the table at safety. He's a big, punishing tackler who plays with a nasty edge. He's a natural leader and has a really high football IQ, something all NFL teams are desperate for in today's pass-crazy league.
Smith might not have ideal speed, but he more than makes up for it by understanding the game and knowing where to be and when to be there. He obviously has a learning curve like all NFL rookies; he's quickly learning that backs don't go down in the NFL as easy as they did in college.
Smith stepped right into the starting lineup and has played very well from the first game on. He doesn't have elite makeup speed, so he may never be a high-interception guy, but he has great instincts, so he'll certainly get his share.
Smith is a very good athlete; he starred at running back and linebacker in high school and began his career at Notre Dame playing linebacker.
The future is more than bright for Smith, he's played extremely well in his first season and will only get better as continues to figure out the league.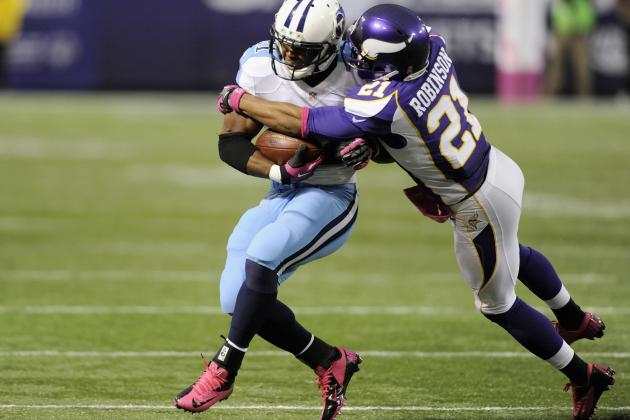 Hannah Foslien/Getty Images

Vikings rookie cornerback Josh Robinson has only scratched the surface of how good he can be in the NFL.
Robinson is getting more playing time than he probably figured on heading into his first season, but with Chris Cook breaking his arm, Robinson is getting valuable reps that will serve him well moving forward.
Robinson hasn't had the immediate impact that Packers rookie Casey Hayward, picked four spots ahead of Robinson, has had, but his long-term potential is still just as high.
Robinson has world-class speed, which will only help him in the passing game, but he's been much better than expected in the run game, showing both a willingness and an ability to throw his body into the fray against the run.
Robinson is a very muscular 5'10", 200 pounds and his 37 tackles rank him seventh on the team. Robinson has one interception and made a nice 24-yard return before going down to preserve possession late in the game.
The Vikings were historically bad against the pass in 2011, and adding a burner with athletic ability was a natural fit for Minnesota. Robinson is a tough kid with extremely high character. He's endeared himself to teammates from the get go as a humble kid who's willing to jump in and do all of the extra things required of rookies.
Look for Robinson to also get involved in the return game at some point. His lethal speed and good hands make him a natural for it.
Bigger, brighter days are ahead for Josh Robinson.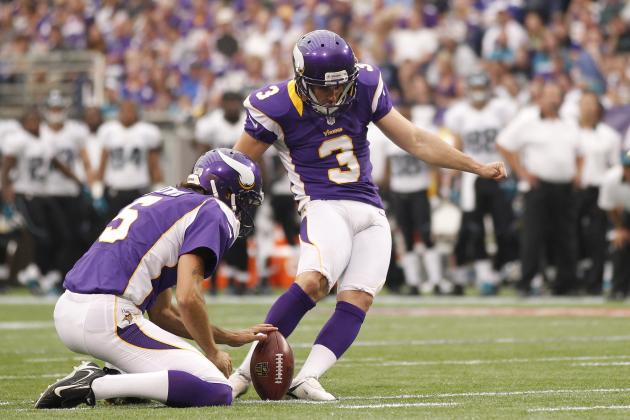 Andy King/Getty Images

A lot of eyebrows were raised when the Vikings used a sixth-round pick on a kicker.
The Vikings had holes all over their roster and a veteran kicker who'd been more than reliable over the last couple of seasons. And the kicker they took? He missed 14 field goals his senior season at Georgia. 14!
Blair Walsh might have been the steal of the 2012 draft.
The numbers are astounding for a rookie: 23-of-24 on field goals, including 5-for-5 beyond 50 yards. Walsh's 90 points are fourth in the NFL. His 41 touchbacks on kickoffs are already a Vikings record, and there's still six games to play. Walsh is well on his way to breaking Randy Moss' rookie record of 106 points.
Walsh was baptized in fire, hitting a 55-yard field goal with no time on the clock in his first NFL game to send it to overtime. He put a bow on that performance by drilling a 38-yarder to win it in overtime. Walsh has shown an incredibly strong leg; all of his field goals look like they would be good from beyond 60 yards.
The Vikings offense has struggled in the red zone. The play-calling has been suspect, and the second-year quarterback has struggled to put points on the board. The Vikings have been rescued time and time again by Walsh, who's been nearly perfect in at least putting threes on the board.
It's impossible to gauge all of the impact Walsh's kickoffs have had on the team. Obviously, field position is crucial and measurable, but beyond that, it gives the entire team a boost of confidence, knowing that it is always going to pin its opponent with long fields.
More misses will come; that's part of the job. The Vikings will be tempted to give Walsh a shot at some long attempts; no distance seems too long at this point.
Walsh might already be the best kicker in the NFL. The Vikings' kicking game is in great hands for years to come.