Re-Ranking the NBA's Western Conference Hierarchy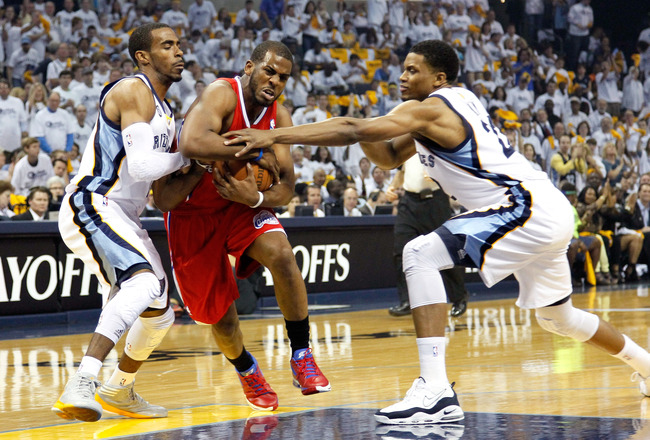 Kevin C. Cox/Getty Images
In the NBA, expecting the unexpected is both encouraged and impossible.
Especially in the Western Conference.
The Eastern Conference's counterpart always seems to be a bit more chaotic—in a good way. The West is laden with so much talent and potential underdogs turned powerhouses that it never ceases to captivate the masses.
This season has been no exception.
We came into the 2012-13 crusade believing that the Los Angeles Lakers and Oklahoma City Thunder would dominate, that the Los Angeles Clippers and San Antonio Spurs would win some and teams like the Memphis Grizzlies and Denver Nuggets would be left to fight for whatever prominence remained.
Well, to call the inaugural outlook on the West's power structure wrong would be an understatement.
What we thought we knew, we actually didn't. What we didn't know became fact.
And now, we're left to scour the mess of performances and attempt to provide some clarity in a conference where the dust never settles.
The Outsiders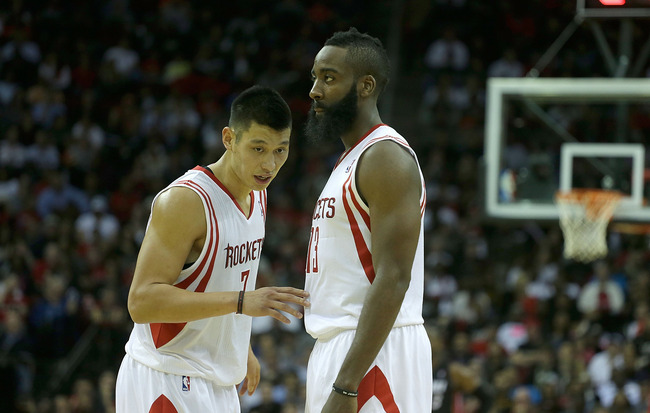 Scott Halleran/Getty Images
15. Sacramento Kings
All is not well in Sacramento. If the Kings aren't battling suspensions, they're performing at a wildly inconsistent pace. With talent like DeMarcus Cousins, Tyreke Evans and even Isaiah Thomas on this squad, you want to expect more. But until the Kings bring in a proven veteran leader, what we see is what we're going to get.
14. Phoenix Suns
Phoenix has played some nice games, but it's also played some bad ones. The Suns have also proven they lack that go-to scorer down the stretch, like against the Chicago Bulls. For them to make the jump to not only playoff contention but general competency, a star amongst the mediocre is going to have to emerge.
13. Portland Trail Blazers
When you watch Portland, you can tell it is going to be capable of so much more than it currently is down the road. However, deficiencies like a shallow bench will continue to plague the Blazers moving forward, relegating them to another lottery finish. At least they have Damian Lillard to watch, though, right?
12. Golden State Warriors
How about those Warriors? They were supposed to contend for a playoff spot and have managed to play .500-caliber basketball thus far, but we're left wondering how much longer that's going to last. Stephen Curry and David Lee have been sensational, but Golden State lacks the offensive consistency and defensive intensity to contend with the cream of the conference. Andrew Bogut's injury isn't helping things either.
11. Houston Rockets
James Harden and Jeremy Lin, and even Omer Asik, have made us believe in the Rockets. Believe that they have a bright future, that is. Currently, Houston is too inexperienced and too inconsistent on both ends of the floor to contend for playoff spot. Though it may toil with the prospect of playing .500 basketball for a while, the Rockets' lack of proven depth, along with excessive use of Harden and Lin, will bring them crashing down.
10. New Orleans Hornets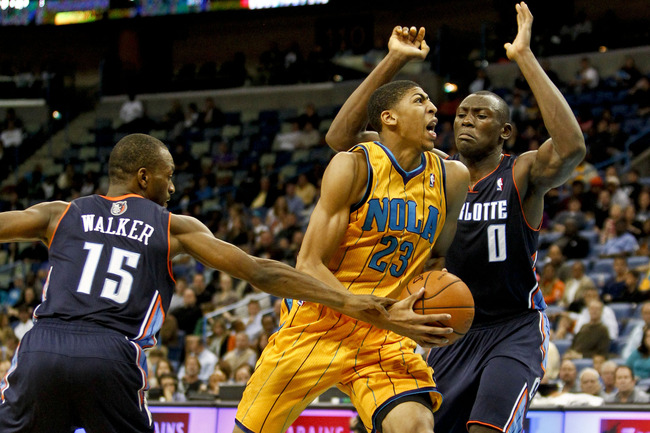 Derick E. Hingle-US PRESSWIRE
Most of us expected the New Orleans Hornets to be good, but no one could have foreseen them being this good.
Not only are the Hornets currently playing .500 ball, but they've laid claim to such a record without Eric Gordon and are in the midst of battling without Anthony Davis and Austin Rivers on various occasions.
New Orleans hung tough in its opener against the San Antonio Spurs and have defeated playoff teams like the Chicago Bulls and Utah Jazz. The Hornets have even lent a helping hand in bringing the Charlotte Bobcats back down to earth.
But again, the beautiful thing about this team is its perseverance. If it's managed to play this well in spite of a slew of injuries, just imagine what it can accomplish with Gordon in the lineup?
Which makes it worth noting we could be headed for another conference shakeup upon his return.
9. Dallas Mavericks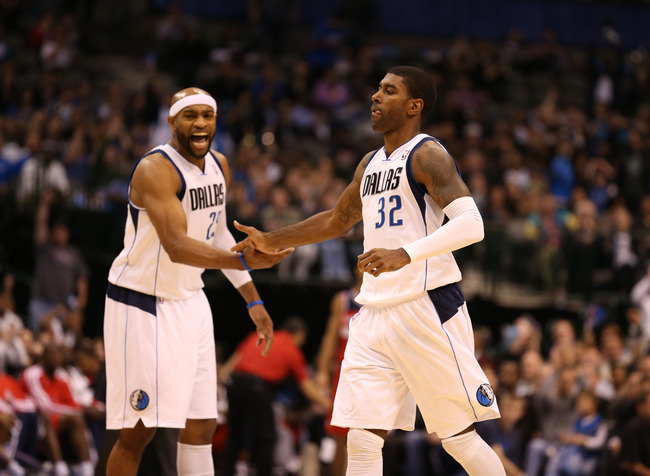 Matthew Emmons-US PRESSWIRE
Dirk Nowitzki who?
Alright, the Dallas Mavericks haven't been that impressive, but there have been spurts where they've looked like contenders without him.
Dallas began the season winning four of its first five before losing three straight. It responded to such a losing streak by handing the Washington Wizards their seventh straight loss, restoring faith in Big D's ability to remain relevant without Nowitzki.
Yes, the Mavericks have lost to plenty of good teams, but they've also taken advantage of a reeling Lakers team and won the games their supposed to as well.
So, while they're not legitimate title contenders without Dirk, they're not supposed to be.
They are, however, going to remain in the thick of the playoff race, and that's what matters most.
8. Utah Jazz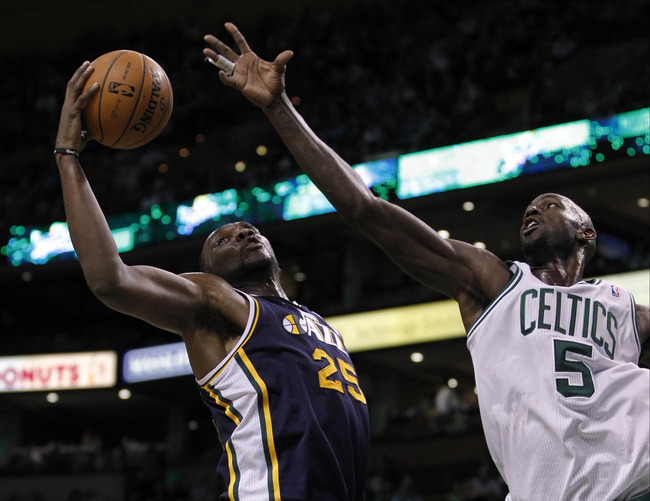 Greg M. Cooper-US PRESSWIRE
Someone needs to douse the Utah Jazz in gasoline because they're apparently not going to catch fire on their own.
Though Utah has not had the easiest of schedules—all but one game has been against a playoff hopeful—we expected more.
The Jazz have six different players averaging in double-figures and one of the most potent frontcourts in the league, but they're playing below .500. They hit rock bottom when they failed to put a Rajon Rondo-less Boston Celtics team away in the fourth quarter of a game that ultimately put them below .500.
Subsequently, Utah needs to be careful.
With teams like the Mavericks, Hornets, Rockets and Trail Blazers all itching to prove themselves, its place amongst the Western Conference's best could be short-lived.
7. Denver Nuggets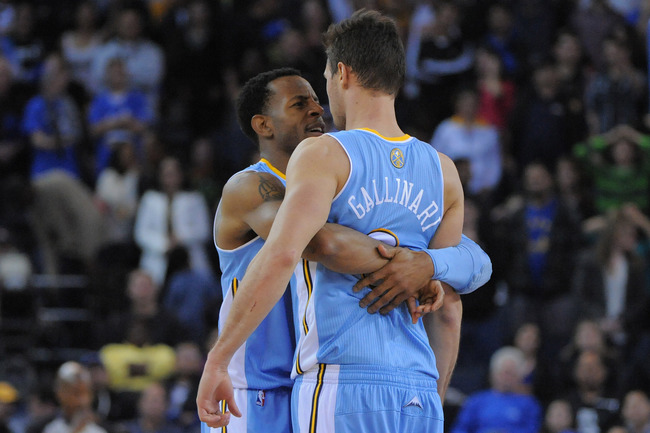 Kyle Terada-US PRESSWIRE
Someone needs to tell the Nuggets they were supposed to be better than this.
Despite boasting one of the deepest rotations in the NBA, the Nuggets have struggled in the early going of the regular season.
Sure, Denver has managed to play .500 basketball, but it's losing winnable contests. The loss to the Miami Heat in the final seconds of a grueling battle can be digested because, well, it's the Heat.
Dropping games to an Andrew Bynum-less Philadelphia 76ers team and inferior opponents like the Phoenix Suns and Orlando Magic, however, is simply inexcusable.
Like the Jazz, the Nuggets have six—nearly seven—players averaging in double-figures, but that simply hasn't been enough.
If Denver wishes to not only maintain its place near the top, but move closer to it, it must become more consistent defensively and find ways to score on the perimeter.
6. Minnesota Timberwolves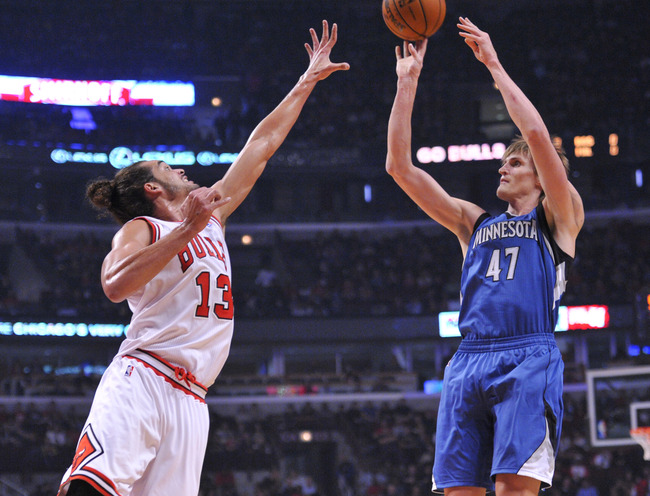 Rob Grabowski-US PRESSWIRE
Meet the NBA's version of Moneyball's Oakland Athletics, the Minnesota Timberwolves.
Without Kevin Love and Ricky Rubio available, the Timberwolves have emerged as a borderline powerhouse with the help of a battery of marginal role players. And not even all of them have managed to remain healthy.
What Rick Adelman's ball club is doing defensively is admirable, and while they're offensive attack is underwhelming, the possibilities for this squad are endless once Love and Rubio return.
No, we shouldn't be surprised that Minnesota has emerged as a playoff hopeful early on. This roster has the talent necessary to do that.
But we are—and should be—surprised that the Timberwolves have managed to play this well in the face of such drastic adversity.
So well, in fact, that I'm willing to let their last-second loss to the Bobcats slide.
For now.
5. Los Angeles Lakers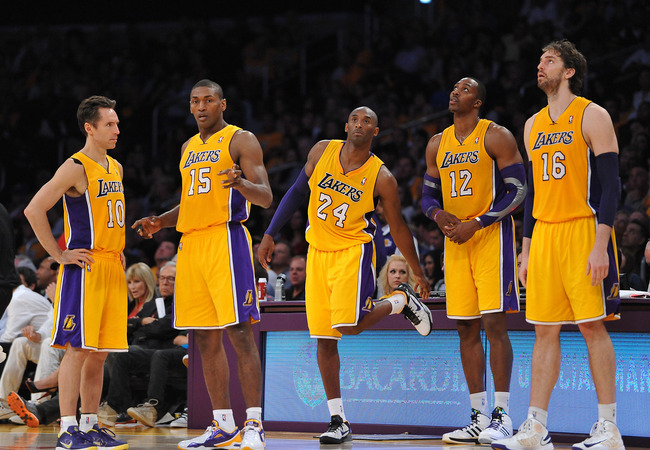 Jayne Kamin-Oncea-US PRESSWIRE
Princeton offense or not, we expected better from the Lakers.
Sure, Steve Nash's injury hasn't helped their cause, but losing four of their first five was beyond conceivable.
That being said, Los Angeles still deserves a fair amount of respect. The team has the talent necessary to contend, and the results since ditching the Princeton set have been more than encouraging.
Now, however, the Lakers must be sure to keep what little momentum they have going as they prepare to undertake Mike D'Antoni's seven-seconds-or-less offensive system.
Though this team–especially with Nash at the helm—seems built for such an offense, the Lakers do have to overcome a thin bench and string of aging cogs in their machine just to make a harder push toward the top.
Which means that it's all about time management for D'Antoni.
Because if he can keep his players both motivated and healthy, Los Angeles remains one of the toughest teams to beat in the league.
4. Oklahoma City Thunder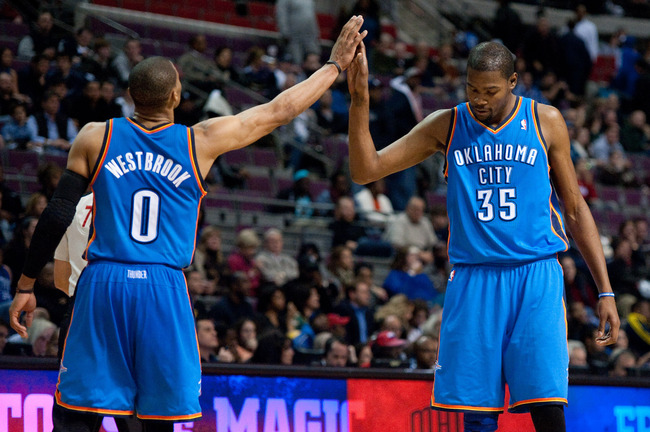 Tim Fuller-US PRESSWIRE
Even without James Harden, the Oklahoma City Thunder are still a good team.
That said, they're also a lost team.
Kevin Durant and Russell Westbrook have struggled to assume new identities after the loss of their high-scoring peer, and the Thunder have become less than unbeatable as a result.
There's no doubt in my mind that this has been a difficult transition for Oklahoma City, but even still, I didn't expect it to fall outside of the West's top three teams.
The fact remains, however, that Durant and company have the talent necessary to contend. It's just a matter of learning how to control the ball, improving their shot selection and becoming more self-aware defensively.
Once Oklahoma City does that, perhaps it will be able to reclaim its spot even closer to the top.
3. Los Angeles Clippers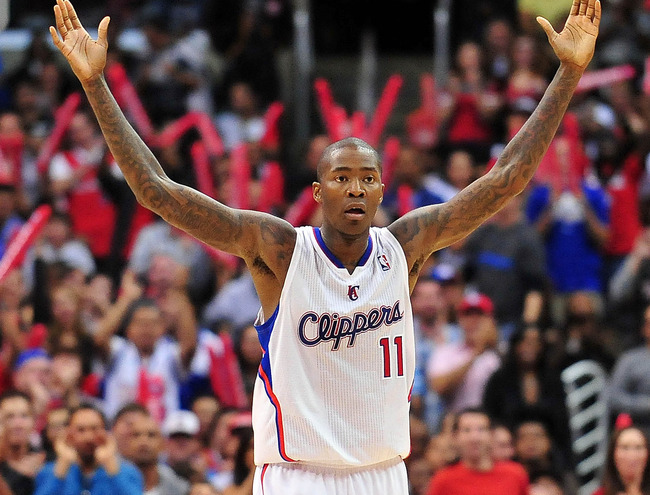 Gary A. Vasquez-US PRESSWIRE
Holy Jamal Crawford, the Clippers are on a tear.
After losing two straight, Los Angeles won four in a row, including two impressive victories over the then-undefeated Spurs and the reigning champion Heat.
What has been most impressive about the Clippers, however, is their ability to thrive in the face of their own adversity.
Chris Paul is still doing his thing, but Blake Griffin is anything but healthy. Lamar Odom continues to struggle and Chauncey Billups is nowhere to be found, but Crawford has been lighting it up.
Throw in a refined post game on the part of DeAndre Jordan, and you have a surprisingly deep powerhouse that isn't just contending for a championship, but rapidly emerging as a favorite.
2. Memphis Grizzlies
Mark D. Smith-US PRESSWIRE
Whatever Lionel Hollins is doing with the Memphis Grizzlies, it's working.
And then some.
After losing their season opener to the Clippers, the Grizzlies rattled off six straight, exuding the type of two-way dominance we've been waiting to see since they're improbable postseason run to conclude the 2010-11 crusade.
Zach Randolph and Marc Gasol have formed one of the best low-post tandems in the league, while Rudy Gay continues to produce at an All-Star level himself. There has been much to like about how Mike Conley and Tony Allen have faired as well.
Simply put, Memphis looks unstoppable right now, and while we had half waited for this, the Grizzlies' rise to the top didn't quite seem inevitable.
Apparently, though, it was.
1. San Antonio Spurs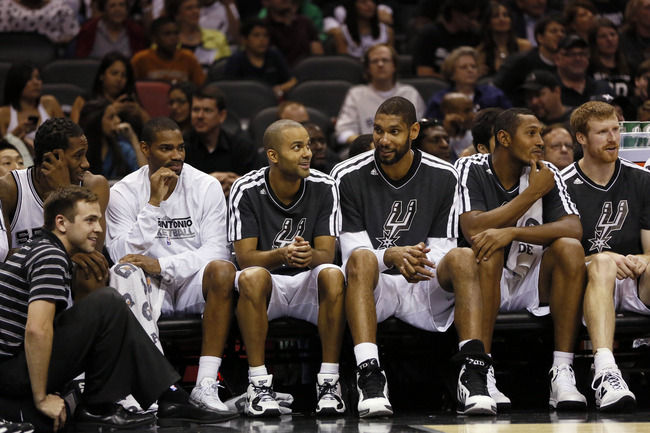 Soobum Im-US PRESSWIRE
With the exception of a hiccup against the Clippers, all the Spurs do is win.
Once again, after an offseason that saw many discount San Antonio's depth and ability to keep pace with the league's elite, the Spurs find themselves sitting atop the Western Conference.
Surprising? For some reason, yes, but knowing Gregg Popovich, it really shouldn't be.
Yes, Manu Ginobili and even Tony Parker continue to underwhelm, but Tim Duncan has turned back the clock, Kawhi Leonard is playing like a seasoned veteran and Danny Green is torching perimeter defenses around the country.
The concern for this team, though, remains their ability keep their momentum going. It's a fair concern as well. For the past two years, we've watched as the Spurs faded down the stretch in the postseason.
That said, worrying about future transgressions with this bunch is futile.
San Antonio is rip-rolling through its competition, so this is no time to doubt this unit's ability as a collective.
Instead, it's time to give it the heralded recognition it deserves.
Keep Reading