New York Jets vs. St. Louis Rams: Live Score, Highlights and Analysis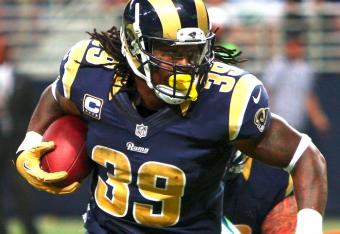 After a strong opening drive, everything went downhill or the Rams as the Jets were able to cruise to a 27-13 win.
Sanchez was poised and comfortable, which may or may not have been a result of almost a complete exclusion of Tim Tebow from the Jets offense. Bradford was never comfortable after taking hits early in the game, and the Jets were able to force turnovers to give their offense short work to deal with.
For the Jets, this is a big win after a week of rumored locker room turmoil, while this also erases all of the good the Rams did just a week after nearly beating the 49ers.
FINAL: Jets 27, Rams 13
Final Thoughts:
-This was the perfect bounce-back game for Sanchez. He only threw 20 passes, but they were almost all on the mark with a few deep completions mixed in. Most importantly, he did not turn the ball over.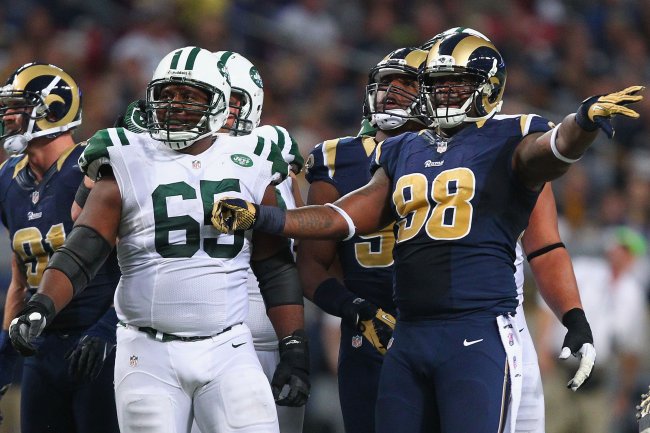 Dilip Vishwanat/Getty Images
-Bradford did not have a strong game, but their protection was shoddy (no pun intended) all game long. The Jets are a good defense with an average pass rush; allowing them to get pressure makes it almost impossible to move the ball.
-The Jets still have run defense issues. Steven Jackson had his moments and was able to get a lot of yards after contact.
-The Rams defense struggled with their young defensive backs. Janoris Jenkins played well, but Trumaine Johnson is a liability. Overall, the Rams are just too young to start winning with consistency yet.
- Credit the Jets for putting the off-field distractions behind them and getting a convincing win, even if it was against the three-win Rams. Rex Ryan does not let his players quit on him.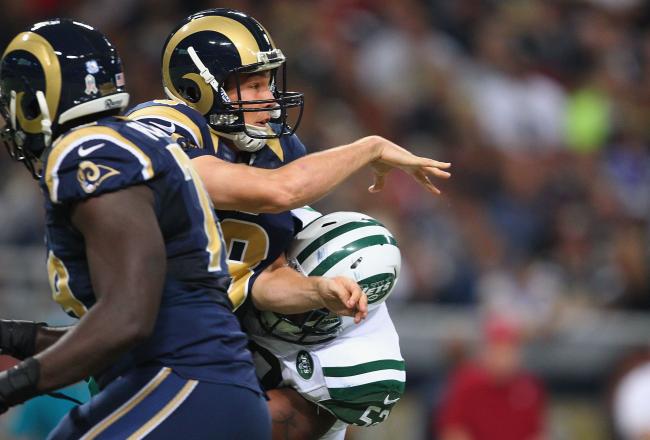 Bradford completion to Givens falls short of the sticks on fourth down, and that should do it after a Jets kneel-down.
FINAL SCORE: Jets 27, Rams 13
The Rams still have a prayer, down two scores with two minutes left, but they need an onside kick, long PI call, etc.
Been a tough stretch for the Jets:
Jets about to get their first win in 35 days #nyj

— Brian Costello (@BrianCoz) November 18, 2012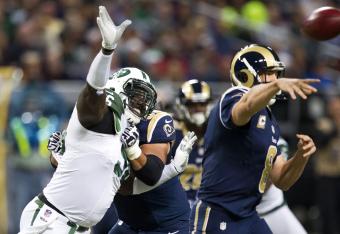 3:12 4th QTR
Bradford's pass sails incomplete, and this game is all but over. A few more Jets runs should end it.
Jets get called or a roughing call, but it is negated by an intentional grounding call. Now a fourth down coming up for the Rams. A failed conversion here all but ends it.
3:20 4th QTR
Bradford has not had a good game, but his receivers are not getting open downfield. A stale gameplan from Brian Schottenheimer has not done him any favors either.
Aaron Berry looks like he is down again. Berry has dealt with a quad injury all game, but he appears to have aggravated it.
4:41 4th QTR
Tebow finally gets a chance on a third down, but the Rams take care of a Tebow run easily. Jets punt, and the Rams have just over four minutes and one timeout to get two touchdowns and tie the game.
The Jets barely recover the onside kick attempt. Well-executed kick that results in a free ball, but Keller made a great play to dive on it.
5:40 4th Quarter
TOUCHDOWN RAMS!
Sam Bradford hits Gibson, who plucks a fade pass away from Antonio Cromartie. They then fail on the two-point conversion on another Bradford fade. Curious decision to go for two.
St. Louis is now down two touchdowns with about five and a half minutes remaining. This game is not over, but they need at least an onside kick to have a chance.
Givens almost breaks open another touchdown, but is grabbed from behind at the last second. The Jets clearly have some special teams issues to fix up moving forward.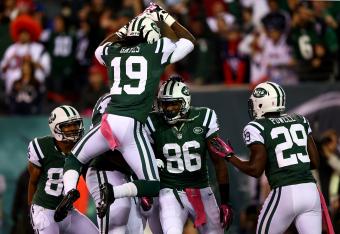 8:29 4th QTR
TOUCHDOWN JETS!
Bilal Powell takes an inside run into the endzone, untouched. The Rams are now struggling mightily on both sides of the ball, and the Jets are in total control with just over eight minutes to go.
Jets 27, Rams 7
10:00 4th QTR
The Jets are moving the ball with runs, reverses, and screens. The less they put on Sanchez at this point in the game, the better, especially since the clock keeps on moving with fewer downfield throws.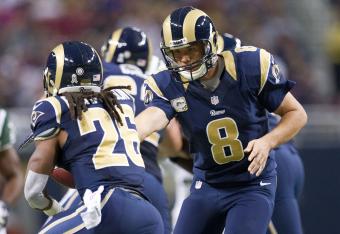 12:17 4th QTR
Just when the Rams start to get something going offensively, Richardson fumbles the ball after a hit from LaRon Landry. The Jets defense, outside of a bad opening drive, has been stellar.
The Jets offense has a chance to put this game away with a touchdown here, but look for them to focus on taking time off the clock.
Zing!
It's looking like Brian Schottenheimer's best call all week was taking the high road when asked about this game.

— Bart Hubbuch (@HubbuchNYP) November 18, 2012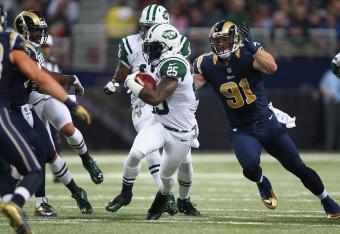 14:16 4th QTR
TOUCHDOWN JETS!!
A gutsy run call by Sparano leads to a Bilal Powell touchdown. The Rams played with a light box, and the Jets made them pay, with Powell running through defenders to break the plane.
Jets 20, Rams 7
By my count, Tebow has played just one offensive snap all game, and Sanchez has finally found a groove. Coincidence?
Jets CB depth takes another hit:
Aaron Berry has a quad injury. Return is questionable. #nyj

— Brian Costello (@BrianCoz) November 18, 2012
4:00 3rd QTR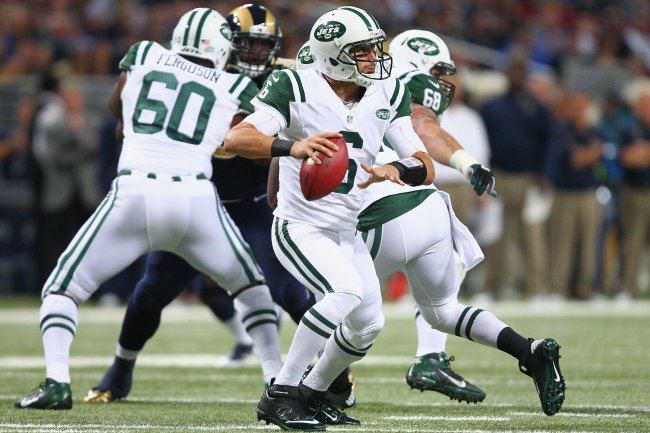 Dilip Vishwanat/Getty Images
Sanchez playing as well as he has since Week 1 of the season, keeping a time-consuming Jets drive marching down the field. Improved protection is doing wonders for the Jets offense.
Jets fans can relate:
There's a familiar sound ...crowd booing home team. #rams #nyj

— Kimberley A. Martin (@KMart_LI) November 18, 2012
6:24 3rd QTR
The Rams offense continues to be non-existent. The Jets are dominating the Rams up front and are preventing Steven Jackson from being a big factor, while Bradford continues to make poor throws.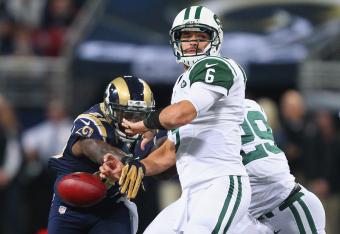 8:00 3rd QTR
The Jets protection has gotten much better as the game has progressed. Likely a combination of the Jets lineman settling down and fatigue setting on for the Rams defenders.
8:30 3rd QTR
Sanchez is getting into a rhythm, but it is all erased with an offensive pass interference on Stephen Hill. Hill has had a brutal game today with a drop and not seeing a would-be touchdown.
A deep throw on to Amendola was a bit odd...
#Rams OC Brian Schottenheimer's play-calling is questionable in this game.

— James Walker (@JamesWalkerESPN) November 18, 2012
This article is
What is the duplicate article?
Why is this article offensive?
Where is this article plagiarized from?
Why is this article poorly edited?