Zach Line's affect on SMU spans beyond his record-breaking career.
His impact can't be measured in plain performance statistics. He's helped rebuild the Mustang's football program, lifting them from the deepest, darkest cellar of Conference-USA and thrusting them in to the spotlight as one of the NCAA's hottest teams.
Thirty years ago, SMU's success was at a high. Superstars like Eric Dickerson and Craig James led the program to an undefeated record (11-0-1) and a Cotton Bowl championship in 1982. Between 1980 and 1984, the team finished in the AP Top 20 annually, and in the top ten, twice.
But then came the (second) worst scandal in NCAA football history. In 1986, the NCAA prosecuted SMU for paying their recruits large sums of money to play football in a Mustangs' uniform. Making an example out of the school for the culture of the blue chips era, the NCAA handed out the death penalty, cancelling SMU's entire 1987 season.
The results were disastrous for the program. They couldn't field a team the following season, and for the next twenty years they lost year in and year out.
But then in 2007, a new regime arrived. Along with a new head coach, June Jones, a group of bright new recruits enrolled at the university. Among them was under-the-radar prospect Zach Line.
Though he'd put together a top-shelf rushing career, running for 1,723 yards and 17 touchdowns as a senior at his Michigan high school, the few college scouts that watched his film mainly viewed him as a linebacker and punter prospect.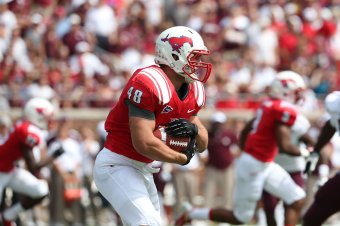 Ronald Martinez/Getty Images
Line was overlooked by Division-I programs, and barely received any attention from D-II schools. If it wasn't for his teammate's father, Detroit Lions Director of Communications Bill Keenist, lobbying for SMU to offer him a scholarship, then he might never have played DI football.
Now four years later, both Line and SMU have fought their way back into contention.
SMU's offense has improved annually since Line took over as the team's feature back in 2009. After posting a 2-22 record in the two previous seasons, the Mustangs have posted a vastly improved 28-22 record since. Their offense's points per game ranking has climbed steadily, finishing the 2010 season ranked 74th, then 69th in 2011, and now 52nd this fall.
And Line has played a featured role in SMU's resurgence as a legitimate football program.
When Line arrived at SMU, his new coach June Jones initially planned on using him as a linebacker. But after watching Line take some reps as a lead blocker, Jones decided to move him to fullback full-time, a position that needed to be filled immediately.
When will Line get selected in the 2013 NFL Draft?
Line flourished as a full-time fullback. He was a premium point man, helping clear the way for Shawnbrey McNeal's 1,188 rush yards. But he impressed his coaches even more with the ball in his hands, scoring seven touchdowns with hard-nosed carries in goal line/short-yardage situations. As McNeal prepared to depart for the NFL, SMU's coaches started grooming Line for the primary running back job.
Since taking over McNeal's spot as the primary ball carrier in 2010, Line has rewritten the NCAA's record books as one of the greatest running backs in Conference USA history.
After rushing for 92 yards and a pair of touchdowns last week against Southern Mississippi, Line crossed the 1000-yard mark on the season. Remarkably, he's now tallied three straight 1,000 yard seasons since sliding in to the Mustangs' feature back role, and he's the first player in program history to accomplish the feat.
He's also one of four players to run for more than a 1,000 yards three times, and if he wasn't stuck blocking for McNeal as a freshman, he could've tied Damion Fletcher's C-USA record with a fourth.
With 3,939 career rushing yards, Line has passed Craig James (3,743) and Reggie Duppard (3,772) on SMU's all-time list, and he now trails only Eric Dickerson (4,450).
His rush total seems even more impressive though, considering he's only been a full-time starter for three years. And, SMU's spread offense often uses Line out of flexbone, pistol and other one-back sets most of the time. In these formations, he lines up as a fullback, without a lead-blocker and without a running start to thrust himself past the line.
Despite his star-studded performance, Line isn't expected to hear his name called before the late rounds on draft day. Most draft analysts rank him solely as a fullback, and well-outside of the top 100 prospects. There's even a strong possibility that he won't be drafted at all.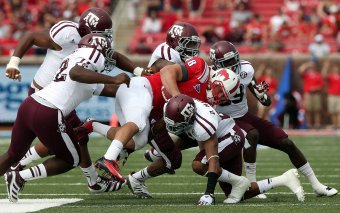 Ronald Martinez/Getty Images
Line's success is met with a healthy dose of skepticism from NFL scouts and analysts. First of all, he runs for a pass-heavy spread offense, leading many of the defenses he faces to focus on coverage.
Secondly, a significant portion of Line's yards come off of draw plays (surprising the defense), rather than his breaking through the run blitz. Plus, Conference-USA isn't a strong football division, running much more simplistic schemes than pro clubs, and their best players rarely earn top draft picks
Line also gets knocks for his lack of breakthrough speed and juke moves. Because his 40-yard dash times don't break 4.54 seconds, he's viewed purely as a fullback by draft analysts. Working against him even more is his the fact that he suffered a fairly severe foot injury last winter, leading to a lengthy rehab process.
Despite the skepticism though, Line is a top-notch football player, and he offers plenty of reason to believe he can put together a very valuable pro career.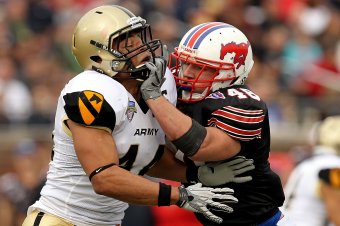 Ronald Martinez/Getty Images
At 6'1", 230 pounds, he has ideal size for an NFL power back, and outside of mediocre open-field speed, he has all of the ingredients for success as a ball-carrier. The same offensive formations that earn him knocks for being a trick-play runner, should help endorse his talent too. He never runs with a lead blocker, and he rarely has tight ends and extra lineman clearing the way for him.
Furthermore, because he lines up at fullback so often, he isn't afforded the advantage of a running start before taking the hand-off. Instead, Line relies on explosive acceleration, a powerful trunk and an array of other tools to make his money. What he lacks in open field speed, he makes up for with vicious acceleration and power through the line of scrimmage, making him a tough takedown even for bigger backers.
Still, it appears the NFL will view him primarily as a fullback.
At that position, he's even more unconventional. Right now, he doesn't fit the 250+ pound miniature lineman mold that many NFL team's look for in their fullbacks. And though he's been near that size before, coming out of high school twenty pounds heavier, it will still be hard for him to convince teams he can develop in to a smashmouth steamroller.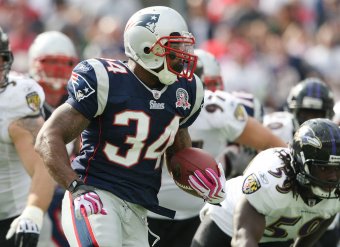 Elsa/Getty Images
Fewer NFL teams use fullbacks than they did in past decades, and those that do, have minimized their role to part-time lead blocker, and part time special teamer.
Recent similar NFL draft prospects, like Jacob Hester, Joe Maritnek and Montell Owens, have all had their roles vastly reduced in the NFL. Each player was a top-shelf running back as an amateur, yet each was converted to a lead-blocking/special teams role in the NFL.
Can Line succeed as an NFL fullback?
At 6'1" and weighing in around 230 pounds, Line has the frame to add more bulk. And even if he slows down considerably, he still possesses the speed, explosiveness and hands that few fullbacks offer.
Line's coaches rave about his blocking ability. He cleared the way for thousand-yard rusher (and NFL running back) Shawnbrey McNeal as a freshman, and he's done a nice job since then.
For the Mustangs' pass-focused offense, he's often tasked with picking up the blitz in the back field. He shows great footwork and technique, squaring-up even the most elusive targets, and the same body control and balance that helps him dart passed defenders, also allows him to steer his blocks in the open field.
But, because he doesn't fit the fit the brick top, massive Lorenzo Neal-type hole clearing fullback mold, will NFL teams give him an honest shot?
There's a good chance they will.
Though traditional fullbacks are dwindling these days, more and more teams are using more and quicker, multi-skilled athletes in the role—a trend that can only help Line's case.
Line's athleticism and hard-nosed approach lends itself to versatility, and versatility is in style in the NFL.
Though SMU's spread offense approach keeps the quarterbacks eyes downfield, Line has proven himself as a top-shelf pass catcher, amassing 71 receptions for 585 yards the last four years. The total isn't too flashy, especially considering he's never caught a touchdown, but remember, most of Line's catches come out of the back field on screen passes.
Alex Trautwig/Getty Images
He's also a great lead blocker, and his quick feed, strength and balance lends itself to the fullback position. Plus, his experience as a superb high school linebacker will help him develop in to a productive tackler on special teams.
Line's toolset is unconventional by NFL standards, and he doesn't draw many comparisons. However, his versatility and athleticism should attract interest from team's looking for a Sammy Morris or James Casey-type H-Back/fullback/short yardage threat.
And luckily, more and more teams are changing convention and drafting these kinds of players.
Morris, a fullback at Texas Tech in the '90s, was built (6'0" and 221 pounds) almost exactly like Line is—a tall, upright runner with a powerful trunk and nimble feet—and he ran a similar 4.65 second 40-yard dash on his Pro Day. Without an amateur career even half as good as Line's, Morris earned a fifth round draft pick from the Bills in 2000, and proceeded to put together a very successful career in the pros.
Working an array of jobs in the NFL, as a short yardage back, lead blocker, special teams star and backfield pass catcher, Morris finished his twelve-season career with 3,053 rushing yards,1,258 receiving yards and 27 combined touchdowns.
Rice University alumnus and Line's fellow Conference-USA product, Casey is also a similar athlete. At Rice, he played multiple roles, but flourished as a pass-catcher and short yardage runner. He led C-USA in receptions (111) and receiving yards (1,329) in 2009, hauling in passes as a tight end and out of the back field as an H-Back.
He's built very similarly to Line—a long n' strong 6'3" and 246 pounds with powerful legs and a jacked upper body—and he ran a low 4.62 second 40-yard dash (similar to Line's average 4.65 time).
Casey was utilized more as a receiver in Rice's offense, but he also racked up 363 yards and 11 touchdowns on the ground in two seasons. Regardless, his skill set and athletic build is highly similar to Line's, and come draft day, the Texans called his name in the fifth round at the 152nd overall slot. He was projected to be a second or third round pick by NFLDraftScout.com, but even though he slid, the Texans were very happy to get Casey.
With Houston, Casey has played fullback, H-back and tight end, and he's emerged as a Pro Bowl candidate. He's caught 39 passes for 471 yards and two touchdowns the past two years, and he's also made 29 tackles on special teams throughout his career.
After leading C-USA in rushing yards annually for the past three years, Line has more than earned a late round draft pick, and he'll probably go somewhere in the fifth or sixth round.
He's a long shot as a running back prospect, but team's like the Texans, Patriots, Vikings, 49ers and Chargers will appreciate what he offers. Their schemes utilize athletic tight ends, pass-catching fullbacks and versatile H-backs, and most of all, they champion versatility.
In the NFL, Line will probably start out as a special teams player and utility running back, a player that can fill in as a blocker and as a third down pass-catcher.
He lacks the agility and open-field speed to be a feature back in the league, but his hands, power and blocking ability make him a great candidate as a fullback and short yardage specialist. If he adds more weight, he could also succeed as a tight end or H-back, a la James Casey.