5 Adjustments Boston Celtics Coach Doc Rivers Still Needs to Make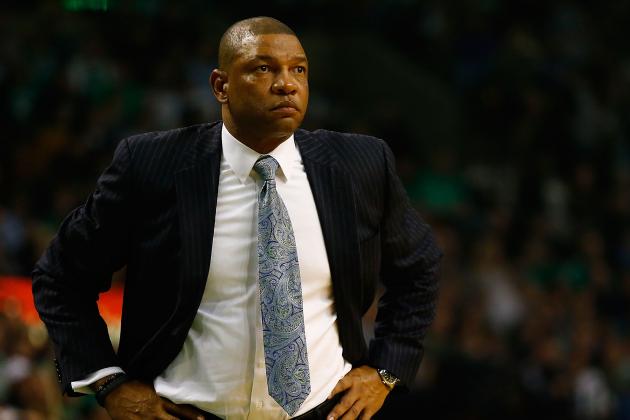 Jared Wickerham/Getty Images
Doc Rivers and the Celtics have plenty of work to do to get back to the NBA Finals.
The NBA season is barely three weeks old, and while some trends have become apparent, it is far too early to determine who will and who won't be successful this season.
Take the Boston Celtics for instance.
The Celtics started the 2012-13 season with their sights set on returning to the NBA Finals and eventually raising the franchise's 18th Championship Banner to the rafters of TD Bank Arena.
Boston sits at 5-4 right now.
That's a solid record, but it is not a record that would make a team with expectations of a title comfortable.
Yes it is early, but there are some adjustments that Celtics Head Coach Doc Rivers needs to make.
These adjustments could help shore up some of the Celtics more glaring weaknesses early on in the season. They could also prepare the team for a run of sustained success later on in the season.
All stats accurate as of 11/16/12 via ESPN.com and basketballreference.com
Begin Slideshow

»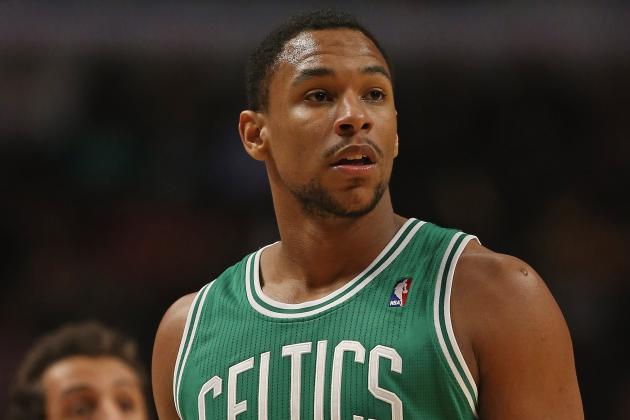 Jonathan Daniel/Getty Images
Jared Sullinger's rebounding skills will be needed in the playoffs.
The thing about rookies is that nearly all of them will go through a period of time when they are maddeningly inconsistent on the court.
Jared Sullinger is no exception.
The 20-year-old power forward has already shown that he's not going to be an instant all-star. He's also shown an ability to rebound the basketball at the NBA level.
The Celtics have some serious issues on the glass. They're one of the league's weakest teams in both offensive and total rebounds.
Sullinger is a player that can help out tremendously in that department, but the Celtics will need to endure some frustrating nights of mistakes while Sullinger learns to play consistently at the NBA level.
They probably need to bite the bullet, though.
Sullinger is only averaging 16.9 minutes per game right now, but he's also averaging 3.8 rebounds in those limited minutes. That averages out to 8.0 rebounds per game if he's playing 36 minutes a night.
Eight rebounds a game is not an exceptional number, but on a team that is in desperate need of help on the glass, those rebounds would be much appreciated by his teammates.
Also keep in mind that Sullinger has only played in a total of eight NBA games. The odds are that his numbers will improve over time.
The faster Doc Rivers can get Sullinger through his period of adjustment and into a comfort zone on the court, the better off the Celtics will be.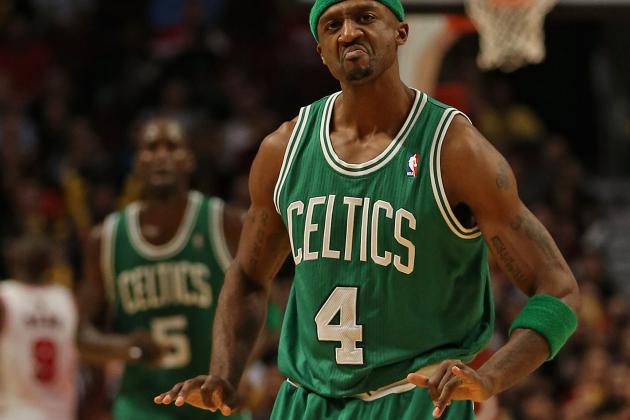 Jonathan Daniel/Getty Images
Is Jason Terry the answer at back-up point guard?
Few NBA players are more durable and more explosive than Rajon Rondo.
Rajon Rondo is off to a great start to the 2012-13 season. He's putting up impressive numbers and he's doing it while playing the role of iron-man on the court.
Rondo is averaging a whopping 38.9 minutes per game. He doesn't look any worse for wear, even though he is playing nearly 39 minutes a night.
It is still very early in the season though.
The question facing Doc Rivers is whether or not playing Rondo for nearly 39 minutes every game will have an impact on Rondo's ability to play at his best when the playoffs come around in late April.
The Celtics got a taste of what life without Rajon Rondo could be like on Thursday night in Brooklyn.
Boston dropped a 102-97 decision to the Nets and were outscored 28-18 in the fourth quarter.
Clearly, the Celtics are a different team without Rajon Rondo and the difference shows up in the loss column.
Obviously the Celtics can't afford to have Rondo at anything less than 100 percent when the playoffs come around.
He's too critical, too good, and too irreplaceable. A Celtics team without Rondo in top form won't be winning an NBA Title.
The problem is that the Celtics don't really have an acceptable backup on their current roster since Keyon Dooling announced his retirement on September 20, 2012.
The Celtics have plenty of guards on the roster, but not point guards.
Jason Terry, Courtney Lee and Leandro Barbosa are all more qualified at shooting guard rather than point guard.
That presents the Celtics and head coach Doc Rivers with a major challenge; he's got to find a way to make lemonade out of lemons.
For now the task is made even more difficult because Barbosa was not signed to a contract until October 18, 2012. Barbosa is still adjusting to learning the Celtics' system.
Also adding a degree of difficulty is that the player who will eventually start at shooting guard, Avery Bradley, is still recovering from off-season shoulder surgery. Bradley is not expected to return to the court until sometime in December.
In the meantime, Coach Rivers needs to find a way to give Rondo a little more time to rest on a nightly basis.
Jason Terry, who led the Celtics with six assists in Thursday's loss to Brooklyn, seems like the best choice to assume the backup point guard role.
Even if it results in some growing pains on the court, in the long run it would make the Celtics a better team if they can function without Rondo on the floor for more than ten minutes a night.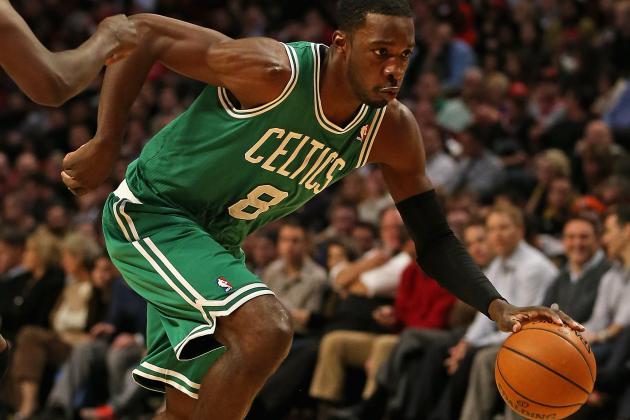 Jonathan Daniel/Getty Images
The Celtics need Jeff Green to become a more consistent threat on the court.
The Boston Celtics have made a long term commitment to Jeff Green.
He was signed to a contract extension on August 23, 2012. The deal was for four years and $36 million.
That extension means the Celtics are counting on Green to finally unlock the potential that made him the No. 5 overall pick in the 2007 NBA draft.
So far, that hasn't happened.
While a certain amount of Green's lack of impact is probably due to the fact that he missed all of last season while recovering from a heart condition that required surgery, it also seems as if Green responds when pressured to perform.
Managing or coaching a team requires unlocking what exactly will help motivate each individual player to perform at their best.
Players such as Kevin Garnett require no added motivation from their head coach. Perhaps Green is a slightly different type of player, with a slightly different personality?
Kevin Garnett thinks so.
Last Saturday, Garnett implied that Green was too nice and basically said that he needed to be more aggressive on the court.
On Wednesday Night, Green delivered a message-sending, monster dunk over Utah Jazz forward, Al Jefferson.
The message may have already been delivered to Green via Kevin Garnett, but head coach Doc Rivers needs to make sure that Green keeps the edge he has recently been displaying on the court.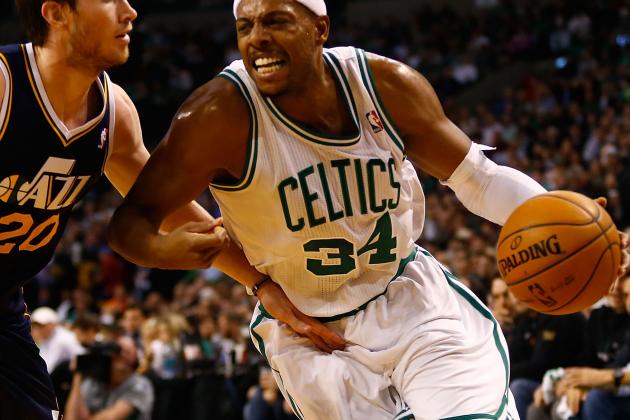 Jared Wickerham/Getty Images
Paul Pierce has struggled from the floor, but is still the Celtics' leading scorer.
There is nothing unusual about Paul Pierce leading the Boston Celtics in scoring.
He's been the team's go-to guy for points for over a decade, and he is still putting up nearly 20 points a night.
But now, it is taking Pierce more shots to get those points. Pierce, who owns a career 44.7 field goal percentage, is shooting just 38.7 percent so far in this young season.
The Celtics need Pierce to score points, but they also need to make sure he's doing so efficiently.
The team simply doesn't rebound the ball well enough to have their best scorer missing over 60 percent of his shot attempts.
Whether it means getting Pierce freed up for open jumpers, allowing him to post-up more or setting screens and picks to create mismatches, the Celtics needs to get him some more easy baskets.
The easiest way to do that would be to get some open fast break dunks and lay-ups.That's not going to happen without rebounding, though.
So until the Celtics start to rebound, they're going to have to be creative in getting Pierce some easy looks.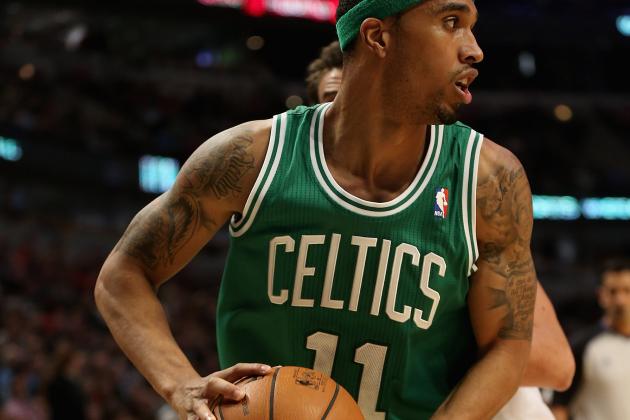 Jonathan Daniel/Getty Images
Courtney Lee has struggled to adjust to his role on the Boston Celtics.
In all likelihood, Courtney Lee will be wearing a Boston Celtics uniform for the next four seasons.
Celtics fans and Doc Rivers know that he's going to need to be better than what he's shown so far.
Lee has struggled on the court in his first season in green and white.
Somehow, Rivers needs to get more out of Lee.
With Avery Bradley not expected back until sometime in December, the best time to get production out of Lee is right now.
Once Bradley returns from his injury, either Jason Terry or Courtney Lee will probably see a reduction in their minutes. Rivers could then split their minutes evenly if he felt they were both producing at a similar level on the court.
For now, they aren't. While Terry has had his struggles, he's outplayed Lee so far.
Lee is playing 23.3 minutes per game and averaging only 5.0 points a game. So far, he has struggled to even get a shot off in the Celtics offense.
Perhaps he is having a tough time getting on the same page or keeping up with the lighting quick Rajon Rondo.
Either way, the Celtics will be scoring more and an overall better team with Lee playing. Especially if he's going to be on the court for over 20 minutes a night.