Jacksonville Jaguars vs. Houston Texans: Live Score, Highlights and Analysis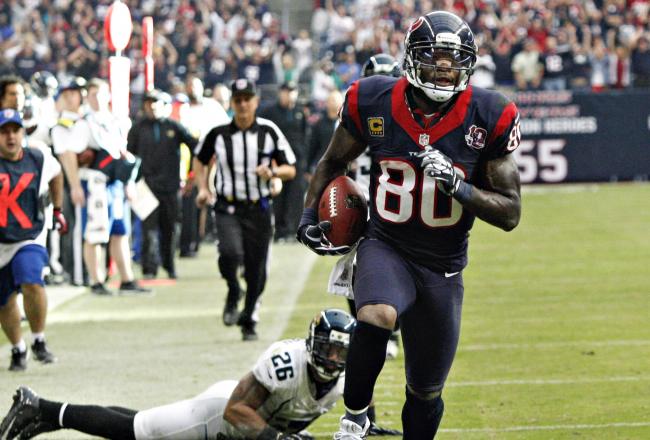 Bob Levey/Getty Images
The Texans have outlasted the Jaguars in overtime 43-37, winning on a 48-yard touchdown by Andre Johnson. The game featured a combined 905 passing yards by both quarterbacks in a game many thought would be won on the ground.
When Chad Henne replaced Blaine Gabbert, the Jaguars discovered their first round wide receiver Justin Blackmon was as good as advertised. He caught just seven of this 13 targets, but for an amazing 236 yards.
Matt Schaub ended up exceeding Henne's 354 yards with 527 yards of his own. Once the Texans went to multiple receiver sets in the fourth quarter, the game shifted back in Houston's favor. At the end of regulation, they could only stop themselves as Shayne Graham's game-winning field goal attempt barely made it past the line of scrimmage.
The teams may have swapped three-pointers in overtime, but the momentum had clearly shifted in Houston's favor. After Jacksonville scored their last touchdown, they got off 21 plays to 45 for Houston. In effect, the Texans' offense wore down the Jaguars defense.
The pass caught by Andre Johnson was a simple grab-and-go. But those 31 year-old legs still have plenty left in them as he outraced the shell-shocked secondary to the end zone.
On the flight back to Florida, the Jaguars will be left to wonder what might have been. And just who is their starting quarterback going into their next game against the Tennessee Titans.
Houston has little time to bask in the glory with three short days to prepare for their Thanksgiving Day game against the Detroit Lions. And hope they do not get served up like that holiday bird.
Final in Overtime
Jaguars: 37
Texans: 43
2:10 remaining in OT
Schaub interception gives the Jags excellent field position, but it is all for naught as the Texans defense has continued in the same mode that got this team to 8-1. That means the pass rush has returned and that has made all the difference in this comeback.
The Texans take over on downs, and with 2:30 to go maybe Houston will just eat up the clock and go for the three. Then Andre Johnson shows why he is still a force to be reckoned with.
A pass caught behind the line of scrimmage turns into a sprint to the end zone on a 48-yard game-winning score. Does Andre still possess the speed of his youth, or was the Jags defense just bone tired?
3:49 remaining in OT
Now Jacksonville has their shot at redemption. But the Houston defense is keeping the Jaguar's offense from getting anything done.
Blackmon bails out his QB once more on 4th-and-10 with another catch in the middle zone. He has earned his paycheck today with all those catches in the seam.
Antonio Smith gets his own S-Watt to bring up 4th-and-10 and another on 2-and-10. The Texans cannot handle the extra blocker of the left side of the line and Parmelee gets the Jags in FG range. Scobee is good from 35.
8:10 remaining in OT
Houston OL did not run block worth a hoot in the second half as Schaub brought this squad back with his arm. The Jags have only had the ball for a little over two minutes since their last touchdown, so their defense is sucking air in OT.
The Texans always use ball-control to demoralize the other team, and 14 plays results in a go-ahead FG. Has Graham redeemed himself? It remains to be seen.
End of regulation
Texans have 1:07 bring it on home for the win. Andre Johnson has saved the day with his 12th catch of the game bringing the ball to the Jacksonville 30. Foster runs the ball to get Houston in perfect field goal position. But a penalty moves the attempt back to the 37-yard and Graham has his worst kick of the season.
There is a game in every season where the kicker has to win it for you. Graham could be in for a sleepless night if Houston loses this one.
1:40 remaining fourth quarter
Jaguars leaving middle of field open by design, protecting the sidelines routes exclusively.
Matt Schaub goes 7 of 7 for 90 yards and the tying TD to Garrett Graham, his second of the game. Drive included completions of 20, 10, 13, 13 and 14 yards. Can the Jaguars get in field goal range with a minute-thirty remaining?
Texans have the QB to come from behind, and just enough receivers to do it.But can the defense take it to OT?
5:42 remaining fourth qaurter
Gary Kubiak has not panicked as yet, running a 14-play 80-yard march down the field to narrow the Jags' lead to seven. But why a pitch behind the line on 2nd-and-goal? Apparently to get Garrett Graham so wide open he could have danced a jig and still caught the ball.
Is Mularkey and his staff thinking back to the Minnesota game when they had it won only to lose in OT?
13:37 remaining fourth quarter
Jaguars lose 11 yards on two plays, then Henne finds Blackmon for 81-yard score. Three Houston DBs were on him, but he breaks another weak tackle by Brice McCain to take it to the house.
How to explain such a change in fortune for a team many considered worst in the league? Houston left their heart in Chicago, and have yet to find it today. Now that the Texans are two TDs down, everyone will want to know if they have the receivers to come from behind.
14:32 remaining fourth quarter
Martin returns punt 62 yards only to be brought down by Bryan Anger, the punter! Even when the special teams get the blocking right, Houston cannot close the deal. Martin is supposed to be 4.4 fast.
Schaub returns favor by missing a wide-open Owen Daniels and is picked off by Posluszny. Matt had plenty of time to throw, but was behind the receiver by a full step. So much for mistake-free.
2:15 remaining third quarter
The Texans are in a comeback position for the second time this season. They will have to play mistake-free football the rest of the way to turn it around, unlike the Packers debacle.
Foster is compensating for his fumble by running as if it never happened. Instead of going for it of 4th-and-short from the 10 they settle for the three. Smart move or just another case of "too conservative Kubiak?"
9:31 remaining third quarter
Paul Posluszny causes Foster fumble and the Jags have possession at Texans 11. Foster did not have ball tucked against his body as he was trying to turn corner.
Henne continues to abuse Texans secondary underneath to put them 1st-and-goal. Another TD to a wide open Mercedes Lewis as the entire secondary loses track of him again. Mike Mularkey has discovered some Jedi mind-tricks that is turning the Texans' defense into weak-minded tools.
11:01 remaining third quarter
Henne goes to Blackmon for 40 yards over Kareem Jackson on the opening play. So much for the halftime adjustments. Steve Tasker is crediting the running game for the Jaguar's offensive progress. With a total of 41 yards for the game? Is he kidding? Scobee is good from 40 yards to put the Jags up by three again.
The Jacksonville coaching staff deserves all the credit for seeing the weaknesses in Houston's coverage and taking full advantage of it. Those middle zones are the vulnerable spot in most NFL defenses that commit too many players to the pass rush.
Halftime
Did Bob Bratkowski, the Jaguar's Offensive Coordinator, make Chad Henne study the Packers vs.Texans to see how to exploit the seams in their Cover 2 zones? How else to explain Henne's 154.4 near-perfect passer rating? He is averaging 15.5 yards per completion! He's getting time to throw and Houston's secondary is a step slow too much of the time.
Could this be the game where Matt Schaub has to take control to pull this one out? The Houston offense is playing about as well as they can, averaging 7.0 yards per rush and throwing for 170 yards. The Texans are 0-4 on third down. That will have to change.
0:02 remaining in second quarter
Schaub under-throws open Andre Johnson to get in field goal position of final possession before half. Questionable facemask gets Texans in position for 50-yard FG attempt, which hits the upright. Graham "swarped" that one.
1:12 remaining in second quarter
Shayne Graham is good from from 42 yards as offense stalls with questionable 3rd down sideline pass to Walter. Jaguars are playing like they're in contention as Texans keep playing catchup.
2:53 remaining second quarter
Steve Tasker noticed how double-TE sets forcing the Texans to commit to stopping the run, making them vulnerable to the pass upfield.
Darryl Sharpton makes big TFL on 3rd down. Jaguars still get 43-yard FG to regain the lead. If Houston expects to trade scores and win this one they may be sorely mistaken. What adjustments will Wade Phillips make at halftime to slow down the Jags?
7:52 remaining second quarter
Play-action pass to James Casey completes 48-yard comeback drive. Houston went back to basics with six straight runs to set up TD. The interior of Texans' OL controlled the line of scrimmage.
Keyshawn Martin put them in great field position with 54-yard kickoffreturn, his longest of the season.
Texans No. 2-ranked defense is pathetic against NFL's 32nd-ranked offense that ranks last with 14 a game. Jags have their average.

— John McClain (@McClain_on_NFL) November 18, 2012
12:31 remaining second quarter
At this rate, Chad Henne should remain in the game regardless of Gabbert's health. He proves it as Calvin Shorts grabs a 67-yard TD. Kareem Jackson looks like he's in a gridiron time-machine that has taken him back to 2010. His missed tackle immediately after catch was the reason why Shorts went all the way.
"On Any Given Sunday" is in play today.
End of first quarter
Could this end up being a high-scoring affair as opposed to their last meeting? Jacksonville has already passed for twice as many yards (110) in this quarter as the entire previous game (52).
2:56 remaining first quarter
Justin Blackmon finally looking a first-round pick as he takes pass on crossing pattern down to 18-yard. Mercedes Lewis finishes drive with 13-yard TD. Neither Kareem Jackson or Glover Quin had any clue where the Lewis was as he was untouched on the reception.
Where is the Texans' pass rush?!
4:25 remaining first quarter
Against the Bears, Houston ran more to the right than left for the first time in weeks. They may not be able to this week.
C.J. Mosley bowls over Chris Myers on 3rd down to bring drive to close. Myers is running hot and cold the last two games, giving up penetration when he normally controls the play.
9:30 remaining in first quarter
Middle of Texans' defense looks a bit soft as Gabbert gets Jags past midfield. But Danieal Manning still thinks he's in Chicago as he causes fumble which is recovered by Houston.
12:15 remaining in the first quarter
It is obvious Matt Schaub has no fear of the Jaguar's secondary as he keeps going deep. He even chose to complete the 84-yard drive with a TD pass to rookie Keyshawn Martin. It is Martin's first career TD reception.
This article is
What is the duplicate article?
Why is this article offensive?
Where is this article plagiarized from?
Why is this article poorly edited?

Houston Texans: Like this team?