2013 NFL Mock Draft: The Way Too Early Edition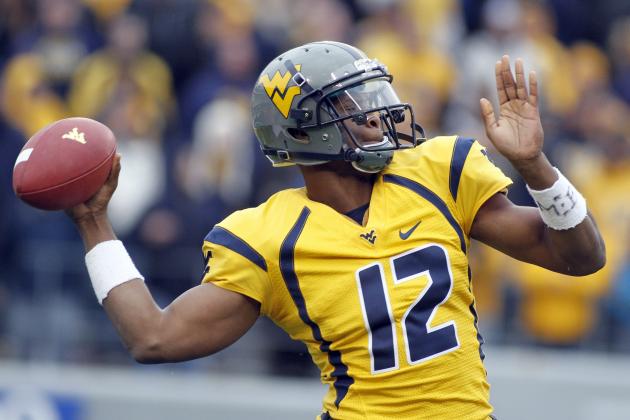 Justin K. Aller/Getty Images

Although it's just Week 11 in the NFL, the pre-draft process is beginning to heat up. College players' stocks are fluctuating every week with their performances; some players have drastically improved and will make millions (Oregon's Dion Jordan), while others have stumbled (USC Matt Barkley).
One thing's for sure: this is WAY too early and nothing is set in stone.
I've tried to accurately identify team needs and draft prospects that would make sense based on either or both value and need. Between now and the end of the NFL regular season, the first 20 picks will be set and players from college will begin to declare for the draft.
A lot can happen, so keep an open mind and enjoy the read.
Begin Slideshow

»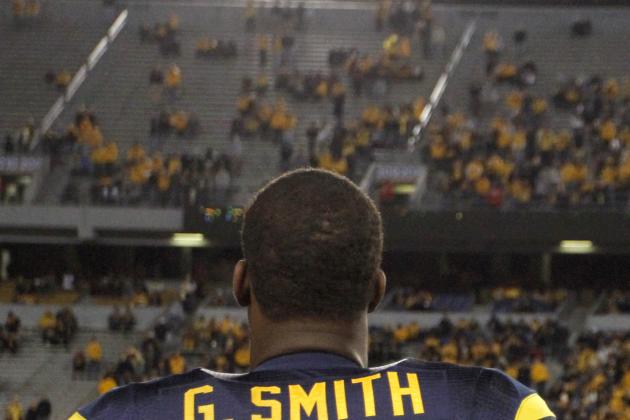 Justin K. Aller/Getty Images

While I think Barkley is a superior prospect, I feel that neither of the top quarterbacks in the 2013 draft deserve to go top five, and definitely not first overall.
However, since this IS a franchise quarterback-driven league, Kansas City should look to replace Cassel immediately. Smith would be a good fit based on the Kansas City offensive coordinator Brian Daboll, who likes deep passes.
He's definitely a better fit than Barkley.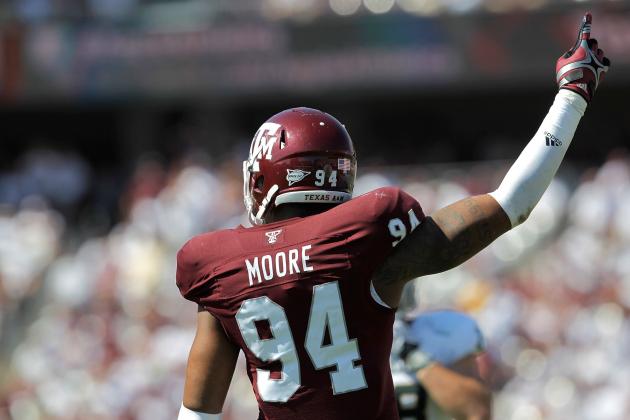 Sarah Glenn/Getty Images

The Jags, despite using what feels like endless high picks on pass-rushers, have failed to land a consistent pass force. Moore is currently the highest rated DE in this draft (unless you consider Jarvis Jones an end, but I believe Jones' best fit is an outside linebacker in the 3-4).
While the Jags could look to draft another franchise QB, I think they should give Gabbert one last year to prove his worth. You never know, he could turn out to be a star who just wasn't ready for prime time.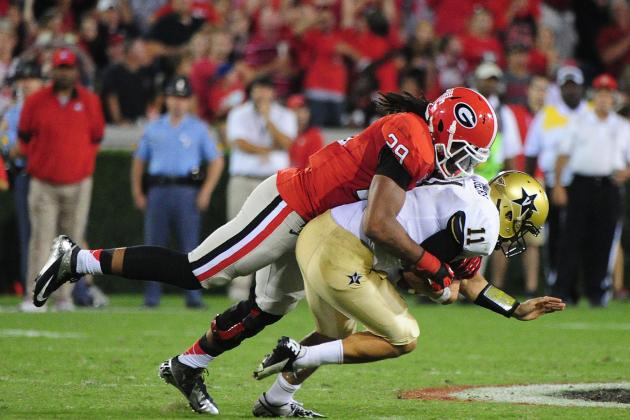 Scott Cunningham/Getty Images

After spending high picks on offensive players in 2012, look for the new Cleveland front office to go after defense early and often in 2013.
Jones may be the best defensive player available, and is expected to shine in the offseason. He may not be available by the third pick, but if he is, expect him to either become a pass-rushing defensive end or a three-down OLB if the Browns do make a switch to a 3-4.
Jones offers a ton of versatility and has the highest ceiling of any player in the draft.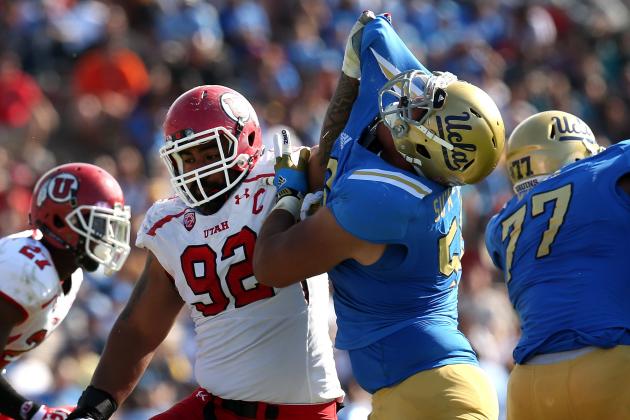 Stephen Dunn/Getty Images

He's the highest rated player on my board, someone who perhaps has the highest ceiling and lowest floor among all prospects, with very little bust factor. I often compare him favorably to Ravens star Haloti Ngata.
Some feel he can be even better than the established All-Pro.
Lotulelei would make an immediate impact on the Panthers and their anemic defensive line. He would hopefully command attention away from their $76 million defensive end Charles Johnson and would allow Kuechley and Beason to make more plays near the line of scrimmage instead of downfield.
Arguably the biggest need, this would be a great fit for Ron Rivera (if he is indeed still head coach).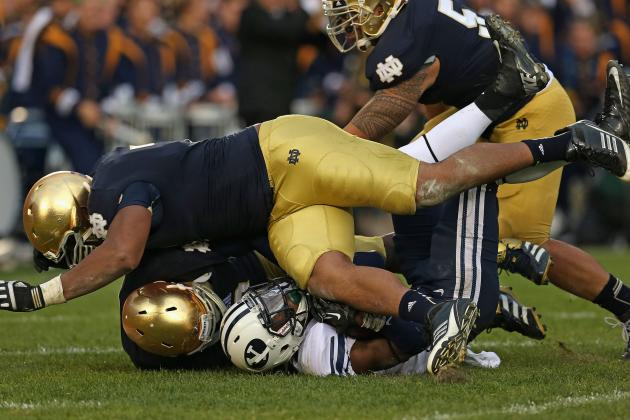 Jonathan Daniel/Getty Images

The Raiders have holes all over their team, but at this point they should consider either taking the best defensive player available or a pass-rusher.
Te'o is having an outstanding senior campaign for the fighting Irish and figures to be an instant impact player for head coach Dennis Allen if taken by Oakland. Mel Kiper recently stated that any team looking to draft Te'o would have to do so in the top three picks. While I agree with that assessment, I believe based off need, a trade would be required for that to happen.
Te'o is a classic throwback MLB, someone who should shine in the league for the next 10 years. Drafting Te'o would give the Raiders flexibility on current MLB (and former top-10 pick) Rolando McClain, who has disappointed this season and has a shoddy off-the-field track record.
GM Reggie McKenzie would be able to release McClain or potentially move him to WLB, where he would still be a playmaker for the Silver & Black.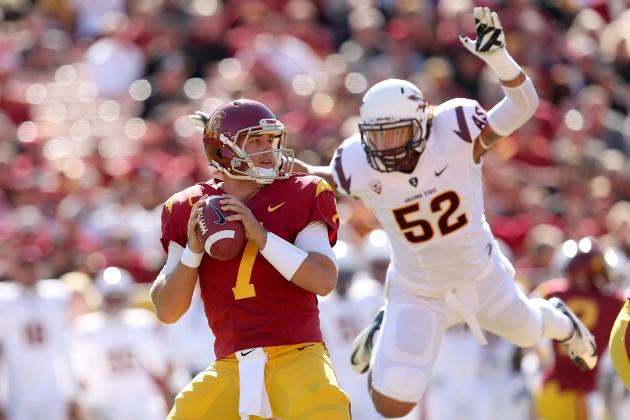 Stephen Dunn/Getty Images

No player has taken more of a tumble during this college season than Barkley. But while his performance has been polarizing, he's still a lock for the top 10.
Even with his inconsistent senior season, Barkley will still get his opportunity to play on Sundays. He's a better fit for the Cardinals offense compared to Kansas City (although both regimes in KC and Arizona could be out by the end of the year).
Though Kevin Kolb led the Cardinals to a hot 4-0 start, QB John Skelton has since taken over, leading to a disastrous offense and a five-game losing streak.
If they continue this pace as I project, I don't see a way for Whisenhunt to return, and so the organization would then look to a new franchise QB.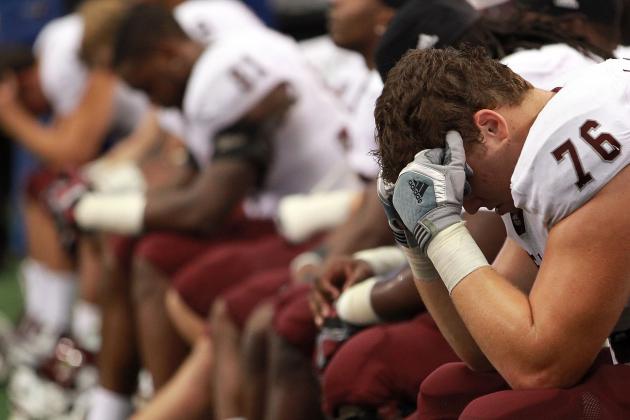 Ronald Martinez/Getty Images

Robert Griffith III might become a top-five QB in the near future, and he's undoubtedly a great foundation for the 'Skins to build upon, but the Rams will build an entire house from last year's draft deal.
With two high first-round picks, the Rams have a lot of creativity here. Perhaps if they become enamored with a prospect, they could move up given their ammunition. However, they do have several holes, particularly on offense where they have been playing above their ability but still lack consistency.
Joeckel is the highest-rated LT and would allow the Rams to move Roger Saffold over to RT, where he might rekindle his above-average rookie season and give the Rams a chance to upgrade two positions.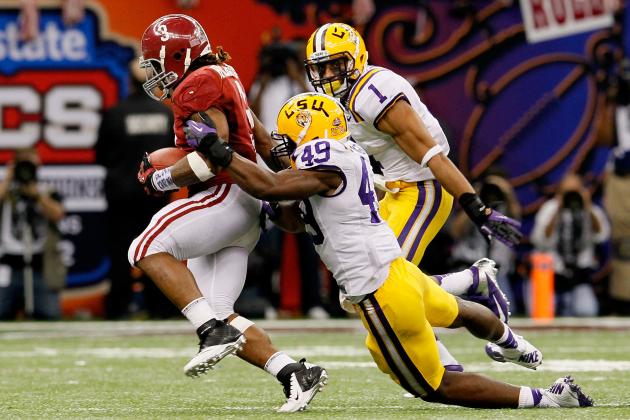 Kevin C. Cox/Getty Images

If the Jets pick this high, I expect Rex to be fired when the season is complete.
While it has become apparent that Mark Sanchez is nowhere near the franchise quarterback they famously traded up for, the Jets would be severely reaching for a QB if they stay put.
I wouldn't rule out a trade knowing the history of their executives, but a pass-rusher is their most pressing need. Mingo is currently rated as either the best or second best DE in the draft, and he's the perfect size to become an OLB in a 3-4 defense.
Their other needs include a RT, WR and potentially a game-changing RB.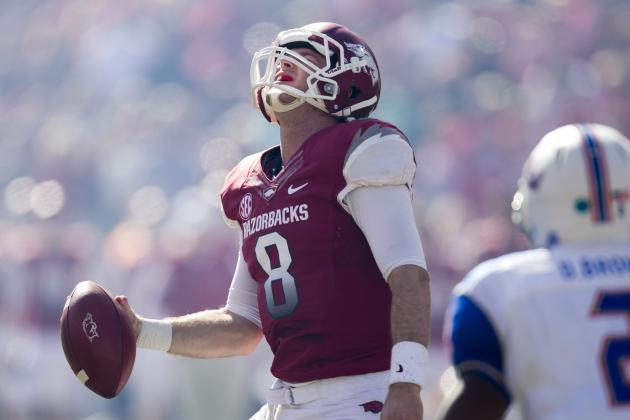 Wesley Hitt/Getty Images

Although I'm contradicting my previous statement for the Jets not having a franchise QB available, I thoroughly believe the Bills will draft a QB after recent statements made by head coach Chan Gailey.
Wilson may end up being the highest-rated QB prospect before the draft, though his draft stock has been damaged by an underperforming Razorback squad and his own personal injuries. While current starting quarterback Ryan Fitzpatrick hasn't been the Bills' problem, at this stage in his career, I doubt the organization views him as a franchise QB.
While they spent a ton of money last offseason on their pass rush, they have yet to receive their money's worth, so I wouldn't rule out a DE.
This is a young team that continues to build. Maybe a year or two from now they can become real competitors in the AFC.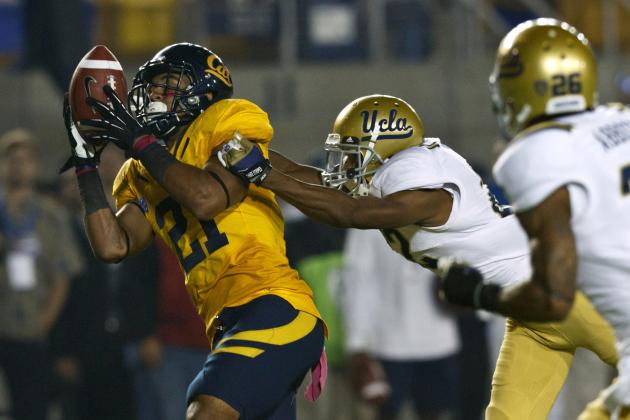 Jason O. Watson/Getty Images

There has yet to be a receiver emerge for the Rams. While they do have young talent within the group (Amendola, Givens, Quick), I definitely see the Rams going after the top wideout in this year's draft.
Bias aside, I believe that Allen has the potential to become one of the league's elite due to his size, speed and great hands. Allen missed last week's game against Oregon, and is expected to skip Saturday's contest against Oregon State due to a knee injury.
This is just a precaution as the Bears season is now over, and the last thing Allen would want to do is jeopardize his long-term health for a fourth win. He's become the leading receiver in Cal history in less than three full seasons with horrendous QB play.
If not a WR or a OL, maybe another player in the secondary.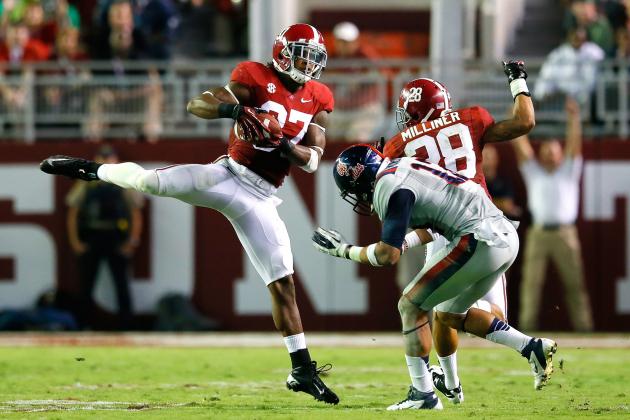 Kevin C. Cox/Getty Images

To say these past two seasons has been a disappointment for Philadelphia would be an understatement. If the Eagles pick this high, I doubt Andy Reid would be allowed to return after continuously making mistake after mistake.
In a potential regime turnover, I see QB Michael Vick, CB Nmamdi Asomugha and other veterans gone. The Eagles have heavily invested in their defensive line, which is a shame considering the strong depth in the 2013 draft.
Milliner would make sense at this spot in the draft given the recent successes of secondary players from 'Bama. I see him as the replacement to Asomugha. With the Eagles' season seemingly over, I can see these last few games as an audition for rookie third-round pick QB Nick Foles.
If he flunks and plays horrendously, maybe the Eagles would be willing to trade up to get one of the top three QBs (they have a history of trading up, i.e., DE Brandon Graham).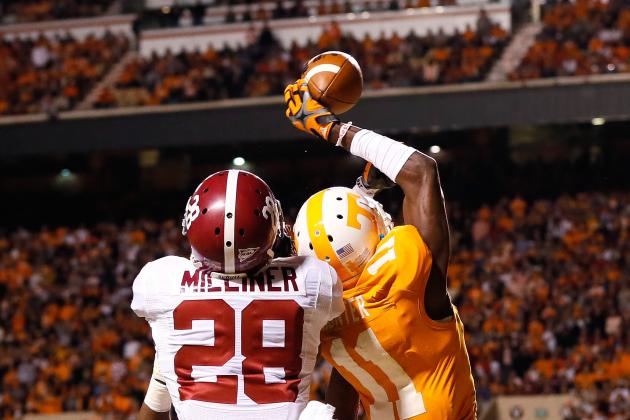 Kevin C. Cox/Getty Images

QB Ryan Tannenhill has surprised nearly every preseason critic and has led the 'Fins to a 4-5 record with very little talent around him.
WR Brian Hartline and Davone Bess have had career years, but have little red-zone production.
Hunter currently profiles as one of the top wide receivers at this stage in the pre-draft process; I like him at No. 12.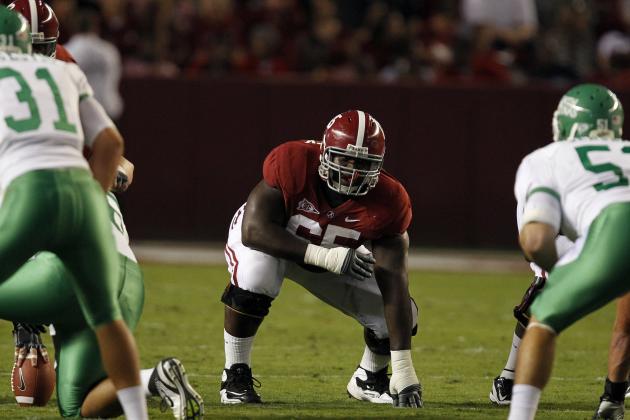 Butch Dill/Getty Images

Although I predict the Lions to wrap up the season losing four out of their next seven games, I think they've turned this year around and are playing some of their best football.
It's a shame they have such a difficult schedule left, though.
While they drafted former Iowa OT Riley Reiff last year in the first, the Lions shouldn't stop investing in their offensive line to protect QB Matt Stafford.
Scouts Inc. currently has Warmack as their fourth-best prospect overall; he's a shoe-in for multiple Pro Bowl and All-Pro teams. While OG may not be their biggest concern or need, at this point he represents too much value for a team that's still acquiring above-average starters.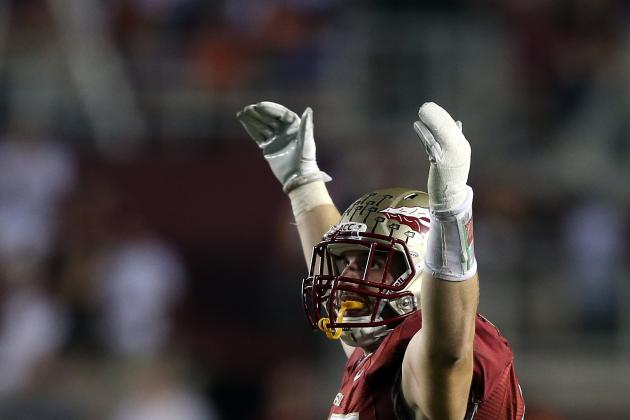 Streeter Lecka/Getty Images

People thought the Bucs were getting a steal when Da'quan Bowers fell to the team in the second round of the 2011 draft, but he has only produced 2.5 sacks in a year-and-a-half on the field.
Werner is a top 10 prospect, and someone who could easily be snatched by a team looking to trade up. The Bucs are a young, up-and-coming team. They're definitely a squad to watch out for.
If not a pass-rusher, expect someone in the secondary as they just traded Aqib Talib and CB/S Ronde Barber will be 38 next season.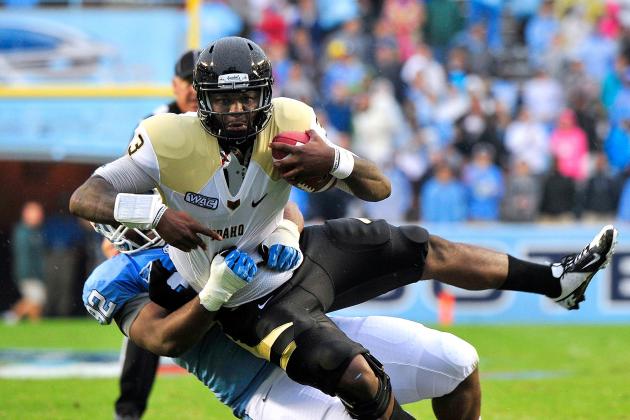 Grant Halverson/Getty Images

The Titans need to add another pas- rusher, and Williams is a great addition to a squad that has failed to get after opposing QBs.
Currently my second-rated DT, I wouldn't be shocked to see him go early. He could become an instant impact player for the Titans.
I do want to add that Ohio State DT Jonathan Hawkins is considered a top-10 prospect, but he's more of a run-stuffer and the Titans need to get after the QB.
If not a defensive lineman, expect an interior offensive lineman or a cornerback to pair with their up-and- coming secondary.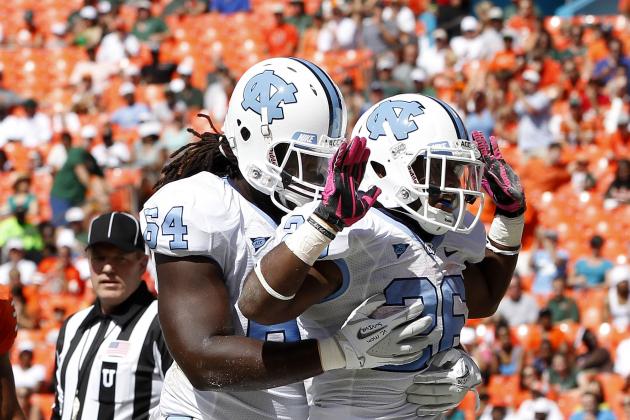 Joel Auerbach/Getty Images

Back to back Tarheels, but the Cowboys desperately need to improve their interior lineman to create bigger holes for RB DeMarco Murray and keep QB Tony Romo upright.
Coopers presents great value and a need. If not the offensive line, I wouldn't be surprised to them go after a safety or another defensive lineman.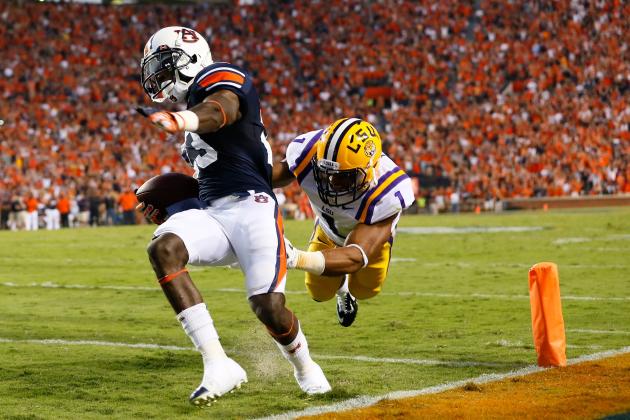 Kevin C. Cox/Getty Images

Reid presents a more imposing presence as a safety due to his size compared to Matt Elam or Tony Jefferson. Reid also tied for the team lead in tackles last year and would slot in instantly at safety for the Bengals.
If not a secondary player, I can see them potentially trading back to grab a running back like UNC's Giovanni Bernard or even drafting a playmaking WR to play across from AJ Green.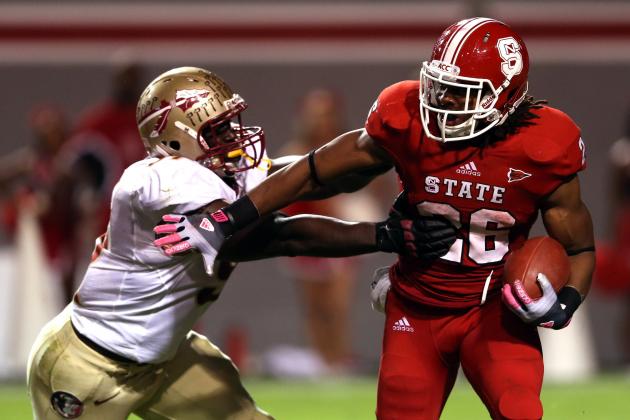 Streeter Lecka/Getty Images

While Carradine still has to improve against the run, he would be a good fit due to his natural ability as a defensive end. No 3-4 defense should consider him as he has limited talent in coverage, but he has a great motor.
This would allow DE Cameron Jordan to move inside where he might thrive. If not for a defensive lineman, I see the Saints going after more help on the defensive end as their unit has been subpar this entire season; they've become too reliant on Drew Brees' ability to drive the offense to 40 points a game.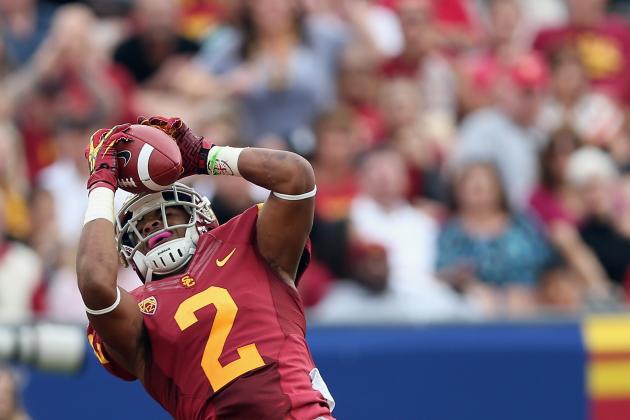 Jeff Gross/Getty Images

The Chargers are extremely average in most areas of their team; they always manage to end up in the middle of the NFL draft. They've really missed WR Vincent Jackson, and both free agents WR Robert Meachem and Eddie Royal have been colossal busts (29 total receptions between them).
Woods has had a down junior season, but still became the most prolific receiver in Trojans history. He's got good hands, descent speed and is reliable and a crisp route runner. Rivers should have fun with this new toy, even if it takes Woods a year to fully develop into being a NFL wideout.
If the front office elects not to draft a WR, I can see them adding a TE to replace Gates (who is still an above-average player, but is 32 and slowing down) or drafting a LT to replace their incumbent.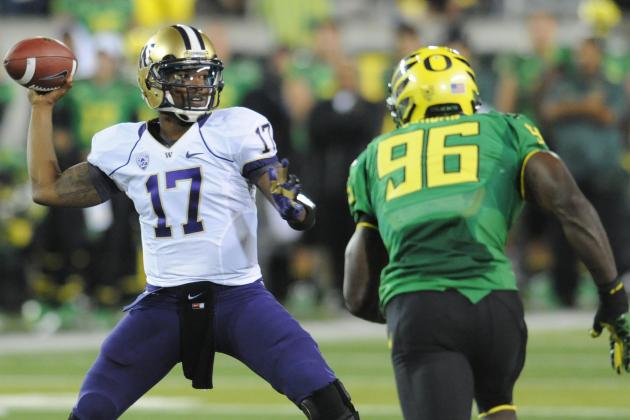 Steve Dykes/Getty Images

This Duck has shot up draft boards this season, going from a day two or day three pick to a Top 15 overall prospect. While the Vikings may have more pressing needs (CB or WR), they can't pass on Jordan who would be a great fit for their team and might not be available at this point if he continues playing at a high level.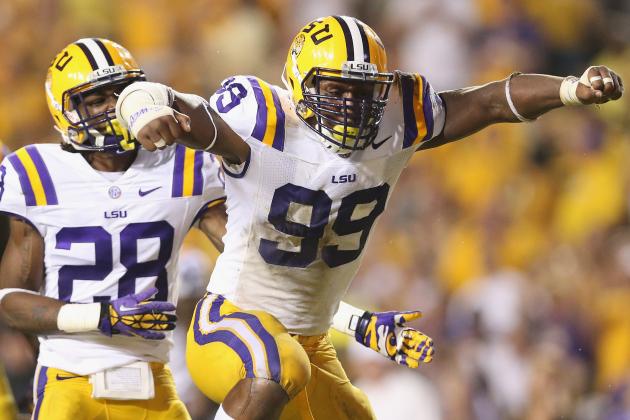 Ronald Martinez/Getty Images

While the Giants may have more pressing needs than additional pass-rushers, their D-line ain't getting any younger! Montgomery could easily end up as the draft's best pass-rusher, and will have ample time to succeed given the immense depth on the Giants' defensive line.
Other options could include a linebacker (perhaps Alec Olgetree from Georgia) or a versatile offensive lineman (maybe Tennessee's Dallas Thomas).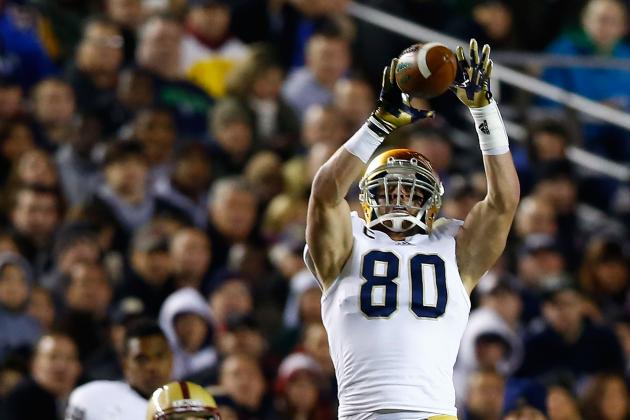 Jared Wickerham/Getty Images

Not sure if anyone had a better draft than the Seahawks last season, they're currently starting their top three picks who have all succeeded. Pete Carroll has a great young defense, so I think they'll focus on the other side of the ball.
Seattle loves to go with a double TE set, and while Zach Miller has been productive thus far, it wouldn't hurt to add the draft's best tight end in the early 20s. He can evolve with young QB Russell Wilson and become the check-down option for this Seahawks offense.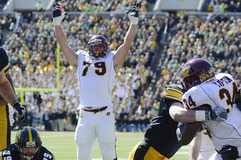 The Colts have been the league's most surprising team, but they still need to protect their investment by drafting quality offensive lineman. Fischer is arguably the top senior tackle in the 2013 draft; I hesitated on Michigan's stud OT Taylor Lewan because I'm not sure he would declare unless he's guaranteed a nice draft spot.
Fisher would immediately start and perhaps force Anthony Castonzo to move to right tackle, where he might better be suited. If not offensive lineman, I can see the Colts upgrading their secondary or pursuing a pass-rusher. I expect them to lose OLB/DEs Dwight Freeney this offseason, so a OLB with the ability to drop back into coverage could be the answer as well.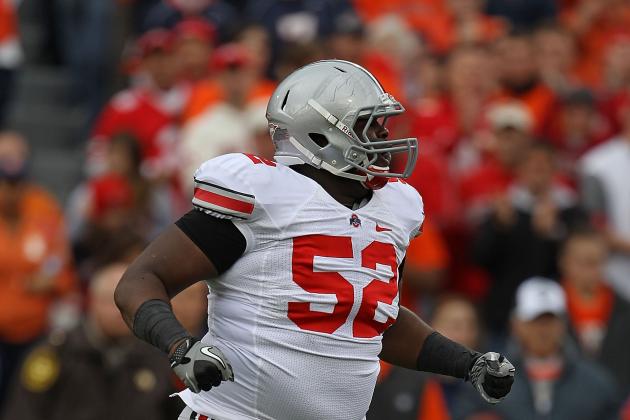 Jonathan Daniel/Getty Images

I doubt Hawkins would be available here, but due to other team needs and the quality of depth in this year's defensive line, he slides to the mid 20s. The Steelers have been searching for a young replacement for their aging defensive line, and Hawkins could step in for current NT Casey Hampton almost immediately, if not in year two. Great value and big need.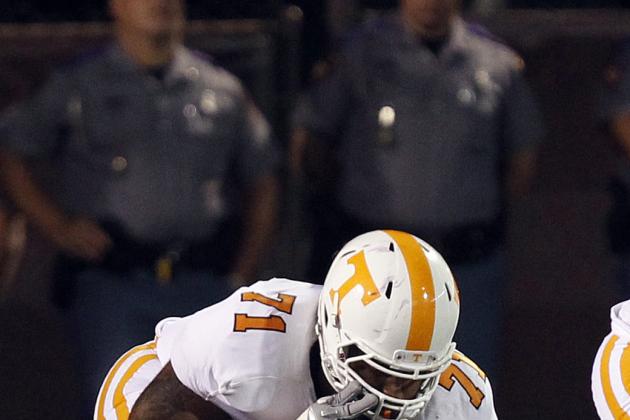 Butch Dill/Getty Images

While they may have more pressing needs, I think Denver's first priority should be to protect Peyton Manning. Thomas perhaps offers the most versatility of all this year's prospects and could easily slide into the starting lineup at RG or replace another starter. Look for the Broncos to trade for a game-ready LT if Ryan Clady leaves in the offseason.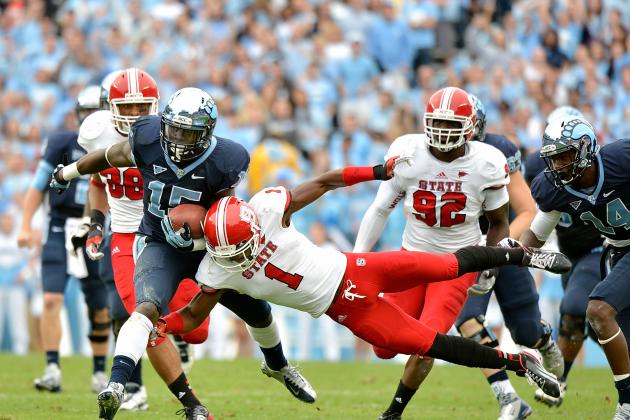 Grant Halverson/Getty Images

Although Bill Belichick has spent the last few drafts trying to rebuild New England's secondary, they've still allowed an alarming rate of long completions. Amerson offers versatility as either a cornerback or a safety. I believe his best position is as a ball-hawking FS, something the Patriots have a need for.
If not, they could always address the need for more linemen (on both sides of the ball) or look to add a wide receiver.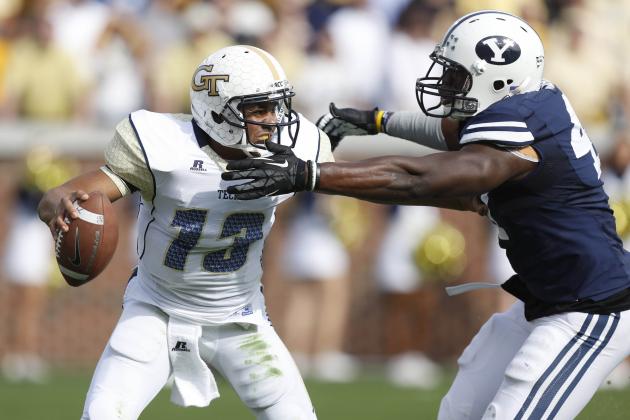 Josh D. Weiss-US PRESSWIRE

Ansah has played NT, five-tech DE and OLB in BYU's 3-4 scheme. This jack of all trades would be a great fit for head coach Jim Harbaugh, where his versatility could be used all over the field and present matchup problems whether lining up as a pass-rusher or playing the run.
This was a tough pick to make. I really wanted to go with a true 3-4 defensive end, but I just didn't like the available choices. The 49ers have immense depth and could go in a lot of different directions.
Kevin Jairaj-US PRESSWIRE

The Packers will look to address their offensive line. Former No. 1 pick Derek Sherrod has provided little help as he's often injured and unable to play on game days. GM Ted Thompson should keep it in the family and draft Matthews, who would play immediately at RT and allow the Packers to shift current starter Bryan Bulaga over to LT.
If not O-line help, look for a defensive lineman or linebacker. I doubt Thompson would go for a running back in a pass-dominated offense.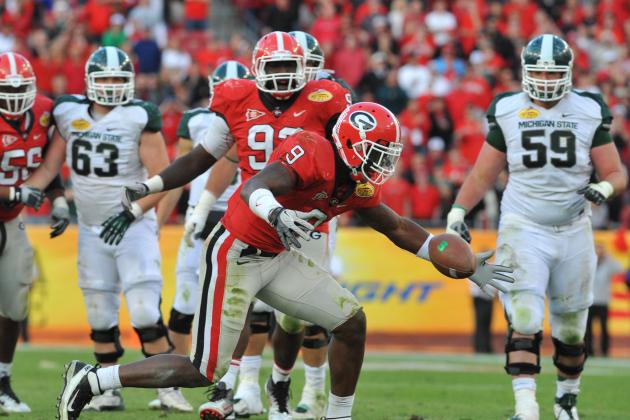 Al Messerschmidt/Getty Images

The Ravens will miss Ray Lewis, and even if he were to return for next season, who knows if he would be able to play like his former self.
Olgetree is a three-down lineman who is clearly the second best ILB in this year's draft. This pick could be a great value and address a huge need for GM Ozzie Newsome, who could once again end up looking like a genius on draft day. Their run defense has been atrocious, so I wouldn't rule a trade up to snatch someone like Hankins. If not, maybe a S to eventually replace Ed Reed.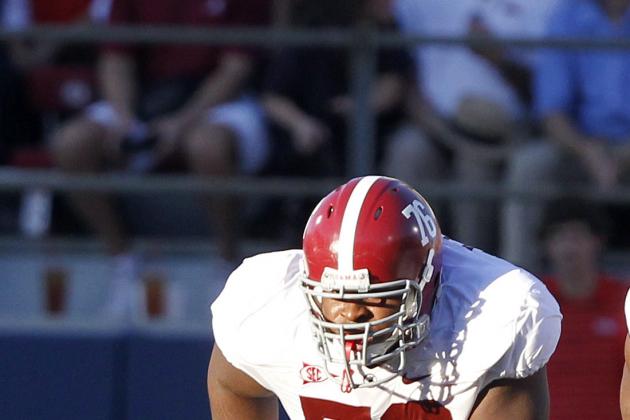 Butch Dill/Getty Images

Fluker is perhaps the fourth-most talented player on this offensive line, but he would be a great fit for the Bears, especially at No. 30. He's a superior pass blocker and would be able to play immediately (whether that's at their weakest position at LT, I'm not sure).
Chicago's defense has been outstanding so far, but Urlacher can't play forever, so look for his replacement in the mid rounds.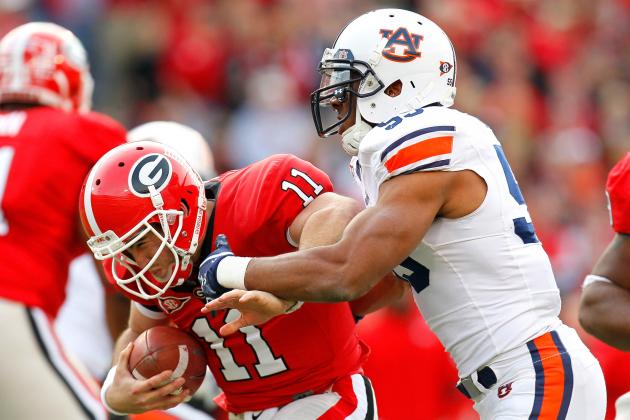 Kevin C. Cox/Getty Images

Maybe the only elite draft pick on this Tigers team, Lemonier has held his own and has great burst. The Falcons just released former free-agent signee Ray Edwards, and would need to eventually replace DE John Abraham, who will be 35 next year.
Their interior line has struggled thus far, so maybe another offensive lineman wouldn't hurt either.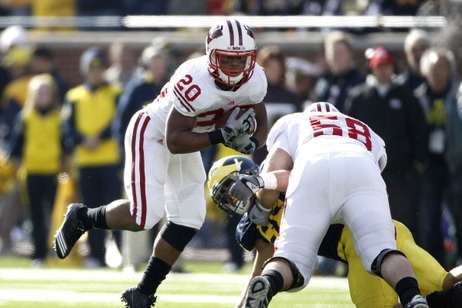 Gregory Shamus/Getty Images

The Texans could go in a lot of different directions in this draft. I personally prefer going after a WR, but Wagner is an interesting selection.
Texas currently has former seventh-round pick Derek Newton starting at offensive tackle, and I'm sure they would love to upgrade that position.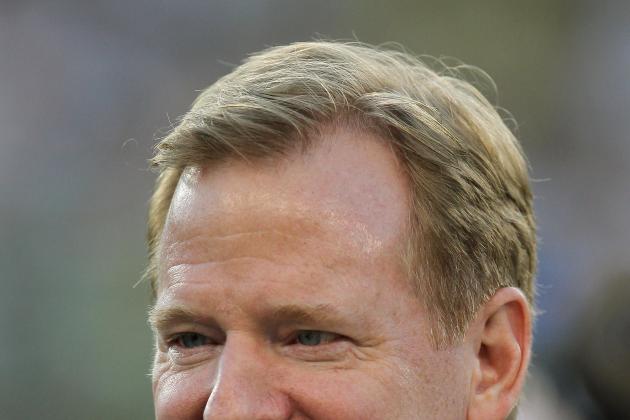 Jonathan Daniel/Getty Images

This has been fun, and it's waaay to early for a mock draft, but I hope you enjoyed it. I do want to reiterate that it is EXTREMELY early for such mock, so don't be upset if you don't agree with these picks.
It's all speculation at this point, and I've tried to have a good mix of need and values. I wouldn't be surprised if half of these juniors don't declare, and if half of these players don't make the first round. There's a lot of time left in this process.
You can follow me on twitter @Metta_Colin for all sports opinions and I encourage you to read my sports site, Metta Chronicles, for all the latest news and opinions.