Daily News Article on Tim Tebow Is the Latest Case of Anti-Jets Media Bias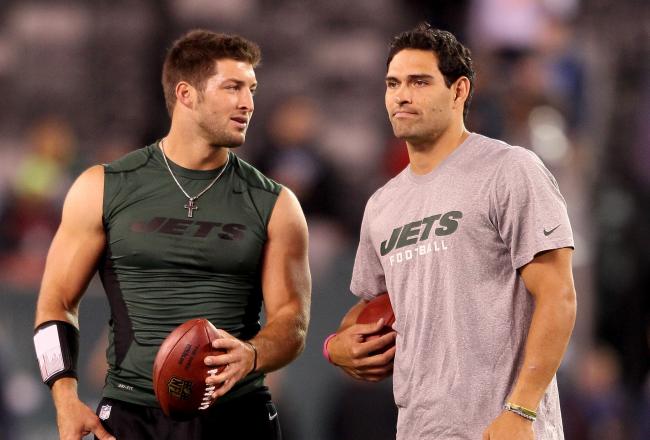 Alex Trautwig/Getty Images
It has now been over 24 hours since an article in the New York Daily News featured quotes from numerous anonymous sources to paint a picture of discord towards New York Jets quarterback Tim Tebow.
Radio blowhards Mike Francesa and Stephen A. Smith have had their time to eschew actual sports news to instead scream about their favorite target, and fans have had their chance to cool down a bit after the initial avalanche of emotions.
Now that the story is slowly becoming yesterday's news, it's time to detach yourself from the situation and take a look at the story for what it's really worth.
First, there is the debate on whether the article has any merit at all because it is largely based on anonymous sources.
In an article by Brian Costello in Thursday's Daily News, Bart Scott addressed the idea behind using anonymous sources in an article.
"I've been here four years," Scott said. "It's always an anonymous source. An anonymous source can be the janitor. An anonymous source can be the cable guy. An anonymous source can be the equipment guy. Anybody can be an anonymous source. If you don't tell them to put their name to it, what credibility do you have?"
Scott brings up a valid point. Manish Mehta does identify three of the anonymous sources as starters, including the source of the headline-grabbing "he's terrible" quote.
However, four of the other sources were identified as a "member of the organization," a "Jets official," a "prominent member of the organization" and a "Jets source."
Mehta does a good job of trying to qualify his anonymous sources, but when it comes to people who weren't identified as starters, Scott was dead-on with his assessment.
When it comes to people being "Jets officials" or "members of the organization," that could be anybody from a group of up to 300 people.
Even a "prominent member" could be someone like the Vice President of Business and Legal Affairs, whose opinion holds as much merit as yours or mine.
What is your opinion of the Daily News article?
Mehta also names one other source simply as a "player." He didn't use the words "veteran" or "starter" as he did with his other sources, leading one to conclude that this player has to be marginal at best in order to not even have an adjective attached to his status.
So even though it's probably not the case, this article could be based largely on the opinions of folks in the Jets ticket sales office and someone on the practice squad.
Of course, once the article hit the newsstands Wednesday morning, all of the usual Jets haters were sought out to use their opinions as a means of supporting these claims.
LaDainian Tomlinson, who is looking more and more like a bitter ex-player with an axe to grind, put his finger on Scott and Antonio Cromartie as the sources of the quotes. If that were the case, two of the sources, instead of just one, would have been identified as "defensive starters."
The only thing Tomlinson's quote proves is that he doesn't like Cromartie and Scott. Tomlinson was a class act as far as everyone was concerned during his time with the Jets. However, since leaving he has gone out of his way to cause trouble like a bitter girl trying to discredit her ex-boyfriend to mask the pain of being dumped.
Even if his opinion is biased, at least Tomlinson is a Hall of Fame running back.
In the wake of Mehta's article, Kevin Armstrong of the Daily News reached out to Wayne Hunter and Kellen Clemens to weigh in on the situation.
Really?
So the perhaps most reviled Jets player in the past decade and a backup quarterback for the St. Louis Rams are reliable sources on this matter?
If you take a step back from the headlines and look at everything objectively, the main players in this saga are a Jets player, a member of the organization, a Jets official, a prominent member of the organization, a Jets source, Tomlinson, Hunter and Clemens.
With all of the flames being fanned by the two biggest Jets haters on the New York airwaves in Francesa and Smith.
Think of it as going to get reliable information about the Republican Party from CNN, or going to Fox News for information on the Democrats.
There were two players who did put their names on their quotes for the Mehta article, Mike DeVito and Matt Slauson.
Slauson said that Sanchez was clearly the best quarterback on the team and DeVito lauded Tebow for his ability to work as a running threat to help the Jets' slumping offense.
Their quotes, the ones actually attributed to specific players, weren't going to sell papers, so they weren't the ones pushed by reporters.
The Jets are an easy target for sure.
Ryan gives the players the free will to speak their minds, which can be refreshing while winning, but can backfire when times go bad.
The people who benefit most from Ryan's ways, though, are the people who are quick to rip him.
The Daily News certainly sold papers on Wednesday morning by putting Tebow on the back page with the headline "He's Terrible." And Mehta got his name out even further by taking advantage of his anonymous sources.
Smith and Francesa were eager to keep the midday talk radio phones ablaze as there was nothing else to talk about during the midweek lull in the football season.
And of course there are the typical former players who are always quick to pile on the team that threw them to the curb.
Mehta's follow-up article dealt with how Ryan, Tebow and Mark Sanchez dealt with the storm he created. All three of course dealt with things professionally and honestly. Will that be covered at all by anyone today? Of course not.
The point here is that when an article like this comes out, readers must take the time to look at the sources. Look at who benefits from the article being published and the story being perpetuated.
Anonymous sources are not unique to the Jets, or even the world of sports. There will always be people willing to offer qualified opinions but unwilling to stand behind them.
If you think back to Eli Manning's first few seasons with the Giants, the anonymous sources were always there waiting to offer their opinions.
So when a fan sees "high-ranking Jets official" and automatically thinks it could be Mike Tannenbaum, Ryan or one of the coaches, they should know that it is more likely somebody who never even steps foot on the field.
The Daily News would like you to read the two-word headline, buy their paper, have a knee-jerk opinion and spread the word about the article.
By the time the Jets take the field Sunday, this article will be long forgotten by anyone who holds any importance with the team.
However, you can count on the papers and talk radio hosts to bring it back up the next time there is a slow news day.
Follow RC Cos and the B/R Jets Report on Twitter @BR_Jets_Report
This article is
What is the duplicate article?
Why is this article offensive?
Where is this article plagiarized from?
Why is this article poorly edited?

New York Jets: Like this team?