Liverpool vs. Wigan: 6 Things We Learned in 3-0 Reds Win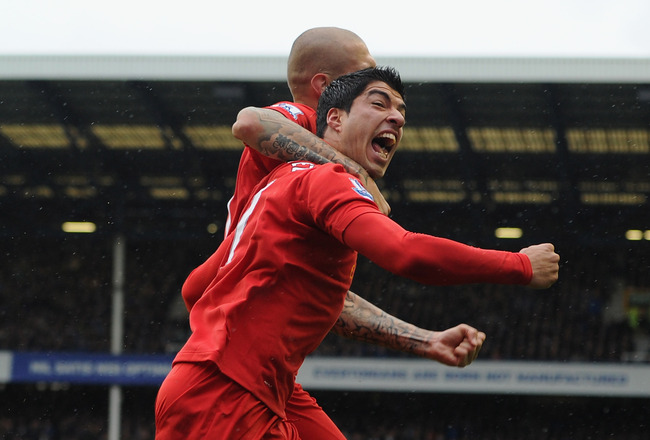 Chris Brunskill/Getty Images
Liverpool are back to winning ways at home after a 3-0 win over Wigan Athletic in the Premier League, a game where several stand-out performers helped the Reds to the first Anfield victory in a month.
The first period was rather evenly matched in terms of possession, though Ali Al-Habsi was certainly the busier of the goalkeepers.
An early second-half goal for Liverpool, though, was the start of some sustained pressure, far more clinical than usual attacking, and a big confidence boost for the Reds.
The win lifts Liverpool up to 11th in the Premier League and brings an end to their recent run of draws.
Here are six things we learned in the game.
Luis Suarez Just Can't Get Enough...of Scoring Goals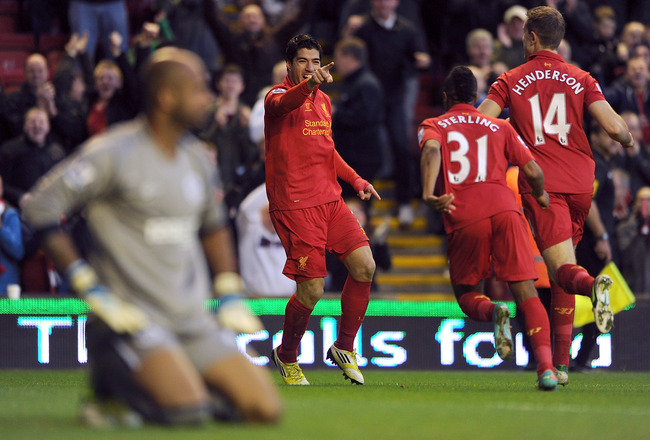 Chris Brunskill/Getty Images
Two goals in 11 second-half minutes from Luis Suarez pretty much wrapped the game up for Liverpool, as they never looked like conceding against Wigan Athletic at any point.
Suarez has, in the space of a few months, gone from being criticised for not scoring enough goals to being criticised as the only player the club looks to for scoring goals at all. Not a bad swing.
The Uruguayan now has five goals in his last four league games, is the outright Premier League's top scorer for this season with 10 goals, and has 13 goals in all competitions—just four short of his total haul for the entirety of last season.
Statistically, he has shaved off 124 minutes per goal from last season's scoring rate, and now actually has a better shot conversion rate than Real Madrid's Cristiano Ronaldo: 17 percent for Suarez versus 14 percent for the Portuguese goalscorer.
Suarez is the most in-form and dangerous striker in the Premier League right now, and one of the very best in the whole of Europe.
Jordan Henderson Makes His Case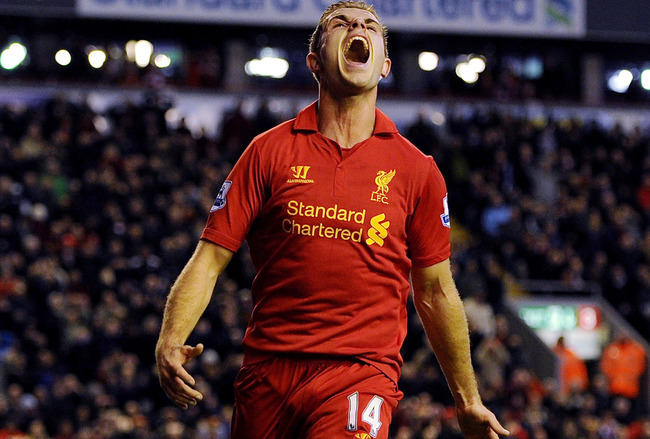 Chris Brunskill/Getty Images
Jordan Henderson still hasn't started a Premier League match for Liverpool yet under Brendan Rodgers, but after coming on as a first-half substitute in place of Suso against Wigan Athletic, he showed that he still has much to offer the team.
Liverpool were better at keeping hold of the ball, had more energy to press Wigan in the centre of the park and carried a more regular threat in the penalty box, playing two central players in front of Joe Allen rather than one player ahead of two holding midfielders.
Henderson ended the game with a 90 percent pass completion rate, won four out of five of his ground duels and had one glorious chance to score with his left foot—but blazed over the crossbar.
Elsewhere, notable performances from Jose Enrique and a clean sheet for Pepe Reina, both of whom have had their form issues of late, were also positives for Liverpool.
Stewart Downing: All over at Anfield?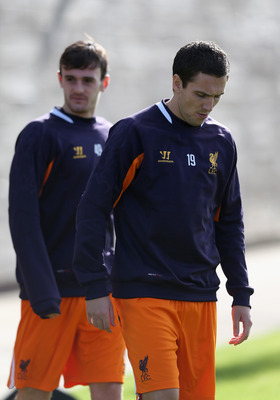 Clive Brunskill/Getty Images
Stewart Downing started the Premier League campaign in the Liverpool XI; just three months later he can't even get on the bench when the club have forward players out injured and recall Joe Cole to be a sub, with a left-back playing left wing.
Reports this week in the media indicate that Downing is so far down the list of preferences for manager Brendan Rodgers that he has been told he can leave the club in January.
The Reds splashed out £20 million on the former Aston Villa winger only 16 months ago and will likely make back less than half of that amount when they offload him—if there are any takers.
If he gets another chance in the Europa League, he'll need to show exactly what he's capable of to have even the faintest hope of getting back into Rodgers' plans for the league campaign.
Run of Winnable Home Games for Liverpool Gets off to Good Start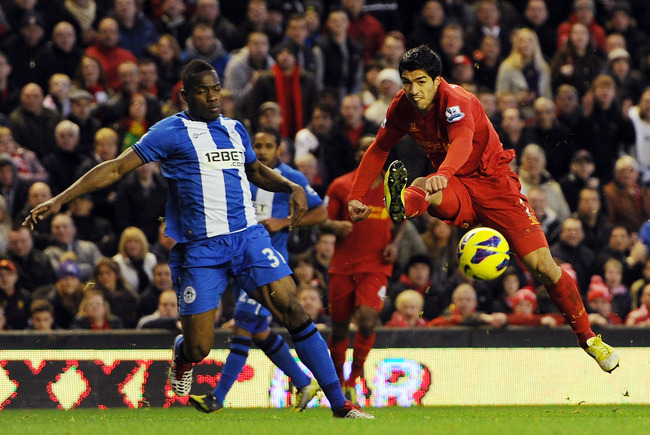 Chris Brunskill/Getty Images
Much has been made of Liverpool's poor home form in 2012, and rightly so—the Reds had won just once at Anfield this season.
The Wigan game, though, was the first of a run of five home fixtures in the Premier League which Liverpool should really look to be winning—four to end the calendar year with, and one to begin 2013.
Wigan, Southampton, Aston Villa, Fulham and Sunderland.
These are all teams that finished lower in the Premier League than Liverpool last season, and the Reds need to pick up three points, three points and three points.
No mistakes, Liverpool need five wins from these five to start moving themselves up the Premier League table rapidly.
The 3-0 win over Wigan gets that run off to the best possible start.
Brendan Rodgers Pleased with Performance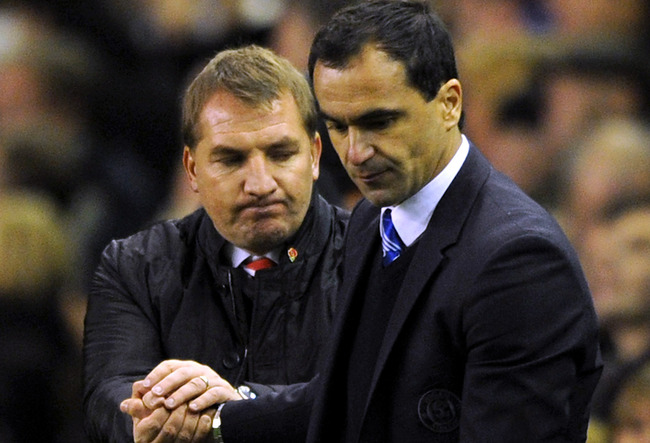 Chris Brunskill/Getty Images
Too often following Liverpool's Premier League games this season, manager Brendan Rodgers has needed to come out and say that the progress was evident but the result didn't reflect his team's performance.
Against Wigan, in the second half particularly, he got both.
Liverpool's game was good, their shape was excellent and both in and out of possession the team worked very hard. Indeed, it was only the second time since March 2012 that Liverpool had scored three goals at Anfield in the league—something the fans will appreciate as much as the manager.
Rodgers was, for once, able to praise the entirety of the team for their performance and be pleased that it led to three points, as per his comments on the official club website:
I think there are superlatives for the team today. I thought the team was outstanding, in particular second half. Luis took his goals very well, his movement again was outstanding, but today was very much about the team. The ethos and the spirit of the team, the pressure that we applied as a team, was very strong. Today was a result for everyone and I was delighted with that performance.
Results Go Liverpool's Way, Key Fixtures Ahead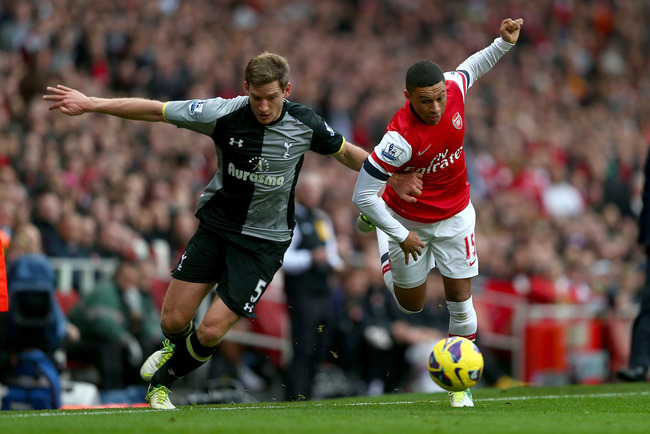 Clive Rose/Getty Images
Liverpool are chasing the teams ahead of them after a first quarter of the season littered with drawn matches.
Depending on your point of view, Liverpool's target is either to get back in the top half as soon as possible, to get back into the top six this season or merely to reach the top four challengers as soon as possible.
Whatever your view, it was a good day all around for the Reds.
Aside from Liverpool themselves picking up the three points, Tottenham—the side the Reds must measure themselves against for now—were beaten by Arsenal, Everton lost to Reading and Newcastle United suffered defeat against Swansea City.
Liverpool are now one point behind the Swans and two behind Spurs—their next two fixtures in the Premier League, both away from home.
The potential to climb the table significantly over the next six weeks is very much evident for the Reds.
stats from eplindex.com and whoscored.com
Keep Reading

Liverpool: Like this team?