Pac-12 Football: Week 12's Previews and Predictions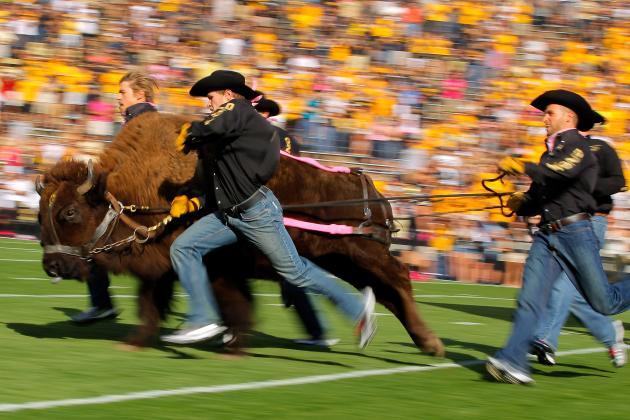 Doug Pensinger/Getty Images
Ralphie the Buffalo
Some key games this week should help shape up how the Pac-12 Championship game will look.
Right now, seven Pac-12 teams are bowl eligible and two more teams (Arizona State and Utah) are fighting to reach that six-win threshold.
Cal finishes (mercifully) its last week of football against Oregon State this week. Also, the annual cross-town rivalry between USC and UCLA will be played at the Rose Bowl this Saturday.
Begin Slideshow

»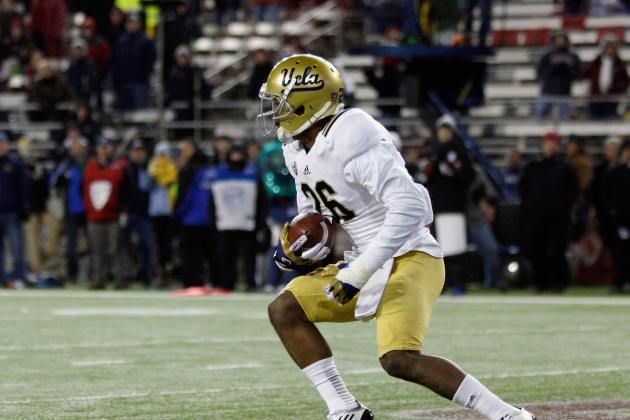 William Mancebo/Getty Images

The smack between these two schools has reached absurd new levels. If USC's marching band's drum major stabs the field during the band's pregame entrance, the band will not be allowed to perform at halftime, according to an LA Times report.
Meanwhile, there's an important game to be played: The winner of this contest represents the South in the Pac-12 Championship.
Both teams will try to establish the run, but the passing game will determine the winner here. If the Bruins' secondary can't lock down Robert Woods and Marqise Lee, it's going to be a long day for UCLA.
Conversely, if UCLA's pass rush can get to quarterback Matt Barkley, it's going to be a long day for USC.
Last year USC beat UCLA 50-0 and had the best record in the South but was not eligible for post season play; UCLA played in the Pac-12 Championship instead.
Prediction: USC exacts revenge and beats UCLA 42-36.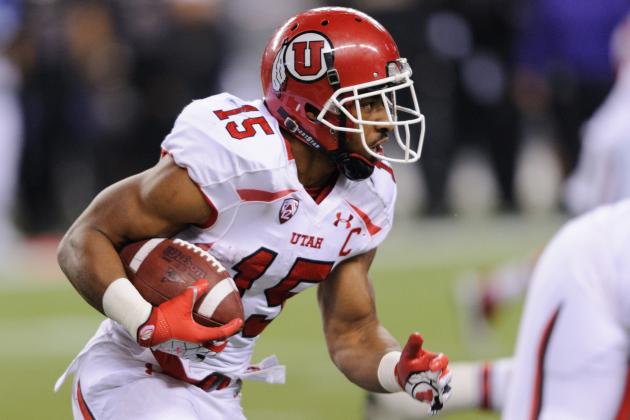 Steven Bisig-US PRESSWIRE

Arizona has a 6-4 (bowl eligible) record but the Wildcats are in great position to move up the bowl food chain. Traveling to Salt Lake City, Utah in November, however, might not help their movement.
Utah has to win its final two games against Arizona and at Colorado to become bowl-eligible—Colorado is a win but this game is now more compelling since Arizona quarterback Matt Scott is questionable (head) for Saturday.
While I do love the Utes' front four, I don't think the Utes' defense is built to contain prolific offenses—Utah has lost to Utah State, Arizona State, USC and UCLA. On the flip side, with a reserve quarterback in for Arizona, the Wildcats will be more vulnerable.
Utah quarterback Jordan Wynn is also likely out which means Travis Wilson will likely get the start.
Prediction: Utah finds some early success and upsets Arizona in a tight game, winning 24-17.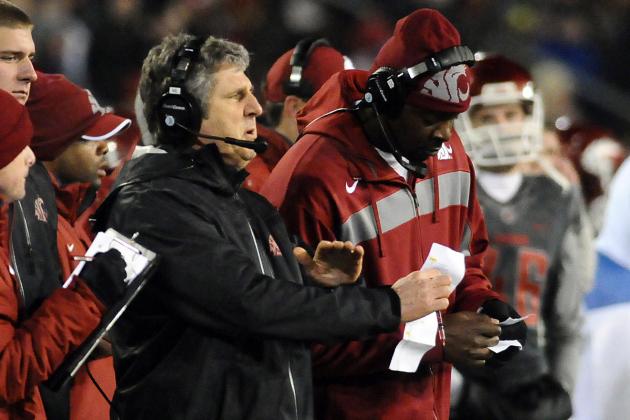 James Snook-US PRESSWIRE

While the controversy over former Cougar Marquess Wilson's accusations of abuse reverberates around Pullman, Washington head coach Mike Leach has yet to pull off an upset this season.
Leach is running out of time and frankly, this isn't the contest where he pulls off the unthinkable.
Arizona State is riding a four-game futility streak and the Washington State Cougars are just what the doctor ordered after playing Oregon, UCLA, Oregon State and USC in four consecutive weeks.
Prediction: Arizona State cruises to a 42-21 victory.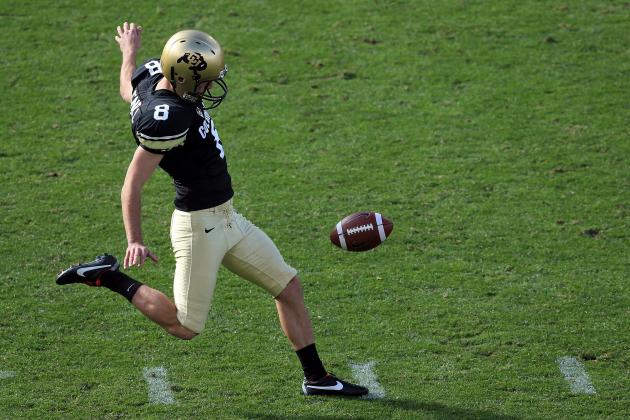 Doug Pensinger/Getty Images

The Washington Huskies travel to Boulder, Colorado in hopes of continuing their quest for an 8-4 regular season record; that's an improvement over last year's record and with a more difficult schedule to boot.
Colorado put up a fight at Arizona last week before eventually losing 56-31 but the Huskies' defense has steadily improved since the beginning of the season and that spells another loss for the Buffaloes.
Prediction: Washington 38, Colorado 9.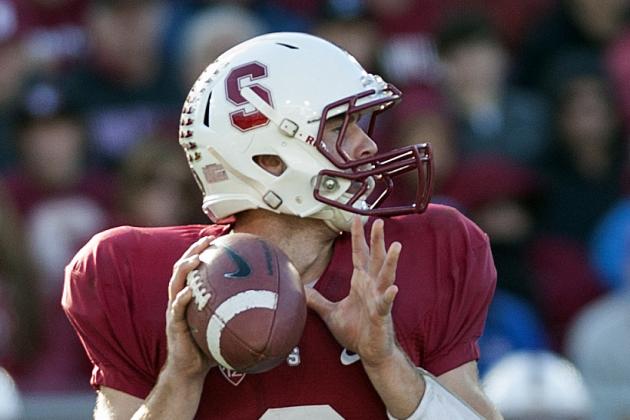 Ed Szczepanski-US PRESSWIRE

The Stanford Cardinal beat Oregon State 27-23 behind a terrific performance from quarterback Kevin Hogan last Saturday. This week the Cardinal face an Oregon offense that leads the nation in touchdown drives of one minute or less, according to ESPN's Stats and Information.
Stanford, according to that same ESPN report, is "one of only five teams that has not allowed a touchdown in less than a minute." We'll see if that stat holds up after Saturday's game.
Right now, Oregon looks like hell on wheels and scoring some style points on a No. 13 team is probably in order, whether it was planned or not.
Prediction: Oregon 35, Stanford 17.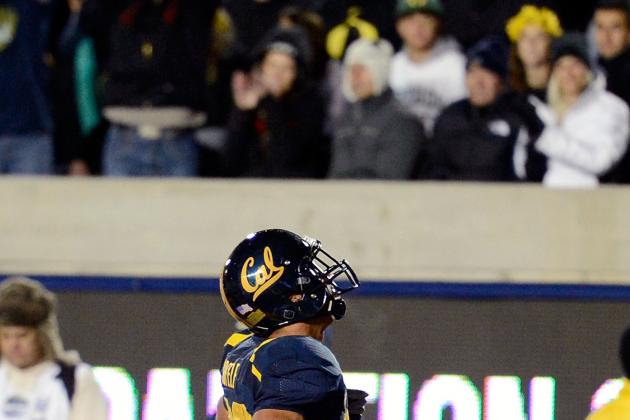 Thearon W. Henderson/Getty Images

This game has an interesting dilemma for both teams: Who starts at quarterback?
Golden Bear quarterback Zach Maynard (knee) is questionable for the game.
Beaver quarterback Cody Vaz was injured in last week's loss to Stanford—a Vaz fumble also gave the Cardinal the opportunity to score a go-ahead touchdown.
So who starts this week? Vaz or Sean Mannion? While you mull over that, I don't see the Beavers dropping two games in a row despite Cal's tremendous running game.
Prediction: Oregon State 23, Cal 13.