25 Worst Sportscaster Fails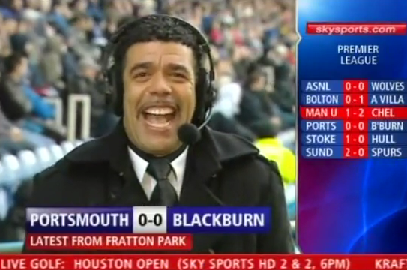 Image via football-news.com
Brain farts are a natural part of the human repertoire. Unfortunately for sportscasters, their mistakes are broadcast across the world for all to laugh at.
While Gus Johnson taught us that any mundane situation is capable of sounding epic, many of his peers have shown us that only fails keep us coming back for more.
From hilarious to simply awful, here are the most legendary fails in the history of sportscasting, listed in no particular order.
Caution: Some bloopers featured herein contain NSFW language.
Begin Slideshow

»
Imagine how much that would have hurt if Dan Marino actually had a Super Bowl ring? Zing.
For Lee Corso, this is called headgear withdrawal. It can get ugly.
I remember my first broadcast. It was like this, but in front of a mirror.
Thank you, Eric Karros, for the rivetingly obvious statement. As always.
How to handle a shattered situation with class. Embrace the moment.
If we know Roger Goodell, he's trying to fine James Harrison for this hit.
During hair-flying impact, for a slight second, that could have been Clay Matthews.
Cloning the alpaca species would somehow make the world a better place. They'd keep us all in line.
After a nifty punch line, Damany Lewis crumbles to pieces.
Charley Steiner enters every situation like a pro. And always leaves a hero.
Dear Books on Tape,
Hire Charles Clinton.
Love, all sports fans
Dave Chappelle would be proud. As are we.
Danyelle Sargent's contract with ESPN was coincidentally not renewed when it expired in the Fall of 2006. For more potty mouth, visit her on NFL Network.
An exhausting, yet legendary broadcast. Brilliant.
We could just as easily be stuck in a pottery class with a hilariously colorful instructor. Hands...caressing...we're finished here.
What is Chris Kamara being paid for again?
No translation necessary here. Your eyes will do all the talking.
Fox Sports West reporter Christine Nubla elaborates on a new strategy being popularized around the league.
Correction: "Took another sip of the potion, hit the three-wheel motion."
This footage continues to pass the test of time. Whatever Ball State University sportscaster Brian Collins is now being paid, it's not enough.
Unfortunately for Mike Ditka, the lights forgot to dim on this team when the moment demanded it most. Ladies and gentlemen...Ditka.
Not much was saved during this torrential downpour. And the Sonics did eventually move to Oklahoma City.