UFC 154: Questions We Have About Georges St-Pierre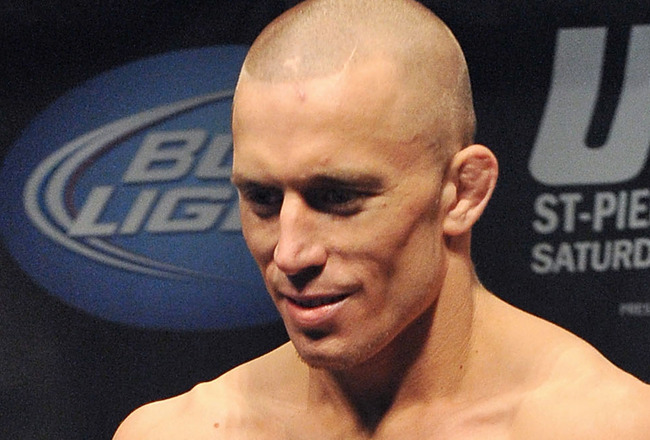 Jon Kopaloff/Getty Images
It's been 19 months since longtime welterweight king Georges St-Pierre last stepped in the cage. That performance, a largely panned thrashing of an overmatched Jake Shields, left people questioning the drive of a champion who was so obviously ahead of his peers.
A simmering feud with a brash contender, a torn ACL and an interim champion later, and people seem to have shifted focus to excitement for his return instead of frustration over his approach.
Here are some questions to consider as the return of GSP is almost upon us.
Is the Drive Really Back?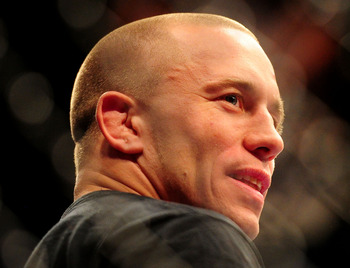 Mark J. Rebilas-US PRESSWIRE
St-Pierre has stated constantly in the lead-up to his tilt with Carlos Condit that he was burned out, over-trained and uninspired before his forced layoff. He's said with similar enthusiasm that none of those things are true any longer, and that the drive to show the world what he can do is back in full force.
Is that really the case?
Dominance can sometimes breed indifference, and that seems to be what happened to GSP as he sat atop his 170-pound throne. Then again, one of his favourite pre-fight statements is usually how he's motivated more than ever and that this challenge is the toughest of his career.
Only when the world sees him back in action will it know how much of his talk was true, and how much of it was bluster to sell pay-per-views.
What's His Gameplan Going to Be?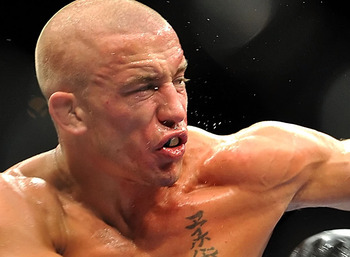 Jon Kopaloff/Getty Images
People will rag on GSP for shifting his focus away from explosive karate stylings to a wrestling-heavy approach in recent years, but his fights since regaining his title at UFC 83 have been almost evenly split in terms of approach.
He mostly stood with Jon Fitch, Josh Koscheck and Jake Shields. He grounded Matt Serra for much of their second meeting to regain his gold, and did the same to Dan Hardy. Fights with BJ Penn and Thiago Alves were sort of an even split, a mix of action dependent on where St-Pierre wanted to contest the bout.
There's no doubt that the flashy axe kicks and wild combinations are gone from the champion's repertoire, replaced by sharp boxing and the best takedowns in the game. That said, he can still fight whatever fight he wants to, so seeing how he approaches the scrappy, aggressive Condit will be interesting.
How's the Knee Going to Hold Up?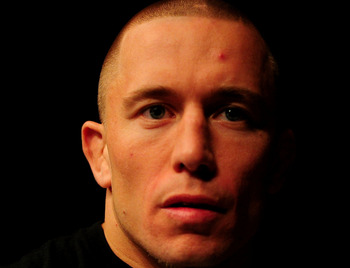 Mark J. Rebilas-US PRESSWIRE
A torn ACL is a career ending injury in many sports. In fact, without a committed subject and the right rehab, it's a career ender in MMA.
So how is GSP going to look on one medically repaired pin? Given his penchant for getting lost in his own injuries during fights, this is likely to be the biggest hurdle for him.
The first leg kick he checks will be big, as will the first time he drives through on a shot in an effort to complete a takedown. Truthfully, even shifting to change angles on a strike or throwing a kick—things he's done a million times in the gym on it by now—will be different with 20,000 fans screaming and the adrenaline of fight night flowing.
Chances are (knock on wood) that the leg is going to be fine, but it won't be until he goes through the pressure of a fight that St-Pierre and everyone else will know for sure.
Can He Finish?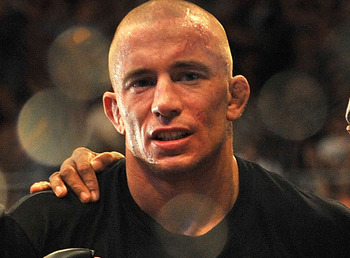 Jon Kopaloff/Getty Images
The ultimate question that people will forever ask of Georges St-Pierre. Is this the night that he finally gets a finish, that he finally stops a guy coming to take away his title?
The last time he won by stoppage was almost four years ago, in his utter destruction of BJ Penn in their second meeting. Even that came when Penn's corner decided he'd had enough, and not because the ref pulled a feral St-Pierre off of the Hawaiian's unmoving heap.
To be fair though, St-Pierre fights the best of the best. He fights with caution, something that he'll likely do again on Saturday against the ruthless Condit, but he fights guys that are tough to stop.
If he's to be believed in saying that the old GSP is back, you may see him push the way he did the last time he was hungry for a fight in Montreal, when he beat Matt Serra half to death and stopped him with body shots. If not, it's going to be another 50-45 sweeping of the cards and another series of interviews stating an intent to finish, followed by an apology that it didn't happen.
You can probably guess which one fans will be interested in.
Keep Reading