6 Key Premier League Battles to Watch This Weekend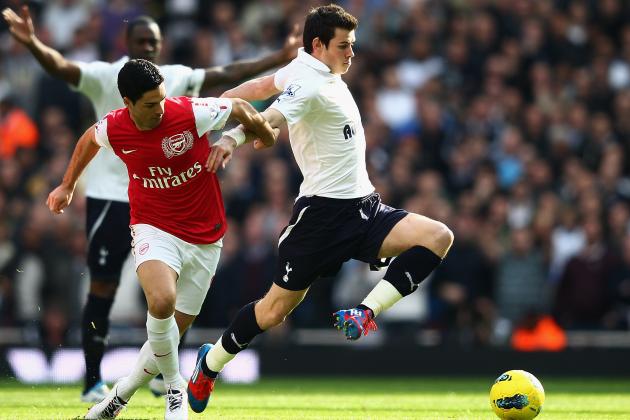 Clive Mason/Getty Images
Gareth Bale evades Mikel Arteta at the Emirates back in February
After midweek international friendlies, its back to business this Saturday when the Premier League throws up some intriguing fixtures for us.
Last weekend, Arsenal were lucky to come back and earn a point against Fulham after what can only be described as a shambolic defensive display.
Both sides of Manchester also rode their luck, but ended up winning by the odd goal against Aston Villa and Tottenham respectively.
QPR's seemingly unstoppable descent back down to the Championship continued as Stoke's Charlie Adam was the difference between the sides and it's now getting critical for Mark Hughes' side.
Let's take a look at the six fixtures I'll be watching with a keen interest this weekend.
Begin Slideshow

»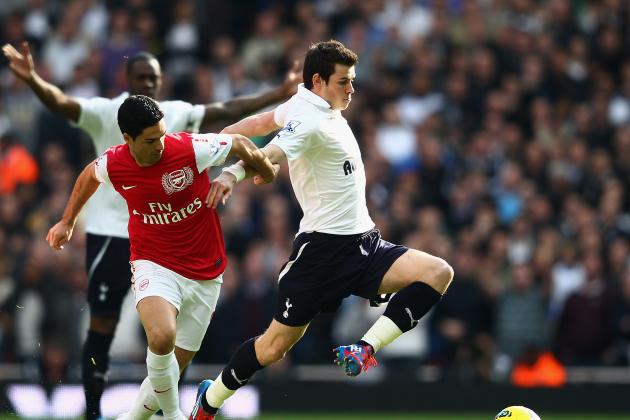 Clive Mason/Getty Images

For what seems like the umpteenth weekend in a row, Arsenal play in a London derby this weekend, this time against Spurs.
Arsenal were shocking defensively last weekend. They were all over the shop and Fulham, in particular Dimitar Berbatov, exploited that almost at will.
Mikel Arteta had a nightmare last week. It's probably the worst I've seen him play in a few years.
After starting the season as a solid, well-drilled, disciplined unit, over the last few weeks Arsenal have been shipping sloppy goals left, right and centre.
Arsene Wenger will want to sort that out as soon as possible, hopefully against Spurs in Saturday's early kickoff.
Spurs were desperately unlucky last Sunday against Manchester City.
Despite being impressive for long periods of the game, it was City's ruthlessness in front of goal that won them the match.
Although Jermain Defoe is a goal machine, he can't do it all on his own and he needs the likes of Gareth Bale, Aaron Lennon, Clint Dempsey and Emmanuel Adebayor to chip in as well.
Andre Villas-Boas has an almost unshakable belief in his 4-2-3-1 system that I don't think he'll deviate from, especially in away games, so Spurs fans might just have to get used to it.
In terms of the match itself, recent matches between these teams have thrown up goals galore and given the way that Arsenal have been defending of late, I can see that happening again on Saturday.
This will probably be a draw, but I wouldn't be surprised to see Arsenal get back on track with a win either.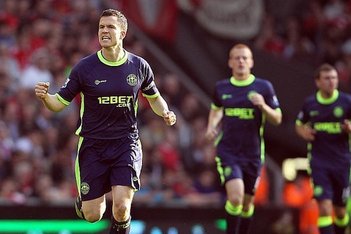 Image courtesy of bbc.co.uk & Getty Images
For those of you who don't know this, I'm a Liverpool fan, however, I don't wear red-tinted glasses and am the first to admit when we've had problems.
Without being disrespectful to Wigan, you know your team is in trouble when Gary Caldwell scores the winner against you, particularly at Anfield.
I've watched Caldwell for years, ever since he played for Hibs in Scotland in 2003/04.
He has never struck me as being anything special.
Caldwell has always been naive defensively and has been exposed on several occasions in the Champions League for Celtic, on the international stage with Scotland and especially whilst being at Wigan.
The fact that Caldwell scored the winner at Anfield in this fixture last season shows how badly Liverpool were struggling.
I have nothing but the greatest of respect for everything that Roberto Martinez has done at Wigan.
At times, it has seemed like almost a thankless task to try to keep them in the Premier League, but time and time again, Martinez has done it, with a limited budget and an unrelenting belief in playing good football.
The job he has done at the DW Stadium has meant that he has been linked with jobs at other clubs, like Liverpool, Spurs and Aston Villa in the summer.
He's a terrific coach and I've got no doubt that he will go on to become one of the best in the business.
Wigan head into Saturday's match at Liverpool on the back of a poor run, with only one win in their last five matches.
Having said that, Liverpool haven't exactly set the heather alight this season either.
They've struggled to get going domestically and, like Wigan, they've only got one win from their last five matches.
I've got no doubt there will be plenty of good football on show at Anfield on Saturday, given the way that both managers like their teams to play.
It will be tight and tense at times, with a draw being the most likely result.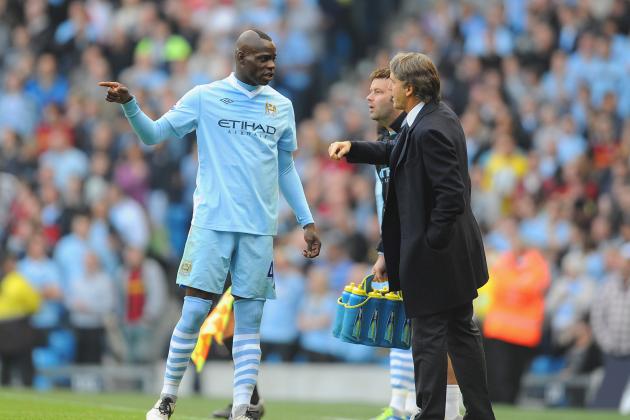 Michael Regan/Getty Images

When these sides met in this fixture last October, they were both undefeated, but City ended up getting the three points thanks to a 4-1 win.
This time around, it's an entirely different Manchester City.
They might be undefeated in the league this season, but to say they've looked shaky at times would be an understatement.
It seems bizarre to say this because City are the defending Premier League champions, but it's as if they've got no confidence.
There's been a lot of in-fighting between the manager and his players of late, with the usual media circus surrounding Mario Balotelli.
Players like Micah Richards have come out and publicly said that they don't like playing with three at the back (as reported by Jon Harvey and Hannah Duncan of metro.co.uk), not to mention Roberto Mancini's public outburst against Joe Hart (courtesy of The Daily Telegraph) after the goalkeeper criticised their Champions League defeat at Real Madrid.
Is that a sign that Mancini and his players are buckling under the pressure on their shoulders? Possibly, but only time will tell.
One thing's for sure. If it weren't for Edin Dzeko and his late goals this season, City would be in trouble.
The amount of times that the giant Bosnian striker has saved City's blushes already this season is astonishing and he'll be pushing to start on Saturday.
City's visitors on Saturday, Aston Villa, will be buoyed by their fantastic performance against Manchester United last week.
At times, Villa were excellent.
They scored two great goals through Andreas Weimann and caused United all kinds of problems.
Yes, they're a little naive defensively, but that's to be expected when some of your players don't have Premier League experience.
Villa are going in the right direction under Paul Lambert and they'll continue to improve.
Don't forget, they've already beaten City 4-2 in the League Cup this season, so this might not be a home banker like everyone suspects.
I've got a funny feeling that, once again, Edin Dzeko will come to City's rescue and earn them the three points after a hard fought match.
Chris Brunskill/Getty Images

The look on Mark Hughes' face in this picture is the look of a man who doesn't know what to do to get his team out of the traps.
So far this season, his side have lost seven out of 11 league games, picking up just four points.
That dismal record is the reason why they're bottom of the pile and the table doesn't lie: they've been the worst team in the league so far this season.
It's surprising when you consider that there has almost been a revolving door at Loftus Road since Hughes took over.
I've said this a few times already this season, he has no excuses. These are his players and it's his squad.
QPR walk into a real six-pointer against Southampton on Saturday.
The public show of support from the Saints fans to manager Nigel Adkins last Saturday was amazing to see.
Far too often these days, fans and owners of clubs expect too much, too soon.
After successive promotions in recent seasons, Saints are back at the top table in English football and it's about time that some fans and pundits showed a little bit of respect and got real.
Saints were always going to struggle this season and I'm sure their aim was to stay in the Premier League: by hook or by crook.
To even suggest getting rid of Adkins after their poor start to the season is ludicrous.
The fixture list hasn't exactly been kind to them and I've got every confidence in Adkins' ability to see them through this.
Saints are a good side to watch.
They create chances, score goals and were unlucky not to have a couple of penalties against Swansea last week.
This match might be the most important game of the season so far and I've just got a funny feeling that by 5 p.m. GMT on Saturday, it'll be Saints celebrating a win, leaving QPR in serious danger of getting relegated.
Alex Livesey/Getty Images

If we were voting for 'Player of the Season' right now, Marouane Fellaini would be the prime candidate.
He has been the stand-out in an excellent Everton side who are proudly sitting fourth in the table.
Fellaini has been a joy to watch this season and he has been unplayable at times.
His control, touch, skill and vision have been almost unmatched, regardless of the opposition.
Despite all that, Everton are not a one-man team by any stretch of the imagination.
Players like Leighton Baines, Phil Jagielka, Steven Pienaar, Nikica Jelavic and Leon Osman have played just as much a part in Everton's success as Fellaini has, and it's important to remember that.
On Saturday, Everton head to Reading, probably expecting to keep their good away record going.
The last couple of away games I've seen Everton play, they've created enough chances to win half a dozen games and I suspect that'll continue on Saturday.
The home side are still looking for their first win, but they're turning the corner.
They've started to tighten up at the back and they're not being outplayed as much as they were in the early part of the season.
I still think that Reading will struggle this season, but if they can pick up their home form, then they'll give themselves a fighting chance.
They've only lost once in their last six league games, so Reading will feel that they have a chance of upsetting Everton on Saturday.
Whether they'll do that or not remains to be seen.
I just think that Everton will create so many chances that they'll come out on top, leaving Brian McDermott and his side still searching for their first league win of the season.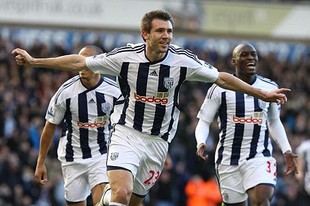 Image courtesy of metro.co.uk
If you want to talk about the surprise package of the season, then West Brom would be up there.
Before the season started, I predicted that West Brom would be prime candidates for relegation.
Eleven games into the season, they sit fifth in the table and are halfway to the magical total of 40 points, which is usually enough to ensure Premier League survival.
Steve Clarke deserves a huge amount of credit for continuing where Roy Hodgson left off and it's almost as if there has not been a change of manager.
The players are confident, they're playing well and West Brom are playing some decent football.
When these sides met in this fixture last season, West Brom's Gareth McAuley scored a late winner for the Baggies, which ended up being the final nail in Andre Villas-Boas' coffin at Chelsea.
Saturday sees Roberto di Matteo return to the Hawthorns as a manager for what I believe is the first time since he was sacked a couple of years ago.
No doubt he'll get a good reaction from Baggies fans after the outstanding job he did there as a younger coach, but that'll all change if his Chelsea side come away with three points.
The Blues go into Saturday's match in indifferent league form.
They've not won in the league for almost a month.
Since beating Spurs four weeks ago, they've lost to Manchester United and drawn their last couple of games against Swansea and Liverpool.
After returning from suspension, John Terry was injured against Liverpool last week and he'll miss out on what will no doubt be a physical match at the Hawthorns.
Steve Clarke knows some of the Chelsea players well and he'll have his side prepared for the visit of the current European champions.
This is a tough one to call, but I just think that West Brom's strong home record (and the fact that they ran Manchester City close a couple of weeks ago) will be enough to see them to a positive result against Chelsea.