Real Madrid: Adam Szalai the Latest Los Blancos Youth Product Real Passed Up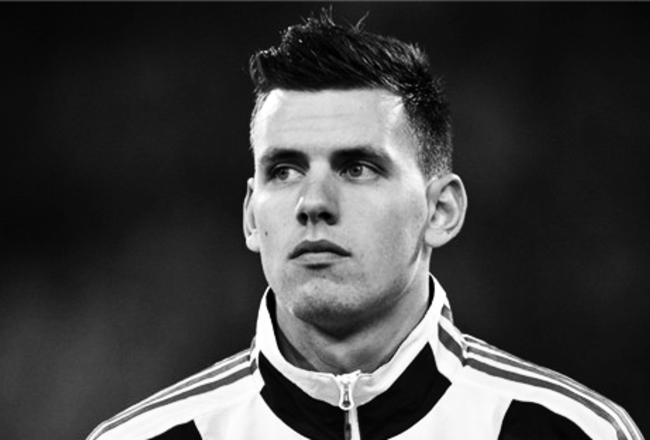 Photo via www.tumblr.com/tagged/adam-szalai

Meet Mainz's 24-year-old Hungarian international centre-forward Ádám Szalai.
He's the latest Real Madrid Castilla alumni to hone his craft at the Estadio Alfredo di Stéfano, only to leave and blossom into a star.
This article will look into Real's reluctance to give their youngsters a consistent run in the first team. It will also profile Szalai and compare him to the current forwards José Mourinho has at his disposal.
Real Madrid's Cantera Quandary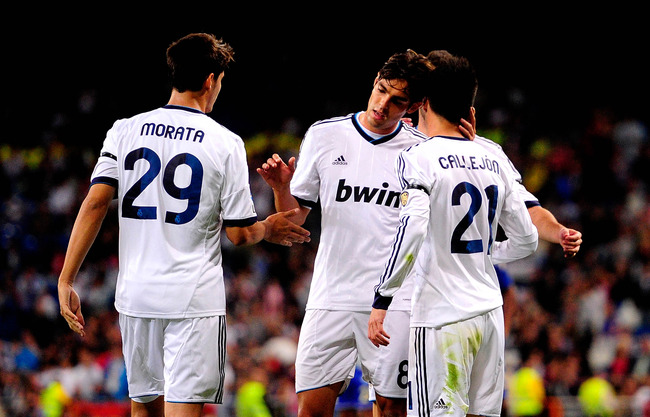 Gonzalo Arroyo Moreno/Getty Images
When Real Madrid assistant coach Aitor Karanka spoke about the club's cantera earlier this year, he told a half-truth (via RealMadrid.com):
Real Madrid's youth academy is very good and it has been the same for a long while. We have always trusted in it but these players have to complete their progression through the ranks.
The club's scouting department is very good at recruiting youngsters, who are developed by other clubs, into the Castilla team: Raúl, José Camacho, Juan Mata, Roberto Soldado, Álvaro Arbeloa, Álvaro Negredo, Ádám Szalai, Luis García, Dani Parejo and so on.
It's not a knock on Real because all major clubs do this. The large majority of youth teams have a mix of recruited talents and grassroot players.
You can just imagine the fluttery feeling that engulfed 15-year-old Juan Manuel Mata García, who was playing for Real Oviedo [1], when Real Madrid scouts knocked on the door.
Recruiting is important because the chances that the club starts with kids that have world-class ability, like Iker Casillas, Manolo Sanchís, Míchel and Guti are few and far between.
The blatant lie is when Karanka says: "we have always trusted in it [cantera]." If that is the case, why isn't there a modern version of La Quinta del Buitre in José Mourinho's starting XI?
A player of Álvaro Morata's ability would have played around 70-100 games for the first team if club management trusted the Castilla players.
Borussia Dortmund's 20-year-old Mario Götze, who is the same age as Morata, has played 89 games for BVB compared to Morata's seven for Real. Keep in mind, it would be a larger margin if Götze wasn't injury prone.
Speaking to El País, former Real Madrid youth product Borja Valero [2] talked about the limited opportunities he was given (via Football-Espana.net):
They [Real Madrid] made it impossible for me. I moved up through the ranks from the age of 11, but just when you almost make it to the top level, they tell you can't keep moving up.
Somewhere in Mainz, Szalai is nodding in agreement.
[1] Bleacher Report's World Football Lead Writer Will Tidey published an excellent article about Real Oviedo's financial plight.
[2] One of the most gifted passers in world football, Valero was the 2010 Don Balón La Liga Spanish Player of the Year.
The Bruchweg Boys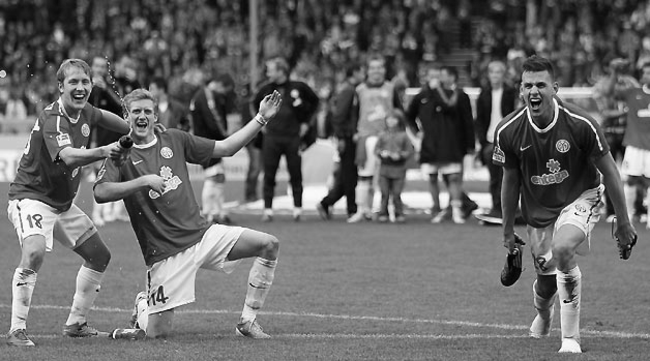 Photo via bundesliga.com

Ádám Szalai spent the latter half of the 2009-10 season on loan at Mainz.
The man standing in front of him was Aristide Bancé, who scored a bunch of goals and then chased the cash in Dubai.
Szalai only scored once and provided a solitary assist in 15 league games.
He must have played like Edin Džeko during training because Mainz manager Christian Heidel was ecstatic upon securing the Hungarian's signature from Real Madrid (via Goal.com)
We're extremely happy that we've managed to sign Ádám on a permanent move. We're convinced that he has the potential to become a great player and we're hopeful that he will make the next step in his career here.
Szalai's 2010-11 season can be summed up with the moniker "The Bruchweg Boys."
In five years, people will wonder how on earth coach Thomas Tuchel had three elite footballers in Szalai, Lewis Holtby and André Schürrle playing for little old Mainz.
The three young guns inserted themselves into Bundesliga folklore by celebrating like popstars whenever they scored—hence the boyband nickname, the Bruchweg Boys.
Holtby and Schürrle were on their way to becoming stars, whereas Szalai was still a wannabe.
This season, he began justifying Heidel's steadfast belief that Mainz had invested wisely in a Real Madrid reject.
Ádám Szalai: Tore, Tore and Tore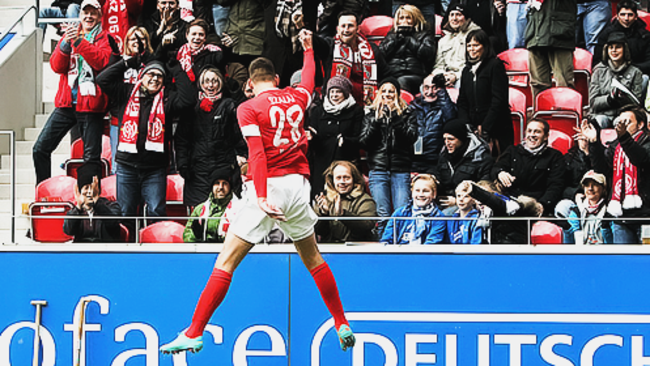 Photo via www.tumblr.com/tagged/adam-szalai

Not all footballers are wunderkinds, some are late-bloomers, such as Didier Drogba, Luca Toni, Dado Prso, Nenê and Iago Aspas.
Add Ádám Szalai to that list.
| | | | |
| --- | --- | --- | --- |
| League Only (via WhoScored) | Games | Goals | Shots Per Goal |
| Szalai | 11 | 8 | 2.9 |
| Gonzalo Higuaín | 10 | 7 | 3.6 |
| Karim Benzema | 9 | 1 | 15 |
There's a bit of Mario Mandzukić in Szalai in regards to aerial dominance. Szalai has netted 38 percent of his league goals this season from headers.
The two headers he scored against Hoffenheim illustrated his positional awareness. For the first, he blindsided Marvin Compper, who is at a height and weight disadvantage to Szalai.
His second header was manufactured by a smart run which enabled him to head home uncontested.
Szalai isn't a limited forward like Andy Carroll because the Hungarian can dink his way past defenders to get off a shot.
For the next five seasons, he'll continue to score goals at a rate similar to Roberto Soldado, reminding Real Madrid of what could have been.
Real Madrid's current No. 9 is Karim Benzema, but their future No. 9 is Álvaro Morata.
There's a famous quote from former Manchester United youth coach Eric Harrison about Ryan Giggs:
The boss [Sir Alex Ferguson] said if he doesn't make it, we might as well all pack in. The kid was amazing. If he hadn't done it, we may as well close the youth system down. He was that good.
The same can be applied to Morata.
Please read Reliving Nelson Rivas' Dramatic Inter Career
Statistics courtesy of WhoScored.com
Follow @allanjiangLIVE

Connect with +allanjiang
Keep Reading

Real Madrid: Like this team?