Ranking the Best Value Contracts in the NBA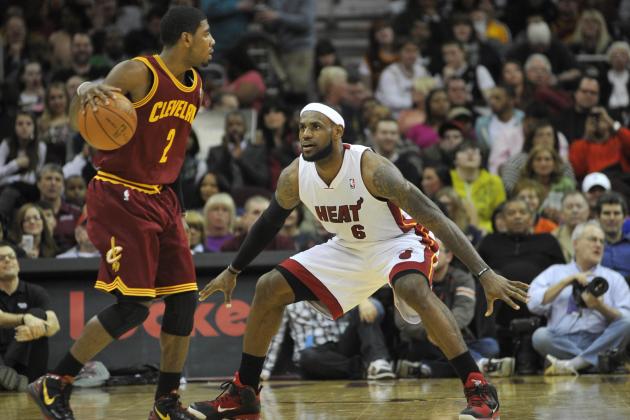 David Richard-US PRESSWIRE

This statement may sound ridiculous since it's about millionaires and multimillionaires, but certain NBA players are actually underpaid based on their current levels of production.
The NBA's rookie salary scale and limit on the maximum value of contracts both set up a system where a handful of players are worth far more to their teams in terms of wins than they currently earn.
According to Bradford Doolittle and the Basketball Prospectus crew, a win in the NBA is worth roughly $2.5 million. No rookie in 2012-13 will earn more than No. 1 overall pick Anthony Davis, who's slated to make roughly $5.1 million.
Assuming Davis produces more than two wins for his team (not a huge leap of faith, by any means), he'll far outpace the value of his contract.
Most of the top value contracts in the league are players still on their rookie deals, but you'll see a few older faces in the coming slides, too.
(Note: 2012-13 salary information courtesy of Basketball Reference. Statistics and records are current through games on Nov. 15.)
Begin Slideshow

»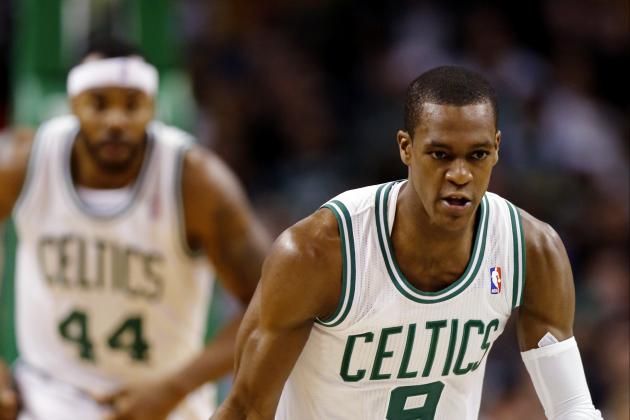 Greg M. Cooper-US PRESSWIRE

2012-13 salary: $11 million
The further removed we get from the Boston Celtics' November 2009 decision to award Rajon Rondo a five-year, $55 million extension, the more brilliant the move looks in retrospect.
In the three years since earning the extension, Rondo has emerged as one of the NBA's elite point guards, just a hair below the level of max-contract players like Chris Paul and Derrick Rose.
Instead of the Celtics sinking $17 million-$20 million per year into a point guard, though, they only have to allocate $11 million for Rondo.
Through eight games in the 2012-13 season, Rondo is leading the league with a career-high 12.6 assists per game, and he's tacking on a career-high 14.3 points per game as a bonus. He's had at least 10 assists in each of the eight games this season.
He's quite possibly the most enigmatic point guard (player?) in the league, but he's also insanely talented. The Celtics locking a player like Rondo in at anything less than the maximum would have been a steal; $11 million a year is pure larceny.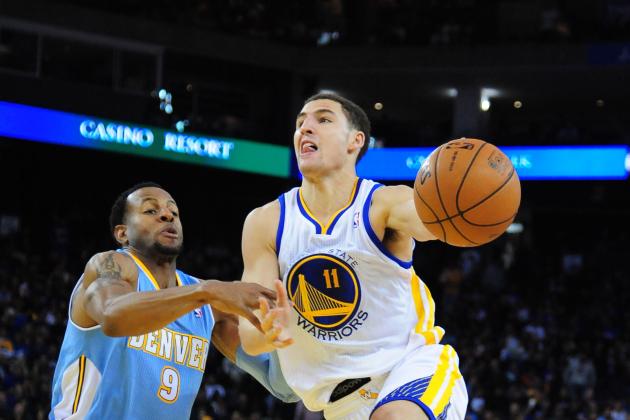 Kyle Terada-US PRESSWIRE

2012-13 salary: $2,222,160
Behold, the power of the rookie contract: A player of Klay Thompson's caliber is earning at least $1 million less than players like Chris Duhon, Joel Anthony and Johan Petro.
That's just about criminal, considering Thompson produces more for the Golden State Warriors than the three of those players do combined for their respective teams.
Thompson is only in his second NBA season, having been drafted 11th overall by the Warriors in 2011, but he already appears poised to break out as one of the NBA's best shooting guards.
In only 24 minutes per game last season, Thompson averaged 12.5 points and nearly two three-point field goals (on 41.4 percent shooting from downtown) as a rookie.
In 2012-13, his shooting percentages have dipped in the early going, but his scoring, rebounding and assist totals have all increased from the season before. He's also attempting over seven three-point field goal attempts per game, making his fantasy basketball owners plenty happy.
On the open market, if a 37-year-old Ray Allen could just land a multi-year contract worth over $3 million year, a player like Thompson would fetch at least twice that. Instead, the Warriors have him locked up for a hair over $2 million, making him the biggest contractual bargain on the team.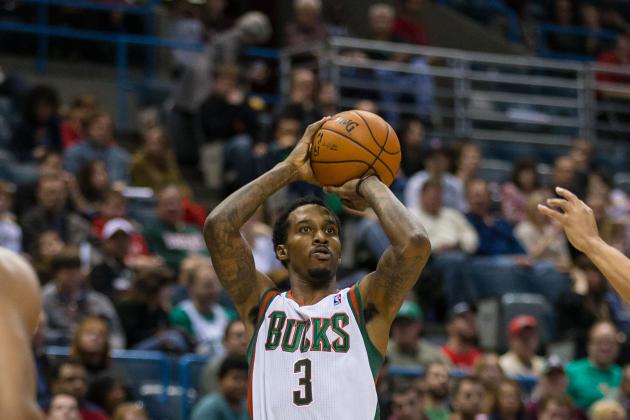 Jeff Hanisch-US PRESSWIRE

2012-13 salary: $3,179,493
Brandon Jennings is playing out the final year of his rookie contract after he and the Milwaukee Bucks couldn't reach an agreement on a contract extension by Oct. 31, and it might be the best thing that's ever happened to Jennings professionally.
It's early in the season, but Jennings appears to have taken a considerable step forward in his development as a point guard, as if to prove something to the Bucks and other teams considering signing him in the summer of 2013.
Through seven games, he's leading the league with a career-high 3.1 steals per game, and he's dishing nearly eight assists per game, too. Before this season, Jennings has never averaged more than 5.7 dimes per game.
In every season since his rookie year, he's incrementally boosted his field goal percentage, and the same is true in early 2013. After averaging 41.8 percent shooting from the field in 2011-12, he's shooting 42.7 percent from the field this season, and knocking down a career-high 90.5 percent of his free throws, too.
Most teams would kill for a point guard who can average 17 points, eight assists, three rebounds and three steals per game, even if he can be streaky offensively.
To get a player like that for only $3 million per year? Suffice it to say, if Jennings keeps performing at this level, he'll be earning a much larger contract in the summer of 2013.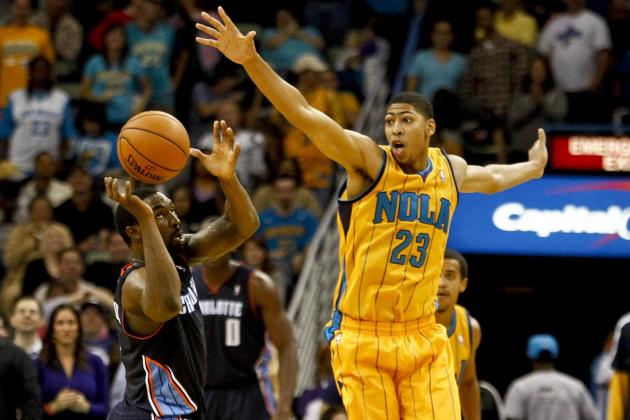 Derick E. Hingle-US PRESSWIRE

2012-13 salary: $5,144,280
Anthony Davis and other No. 1 picks may be the greatest victims of the NBA's rookie salary scale, as players of this caliber could easily be worth twice as much to their franchise, if not more. (You'll see another recent No. 1 pick later.)
Davis' rookie season hasn't started exactly how the New Orleans Hornets had hoped, after fellow rookie Austin Rivers inadvertently elbowed Davis in the head and gave him a concussion.
Davis missed two games, Hornets coach Monty Williams ripped the NBA's concussion policy as a result and got fined $25,000 for his troubles.
Still, when Davis has made his way onto the court, he's been proving in spurts why the Hornets were so lucky to land the No. 1 pick in the 2012 lottery.
Fellow rookie Damian Lillard of the Portland Trail Blazers may be outpacing him statistically in the early going, but Davis' averages of 15 points, seven rebounds and nearly three blocks per game isn't too shabby. He appears far more offensively ready to contribute than he was projected to be.
So, if each win is worth $2.5 million, according to Basketball Prospectus, do you think Davis will contribute to at least two wins in 2012-13? Because, fun fact: He's already accumulated 0.7 win shares after only four games, according to Basketball Reference.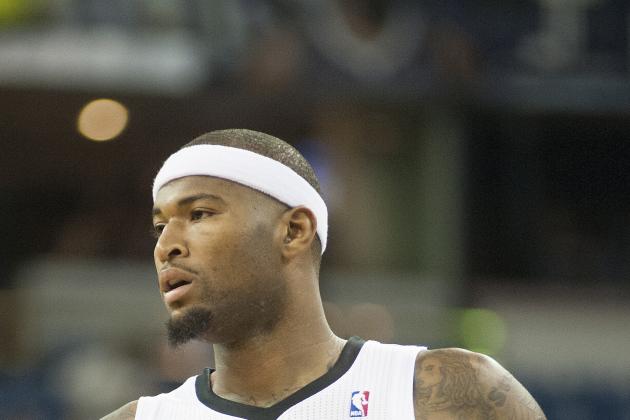 Ed Szczepanski-US PRESSWIRE

2012-13 salary: $3,880,800
Anyone who doesn't think DeMarcus Cousins is one of the most talented young big men in the league is allowing prejudice to shade their perception of him.
Cousins had the reputation of being somewhat of a problem child ever since entering the NBA in 2010. If there weren't any concerns about his character, the Philadelphia 76ers would have selected Cousins with the No. 2 pick over Evan Turner without thinking twice.
Since then, he hasn't done much to help that reputation, as much as he's tried to curb it. He was recently suspended for two games for confronting a San Antonio Spurs TV announcer and earned harsh words from USA Basketball president Jerry Colangelo after the first few days of Team USA training camp this past summer.
"He needs to mature as a person, as a player if he's going to have an outstanding NBA career," Colangelo said. (He and Cousins later cleared the air.)
When Cousins manages to reel in his emotions, however, he's an absolute physical force.
Per 36 minutes, Cousins has averaged 19.5 points and 11.8 rebounds over his career, suggesting the type of player he could become if he can cut down on his foul trouble. (He's averaged four fouls per game over his career.)
Teams' concerns about his behavior might limit the number of knock-your-socks-off contract offers he'll receive, but he's still in line to earn at least double his 2012-13 salary once his rookie contract expires.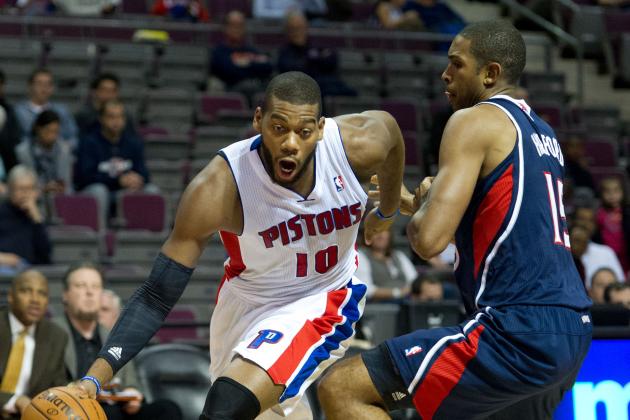 Tim Fuller-US PRESSWIRE

2012-13 salary: $3,217,680
Matt Moore of CBSSports.com recently called Detroit Pistons center Greg Monroe "the best-kept center secret in the league," and it's not difficult to see why.
In 31.5 minutes per game in 2011-12, Monroe averaged 15.4 points, 9.7 rebounds and 2.3 assists per game. He finished the season with a PER of 22.09, good for 15th best in the league, according to ESPN.com's John Hollinger.
Eight games into the 2012-13 season, the Pistons appear to be one giant dumpster fire, although Monroe's been doing his part to keep the team in games.
Already, Monroe put up 27 points and 10 rebounds against the Denver Nuggets, recorded his first career triple-double against the Sacramento Kings one night later (21 points, 12 rebounds, 11 assists), and dropped 19 points, 18 rebounds and six assists against the Philadelphia 76ers on Wednesday.
Despite only being in his third season as a professional, Monroe is already one of the best passing big men in the NBA. As Andre Drummond continues to develop, the Pistons will have one of the youngest, scariest frontcourts in the league.
If Brook Lopez earned a maximum contract in the summer of 2012, Monroe could earn at least $10 million per year in free agency without even blinking. Instead, he's earning less than Los Angeles Lakers backup Jordan Hill in 2012-13.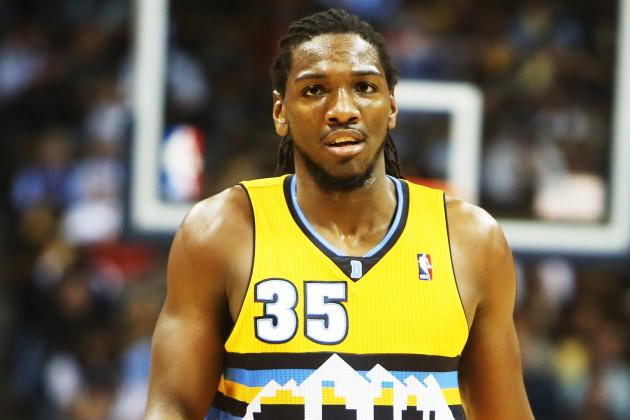 Chris Humphreys-US PRESSWIRE

2012-13 salary: $1,254,720
From the early looks of things, Kenneth Faried is going to end up being one of the biggest late-first-round draft steals in recent memory for the Denver Nuggets.
Denver grabbed Faried with the No. 22 pick in 2011, and that late-round status locked him into a sub-$2 million contract through the 2013-14 season. The Nuggets likely aren't complaining.
In only 22.5 minutes per game as a rookie in 2011-12, Faried averaged 10.2 points, 7.7 rebounds, and nearly one assist, one steal and block, shooting 58.6 percent from the field.
This season, he's been proving that those rookie statistics were no fluke. He's seen just over 30 minutes per game through nine games, averaging 14.1 points, 11.8 rebounds and a block in that time.
Despite having roughly 50 starts to his name, Faried has also emerged as one of the league's most prolific offensive rebounders. They don't call him "Manimal" for nothing.
After finishing seventh in the league with 3.6 offensive boards per game in 2011-12, Faried has a league-high 54 offensive boards through nine games, according to Basketball Reference. He actually has more offensive rebounds than defensive rebounds (52) so far this season.
The Nuggets would be paying at least five times what they're paying Faried if he hit the open market, but once again, his rookie contract saves his team a boatload of money instead.
Greg Smith-US PRESSWIRE

2012-13 salary: $3,741,120
Minnesota Timberwolves general manager David Kahn was the laughingstock of the NBA for two years based on what he did in the 2009 NBA draft, picking point guard Ricky Rubio (from Spain) fifth overall, then grabbing Syracuse point guard Jonny Flynn with the very next pick.
Flynn ended up being a total bust, but based on what Rubio did in his rookie season in 2011-12, Kahn may end up being vindicated after all.
In Rubio's rookie season, he demonstrated an artistry and flare with his passing that few other point guards in the league have. He averaged 10.6 points and 8.2 assists per game before tearing his ACL in March 2012 against the Los Angeles Lakers, and he made basketball look fun for his teammates.
Rubio is currently projected to return to the Timberwolves sometime in December, although it's doubtful that the team will attempt to rush him back before he's fully healthy.
When he and Kevin Love return from their injuries, though? The Timberwolves become an entirely new (read: better) team.
Considering that they're already off to a 5-3 start in both stars' absence, the T'Wolves look like a serious contender to make the playoffs in 2013.
Rubio could easily fetch $10 million per year or more on the open market based on his seemingly massive ceiling, but Minnesota has him locked in for roughly $4 million per year through 2013-14. Rookie contract!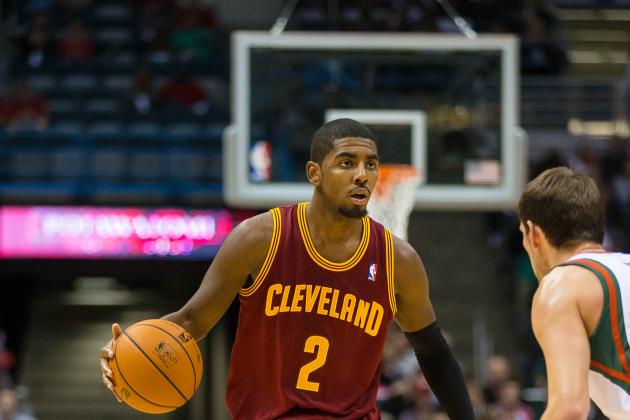 Jeff Hanisch-US PRESSWIRE

2012-13 salary: $5,375,760
All Kyrie Irving has done since entering the NBA in 2011 is average 19.3 points, 5.5 assists, 3.8 rebounds and 1.1 steals per game for the Cleveland Cavaliers, winning the 2012 Rookie of the Year award in the process.
No big deal, right?
Irving looked every bit the No. 1 pick of the 2011 draft in his rookie season, seizing control of the Cavaliers in the post-LeBron James era instantly.
Averages of 18.5 points, 5.4 assists and 3.7 rebounds per game helped him secure the Rookie of the Year award and earned him a berth on the Team USA select team over the summer of 2012.
He's only followed up his phenomenal rookie season with an even stronger sophomore season, statistically speaking. Through eight games, Irving has averaged 24.3 points, 6.5 assists, 4.1 rebounds and 1.1 steals per game, not too far off from what James used to put up back in his days as a Cavalier.
Barring any injury or unforeseen collapse in production, Irving will receive a max contract offer once his rookie contract expires. Through 2013-14, Cleveland has Irving locked in at roughly $5.5 million per year, and has a team option of $7 million on him in 2014-15, according to Basketball Reference.
I promise, this final guy isn't a player on his rookie contract.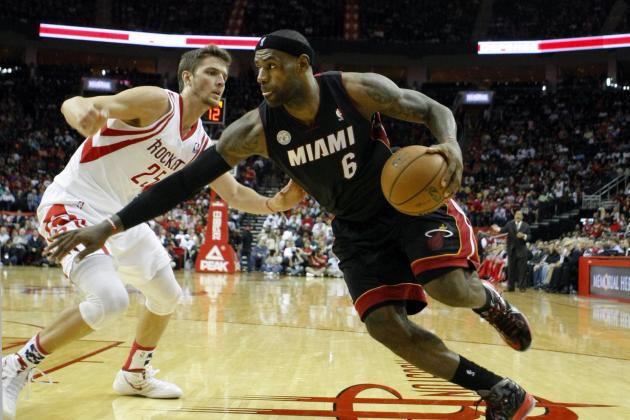 Brett Davis-US PRESSWIRE

2012-13 salary: $17,545,000
How can a player earning $17.5 million in 2012-13 be considered the best value contract in the league?
By being worth at least double his contract to his franchise. At least.
LeBron James has reclaimed his throne as undisputed best player in the NBA, after storming his way to the 2012 NBA championship and NBA Finals MVP award. He's the only active three-time MVP in the league, and he's the NBA's most explosive triple-double threat night-in, night-out.
He also took accepted a less-than-maximum contract in the summer of 2010 to join Chris Bosh, Dwyane Wade and the Miami Heat, making him even more of an asset to the team.
Los Angeles Lakers owner Jerry Buss believes Kobe Bryant is worth up to $70 million per year for his franchise, according to Yahoo! Sports' Adrian Wojnarowski.
If Bryant's worth $70 million per year, how much is James worth to the Heat? Did Bryant win the regular season MVP, NBA championship and Finals MVP in 2011-12? (Granted, Bryant does lead James in jersey sales both domestically and internationally, according to Forbes.)
There isn't a single player like James in the entire NBA, making him the best value contract in the league no matter how much he makes. Over his past five games, he's averaged 27.2 points, 8.6 rebounds and eight assists per game on 52.8 percent shooting.
Good luck stopping that.
Until the NBA does away with max contracts, James' salary will never reach what he's actually worth to Miami. Luckily for him, the hundreds of millions of dollars worth of endorsements should probably help make up for that.