The 10 Worst MLB Free-Agent Signings in History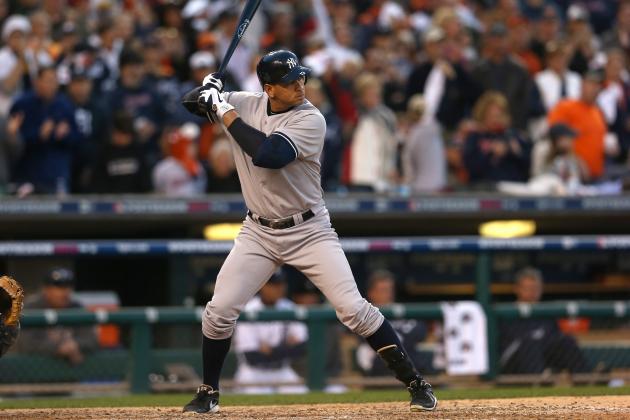 Jonathan Daniel/Getty Images
Where does Alex Rodriguez's signing rank on the all-time list?
Every year, an MLB team pays more for a player than they're actually worth.
This year, players like Michael Bourn and Rafael Soriano could actually get contracts worth more than they are simply because of supply and demand. However, in the past, there have been certain players that have received outrageous contracts that even made that team's fans scratch their head.
Last year, it was Heath Bell getting an enormous contract from the Miami Marlins. This year, it could be...well, only time will tell.
In fact, give it another year or two, and Bell could find himself on this list depending on what he does over the next two seasons.
Here's a look at the 10 worst MLB free-agent signings in history.
Begin Slideshow

»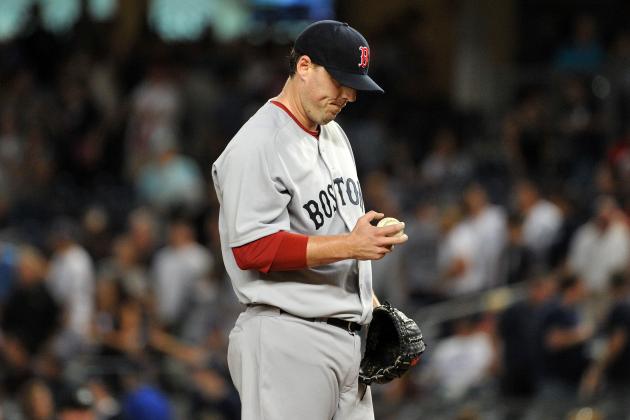 Christopher Pasatieri/Getty Images
Lackey signed a $82.5 million deal with the Red Sox.
The 2010 free-agent class was relatively bare, which was good news for John Lackey.
Having gone 23-13 over the previous two seasons with a 3.79 ERA and 269 strikeouts, Lackey was rewarded with a five-year, $82.5 million contract from the Boston Red Sox.
Since then, Lackey has gone 26-23 with a 5.26 ERA, getting a majority of his wins due to a potent Red Sox offense. Lackey has underperformed in his time in Boston and didn't even see the field in 2012 due to a Tommy John Surgery.
With Boston in rebuilding mode, Lackey will get his chance once again in the rotation. This time, however, if he continues to underperform, the Red Sox will have no choice but to part ways with him.
The right-hander could still do well and leave this list. However, until he proves it on the mound, he'll remain here for the foreseeable future.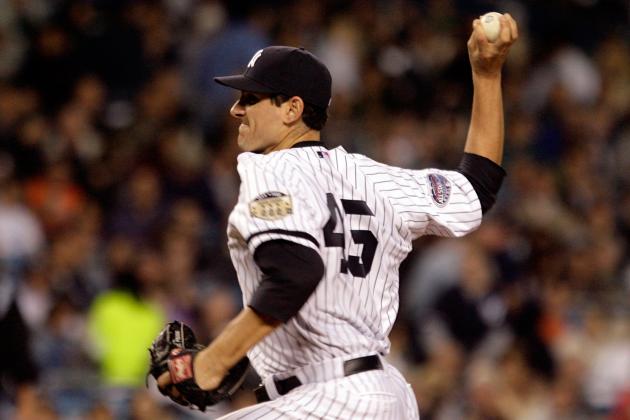 Jim McIsaac/Getty Images
Pavano signed a deal worth almost $40 million with the Yankees.
The New York Yankees will be appearing a few times in this list, with Carl Pavano being the first.
After the best season of his career in which he went 18-8, Pavano signed a four-year, $39.95 million deal with the Yankees in 2005. Other than 2004, Pavano had done nothing in his career that was worth that amount of money. There was a strong free-agent class, but Pavano still got a big payday.
His response to the big payday was a 9-8 record with a 5.00 ERA in 26 starts across three years.
Throughout the four-year contract, Pavano was constantly injured, never being able to stay on the field for long periods of time. In fact, he missed the entire 2006 season with various injuries.
At least for many other guys on this list, they played. The same can't be said about Pavano, who was questioned by his own teammates about his commitment to the team.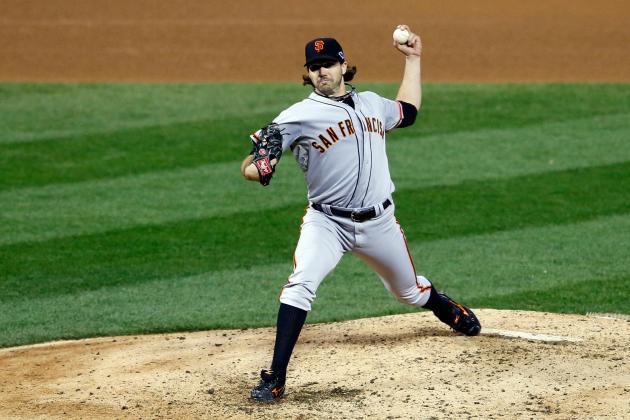 Kevin C. Cox/Getty Images
Zito is starting to turn it around in San Francisco.
While with the Oakland Athletics, Barry Zito was one of the best pitchers in baseball. Once he signed a seven-year, $126 million deal with the San Francisco Giants, Zito struggled.
In the first five years of the contract, Zito was 43-61 with a 4.55 ERA. His best year was 2009, when he went 10-13 with a 4.03 ERA.
Zito would have previously been higher on this list, but a good 2012 campaign has lowered him. If he has a good 2013 season, he could disappear from the list altogether.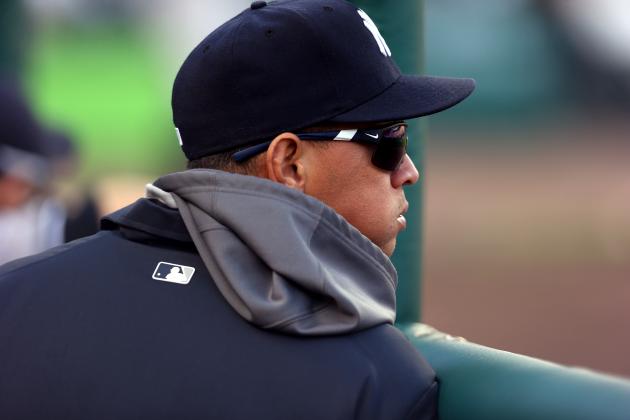 Jonathan Daniel/Getty Images
A-Rod was the most expensive bench player in the 2012 playoffs.
When Alex Rodriguez announced during the 2007 MLB postseason that he was opting for free agency, selfishness was the first thing that came to mind.
Rodriguez signed a 10-year, $275 million deal, which included various incentives for hitting certain milestones.
Now, five years later, Rodriguez is struggling just trying to stay on the field instead of the bench. He's only hit 34 home runs the last two years, something he was accustomed to doing in one year.
He's earning the title of being the most expensive bench player in the history of sports.
There are five years and $114 million left on his contract, and the Yankees are stuck with him. No team will take on his contract, as it will be at least one-fifth of any team payroll.
A-Rod may eventually become the all-time home run leader. However, his legacy will be clouded by this bad contract and his admitted performance-enhancing drug use.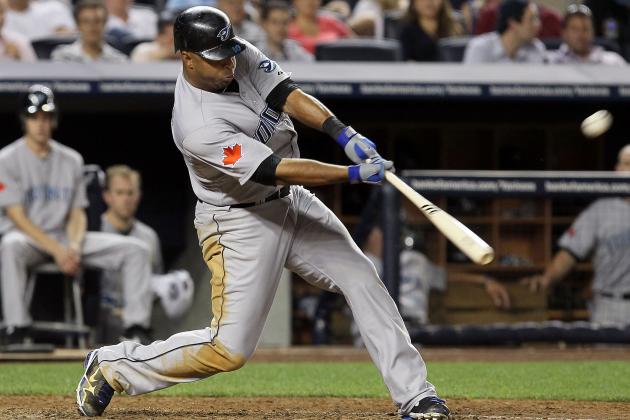 Jim McIsaac/Getty Images
Vernon Wells has struggled since signing the big contract.
Vernon Wells signed a free-agent deal with the Toronto Blue Jays in 2008. The deal was for seven years and was worth $126 million.
After two sub-par years after the contract signing, Wells had a slight power surge in 2010 when he hit 31 home runs. The Blue Jays capitalized on that and traded him to the Los Angeles Angels of Anaheim.
In the two seasons with the Angels, Wells has been even more disappointing. He's batted .222 with 36 home runs and 95 RBI.
It's one thing for a team to sign a free agent and be forced to hang onto them when they underperform. But the Angels actually traded for Wells.
Even worse, Wells and his contract likely kept the Angels from making a run at Torii Hunter this offseason.
If only the Angels could release him with no further monetary obligations.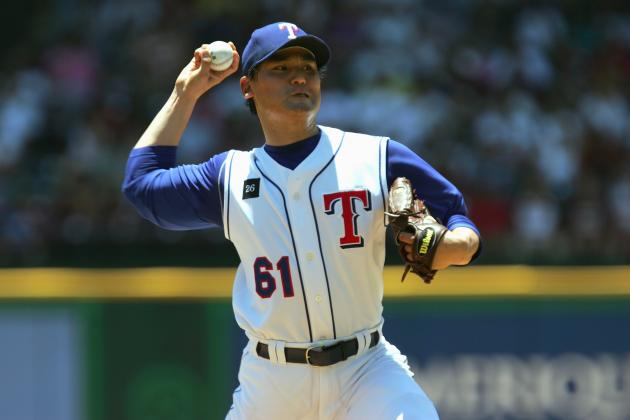 Ronald Martinez/Getty Images

Chan Ho Park was a good pitcher during his time with the Los Angeles Dodgers.
Then the Texas Rangers signed Park to a five-year, $65 million contract, and it went downhill from there.
In his four seasons with Texas, Park went 22-23 with a 5.79 ERA.
While Park did struggle, it was due more to his pitching style than anything else. Being a predominately fly-ball pitcher, playing in Texas hurt his ability to be successful.
However, after being traded to the San Diego Padres (and with subsequent teams), Park could never regain his form, ultimately retiring after 2010.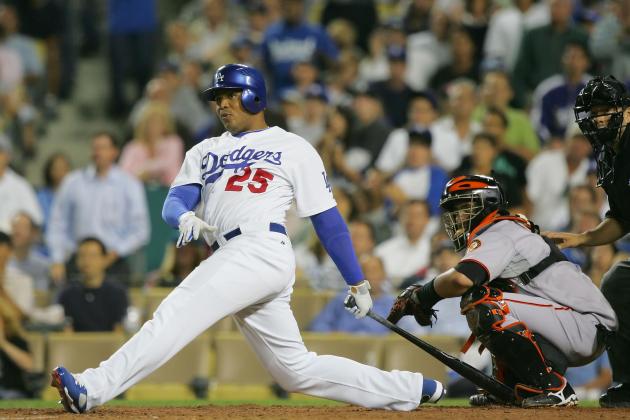 Lisa Blumenfeld/Getty Images

In 12 seasons with the Atlanta Braves, Andruw Jones was one of the most exciting players in baseball.
He won 10 straight Gold Gloves and consistently played in 154 or more games each year.
Then Jones signed a two-year $36.2 million contract with the Dodgers in 2008. Needless to say, that move didn't work out.
In his one season in Los Angeles, Jones batted .158/.256/.249 with three home runs and 14 RBI in 75 games. That trend continued even after the Dodgers released him after the season. The 107 games he played with the Chicago White Sox in 2010 was the most in the five-year stretch since the Braves.
Part of the issue stemmed from Jones showing up to spring training overweight and out of shape.
The 31-year-old center fielder reported to spring training overweight and then was booed roundly by fans as he struggled at the plate during the season. He had knee surgery in May and finished the season on the bench as the Dodgers won the NL West...

Jones asked to be traded after that and the Dodgers tried but found no takers. The Dodgers owe Jones $22.1 million, which he'll receive over the next six years.
Sadly, even the new ownership group in L.A. is paying for the mistake that was Jones.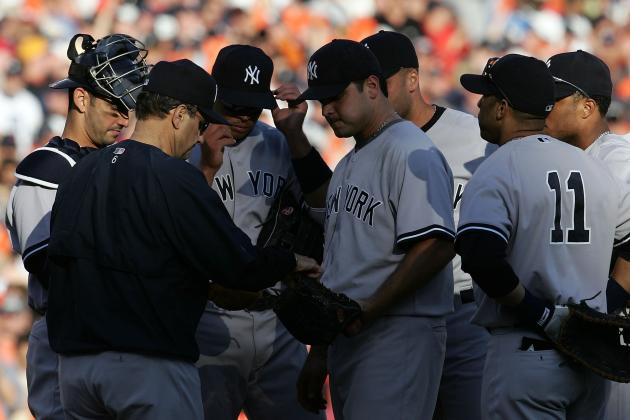 Elsa/Getty Images

Never before has there been a pitcher who received a large payday for one good season in the first eight years of his career.
In 2004, Wright went 15-8 with a 3.28 ERA with the Braves. Most of the stats he put up that year were the best of his career.
So, what did the Yankees do? They signed him to a three-year, $21 million deal. Because any player who has one good season is worth that kind of money; at least in the mind of the Yankees, they are.
Wright went 16-12 in two seasons with the Yankees with a 4.99 ERA and a 1.603 WHIP before being traded to the Baltimore Orioles.
While he wasn't horrible in the same way other players were, the money Wright made was simply too much for his body of work.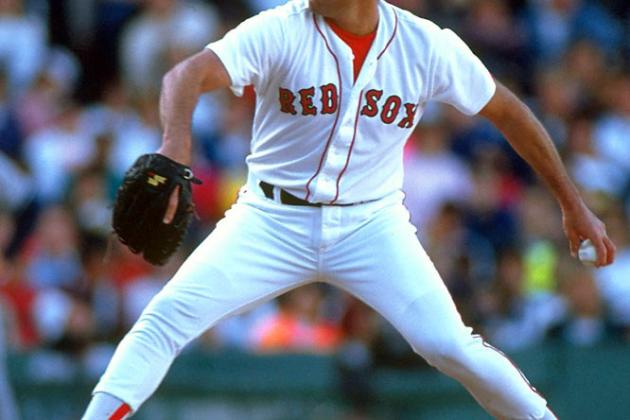 sikids.com
For a guy that was known more for losing games in his career, Matt Young received a nice sum to join the Red Sox in 1991.
Young had a career record of 51-78 with a 4.26 ERA and 1.448 WHIP in seven seasons between Seattle, Los Angeles and Oakland.
In 1990, Young went 8-18 with a 3.51 ERA and 1.354 WHIP, making the Red Sox think with a better offense to support Young, his win totals would increase. So, the Red Sox gave him a two-year, $4.5 million deal.
While some will say that's not much, you have to remember that it was a good chunk in the early 90s.
So, what did the Red Sox get for their money?
A 3-11 record with a 4.91 ERA. Moreso, Young only started 24 of the 47 games he appeared in over the two years.
Talk about wasted money.
Could you imagine (with inflation) a team paying a guy that much today just to warm the bench? Well, we actually might get to see that with A-Rod over the next few years.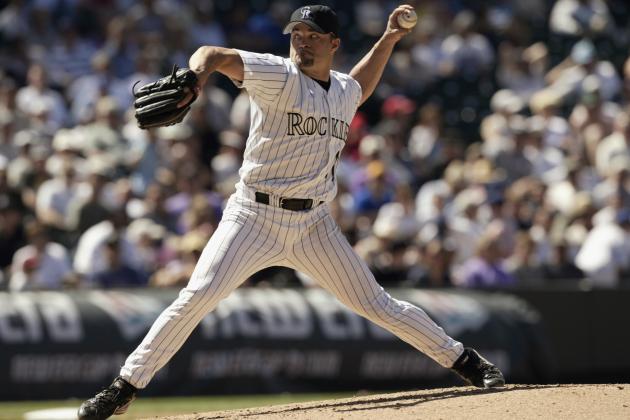 Brian Bahr/Getty Images

At eight years and $121 million, Mike Hampton held the title of the richest contract in sports.
Hampton showed he was worth the money, having never had a losing season in which he was a starting pitcher from 1995-2000.
So, when the Colorado Rockies signed Hampton, most thought it was a good move, because Hampton had earned it.
Then, he got to Coors Field, and everything changed. His control got worse, and the thin air of Coors Field got the best of Hampton.
For some reason, the Braves traded for Hampton, where he had slight success in 2003-04. Then, Hampton was out for two seasons (2006-07) with Tommy John surgery (2006) and a torn oblique (2007).
Hampton never amounted to much after that, retiring from the game in 2011.