UFC 154 kicks off on Saturday night from Montreal, Canada. The main card is headed by a welterweight title unification bout between Georges St. Pierre and Carlos Condit.
The rest of the card includes hard, experienced contenders and some up-and-coming young fighters.
Following is a summary for each fight, current betting odds (via Bovada), projected start times and a predicted winner for each Octagon battle.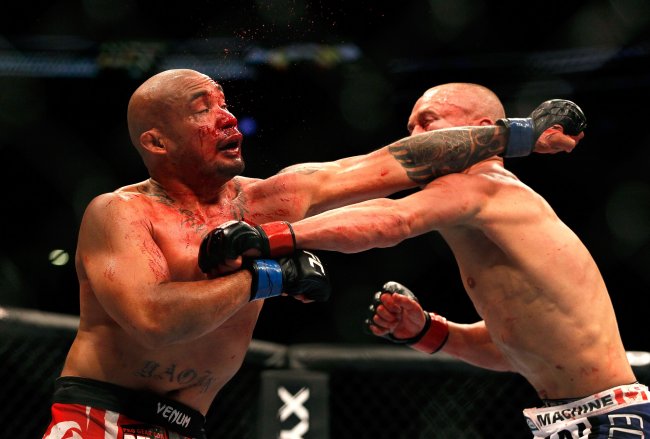 Kevin C. Cox/Getty Images
Hominick vs. Garza, 9:30 p.m. ET
| | | |
| --- | --- | --- |
| Mark Hominick | Fighter | Pablo Garza |
| The Machine | Nickname | The Scarecrow |
| 20-11-0 | Record | 12-3-0 |
| 5'8" | Height | 6'1" |
| 145 lbs | Weight | 145 lbs |
| -325 | Money Line | +250 |
Hominick enters this bout needing a win to maintain his status as a UFC fighter. He's lost three consecutive matches entering this fight and can't afford to make it four, particularly as a big favorite.
Garza enters the fight with two consecutive UFC losses. He can't sit back and allow Hominick to fight.
He has to attack early and get Hominick on the ground.
Hominick is a superior striker and, despite the reach advantage, he will destroy Garza if he's allowed to sit back and kickbox.
This bout will likely go the distance, as I don't see Garza getting behind Hominick and taking him down. Hominick wins by unanimous decision.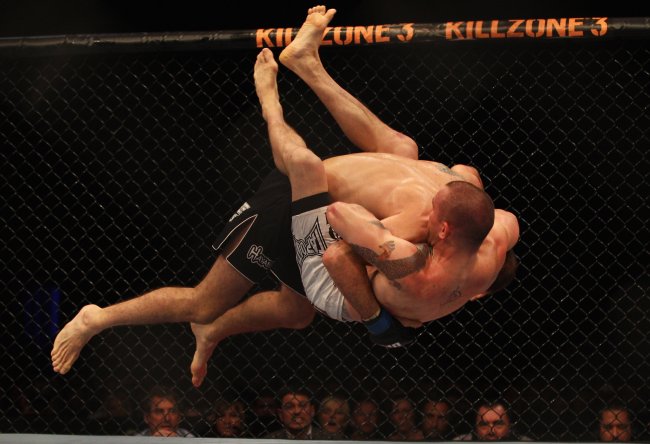 Mark Kolbe/Getty Images
Ring vs. Philippou, 10:30 p.m.
Nick Ring

Fighter

Constantinos
Philippou

The Promise

Nickname

Costa

13-1-0

Record

11-2-0, 1 NC

6'1"

Height

5'11"

185 lbs

Weight

185 lbs

+190

Money Line

-240
The expectation in this bout is Philippou uses his jaw-breaking power to out-box Ring. But this isn't Ring's first trip into the Octagon, and he recognizes he can't win if the two stay on their feet.
The taller fighter will need to get Philippou on the ground, giving Ring the advantage. Ring is the better fighter on the mat.
I'm expecting an upset in this middleweight match, with Ring winning a split decision.
Carmont vs. Lawlor, 10 p.m.
| | | |
| --- | --- | --- |
| Francis Carmont | Fighter | Tom Lawlor |
| Limitless | Nickname | Filthy |
| 19-7-0 | Record | 8-4-0, 1 NC |
| 6'3" | Height | 6'0" |
| 185 lbs | Weight | 185 lbs |
| -280 | Money Line | +220 |
Carmont has been making a hard push to be considered an elite UFC fighter. Bolstered by his training partners, George St. Pierre and Rory McDonald, he's ready to take Lawlor down.
Lawlor is a gritty entertainer, but his approach to this match will be anything but. The grappler will need to gain an advantage over a faster opponent with a strength advantage.
Advantage, Carmont. He will submit Lawlor in the second round.
Kampmann vs. Hendricks, 11 p.m.
| | | |
| --- | --- | --- |
| Johny Hendricks | Fighter | Martin Kampmann |
| Bigg Rigg | Nickname | Hitman |
| 13-1-0 | Record | 20-5-0 |
| 5'9" | Height | 6'0" |
| 170 lbs | Weight | 170 lbs |
| -155 | Money Line | +125 |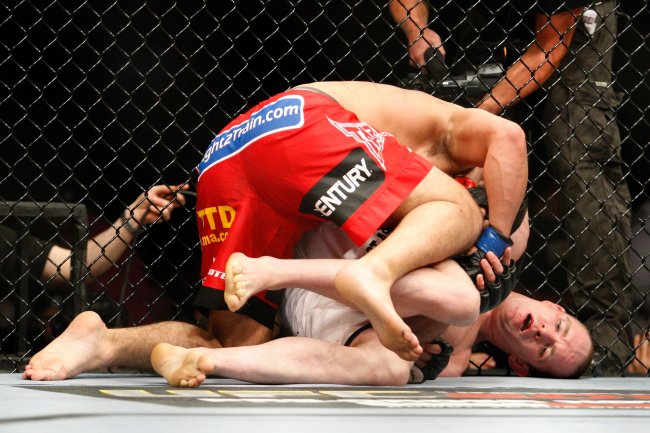 Richard Wolowicz/Getty Images
In case the money line didn't reveal how close this match is, I was tempted to resort to Matthew McConaughey's "Two for the Money" approach and get out a coin. These two fighters could battle 10 times and it wouldn't be a surprise to see it end 6-4.
Kampmann has had success waiting for his opponent to make a mistake and then pouncing. That approach will likely work against Hendricks if he can last long enough.
Hendricks is a powerful kickboxer, but he can also take his opponent down and grind him into submission. Given Kampmann has a distinct technical advantage, look for Hendricks to get down and dirty.
This fight could go many ways, but I see a second-round win by submission for Hendricks. He only wins 17 percent of his matches by submission, but he'll respond to his opponent's fighting style and do just that.
St. Pierre vs. Condit, 11:30 p.m.
| | | |
| --- | --- | --- |
| Georges St. Pierre | Fighter | Carlos Condit |
| Rush | Nickname | Natural Born Killer |
| 22-2-0 | Record | 28-5-0 |
| 5'11" | Height | 6'2" |
| 170 lbs | Weight | 170 lbs |
| -350 | Money Line | +265 |
Is GSP's return successful?
Georges "Rush" St. Pierre returns to UFC after an 18-month absence to rehabilitate an ACL injury. There is little doubt that he's the superior fighter in this match, but his time away from competition gives an edge to UFC interim welterweight champion Carlos Condit.
Condit needs to keep this fight vertical. If he ends up on the ground, his day is over. He will try to make St. Pierre uncomfortable with shots to the leg and a sweep or four.
St. Pierre will respond with a few solid punches and then attack Condit. I wouldn't rule out St. Pierre attempting to bull-rush his opponent into the cage and then take him to the ground.
Once there, Condit's ability to fight from his back will be nullified by a superior fighter. If St. Pierre gets in trouble, he'll back off, knowing he can consistently register takedowns against Condit.
This match won't likely be exciting. It will likely go all three rounds, but that doesn't mean it will be close. GSP will win a unanimous decision.
Darin Pike is a writer for Bleacher Report's Breaking News Team.