Big Ten Football: Game-by-Game Predictions for Week 12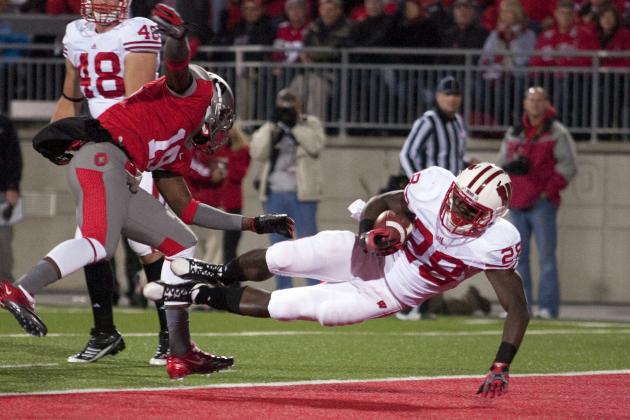 Greg Bartram-US PRESSWIRE

It's probably not fair to the rest of the Big Ten to refer to Week 12 as a "one-game week," especially with the full slate of 12 teams playing, but there's really just one game that everyone should have their eyes on this week. The rest of the games are either mismatches or pairings of unranked teams.
Yes, there's also Northwestern and Michigan State, but in all likelihood that should determine some lower-level bowl matchups, and let's be honest, "...with a trip to the Buffalo Wild Wings Bowl potentially on the line!" is not exactly a world-class hook.
At any rate, let's power through this week and then get ready for, believe it or not, the regular-season finale next week. Time flies when your conference is terrible, we suppose.
All game times are in Eastern Standard Time.
Onward!
Begin Slideshow

»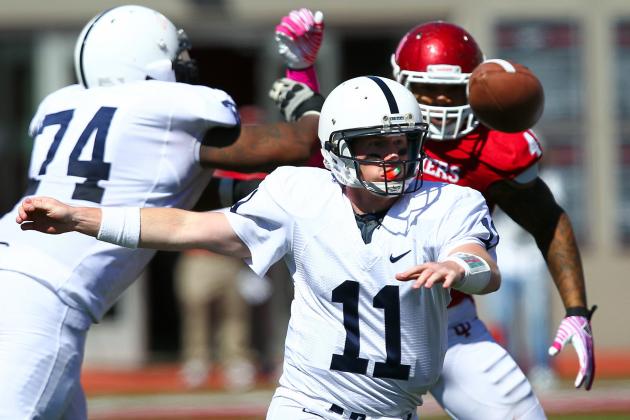 Michael Hickey-US PRESSWIRE

As much as we'd like to see Indiana throw another wrench into the Big Ten's order of things and take that next step toward legitimacy, this doesn't look like a good matchup for the Hoosiers. We said before the season that Penn State's secondary was talented but thin and that it needed to stay healthy to succeed. It has done exactly that.
As a result, Penn State is in the Top 25 nationally in pass defense per game, and opponents can manage just 207 yards per game on the Nittany Lion secondary. Indiana is likely to top that mark, but if it's another inefficient day of passing on the way there—as it very well could be—this one won't be close.
As it stands, look for the Penn State rushing game to have its best day of the season against that porous Hoosier front, and look for a game that's controlled from start to finish by the home hosts.
Final score: Penn State 38, Indiana 17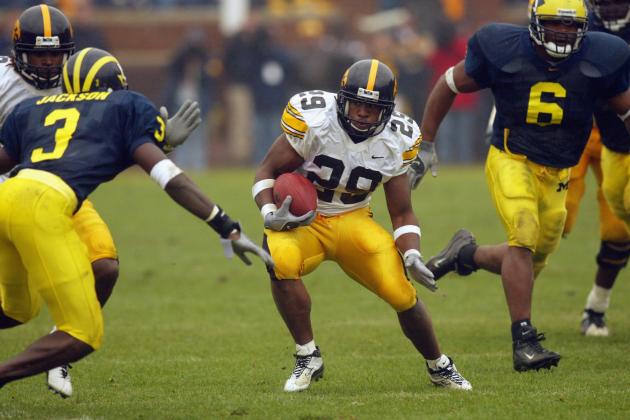 Danny Moloshok/Getty Images

In 2002, Iowa traveled up to Michigan as the Wolverines' homecoming opponents on a dreary late October Saturday.
Iowa then beat the ever-loving hell out of Michigan that day, taking home a 38-9 victory that stood as the worst beating a team had given the Wolverines at Michigan Stadium in modern football history. (Oregon would top this mark with a 39-7 thrashing five years later.)
Ten years and roughly three weeks later, that is most certainly not going to happen again.
Michigan stands as 20-point favorites in this game, and considering the lifeless quality of Iowa's play over the last few weeks, that may be underselling the lopsided nature of this matchup, especially on an emotional day like Senior Day for Denard Robinson and the rest of the Wolverines.
Robinson may not go on Saturday. If he can't grip the ball, he can't do much of anything to help Michigan win, but if he can, expect him to put on a show.
Heck, expect the Michigan offense to put on a show no matter what, because for all the criticisms one can levy at the Wolverines this year, one thing they haven't struggled to do is put up points on lousy competition.
Meanwhile, Iowa's offense has struggled mightily all season long, and Michigan represents the toughest defense the Hawkeyes have faced this year. A shutout would be completely unsurprising. So that's what we'll call.
Final score: Michigan 31, Iowa 0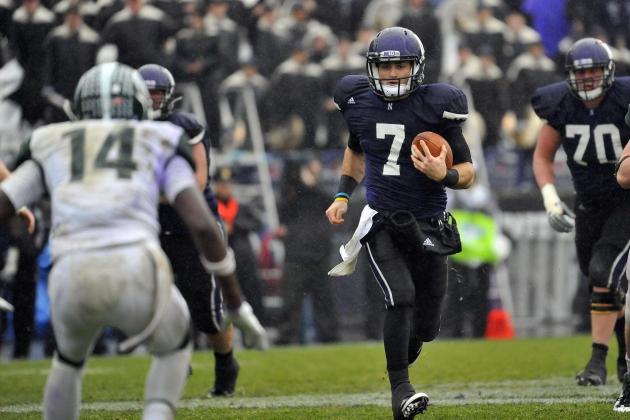 Mike DiNovo-US PRESSWIRE

It's funny. Even as much as Northwestern looked as if its 7-2 record was a bit of a fluke seven days ago, the Wildcats took big strides in proving their legitimacy at Michigan last week even in a loss.
Talent wise, Northwestern looked like it absolutely belonged on the field against Michigan on both sides of the ball, and that's a big deal for a team that's been looking to prove its worth as a Big Ten foe for years.
Unfortunately for Northwestern, the task doesn't get much easier this week as it has to travel to East Lansing and face the best defense in the conference in Michigan State.
The good news for Northwestern is that Michigan State doesn't mix up its defensive looks very much play to play, so while there's a blitz here and there depending on the situation, by and large you know where the guys are going to be at the snap.
And if you know that, you can at least have a decent sense of what personnel you want to exploit, and Northwestern is excellent at putting single defenders in difficult situations.
That said, Michigan State's got a distinct talent advantage and home field on its side. If the receivers can hang onto the ball, they can exploit a still-lackluster Northwestern secondary that's missing key cornerback Nick VanHoose.
QB Andrew Maxwell has proven the ability to get the ball to his receivers, but it's just completing the play that has doomed the Spartans' passing attack this season. Look for some strides in that direction this Saturday, and that should mean a close Spartan victory.
Final score: Michigan State 27, Northwestern 24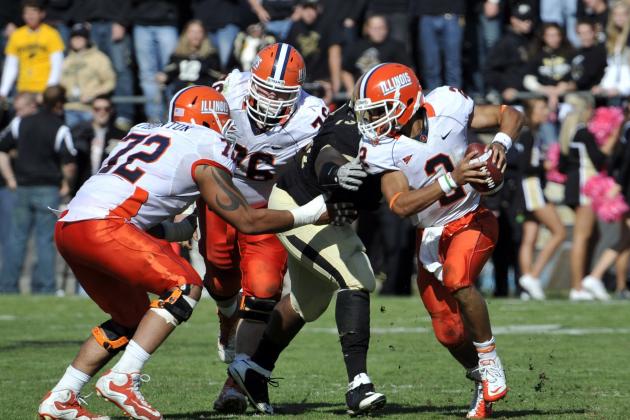 Sandra Dukes-US PRESSWIRE

This matchup looked to be a fight for who was the worst team in the Big Ten this season, but then Purdue went ahead and won at Iowa and now we're not really sure what to think.
At the very least, it's a game between two of the three worst teams in the conference, and if Illinois drops this home game and moves to 0-7 in conference play, there won't be any question about who the true bottom dweller of the conference is.
We'd call this game the It's Basketball Season Bowl, but Purdue's basketball team just lost to Bucknell. Dark days in West Lafayette. Dark days indeed.
Final score: Purdue 29, Illinois 10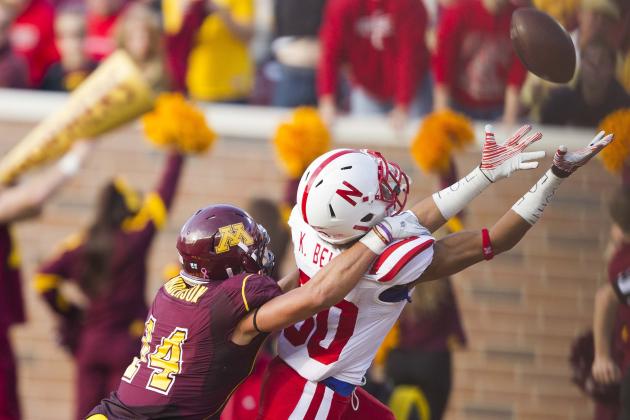 Jesse Johnson-US PRESSWIRE

We're still utterly gobsmacked that Minnesota is not only bowl eligible but at 6-4, still has two shots at securing a winning record before its bowl game even rolls around.
One problem for the Golden Gophers: Those games are at Nebraska and against Michigan State. Well, 6-6 should be fine for Year 2 of the Jerry Kill Era.
As far as Nebraska goes, the Huskers should coast here. They beat Minnesota 41-14 last year, and that game was in Minneapolis. Now? Now the game's in Lincoln, and although scores from years past are rather poor predictors of future performance, one cannot expect Nebraska to have any trouble dispatching Kill and Co.
Look for Nebraska to avoid passing against that tough Minnesota secondary unless necessary. Instead they will wear down the defensive front first with its power option attack and then will let Taylor Martinez pick the defense apart with play-action passes when the Gophers are looking run all the way.
Final score: Nebraska 34, Minnesota 17
This is obviously the game of the week. It was the game of the week last year when Braxton Miller took that giant, 40-yard leap from "freakish athlete" to "bona fide quarterback" with his game-winning Hail Mary to Devin Smith, and the quality of play on both sides of the ball should be just about as good this time around.
Again, Ohio State can't play for a Big Ten title or a bowl game, but this game is a seriously big deal for the Buckeyes as they're still eligible for the Leaders Division title. A win over Wisconsin clinches it. If Wisconsin wins, the Badgers could still tie for the division title and own the theoretical tiebreaker.
At the very least, they'd be waltzing into Indianapolis representing the division and owning a win over the only other team who'd think they belonged to be there instead.
Wisconsin's rush offense just dropped 564 yards on Indiana in one game. It won't do that to Ohio State. Even getting to half that total is going to be a tall task.
But suppose Wisconsin gets to, say, 200: That's a big win on the line of scrimmage and means the Badger offense is likely putting up enough points to either take the lead or keep this one close, especially with a strong defense led by Mike Taylor behind it.
Problem for Wisconsin: Ohio State's not the kind of team that gives up 200 yards rushing. This should be another physical affair and the best football played in the conference, but at the end of the day, Ohio State keeps the dream alive as it heads toward its season finale against That Team Up North.
Final score: Ohio State 28, Wisconsin 23