USMNT: Winners and Losers from Friendly with Russia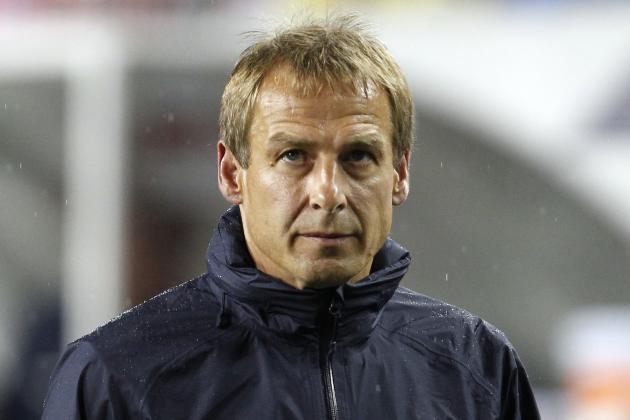 Matt Stamey-US PRESSWIRE

Some friendlies matter more than others, either because of the opponent being played or the juxtaposition of the match with other national team events.
The U.S. men's national team (USMNT) friendly in Krasnodar, Russia, today had added significance for both reasons.
Despite their disappointing performance in Euro2012 this summer, the Russians are a top side, highly ranked and currently undefeated in qualifiers for the next World Cup.
Also, the next round of CONCACAF qualifiers will start in under three months.
Given that significance, Coach Jurgen Klinsmann can be satisfied with today's 2-2 tie.
He may also note that the Russian goals were absolute gifts. Furthermore, Klinsmann may reflect on the fact his counterpart on the Russian side, Fabio Capello, fielded an A-minus team. It did not include Arsenal forward Andrei Arshavin nor Reading striker Pavel Pogrebnyak, but beyond those omissions, Capello put Russia's best on the field.
Comparatively, the USMNT was without Clint Dempsey and Landon Donovan, which arguably sets our grade down to B-plus (because Dempsey and Donovan are more significant to the Americans than Arshavin and Pogrebnyak are to the Russians).
However, dwelling on those points too long might make one think the USMNT controlled the pitch, which is not quite what happened, or otherwise gloss over some very real ongoing concerns.
We are not going to do that here. This slideshow will present the full slate of USMNT "winners" and "losers" in all their glory and infamy.
Begin Slideshow

»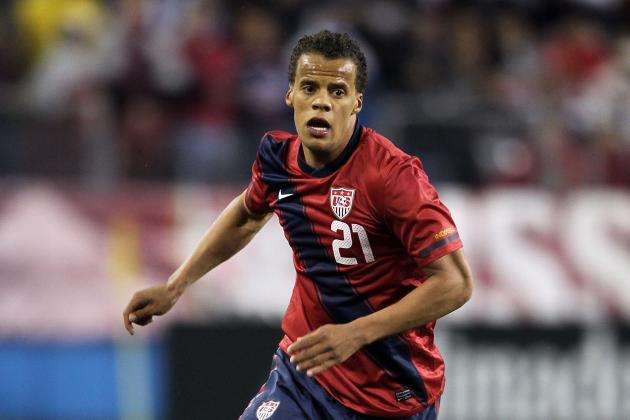 Andy Lyons/Getty Images

Defense is the question with this team. From all indications in Krasnodar, the Americans can exclude the outside defenders from that concern.
The big news coming into this game was Timmy Chandler's presence on the roster and word of his expressed intent to commit to the USMNT. With that, he joins Fabian Johnson as the second of our two German-American bookends on the back line.
Against Russia, the 22-year-old Chandler was not at the 24-year-old Johnson's level, but he showed enough promise so as to live up to the buzz his presence created.
Both Bundesliga backs were solid in all phases of play.
Chandler is less polished than Johnson going forward, and he overplayed a couple crosses. Still, he demonstrated pace and touch at other moments.
In the 31st minute, for instance, the Nuremburg defender tracked down a ball in the right attacking corner that other players might not have reached. He not only got there in time, but was able to direct a great first-time cross.
One can only guess how big a grin Klinsmann assumed. Starting job, won.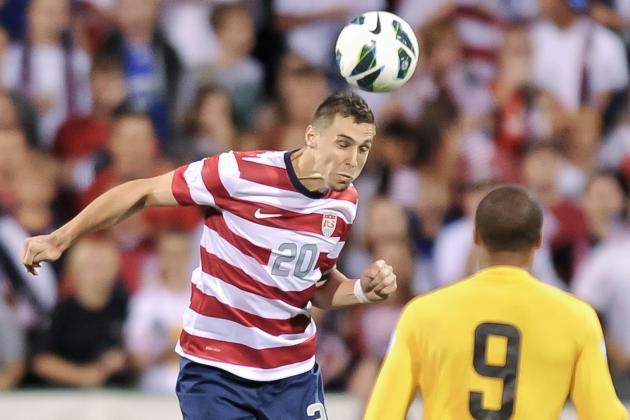 Jamie Sabau/Getty Images

What can we say? These center defender positions remain the American Achilles' heel.
Carlos Bocanegra and Geoff Cameron were serviceable for the few minutes they spent together, before Bocanegra exited with an injury. This in itself is a problem for Klinsmann, who certainly wanted to maximize their time together before the next qualifier.
Bocanegra's replacement, Clarence Goodson, managed to survive the first half relatively unscathed.
If the game were 45 minutes, the center defenders may have been labeled as a winner, simply for exceeding low expectations.
Unfortunately, this game included both halves. The good news is the Russians only scored once off an egregious defender mistake, when Goodson tackled in the box, from behind, etc., etc. The bad news is mistakes were visible throughout the second half.
For the Russians, it may well have been a conscious choice not to exploit the vulnerable space between Cameron and Goodson with through balls. That really is not this Russian side's style of attack, as they tend to prefer rapid ball movement that unbalances opponents.
Through balls are, however, a mainstay of many CONCACAF teams. We will see a lot of them next year.
Goodson might be a little more athletic than Boca and Cameron, but he too frequently positions himself incorrectly.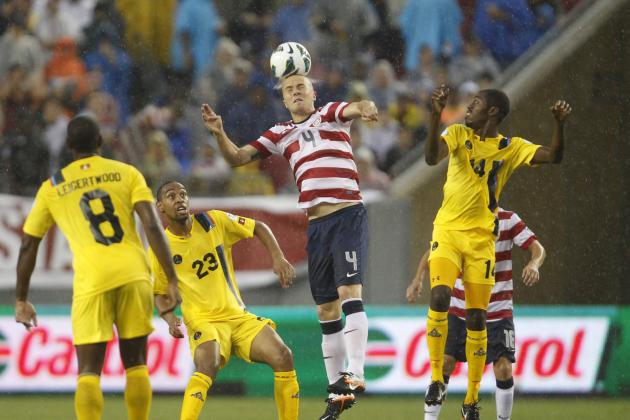 Matt Stamey-US PRESSWIRE

Grading on the curve he created for himself, the only way for the capable Michael Bradley to make the winner's list is to play a direct role with scoring.
As for the rest, like bringing composure to the midfield and demonstrating international-class skills, he has done that fairly consistently for long enough. It simply does not stand out anymore.
(That is from an author who initially loved the former coach's son, then became critical, and since has watched Bradley grow at a phenomenal rate.)
Directly influence the final U.S. tally the Roma midfielder did. He scored the initial equalizer on a technical gem of a strike, and later fed the ball into the box that translated into Mix Diskerud's goal.
Sure, both were a bit lucky. Bradley's goal deflected off the left post and in. The slightest smidgen further left, and that ball clunks off the woodwork back into play.
Great players seem to find ways to get those smidgens going their way, and Bradley is a great player. Maybe, arguably, the greatest USMNT center mid ever? Perhaps it is too early to go there, given Bradley's esteemed competition for the honors.
For now, it will have to be enough to just be a winner on this slideshow.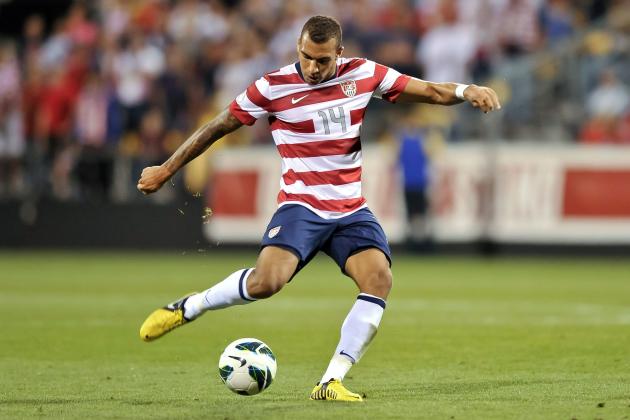 Jamie Sabau/Getty Images

At only 23, it may be premature to say the door for this midfielder is closing. Today, however, is a day when that door potentially could close.
This was about as bad an outing as Williams could imagine in his worst nightmares.
He gave away the ball on a bizarrely atrocious direct kick on top of his own defensive third. That miscue directly led to the first Russian goal.
He almost made a similar egregious mistake later in the half.
Whether there was something in the Russian water not agreeing with this German-American, or whether the Russian side itself was intimidating him, the Hoffenheim midfielder never looked composed.
Williams did demonstrate some agility when a hard ball came his way in the Russian box. He was not expecting the pass, but managed a touch and quick shot on frame. Unfortunately, his placement was as off as his composure. The shot went straight to the Russian keeper.
Williams did not get a full game, but he got of a lot of playing time. Instinct tells me that upon seeing the spectacle, Klinsmann left Williams in for as long as he did to make sure it was a fair last look.
Instinct aside, as mentioned earlier, it probably is premature to close that door. Plus, Klinsmann seems to have a soft spot for the German-Americans.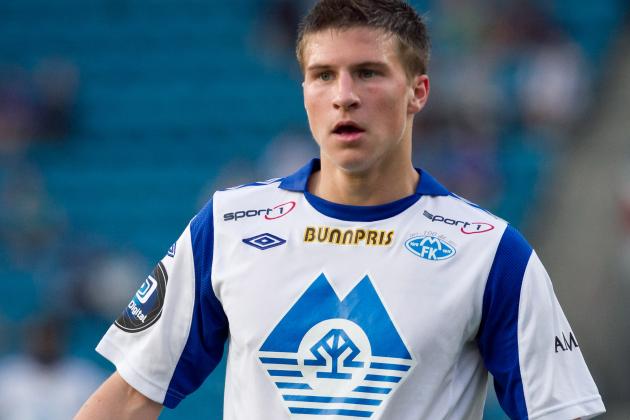 EuroFootball/Getty Images

That youngster is as fast as advertised.
If Klinsmann was looking for a backup winger who can turn in quality minutes immediately, he need look no further than this 21-year-old, who plays for Norwegian side Molde.
Fast, field smart and tough are characteristics that describe his start today. The toughness was demonstrated early, when he was driving into the box from the right. He took an elbow in the mouth. It was a strong hit, and Gatt seemed to spend the next 10 minutes counting his teeth.
He never stopped play, and never gave up on a ball. However, when the play transitioned to another locale on the pitch, his fingers were back in his mouth. Being from Michigan, maybe Gatt has a bit of hockey player tenacity in him.
The incident seemed to be on his mind, given the one potential criticism today. Though Gatt made a credible start, and most likely won himself a future with the USMNT, he rarely used his pace to take on a defender with the dribble.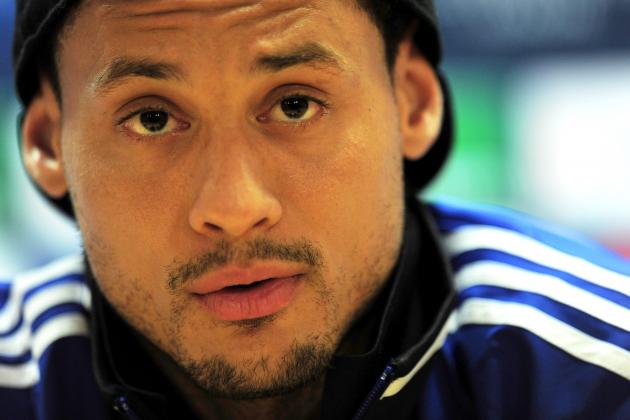 Shaun Botterill/Getty Images

Despite his exemplary recent play for Schalke, Jermaine Jones did not put in a strong performance today.
The German-American (yes, another one) was sloppy with possession and seemingly trying too hard to make things happen.
He had his moments, especially in the second half. A few times he looked intent to play himself off this slide (maybe this author does have delusions of grandeur, but that is another issue).
In those moments, he became an attack presence against the Russians. Whether it was creating opportunities, typically down the left side, or moving into effective central support positions, he seemed constantly on the verge of producing a U.S. goal.
Something always was missed, either by Jones or by teammates he was feeding, so nothing came of those moments. Jones himself missed a couple shots late in the second half. One of those two was off a very nice reverse diagonal, on which he simply should have done better with his strike.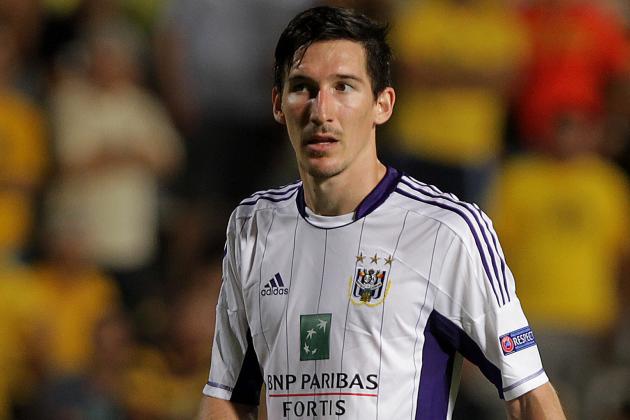 EuroFootball/Getty Images
Anderlecht's Sacha Kljestan
Jozy Altidore. If Klinsmann was looking for a more active Altidore, the coach got his wish today. The forward was everywhere on the field, participating in every phase of play.
Some of Altidore's best moments were applying pressure in the defensive third.
The one strike against this new, active Altidore was the lack of physicality demonstrated so regularly by the previous Altidore version.
The AZ Alkmaar standout is more of a power forward than an agile and graceful scoring threat. Yet today, he seemingly passed on a few opportunities to run through balls and defenders. Still, this was a credible performance and should be enough to earn him a spot for qualifiers.
Sacha Kljestan. Kljestan looked to earn a regular position on the national roster. Depending on Klinsmann's approach to any given game, Kljestan may have won himself a starting role.
He was subbed in as a forward/wing (Klinsmann seemed to present a 4-3-3, but with player responsibilities more akin to a 4-3-2-1). In a fair amount of minutes, Kljestan only played one bad ball.
That one was a blind cross, and Kljestan put it harmlessly into the keeper's reach.
He showed quickness, field vision, creativity and touch. In fact, if I had to pick two players who today proved they could consistently play at Russia's speed in tight spaces, it would be Bradley and Kljestan.
The reason for limiting this performance to honorable mention is the fact that little came from Kljestan's quality play. However, faced with a choice of gaining a place on the USMNT roster and gaining outright "winner" recognition in this slideshow, one could guess which the former Seton Hall star would prefer.
Mix Diskerud. Diskerud hardly got a fair look, coming in as he did during the game's final minutes. The native Norwegian (with an American mother) made the most of his short time on the field, though.
Diskerud neatly first-timed a ball laid off by Terrence Boyd into the net for a stoppage-time equalizer.
The Rosenborg 22-year-old midfielder has played with Norwegian and American youth teams. It is a fair bet Klinsmann will attempt to cap-tie Diskerud to the USMNT in 2013.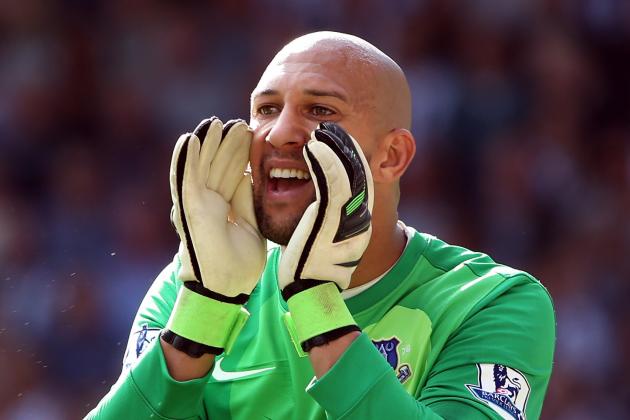 Ross Kinnaird/Getty Images

Tim Howard is another player cursed by an almost impossible grading curve.
Whether playing for Everton or the USMNT, expectations for Howard's performance run high. Today was no different, and he lived up to those expectations, if not surpassing them.
While the Americans twice handed their opponents gift-wrapped scoring opportunities, once in the form of a penalty kick, the Russians as expected managed to create several dangerous situations on their own.
With an average keeper, this tie easily could have been a two- or three-goal loss.
Howard, especially in the second half, made his share of quality stops. Even on the play that resulted in the penalty, take the violating defender out of the picture and Howard probably had it stuffed.
At least that is what Howard seemed to be communicating to Goodson after the call, and most likely in no uncertain terms.