Power Ranking the Top 5 Potential BCS Spoilers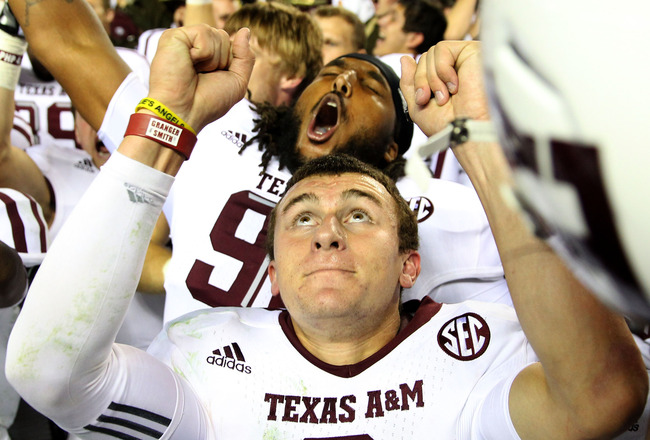 Mike Zarrilli/Getty Images
Currently, three undefeated teams are fighting for the top two spots in the final BCS rankings and the right to play in the BCS National Championship Game: Kansas State, Oregon and Notre Dame.
However, each of those three teams have to play two more regular-season games while Oregon also has a Pac-12 Championship Game to play should the Ducks win out.
That means there's plenty of opportunity for someone's BCS National Championship Game hopes to go up in flames.
Just ask Alabama. The former No. 1 team in the land learned the hard way that a single game can change everything.
So, who are the top five potential spoilers for players with national championship aspirations? Read on.
No. 5: Baylor Bears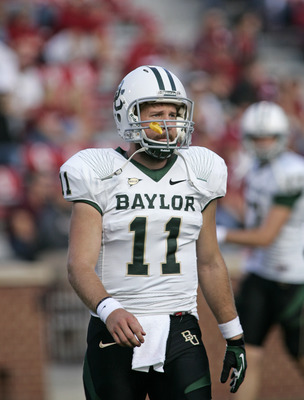 Brett Deering/Getty Images
Question: How does a team with a quarterback like Nick Florence that also averages 42.7 points per game have a losing record?
Answer: The Bears are also No. 118 in scoring defense by giving up nearly 40 points per game.
That must be so frustrating.
But who knows? Collin Klein didn't appear 100 percent to me against TCU. Besides, this game is at Baylor. Strange stuff can happen on the road.
However, Kansas State has a solid defense to go with their offense. They're playing high-powered Big 12 offenses and still giving up on average only 17.7 points per game.
This isn't the likeliest scenario, but truly anything is possible on the gridiron.
No. 4: Stanford Cardinal
Ezra Shaw/Getty Images
Did you know that if Stanford beats Oregon this week and then beats UCLA that the Cardinal will represent the North in the Pac-12 Championship Game over the Ducks?
Nobody is talking about this doomsday scenario, but it's more likely than you think.
Stanford just came away with a big win over Oregon State last week, and its solid defense may give Oregon some trouble.
Besides, freshman Kevin Hogan has done fairly well as he has taken over for Josh Nunes under center. He had 254 yards passing and three touchdowns in the Cardinal's win over the Beavers.
Those two interceptions have to be a concern, however.
Still, the Ducks can't afford to take anything for granted if they want a sure place in the BCS National Championship Game.
No. 3: Texas Longhorns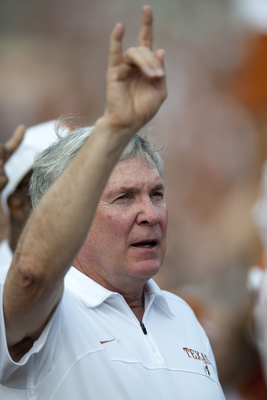 Cooper Neill/Getty Images
It certainly hasn't been a dream season for Texas, but the Longhorns have suffered worse nightmares over the past couple of years.
What makes the Longhorns dangerous is that they have something to play for other than being a spoiler. If they can upset the No. 1 team in the land, that may be enough for Mack Brown and Texas to pick up an at-large bid to a BCS bowl.
The Longhorns defense is suspect, but their offense is clicking at a good time. David Ash did go 25 of 32 for 364 yards and two touchdowns against Iowa State last week.
I wouldn't take the Longhorns lightly if I were Kansas State...
No. 2: Oregon State Beavers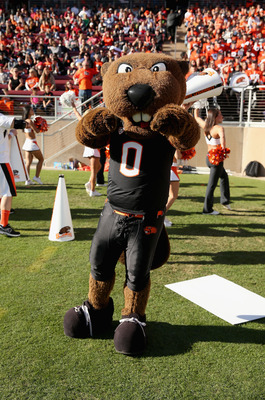 Ezra Shaw/Getty Images
There's nothing that can ruin a championship run than a rivalry game, and there's no one who enjoys spoiling it than a rival.
Enter Oregon State. The Beavers have made a remarkable turnaround after a dismal performance last year. Trust me, they remember all to well the 49-21 beatdown they received at the hands of Oregon last season.
And by giving up only 19.1 points per game, the Beavers are one of the more stingy defenses that the Ducks have faced all year.
Besides, this one is happening in Corvallis.
Fear the Beaver.
No. 1: USC Trojans
Stephen Dunn/Getty Images
Once thought to be a favorite in the national championship race, there's no way that Matt Barkley and the Trojans can get to the BCS National Championship Game now.
However, USC gets a chance to play spoiler for two of the current top three.
First off, the Trojans will get a chance to ruin Notre Dame's chances on November 24. Their high-powered offense should be a good test for Manti Te'o and the No. 1 scoring defense in the country. Besides, they get their heated rival at home.
Also, if USC can get past UCLA this week, they'll get a second crack at No. 2 Oregon. Remember, USC's offense was able to run with the Ducks for most of the game. There's a chance that they could derail the Ducks in the Pac-12 Championship Game.
At any rate, the Irish and Ducks should beware of USC.
Keep Reading