In a surprising blockbuster trade, the Miami Marlins traded many significant assets of their team, including ace Josh Johnson, All Star shortstop Jose Reyes, solid innings-eater Mark Buehrle, utility player Emilio Bonifacio and catcher John Buck to the Toronto Blue Jays.
The Marlins received a good amount of prospects and big league players, including Yunel Escobar, right-hander Henderson Alvarez, catcher Jeff Mathis,outfield prospect Jake Marisnick, shortstop prospect Adeiny Hechavarria, and pitchers Justin Nicolino and Anthony DeSclafani.
This trade was the largest in a Miami fire sale that dates back to the trade deadline last season.
After trading Anibal Sanchez and Omar Infante to the Detroit Tigers for pitching prospect Jacob Turner, they dealt Hanley Ramirez and Randy Choate to the Los Angeles Dodgers. They also recently traded struggling closer Heath Bell in a three-team deal to the Arizona Diamondbacks.
Miami's motivation for these moves has been questioned, as many point fingers at owner Jeff Loria. After acquiring a new stadium and pushing their payroll over the $100 million mark for the first time in team history, the Marlins look like a completely different team now, with the exception of Giancarlo Stanton and Logan Morrison. They are back to the low budget team they once were.
The Indians might want to start taking notes.
I'm not suggesting that Cleveland could create a mega-deal of this caliber, or that the Marlins are correct in doing so. However, I do think it makes sense for the Indians to explore their own fire sale.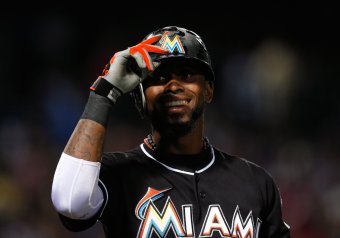 Kevin C. Cox/Getty Images
The Indians do have some assets, but those assets have proven that they cannot win together. To be fair, this Marlins team did not have a lot of time to mesh together, and Miami was obviously concerned with cutting payroll. But despite different intentions, the Indians should follow suit.
A Cleveland fire sale would feature some big names such as Shin-Soo Choo, Justin Masterson, Chris Perez, Asdrubal Cabrera and potentially players like Carlos Santana or Ubaldo Jimenez.
Shin-Soo Choo is a year away from free agency. Represented by Scott Boras, it is highly unlikely the Indians will be able to retain their prized outfielder. Instead of holding onto their slim chances of winning next year, they could trade Choo now and retool their roster for the future. Plenty of teams that need outfield help, such as the Philadelphia Phillies, Seattle Mariners, Boston Red Sox, or New York Yankees, could come calling.
Justin Masterson struggled this season, but still has plenty of trade value, especially given his relatively inexpensive deal.
With such a poor free agent crop, many teams would want to take a risk on a player like Masterson. Teams desperate for pitching like the Kansas City Royals, Boston Red Sox, or the Baltimore Orioles could express interest. Teams that miss out on Zach Greinke could also be interested, so that potentially includes the Texas Rangers, the Los Angeles Angels and the Los Angeles Dodgers.
Despite his struggles, Ubaldo Jimenez could also receive interest. Although no team can expect him to pitch like he did with the Colorado Rockies, he could still be an effective pitcher, and many of the teams interested in Masterson might also call about Jimenez.
With teams in need of a reliable closer, there's always Chris Perez. A solid ninth-inning option last season, Perez voiced his displeasure with his team's losing ways, and a change of scenery may be in order.
Jose Valverde struggled in the playoffs, and the Detroit Tigers could express interest in a pitcher like Perez. The Cincinnati Reds could be interested in acquiring a closer so that they could move flamethrower Aroldis Chapman to the rotation. Other teams like the Texas Rangers and the Los Angeles Angels could also call about a closer.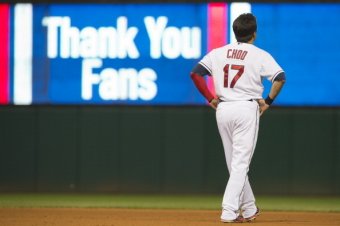 Jason Miller/Getty Images
Potentially providing the largest return would be All-Star shortstop Asdrubal Cabrera.
The shortstop position is not very strong throughout baseball, and when the free agent headliners are Stephen Drew and Marco Scutaro, virtually any team seeking a shortstop that can afford Cabrera would have to consider making a call. Teams like the St. Louis Cardinals could try and snag him, as Rafael Furcal declines and becomes more susceptible to injuries. The Arizona Diamondbacks are also looking for a shortstop.
The team must make a decision regarding Carlos Santana. His contract is affordable and his bat provides upside, but defensively there are questions as to whether he can truly be a catcher. Plenty of teams such as the Texas Rangers are looking for a catcher. Depending on who misses out on Russell Martin and A.J. Pierzynski, the Red Sox, Yankees, or Chicago White Sox could express interest. If they do decide to trade him, they could get considerable assets in return.
The point is, the Indians have players that are individually valuable but as a unit have struggled to produce in Cleveland. Whether they make a blockbuster that rivals the Blue Jays-Marlins swap or decide to make several smaller, calculated moves, the Indians need to act now to revamp their farm system.
With the right moves, they could develop young talent and create a solid core in a few years instead of relying on a group of players that has proven it cannot win and is likely to leave in a few years.
I expect the Indians to be very active this winter, and if they play their cards right they could be good in a few years. It will be a painful team to watch until then, but with the right prospects in return, it could be worth the wait.