Grading the Talent Surrounding Ryan Tannehill with Miami Dolphins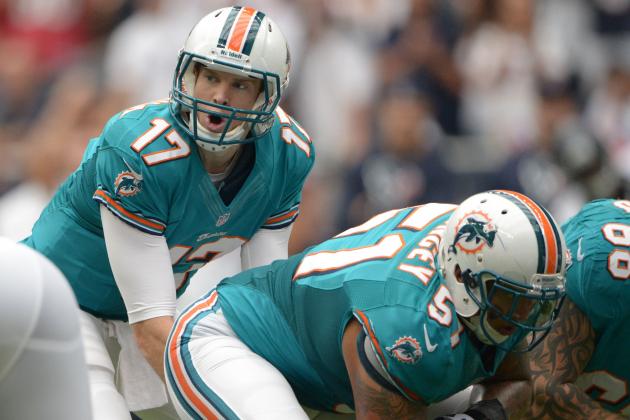 Kirby Lee-US PRESSWIRE

Ryan Tannehill's numbers from the first 10 weeks of the season look unspectacular.
A 58.9 completion percentage, 73.2 quarterback rating and a nearly 1:2 touchdown-to-interception ratio (five TDs, nine INTs) would have most NFL quarterbacks benched by now.
But, step back and take a look at the supporting cast for which the Miami Dolphins have provided Tannehill.
Only two of his wide receivers—Davone Bess and Brian Hartline—would even make most teams' 53-man rosters. His offensive line is ranked 24th in the league by Pro Football Focus. And only one of his tight ends has reached double digits in receptions.
By surrounding Tannehill with such pedestrian talent, the Dolphins have placed mountainous pressure on their rookie quarterback to carry this offense week in and week out.
Although he's responding surprisingly well, it's imperative that Miami overhauls its offense this offseason because only one player has warranted an A—and one player even earned an F-.
Here are individual grades for the rest of the Dolphins' offensive players.
Begin Slideshow

»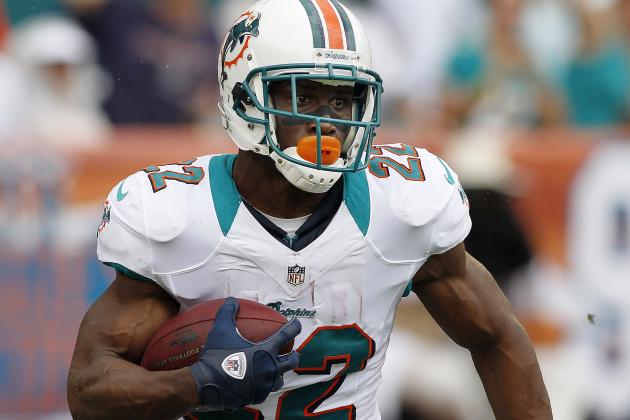 Robert Mayer-US PRESSWIRE

Player
Grade

Breakdown
Reggie Bush
B+

Although Bush is Miami's most valuable and talented skill player, even he hasn't warranted an A this season. He rushed for 302 yards on 50 carries in the first two two-and-a-half games of the season (left Week 3 right before halftime) but has accrued only 253 yards on 76 carries since.

Bush hasn't even been a significant contributor in the passing game this season, reeling in roughly 2.3 receptions per game. Granted, that's not necessarily his fault (but rather Mike Sherman's), his declining production is unnerving nevertheless. Combining Bush's statistical dip with his persistent health concerns makes his future with the Dolphins very muddled.

Daniel Thomas
B-

Virtually every player on the Dolphins active roster was embarrassed at one point or another in last week's blowout loss to the Titans.

Daniel Thomas was an exception.

He rushed for 21 yards on five carries and tacked on five receptions for 34 yards. And, the week prior, he rushed for 37 yards on six carries. Don't jump to any conclusions yet, but it's starting to look like Thomas is finally hitting his stride as an NFL running back.

Thomas has a long way to go before he earns anybody's trust, though. He was averaging a dismal 3.03 yards per carry before Week 9 (though he has played a short-yardage role) and missed two games after suffering a pair of concussions.

If Thomas finishes the season strong, then he'll make the Dolphins feel far more comfortable parting ways with Reggie Bush.

Lamar Miller
C+

When Lamar Miller gets the ball, good things tend to happen. But, for whatever reason, the Dolphins aren't just reluctant to give him the ball—they're also reluctant to put him on the field.

Miller wasn't on the field for a single snap in Weeks 5 and 8, and he registered a combined 14 snaps between Weeks 4, 6 and 9. And, mind you, Daniel Thomas missed Week 6.

Why is Miami's coaching staff so prudent with Miller? It's hard to say, though reliability in pass protection is an issue that can keep a young running back off the field.

Although he doesn't get on the field often, Miller makes the most of his touches. He could be a focal point of this offense within the next year or two.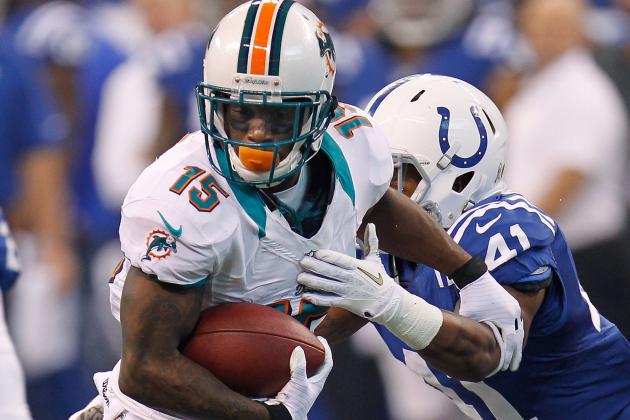 Gregory Shamus/Getty Images

Player
Grade
Breakdown
Davone Bess
B+

Bess is one of the most difficult Dolphins players to grade.

On one hand, he defines consistency. Week in and week out, we know Bess is going to bring his A-game and provide Ryan Tannehill with a safety blanket. That's invaluable on a team littered with maddeningly inconsistent players.

On the other hand, his numbers are unspectacular, and he hasn't even registered a touchdown. You can make a case that Bess deserves an A, but you can also make a case that he deserves something lower than a B+.

Although his numbers aren't that special, one must realize just how valuable he is to this offense. And, just imagine what Bess could do with a great quarterback.

Hopefully, he'll be Tannehill's go-to slot receiver for years to come.

Brian Hartline
B

Speaking of maddening inconsistency, Brian Hartline is having a Jekyll-and-Hyde season.

While he has caught more than eight passes in four games—including his record-breaking 12-reception, 253-yard performance in Week 4—he has also been completely erased in others. Hartline caught just one pass on nine targets in Week 3 and didn't even register a target in Week 6.

In those two games, he was blanketed by elite two cornerbacks, Darrelle Revis and Cortland Finnegan.

So, while it's exciting to see Hartline emerge as a viable starting wide receiver, it has become clear that he's no match for an opposition's No. 1 cornerback.

Jabar Gaffney
C

There's no doubt Jabar Gaffney is a huge upgrade from his predecessor—the one and only Legedu Naanee. But, then again, that's not saying much.

Gaffney has been just okay in his three games with the Dolphins, recording four receptions for 68 yards on 11 targets. He figures to improve as he grows more comfortable with the Dolphins offense.

However, he's not going to become a game-breaking player. Remember, there's a reason he sat in the free-agent pool until Miami signed him four weeks into the season. He can contribute but not on a large scale—and he might drop the occasional 70-yard touchdown pass like he did in Week 8.

Marlon Moore
C+

It's almost a stretch to grade Marlon Moore as a wide receiver considering he has spent 59 percent of his snaps on special teams. (For the record, his five special teams tackles are second most on the team.)

Ryan Tannehill has only targeted Moore five times this season, but they've connected on four of those passes for 83 yards and a touchdown.

Why doesn't Moore get more looks? It's hard to say. The Dolphins clearly view him as a special teams ace, first and foremost. Perhaps Miami's staff doesn't believe he's polished enough to handle a regular role on offense.

Whatever the case may be, the Dolphins should get him more involved if and when they're eliminated from playoff contention. There's most definitely great potential with Moore, and the 'Phins would be foolish not to tap into it.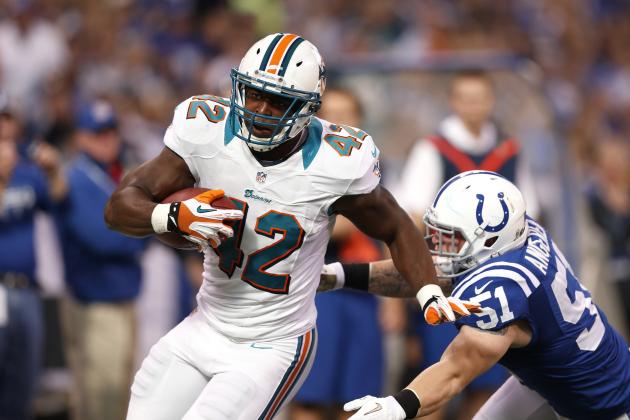 Joe Robbins/Getty Images

Player
Grade
Breakdown
Anthony Fasano
B+

Fasano is a free agent after this season, but rest assured, he'll be back.

That is, if Mike Sherman's man-crush persists. Here's what Miami's OC had to say about his tight end in October (per the Palm Beach Post):

"I think Anthony Fasano is having a hell of a year, to be honest...He has exceeded my expectations from mini-camp and preseason...He just keeps better and better and more familiar with the offense. I mean, he's doing stuff out there I would expect him to do next year or the year after."

Although Fasano isn't particularly popular amongst fans, he's quietly on pace to register a career-high 44 receptions. Sure, that's not exactly something to write home about, but it's a respectable number nonetheless.

Plus, he has also been stellar in pass protection. Combine those two facets and the Dolphins have themselves a rock-solid tight end.

Charles Clay
C

The occasional glimpses of greatness we see from Charles Clay isn't enough to compensate for the usual transparency.

Clay has only seven receptions for 91 yards on the season, which is massively disappointing for a player who generated so much hype last summer.

To his credit, he has been a reliable pass-blocker and hasn't been penalized (for what it's worth). Clay has gone four games without catching a pass and has only registered a reception in back-to-back games twice.

With every game comes the hope that he'll finally breakout, but don't get your hopes up too high.

Jeron Mastrud
C+

Even though this is his third season with the Dolphins, most fans are only vaguely familiar with Jeron Mastrud. This is because he's a pure blocking specialist. In fact, he has just one catch in 30 games with the 'Phins.

Mastrud has only been on the field for 56 offensive snaps this season. However limited his role may be, he accomplishes what Miami asks him to.

Michael Egnew
F-
I only included Egnew so that I could give him an F-.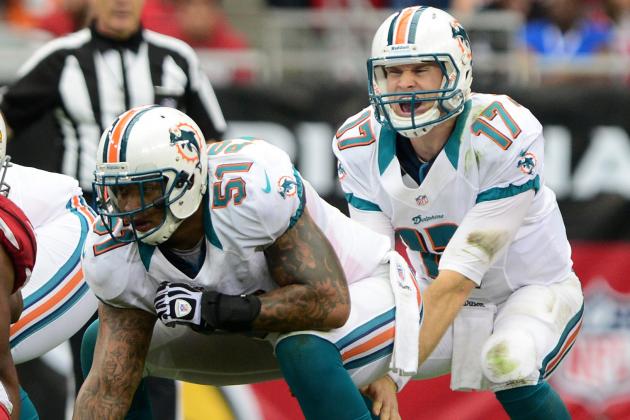 Jennifer Stewart-US PRESSWIRE

Player
Grade
Breakdown
Jake Long
B+

Sure, Jake Long isn't have a typical Jake Long season, but a bad season for Jake Long is still a good one for most NFL offensive tackles.

Long has yielded six quarterback hits and three sacks, which is only glaringly poor relative to his first five NFL seasons. In the grand scheme of things, however, those numbers really aren't that bad—just uncharacteristic.

Long's team-high seven penalties are, in fact, worrisome. This influx in penalties leads me to believe Long is playing hurt. Or, maybe his injury history has simply caught up to him. Whatever the case may be, there's something wrong with Long, but things could be much worse.

Richie Incognito
B-

Incognito has made headlines for the wrong reasons this year, whether it be being blasted by Texans defensive lineman Antonio Smith for the nature of his play or getting voted by his peers as the second dirtiest player in the NFL.

In sync with this reputation, Incognito has already racked up six penalties this season—second most on the Dolphins. And, although he has been stellar in pass protection, his run-blocking is suspect.

According to Pro Football Focus, Miami's running backs have collectively rushed for just 54 yards on 19 carries when carrying the ball into the 5-gap between him and Jake Long.

Mike Pouncey
A

When only one player in a quarterback's supporting cast earns an A, you know something isn't right.

As I explained in the introduction, the Dolphins have to get Ryan Tannehill more help. They won't have to address the center position anytime soon, though, because Mike Pouncey could be around for the next decade if he continues playing at this level.

Pouncey has surrendered only one quarterback hit and no sacks this season. Beyond that, Miami's running backs are at their finest running behind him, accruing 324 yards on 69 carries. He'll be the only player from the Dolphins offense to earn a Pro Bowl bid.

John Jerry
C+

Compared to how he has played in the past, John Jerry actually looks serviceable this season.

He has been mostly reliable in pass protection, yielding nine quarterback hurries, two quarterback hits and two sacks.

His run-blocking isn't quite on par, though. Dolphins running backs have rushed for 171 yards on 38 carries when rushing into the 2-gap (between Jerry and Pouncey), but only 93 yards on 29 carries when rushing into the 4-gap (between Jerry and Jonathan Martin).

Maybe Martin's run-blocking is so bad that Jerry can't compensate, but we shouldn't complain, regardless. Jerry may finally be on track to becoming a regular starter.

Jonathan Martin
D

Just when it looked like Jonathan Martin was finally turning a corner, he gave up five quarterback hurries against the Tennessee Titans. He has now allowed 24 quarterback hurries and three sacks this season. If Ryan Tannehill wasn't so efficient under pressure, then that sack total would be much higher.

Martin's struggles extend beyond pass protection, though. He's also struggling in the running game. Miami's running backs are at their worst running into Martin's gaps, collecting just 140 yards on 50 carries.

With a full year to transition to right tackle and acclimate to the NFL, Martin can become a solid NFL starter. But, this season has been one filled with growing pains.