UFC 154: B/R MMA Staff Predictions for the Preliminary Card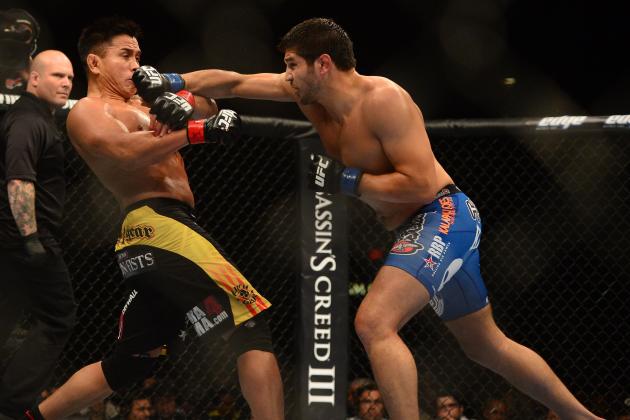 Mark J. Rebilas-US PRESSWIRE

The UFC makes its return to Montreal this weekend as UFC 154 comes to the Bell Centre Saturday night.
With a star-studded main card headlined by UFC champ Georges St-Pierre, the preliminary card is also pretty stacked, featuring a ton of talented Octagon vets.
Canadians Sam Stout and John Makdessi will kick things off on the FX-televised portion of the program in what's sure to be an exciting lightweight scrap. Following them will be a battle of fellow 155ers as Mark Bocek takes on Rafael dos Anjos.
Chad Griggs is set to make his light-heavyweight debut in a preliminary card bout against veteran Cyrille Diabate while Patrick Cote looks to bounce back from a UFC 148 loss to Cung Le as he faces middleweight Alessio Sakara.
Predicting this weekend's fights are Bleacher Report MMA Featured Columnists Dwight Wakabayashi, John Heinis and myself, Matt Juul.
Take a look at who we think will leave Montreal victorious off the preliminary card.
Begin Slideshow

»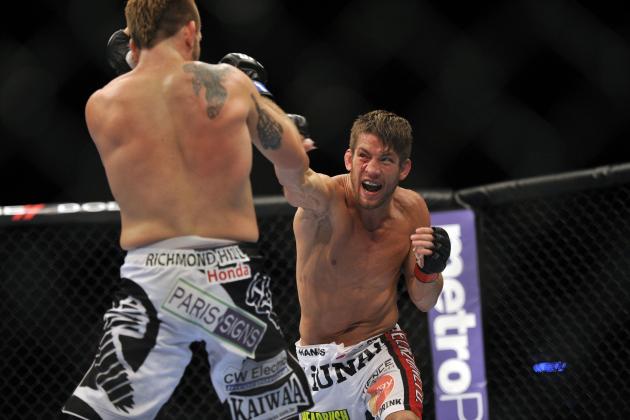 Joe Camporeale-US PRESSWIRE

Matt Juul: Kicking off the FX-televised portion of the card will be an exciting lightweight battle between Sam Stout and John Makdessi, both of whom should feel at home fighting in their native Canada.
Both men are solid strikers and will likely look to stand-and-trade—at least at the beginning of the bout.
Stout, who's coming off a solid win against Spencer Fisher, has never really faced a striker as unique and diverse as Makdessi, so he may switch to his wrestling if he gets roughed up a bit standing up. The ground has been a notable weakness for the TriStar lightweight, so Stout would be wise to exploit this area of Makdessi's game.
In the end, however, I think that Makdessi will surprise fans Saturday night and edge out a close win in what's sure to be a barnburner.
John Makdessi via split decision
John Heinis: After starting off his tenure in the Octagon at 2-0, John Makdessi has since lost back-to-back fights to Dennis Hallman and Anthony Njokuani. He faces a stiff test in the form of Sam Stout Saturday night.
Stout has won three of his last four, including winning his trilogy bout with Spencer Fisher at UFC on FX 4 in June, with his only loss being a fairly close decision to Thiago Tavares. Despite his "Hands of Stone" nickname, Stout actually has only nine wins via knockout in 18 career victories (just one of which occurred in the UFC).
Nevertheless, the Ontario native is a solid kickboxer with decent takedown defense and the uncanny ability to scramble back to his feet. Makdessi, a black belt in Shotokan Karate, has heavier hands (seven KOs in nine wins) but is basically a fish out of water on the ground.
Stout showed greatly improved wrestling skills in his latest fight with Fisher, so if he loses the stand-up battle, I don't see him hesitating to shoot the takedown.
Sam Stout via unanimous decision (29-28, 29-28, 29-28)
Dwight Wakabayashi: It's Canuck vs. Canuck in this one, and Makdessi is taking a step up to Stoutin this one.
Both of these men love to stand and strike, and this is a clear "Fight of the Night" candidate. Stout's experience, well-rounded game and new confidence in his corner will outdo an inexperienced Makdessi.

Sam Stout via unanimous decision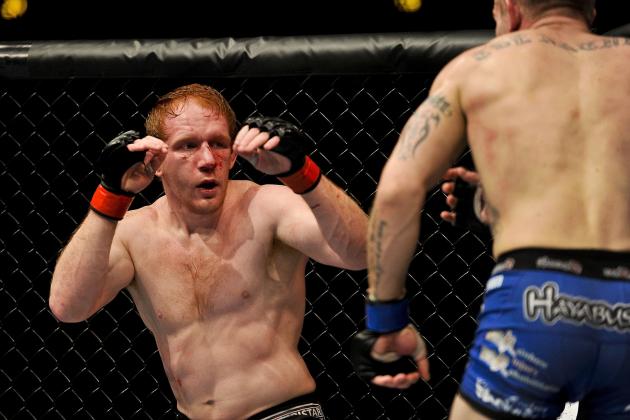 Paul Abell-US PRESSWIRE

Matt Juul: In another scrap between 155ers, Canadian veteran Mark Bocek will look to extend his two-fight win streak against the always tough Rafael dos Anjos.
The Brazilian is also coming into this bout with back-to-back wins, recently taking a decision win over Anthony Njokuani last July. Prior to the win, dos Anjos submitted Iranian wrestling standout, and now former UFC lightweight, Kamal Shalorus via a first-round rear-naked choke in May.
Dos Anjos is going to have a tougher time submitting Bocek who's a black belt in jiu-jitsu and a solid wrestler himself. The Brazilian will make it a war, but I see Bocek eeking out a decision win.
Mark Bocek via unanimous decision (29-28, 29-28, 29-28)
John Heinis: Bocek is a very underrated Brazilian jiu-jitsu black belt, with seven submission wins to his credit, though he has struggled against elite fighters such as Frankie Edgar and Benson Henderson. Dos Anjos, a fellow BJJ black belt, is a tough customer in his own right though.
Both fighters are 3-2 in their past five fights and will be looking to break out of the middle of the pack with a victory here.
Given that Bocek is a better wrestler with plenty of submission know how, I can't see him getting caught with a lucky punch or miracle submission here. Bocek grinds out a decision.
Mark Bocek via unanimous decision (30-27, 30-27, 30-27)
Dwight Wakabayashi: This is a fight between two very different fighters who both have the same goal in mind. The winner here will be on the cusp of the lightweight top-10 rankings and a very big fight in the near future.
Dos Anjos likes to bring aggression and electricity to the cage, while Bocek likes to smother any weapons his opponent has.

Bocek's game is low risk and flawless when executed, while dos Anjos can be wild and reckless.

Mark Bocek via unanimous decision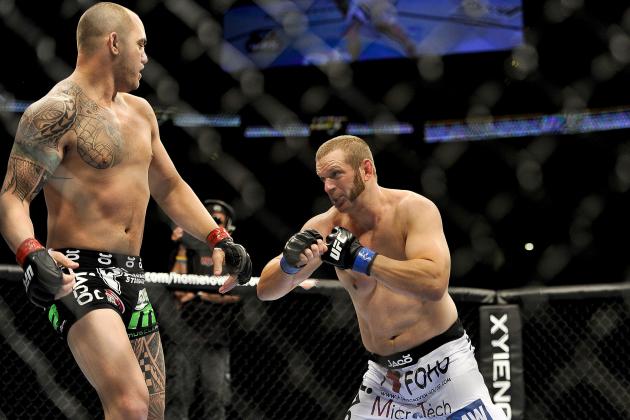 Paul Abell-US PRESSWIRE

Matt Juul: Long-time light-heavyweight veteran Cyrille Diabate is a kickboxing whiz who will have a distinct reach advantage over Chad Griggs, who will be making his debut at 205 on Saturday night.
"The Gravedigger" has some pretty heavy hands, with nine of his 11 wins coming via knockout. However, Diabate has a pretty solid chin and has not been finished by strikes since a brutal 2006 TKO loss to Shogun Rua back in Pride.
Diabate will have a slight advantage on the ground, owning five career submission victories to Griggs' two—which were due to his opponents tapping out to punches. Griggs is also coming off a bad, submission loss to Travis Browne at UFC 145, another sign of his less-than-stellar ground game.
But since he's dropping down to light heavyweight, I think that this will be a huge boost for "the Gravedigger" and should make him a deadly guy to strike with. While Diabate may be in the lead on paper, I think Griggs can pull the upset.
Chad Griggs via Round 2 technical knockout
John Heinis: Diabate has some vicious Muay Thai and a passable submission game, but will that be enough to stop Chad "The Gravedigger" Griggs in his light-heavyweight debut?
After going 3-0 in Strikeforce, including big wins over Bobby Lashley and Travis Browne, Griggs got destroyed by Travis Browne in his first UFC bout at UFC 145 in April. Griggs has some serious knockout power and a great chin, though his jiu-jitsu is awfully weak for a UFC fighter.
Half of Diabate's losses (four of eight) have come via submission, and Griggs has never won by a true submission hold (two of his opponents have tapped to punches though). While Diabate is not the most consistent fighter, he seems to be the more technically sound competitor in this contest.
Cyrille Diabate via Round 3 submission (rear-naked choke)
Dwight Wakabayashi: Two big men will battle here, and I'm guessing it won't last long. Diabate has strength in abundance, and he will look to bully Griggs around the cage on Saturday night.
Griggs will look to load up the power in his hands and try to put Diabate's lights out. I just don't think he has the crispness or cardio to get it done.

Cyrille Diabate via unanimous decision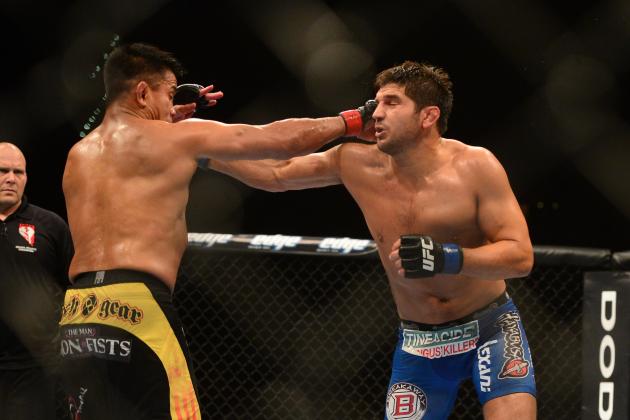 Mark J. Rebilas-US PRESSWIRE

Matt Juul: Returning to the famed Octagon at UFC 148, Patrick Cote's homecoming didn't really go as planned as opponent Cung Le outstruck the one-time title contender to take the decision victory.
Cote should have an easier matchup against slumping middleweight Alessio Sakara, who has neither the striking skills nor the ground game to match the Canadian. Sakara has to think of something, having lost two straight in recent bouts with Brian Stann and Chris Weidman, which pretty much makes this a must-win situation for the Italian.
I just don't see Sakara contending with Cote in any area of the fight. The Italian's weak chin will unfortunately be his undoing once again and may result in his release from the UFC.
Patrick Cote via Round 3 knockout
John Heinis: After getting cut from the UFC in late 2010, Cote strung together four wins on the regional scene before he got a meeting with Cung Le at UFC 148 in July. For whatever reason, "The Predator" looked out of shape and outskilled against the former Strikeforce middleweight champion.
Sakara is actually in a worse place right now, losing consecutive bouts to top 10 middleweights Chris Weidman and Brian Stann. Sakara is as game an opponent as anyone at 185 lbs, but the former professional boxer just does not have the chin or the striking to hang with any above-average fighters anymore.
Given that Sakara has lost to fighters like Roman Zentsov and Drew McFedries in the past, I think Cote gets the job done and Sakara heads to the regional scene afterwards.
Patrick Cote via Round 2 knockout
Dwight Wakabayashi: Cote needs this win badly while you never really know what you are going to get from Sakara.
Cote has tighter and more powerful strikes, especially in his right hand, and he should be able to land it and get the KO, similar to what Brian Stann did to Sakara in his last fight.

Patrick Cote via Round 2 knockout