Notre Dame Football: Examining Why Irish Shouldn't Play in BCS Title Game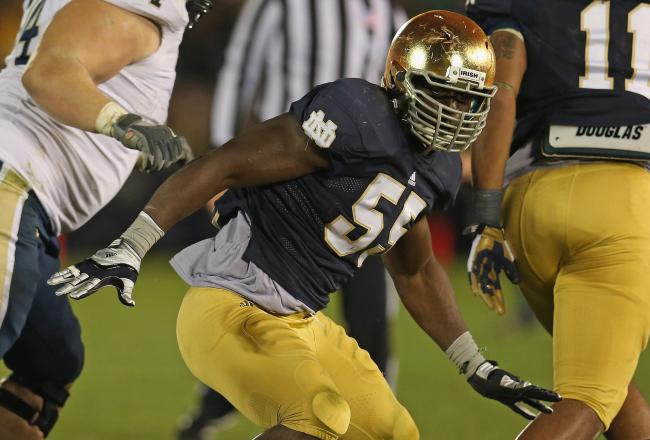 Jonathan Daniel/Getty Images
There seems to be a sense of inevitability around Notre Dame right now, where if the Fighting Irish go undefeated, along with Kansas State and Oregon, that they will leapfrog at least one of those teams to play in the BCS Championship Game.
After all, if the choice comes down to Notre Dame or one of Kansas State and Oregon, which team is going to generate the most revenue, attention and ratings for college football? We all know the answer to that, and it isn't particularly close.
The only thing better for college football would be if both Kansas State and Oregon lose, while Alabama wins the SEC Championship to put them No. 2 behind Notre Dame in the BCS rankings.
But getting back to the point, should the Irish be considered a lock for the BCS Title Game if they are one of three undefeated teams in college football?
Here are the biggest arguments against Notre Dame, as well as our thoughts on what will happen after looking at the Irish's case.
The Irish's Schedule Really Isn't That Difficult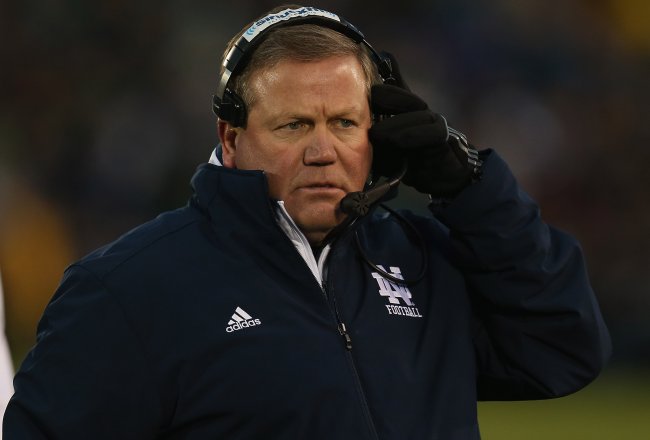 Jonathan Daniel/Getty Images
The combined record of Notre Dame's opponents so far, at least the ones it has played, is 54-45. The Irish have defeated four teams (Michigan State, Michigan, Stanford, Oklahoma) who were ranked in the Top 25 at the time of the game, though Michigan State has dropped out since.
By comparison, Kansas State's opponents so far have a combined record of 49-48. The Wildcats have also beaten four teams ranked in the Top 25 (Oklahoma, West Virginia, Texas Tech, Oklahoma State) at the time of the matchup.
Meanwhile, Oregon's opponents have a 48-54 record heading into this weekend's games. The Ducks beat three teams (Arizona, Washington, USC) ranked in the Top 25 at the time of the game.
In this regard, the Irish hold a distinct advantage over both Kansas State and Oregon. Plus, there are common opponents that can be used to separate the teams.
Notre Dame and Kansas State both played Oklahoma in Norman and Miami. The Irish defeated the Sooners by 17 points and the Hurricanes by 38. The Wildcats knocked off the Sooners by five and Miami by 39.
Notre Dame and Oregon will have common opponents in Stanford and USC, but since Oregon still has to play Stanford and Notre Dame still has to play USC, we can't judge those games yet.
Where the Irish will suffer is the end-of-season schedule. They have to close out against Wake Forest, which has just five wins in a mediocre ACC, and USC, which has been one of the most disappointing teams in the country.
Oregon will close the season with games against Stanford and Oregon State, two teams ranked in the Top 20 right now. That will make the Ducks' resume look a lot better if they are able to win both games.
Kansas State has an advantage of playing in what the BCS Computers believe is the best conference in the country and a final showdown against a good Texas team.
Notre Dame's early-season schedule has saved it, because these last two weeks likely won't boost the Irish much in the eyes of the voters and/or computers.
Strength of Opponents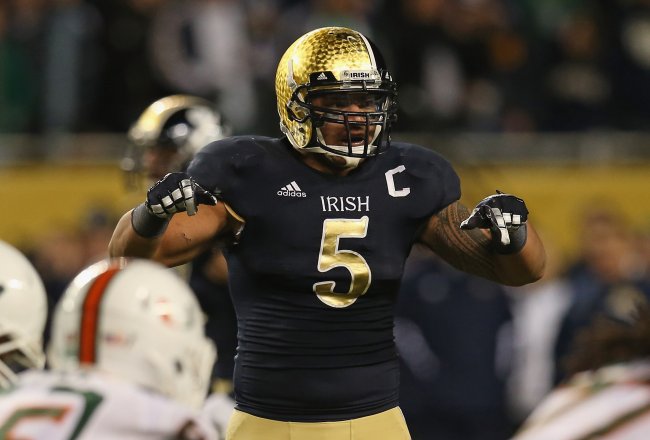 Jonathan Daniel/Getty Images
Which Team Will Get Snubbed If There Are Three Undefeated Teams At The End Of The Year?
One thing that ESPN analyst Mike Golic talked about when he made his completely and totally unbiased case for Notre Dame to be in the BCS Championship Game was the strength of defense that the Irish's opponents have gone up against.
He conveniently failed to talk about the opposing offenses the Irish have gone up against. To date, the Irish have only played one team that ranks better than 57th in the nation in scoring offense. That would be Oklahoma, which ranks 13th in that category.
Certainly, Notre Dame dominated that game and made a statement in Norman holding the Sooners to just 13 points.
However, if you are going to give praise to the defense, you also have to acknowledge that the Irish aren't exactly playing offensive juggernauts on a weekly basis. Boston College and Michigan State rank 106th and 110th in the country in scoring, respectively.
Oregon has gone up against three teams (Fresno State, Arizona, USC) that rank in the top 30 in scoring offense. Kansas State has played four teams (Oklahoma, West Virginia, Texas Tech, Oklahoma State) with offenses that rank in the top 20 in scoring.
Also, it should be noted, that even with those teams on the schedule, Kansas State still ranks 14th in the country in scoring defense. The Wildcats gave up a total of 87 points in those four games against Oklahoma, West Virginia, Texas Tech and Oklahoma State.
Eye Test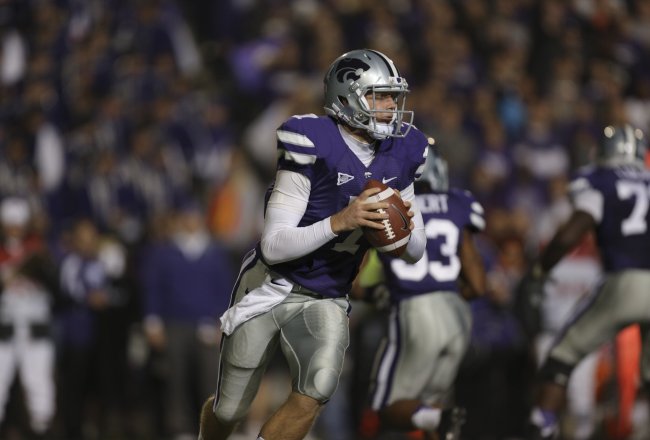 An undefeated season and Heisman Trophy will make Collin Klein and Kansas State very appealing.
Ed Zurga/Getty Images
When you watch Oregon and Kansas State, you can see why the computers and voters love them a little more than Notre Dame. They are flashy and can score a lot of points in a hurry, while forcing opposing offenses out of their rhythm because they are down by 21 before you know what happened.
Notre Dame is very different. You can feel the Irish working for everything that they get on the field. It takes effort for them to get down the field and score points.
Rightly or wrongly, voters are going to look at these three teams and ding Notre Dame for not being a more potent offensive club. The Irish remind me of the Ohio State team a decade ago. They aren't going to win style points, but when push comes to shove, they get the job done.
Remember, those Buckeyes went on to win the BCS Championship in that memorable game with Miami.
Conclusion
Jonathan Daniel/Getty Images
If there are three undefeated teams at the end of the year, Notre Dame is not likely to reap any rewards. The fact that Kansas State beat Oklahoma before the Irish hurts their cause slightly.
As mentioned before, the fact the computers love the Big 12 is a huge plus for Kansas State over the final two weeks.
Oregon has the benefit of playing both Stanford and Oregon State in its final two games. The Ducks can make loud, clear statements to anyone and everyone watching that, even with their defensive faults, they are still capable of scoring against anyone.
Notre Dame has to dominate both Wake Forest and USC in order to have a shot. It is possible, but the Irish aren't a team that is going to dominate in the usual way. The defense is going to hold opponents down, but the score is going to look closer than it is because the offense isn't going to put up 30-40 points on a regular basis.
This article is
What is the duplicate article?
Why is this article offensive?
Where is this article plagiarized from?
Why is this article poorly edited?

Notre Dame Football: Like this team?