15 Bold Predictions for Tuukka Rask and the Boston Bruins Goalies in 2012-13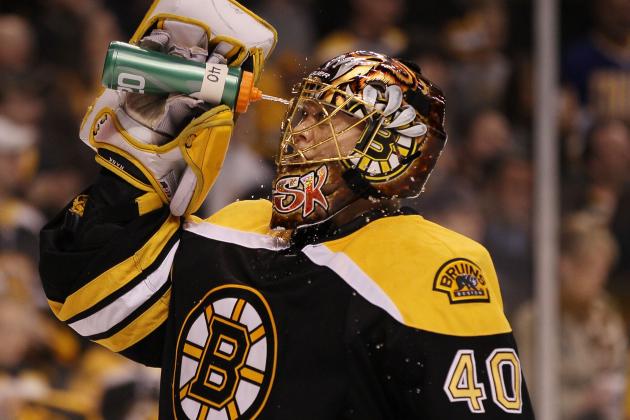 Elsa/Getty Images

While Tim Thomas enjoys his sabbatical, Tuukka Rask finally inherits the Bruins' top role in net. Named the Bruins regular starter for the first time since his rookie year in 2009-10, the Finnish goalie is set for big things this season.
Anton Khudobin will serve as Rask's backup in Boston, after earning a promotion from Providence with a strong performance last season.
The Providence net is now divided between AHL veteran Michael Hutchinson and newly-signed Swedish goaltender Niklas Svedberg. The two have squared off in a spirited battle for the starting role at the Dunkin Donuts Center.
Meanwhile, 2012 first round draft pick Malcolm Subban has gotten off to a fast start with the Ontario Hockey League's Belleville Bulls.
The Boston Bruins' system is packed full of potential at the goaltending position. However, only time will tell if each netminder can make good on his considerable talent.
Here are some bold predictions for the Bruins goalies:
Begin Slideshow

»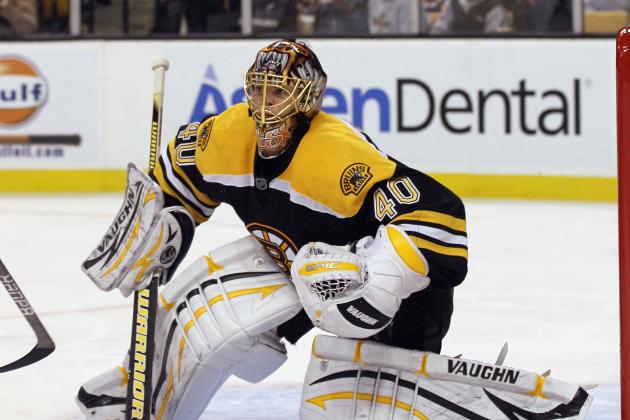 Bruce Bennett/Getty Images

Team: Boston Bruins (NHL)
Role: Starter
Bold Predictions:
1. Tuukka Rask will finish the season ranked in the Top Five in both save percentage and goals-against average.
2. He will start more than 70% of Boston's games, and he will win at least 60% of the time.
3. Rask will earn votes for the Vezina Trophy.
This season Rask regains the starting role he briefly captured as a rookie in 2009-10. Rask took the league by storm that season, displacing the Vezina Trophy winning Tim Thomas. Despite a lack of experience, Rask led the NHL in both save percentage and goals-against average.
For the past two seasons, while splitting time with Tim Thomas, Rask has continued to develop. In 102 career games, Rask has consistently produced elite numbers. His .926 save percentage and 2.20 goals-against average are good enough to earn a starting job for most NHL teams.
In June, Rask was handed a one-year deal worth $3.5 million. Although the Bruins expect him to be their goaltender of the future, he will be asked to earn elite-level money. With his future in Boston on the line, Rask will have no shortage of motivation to perform.
At the moment, Rask is dominating the Czech Extraliga for HC Plzen. As of November 14, he led the league with a 1.75 goals-against average. If he continues his current form back in Boston, he should be prepared to join the ranks elite NHL goaltenders.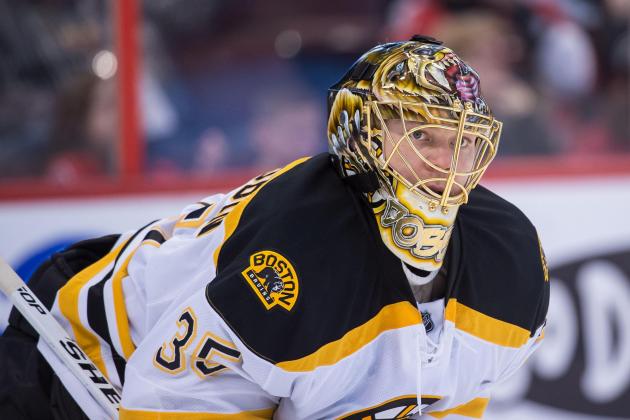 Marc DesRosiers-US PRESSWIRE

Team: Boston Bruins (NHL)
Role: Backup
Bold Predictions:
1. Anton Khudobin will have a winning record as Tuukka Rask's backup.
2. Khudobin will finish the year with goals-against average under 2.35 and a save-percentage higher than .915.
The Bruins will rely heavily on Anton Khudobin to perform whenever Rask needs a breather. As Rask's workload gets heavier, Khudobin's performance will be crucial to the team's success.
The 26-year-old Khudobin has spent most of his career in the AHL with the Houston Aeros and Providence Bruins, and he has played in only seven NHL games.
However, he has been surprisingly excellent in all seven big league appearances. He has a career 1.32 goals-against average and an unbelievable .961 save percentage. He is 5-1-1 on NHL ice, including a 44 save victory over Ottawa in his only Boston appearance.
Khudobin will see plenty of NHL action this season, and though his numbers will certainly drop off given a larger sample size, he has certainly earned the opportunity to fill in from time to time in Boston.
The Kazakhstan native is currently lending his talents to the KHL's Atlant Moscow Oblast. He has struggled somewhat behind a bad team with a 3.02 goals-against average, but he should be prepared for a strong season in Boston.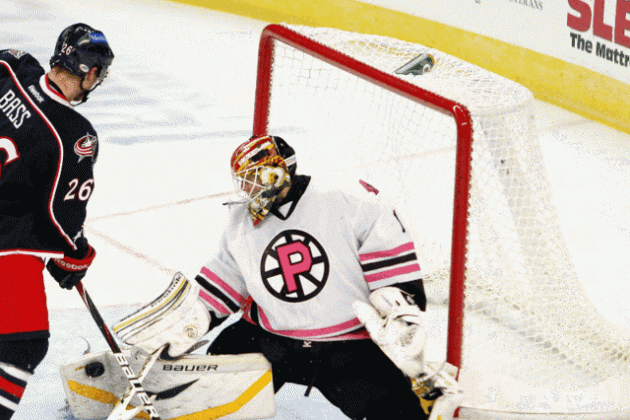 Alan Sullivan/Providence Bruins
Team: Providence Bruins (AHL)
Role: Competitive Timeshare
Bold Predictions:
1. Niklas Svedberg will win the starting role in Providence.
2. Svedberg will finish the season with a winning record, despite playing for a weak team.
3. Svedberg will finish among the AHL's top ten in save percentage and goals-against average.
4. Svedberg will be viewed as a top prospect in the Bruins system by next summer.
After leading Brynäs IF to the Swedish Elitserien title last spring, Niklas Svedberg signed with the Boston Bruins. This fall the 23-year-old Swede has been deployed to Providence.
Although he started the season behind Michael Hutchinson, Svedberg has staked a convincing claim to the Providence net through his first seven appearances. He has backstopped the P-Bruins to four victories, while Hutchinson has yet to claim a win.
Providence coach Bruce Cassidy said the following about his new netminder:
[Svedberg] has just been a better goalie, plain and simple... Right now it's [Svedberg's] ball to run with, but we're going to need both of them.
Svedberg is ranked fifth in goals-against average and eighth in save percentage among AHL goalies. He should only improve as he adjusts to life in the United States, and he could have a very bright future ahead of him.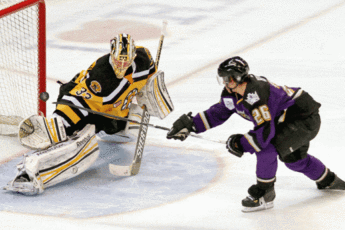 Alan Sullivan/Providence Bruins
Team: Providence Bruins (AHL)
Role: Competitive Time-Share
Bold Predictions:
1. Michael Hutchinson will become Niklas Svedberg's back-up
2. Hutchinson will fail to match his 2011-12 numbers: 2.36GAA and .927SV%
2008 third-round pick Michael Hutchinson made a significant improvement in his second season with Providence. However, he has taken a major step backward through five games this season.
Hutchinson is 0-4-1 and rapidly losing his starting job to Niklas Svedberg. His .857 save percentage and 3.52 goals-against average are completely unacceptable to fans and coaches.
At his current rate, Hutchinson will not see NHL ice anytime soon. As younger prospects like Malcolm Subban, Lars Volden and Zane Gothberg emerge, he will become even further marginalized.
If Hutchinson ever hopes to play for the Boston Bruins, his performance will need to improve right away.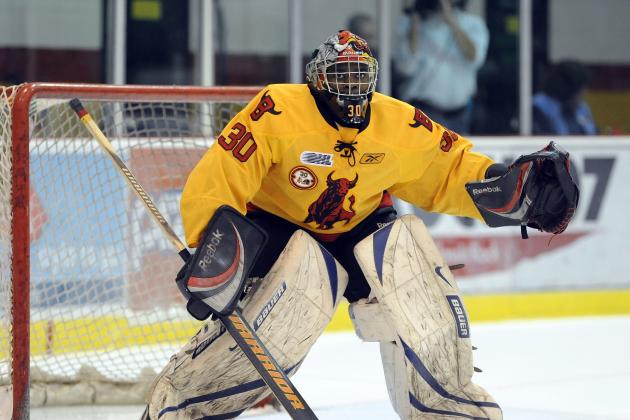 Aaron Bell/OHL Images
Team: Belleville Bulls (OHL)
Role: Starter
Bold Predictions:
1. Malcolm Subban will be named Canada's starter for the IIHF World Junior Championships.
2. Subban will lead the Ontario Hockey League in save percentage.
The 18-year-old Malcolm Subban is arguably the best goalie in the Ontario Hockey League. Drafted No. 24 overall in June, Subban looks like a future star.
Among OHL goalies, he ranks third in goals-against average (2.24) and second in save percentage (.930). The one man with a higher save-percentage is the American-born Anaheim Ducks' prospect, John Gibson.
On November 8, Malcolm Subban represented the OHL in the CHL Subway Super Series against a select team of young Russian stars, including 2012 No. 1 overall pick Nail Yakupov and Bruins prospect Alexander Khokhlachev. Subban played 32 shutout minutes before making way for Jordan Binnington, who gave up two third period goals in a losing effort.
Hockey's Future appraises the rising star as follows:
Malcolm Subban is an athletic goaltender with size and explosive lateral mobility. Practically unbeatable in one-on-one situations, he's poised but is also capable of making highlight reel saves thanks to his athleticism and agility.
Subban should be a lock to join Team Canada in Russia for the World Junior Championships, where a strong showing could accelerate his career.
Christian Petersen/Getty Images

Team: Boston Bruins (NHL)
Role: Sitting Out
Bold Predictions:
1. Tim Thomas will never play another game for the Boston Bruins.
2. Thomas will be traded before the trade deadline.
Despite Tim Thomas' superb resume, the NHL is a business. Thomas, who has abandoned the Bruins despite the year remaining on his contract, will cost the team $5 million against the salary cap in 2012-13.
At 38-years-old, Thomas is putting his career at severe risk by sitting out the season. Even though he may never return, teams looking up at the cap floor could covet Thomas' contract. Any team that acquires Thomas' rights could conceivably satisfy the salary cap minimum without having to pay any real money.
Thomas waived his no trade clause in June, giving GM Peter Chiarelli the opportunity to shop him on draft day. Two months later, Bruins principal and alternate governor Charlie Jacobs spoke candidly about the possibility of a trade on WEEI:
Timmy's going to do what he wants to do, and you know what? I bet we'll get something for him if he elects not to come back and there is in fact a floor for the salary cap this upcoming season, I can see teams trading for that $5 million cap to bring their team up to the floor.
So I think there will be a market for a player, as ironic as it sounds, there will be a market for a player who's not going to play next year.
With Tuukka Rask set to establish himself as Boston's star goalie for years to come, Thomas likely will not be given the option to return to Boston.